This paleo apple pie is the perfect apple pie if you love low carb dessert. It is also one of my best gluten free recipes for dessert and an easy apple pie recipe for everyone who just love pie!
Paleo Apple Pie | A low carb Crispy Cashew Crust to die for!
The crust is made with a mix of almond meal and whole unsalted cashews nuts. Make sure you are using unsalted cashews like this one here: Signature Whole Fancy Unsalted Cashews
. It is a really tasty and crispy crust slightly flavoured with cinnamon and vanilla extract. It is a very simple recipe that can be prepared in advance. I bake this paleo apple pie a day before welcoming some friends and the crust was still very crusty on the following day. I store the baked pie at room temperature.
So first why is it a perfect apple pie for diabetics ? Simply because the crust do not use any flour or sugar and the filling do use nut milk.
This apple pie recipe is one of my best creation amongst my low carb recipes for diabetics. The trick to make this pie crust is to roll the crust between plastic wrap to avoid the crust to fall apart when rolling – see pictures below.
The dough is really easy to work with so if a hole is forming while you transfer into the mould you can press a little extra of dough with your hands.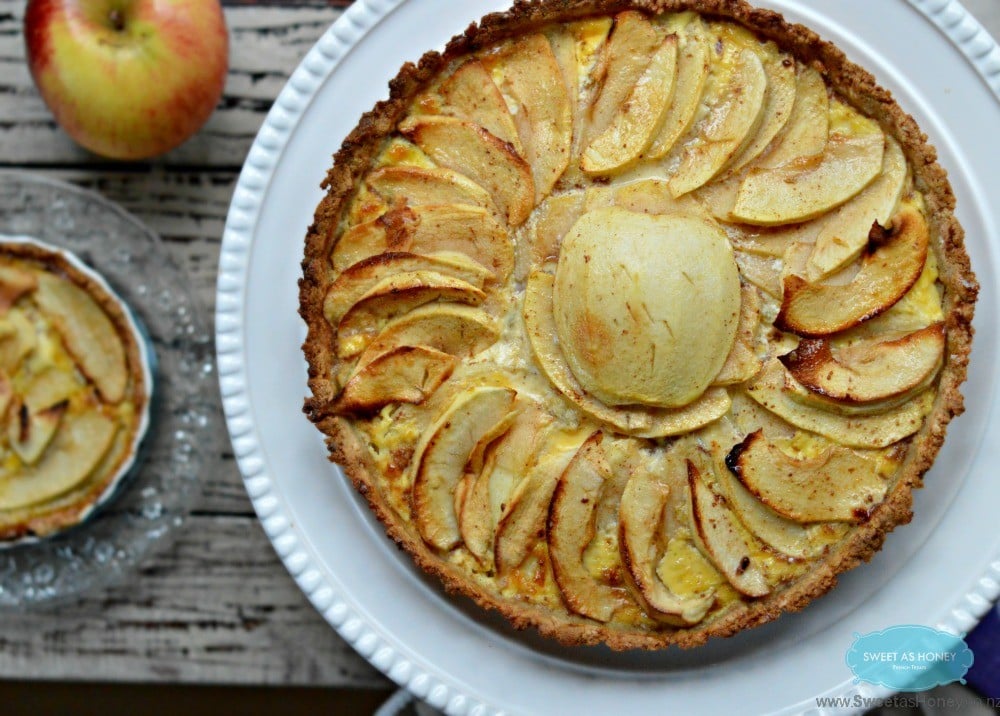 Below are the steps by steps picture to help you make this insanely delicious crusty almond cashew pie crust. I sweetened the crust with stevia.
---
SUCCESS CLEAN EATING IN JUST 2 WEEKS !
 Are you ready to reduce the amount of processed food you eat?
Want to lose those extra pounds to feel good?
Success  As you can see my ebook contains all the organisation sheets you need to Success The Clean Eating Diet in Just 2 Weeks no matter How Busy you are ! is a collection of more than 85 printable sheets* to successfully start a clean eating diet and reboot your health no matter how busy you are.
        20 + Clean Eating Recipes 
        2 Week Meal Plan 

        2 Week Shopping List

    

   Personal Goal Tracker

      Chic & Elegant Recipe Binders 

      … and more 
GET MORE INFORMATION ABOUT MY ULTIMATE CLEAN EATING BINDER HERE
Paleo Apple Pie with Cashew Pie Crust| Gluten free
Ingredients
Apple Pie Crust
1 cup almond meal
1 cup whole unsalted cashew nuts
1 whole egg
1/4 cup coconut oil, melted
1 tsp stevia powder or 1 tbsp maple syrup
2 tsp vanilla extract
2 tsp cinnamon powder
Apple Filling[ - Updated on 15/03/2015
4 apples, green or fuji apples, thinly sliced
4 eggs, size 6 - regular size eggs
200 ml almond milk
2 tbsp maple syrup
Instructions
Greased a pie mold with coconut oil.
Pour all the crust ingredient in a food processor with the S blade attachment.
Process for 1 minute or until it forms a ball.
Place the dough between two sheets of plastic wrap.
Roll until thin about 2-3 mm thick.
Remove the first plastic wrap layer and flip onto a greased pie mould.
Add thinly sliced peeled apples.
In a bow whisk with a fork the eggs, almond milk and maple syrup.
Pour the batter onto the apples.
Bake for 35 minutes at 180 C or until golden.
Cool down before removing from the mould.
The crust will get harder when it reach room temperature.
http://www.sweetashoney.co/almond-cashew-pie-crust-paleo-apple-pie/