Everyone love truffles for Christmas, right?  It is such a lovely Christmas treat to enjoy after dinner. I love playing board games after opening the present. We always enjoy the truffles at this time while drinking a hot beverage. Each year, I am preparing a large platter with different flavor of Christmas truffles each year. What I enjoy the most are easy no-bake Christmas truffles recipe. You can prepare them in less than 10 minutes plus, it stores very well and can be made-ahead 2 weeks before Christmas. So today I am sharing my favorite collection of healthy and easy no-bake Christmas truffles from my favorite food bloggers. You'll not only discover beautiful Christmas Truffles recipes but also fall in love with new healthy food blogs to get inspired in 2017 ! Merry Christmas everyone.
Easy No-Bake Christmas Truffles from the best Healthy Food blogger
1. Almond Blueberry Truffles
I love the combo of almond butter, blueberry and lemon plus the lollipops presentation idea is pretty cool too !
Recipe by GardenKitchen HERE
2. Bourbon Date Nut Truffles
There is no Christmas treat platter without a boozy christmas truffle don't you think? I love this Bourbon Date Truffle recipe and it will be on my truffle platter this year for sure. Well, I may have to ait 2 more weeks to enjoy them as my baby is due on 10 th January … Can't wait to eat those!
Recipe by Vanilla and Bean HERE
3. Peppermint Chocolate Truffles
How lovely are those peppermint chocolate truffles ? This is hard to believe that they are made of healthy ingredients like pumpkin seeds, almonds and dates!
Recipe by the lean green bean HERE
4. Cranberry Crunch Dark Chocolate
There is no Christmas without cranberries, right? Plus, those cranberry crunch chocolate truffles are nut free too such a great addition to a Christmas treat platter.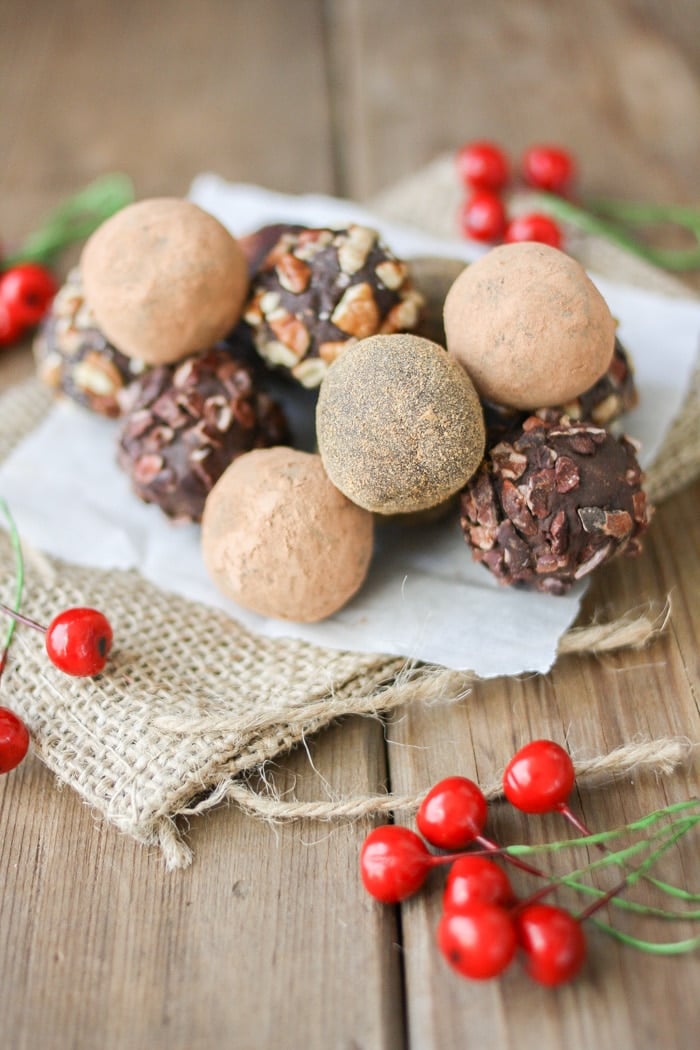 Recipe by veggie dont bites HERE
5. Date Truffles – Chocolate Hazelnut & Berry Coconut
I love those two date truffles recipes because they use only 3 ingredients and  match the Christmas color.
Recipe by the queen of delicious HERE
6. Sugar free Nutella Truffles
This delicious 5-ingredients nutella truffle recipe is for all the low carb lovers. 100% sugar free and using a simple homemade nutella recipe those hazelnut chocolate truffles will suit anyone on a keto or low carb diet!
Recipe by wholesomeyum HERE
7. Coconut Snowballs Truffles [+ 100% sugar free recipe alternative ]
That is my own truffle recipe, the one I make each year because I love their pure white color and I am a huge coconut lover. Plus, if you are diabetic or on a low carb diet I am providing a 100% sugar free recipe alternative!
Recipe by sweetashoney HERE
8. Cranberry Date Chocolate Truffles
I love cranberries and chocolate. What I love the most about those cranberry chocolate truffles is the addition of coconut flour ! A high fibre and low carb flour that brings those truffles to the top rank of healthy christmas truffles.
Recipe by Nourish everyday HERE
9. Cinnamon Chickpeas Truffles
This cinnamon Chickpeas Truffles absolutely blow my mind! As a healthy foodie I am in love with those truffles marrying cooked chickpeas, coconut sugar and cashew butter. Such a high protein treat !
Recipe by veggie inspired journey  HERE
10. Caramel Fudge Truffles
This recipe is not a classic caramel fudge truffles using dates and nuts! It also contains puffed millet to add some crunch in the center. Delicious !
Recipe by nourish everyday HERE
11. Gingerbread Truffles
Another flavor that must be on a decadent Christmas treat platter is gingerbread! You'll love those gingerbread truffles that combine dried prunes with dried dates and pecan nuts!
Recipe by imagelicious HERE
12. Raspberry Dusted Chocolate Fudge Brownie Truffles
Who can resist chocolate fudge brownie, really? I love that those truffles use cashew nuts plus I absolutely adore the addition of dried raspberry on top of the truffles for Christmas.
Recipe by Spabettie HERE
Merry Christmas !