If you are looking for Healthy Green Recipe to celebrate St Patrick's Day on 17 th March and keep things clean you must try one of those 25 green recipes. Here I collected for you the most delicious 25 healthy green recipe to celebrate St Patrick's Day. Each are naturally green clean food recipes to put on your table on St Patrick's day.
If you love avocado, kale, spinach or matcha powder there is plenty of recipe choice here. There is pasta, ice cream, pie, dips, soup, smoothie and more. Not enough recipes here ? Check out my collection of clean food recipes on the blog!

Healthy Green Recipe to Celebrate St Patrick's Day
Who's celebrating St Patrick's day this year? I am not Irish – French as you know – but I love celebrating this day simply to eat green food and dress up my kids. Below I listed my own favorite green recipes and some of my favorite friends food blogger around the web.  A green recipe for anyone! Enjoy ! Carine.
Low carb Avocado Burger Buns
Those avocado burger buns contains only 3 simple ingredients : avocado flesh, almond meal and egg white! A zero carb burger bun loaded with healthy fat and protein. Also known as oopsie bread those are 100% dairy free.
Low carb Avocado Burger Buns sweetashoney
Paleo Matcha Shortbread Cookies
Lovely green shortbread cookies made of paleo flour mix. To keep the whole recipe paleo we recommend honey or coconut sugar instead of sugar.
Matcha shortbread cookies by runningtothekitchen
Creamy Dairy free Spinach Dip
Who doesn't love spinach dip? My creamy spinach dip recipe cut out the fat and dairy and use raw avocado instead. A fresh and green dip that all the family love.
Creamy dairy free spinach dip by sweetashoney
Matcha mint chocolate chunk ice cream
A lovely coconut milk ice cream recipe with fresh mint and matcha powder.
Matcha mint chocolate chunk ice cream by runningtothekitchen
Kale Mango Chia Smoothie
Nothing more to say than de-li-ci-ous! Mango is such a great fruit to makes your smoothie thick and creamy without dairy.
Kale Mango Smoothie by savorytooth
Green Crepes
Delicious green crepes made of spinach and served with homemade coconut pistachio butter.
Green crepes by scratcheats
Kale Cashew Pesto
My 5 minute blender cashew pesto recipe will boost your greens as it is made with kale instead of basil leaves! Plus cashews had more protein than the regular pine nuts. It is delicious in any pasta dish or on toast with fresh mozarella.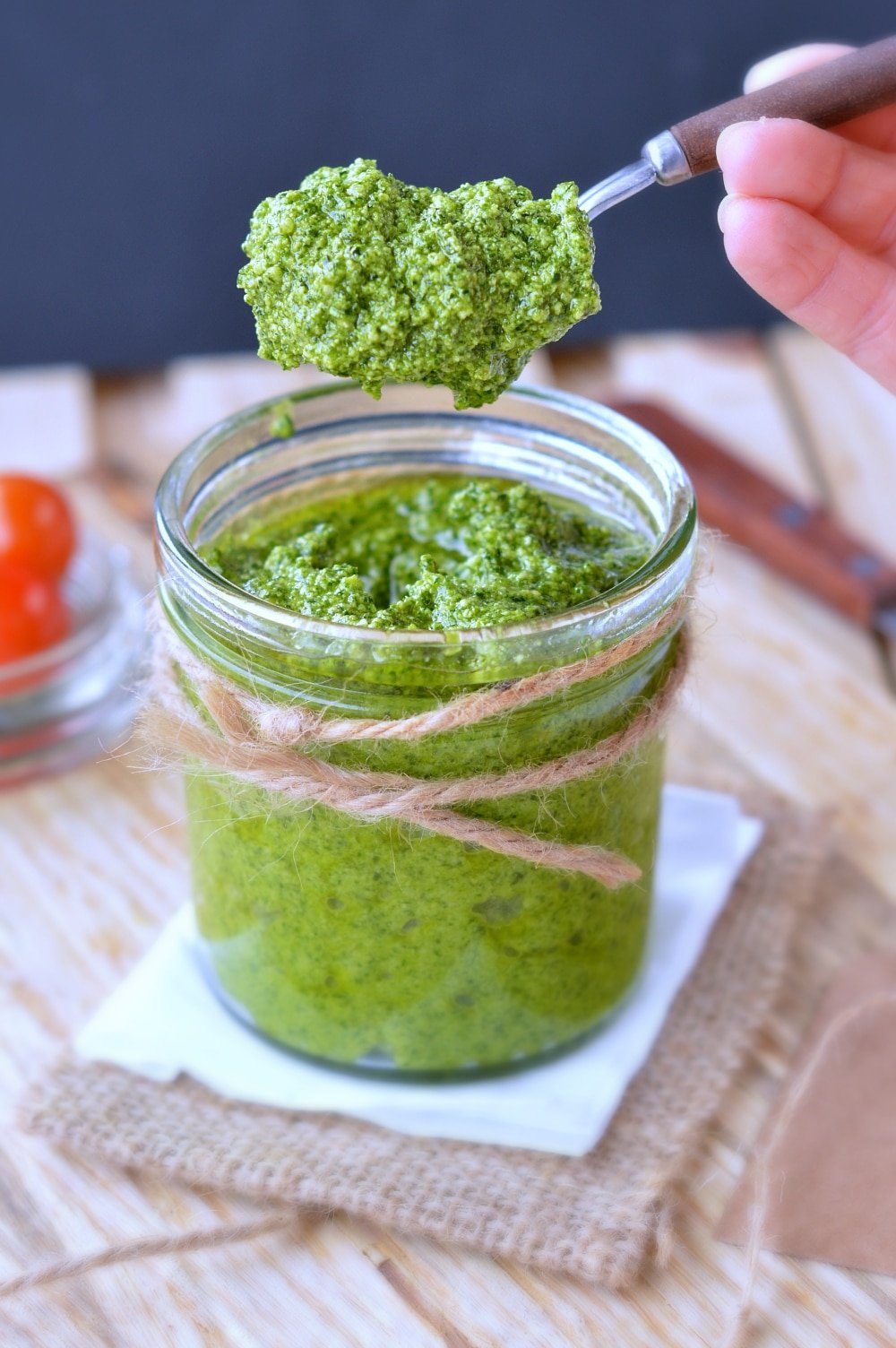 Kale Cashew Pesto by sweetashoney
Vegan Creamy Pasta
We love this comforting pasta vegan dish. The sauce is made of green avocado and lime with roasted mushroom and snow peas on top !
Vegan creamy pasta by peasandponnies
 Ultimate Green Panini
A vegan sandwich with avocado, spinach and pesto served into a lovely sourdough bead – we recommend wholemeal for a healthier choice!
Ultimate green panini by vegetariangastronomy
Raw Brussels Sprouts Salad with Dried Fruit
Brussels sprouts, almonds, sun-dried tomatoes and dried cranberries all served in a lovely avocado skin !
Raw Brussels Sprouts Salad with Dried Fruit by laurencariscooks
Vegan Spinach pancakes
Spinach, flaxseed and rice flour to the most delicious gluten free pancakes. We recommend brown rice flour for a healthier option.
Spinach pancakes by spabettie
No Bake Mint Chocolate Slice
My raw mint chocolate slice are 100% vegan : no dairy, no gluten and super easy to make. You will love the mint avocado mousse on top ! Delicious.
No bake mint chocolate slice by sweetashoney
One-pot pasta with pesto and peas
One-pot pasta with pesto and peas by celebratingsweets
Kale pizza crust
A 5 minutes blender pizza crust that combined nourishing oat and kale.
Kale pizza crust by sweetashoney
Detox Broccoli Soup
A lovely creamy soup 100% vegan combining broccoli and creamy coconut cream. We love the addition of avocado and macadamia on top too ! yum!
Detox broccoli soup by contentednesscooking
Spinach Banana Matcha Smoothie
Look at this lovely green color !  we love the crunchy roasted buckwheat groats on the top too.
Spinach banana matcha smoothie by nourisheveryday
Vegan coconut matcha ice cream cakes
We love how healthy and delicious looks those ice cream cakes and even if they are not the the greenest recipe it must be in this healthy round up! I am sure you can add a tiny more matcha powder to make this wonderful vegan coconut ice cream cups flash!
Vegan coconut matcha ice cream cakes by elephantasticvegan
Mint Cream icebox Dessert
A raw brownie crust made with almond, flaxseeds and pecan and a creamy coconut cream mousse.
Mint cream icebox dessert by veggieinspiredjourney
Roasted fennel and pear salad
Roasted fennel and pear salad by laurencariscooks
Baby Kale Avocado Salad
Simple salads are the best and you never go wrong when you combine kale and avocado ! Crunchy and smooth combo.
Baby Kale Avocado Salad by wholesomeyum
Low Carb Stir Fry Cauliflower Rice
Roasted cauliflower is the best way to decrease the carbs. We love this Japanese inspired recipe that combine cauliflower rice with roasted seaweeds, sauce sauce and garlic.
Low Carb Stir Fry Cauliflower Rice by veggiesdontbite.
Kale Waffles
My kale waffle recipe is moist and fluffy made of coconut flour and kale waffles : the most delicious green breakfast loaded with fibre and protein.
Kale waffles by sweetashoney
Low Carb Key Lime Pie – No Bake
Lime pie is one of the most favorite dessert but when the recipe is low carb and don't required oven it is a dream dessert!
No bake key lime pie by wholesomeyum
Low carb Spinach Pizza Crust
Egg, spinach and cheese that is all you need to makes my delicious spinach pizza crust. If you are looking for a low carb pizza crust that is quick and easy to prepare on St Patrck's day that is for you!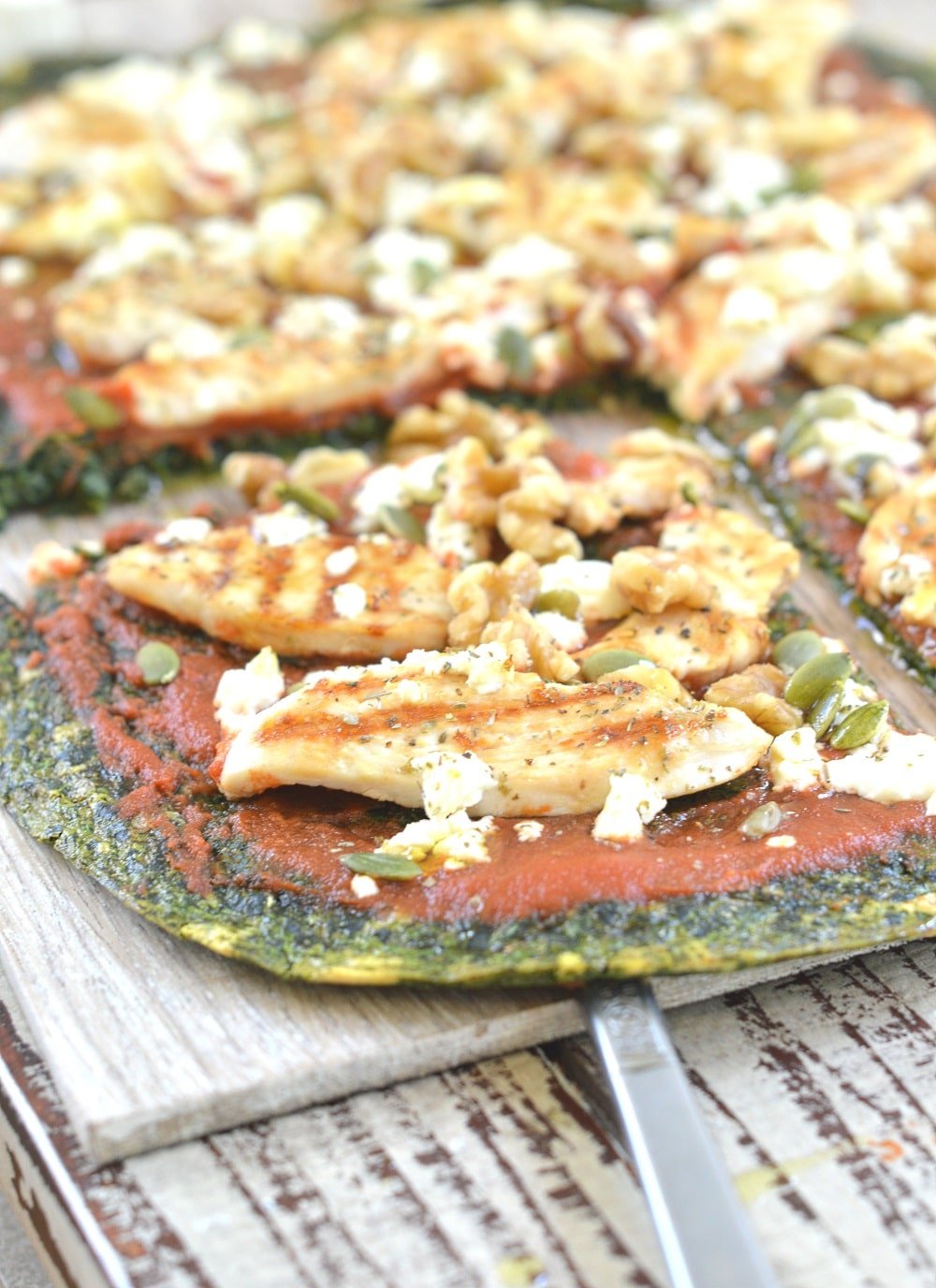 Spinach pizza crust by sweetashoney
Green Shakshuka
A delicious oven baked casserole made of eggplant, kale, green peppers and leek with feta cheese and egg.
Green Shakshukaby carolinescooking