Christmas Cookies with Orange Blossom water
Christmas is coming soon and it is a tradition in the region I am coming from – East of France – to prepare 23 different cookies variety to eat on Christmas day. We usually start baking on 1st of December and everyday a new cookie recipe is made. All those cookies are then stored in big metallic boxes and enjoyed on Christmas day. The remaining quantity is offered to friends, colleagues and neighbourhood. Of course I am not going to bake so much cookies this year but I still wanted to prepare some of them to hand out this lovely tradition to my little girl. As I am eating sugar free I had to develop new recipes for this year. I decided to start earlier to make sure I have got some yummy recipes to make next month.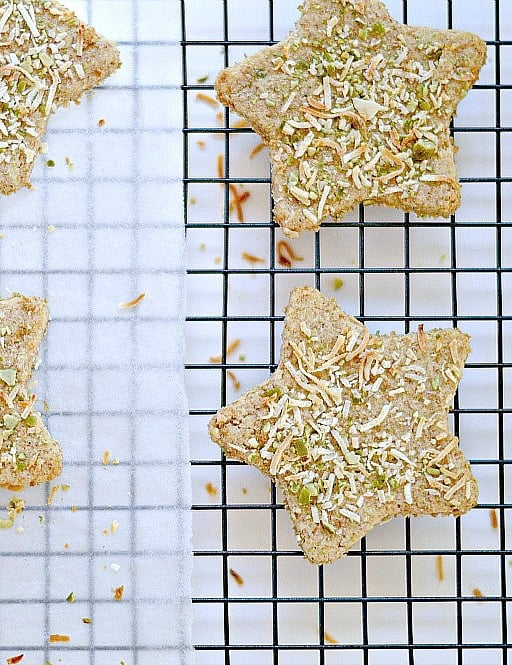 I made those cookies with a base of dessicated coconut and almond meal and I flavoured the cookie dough with orange blossom water. I love the fragrance and taste of orange blossom water. It brings a bitter-sweet orange taste in baking and it is the distinctive ingredient used in all  oriental baking. In New Zealand you can buy it from any organic shop or small supermarket like Zarbo or Nosh. If you are outside New Zealand it can be purchase from amazon for few dollars here Cortas Orange Blossom Water 10fl Oz
. It is not cheap but it can be stored for ages at room temperature and you will only use 1 bsp for a whole batch of cookies. It is a great ingredient to flavour your baking without using any sugar or sweetener.
My little girl decorated the top of those cookies with shredded coconut and powdered pumpkin seeds. I also suggested her to add some dried raisins or sliced almonds as you can see on the picture but she preferred to eat them 🙂 I admit that her choice was great the toasted coconut and pumpkin seeds was a perfect match adding a nutty taste to these little stars cookies. So now I am sure this recipe will be on the table for Chritmas. A little extra note about the texture of the dough.
Extra tips
Because some almond flour are more absorbent than others you may have to add slightly more butter or coconut oil to the mixture. I also used a egg size 7 which is a bit bigger than regular eggs. The final texture is a bit sticky and crumbly so I recommend to roll the dough directly on the baking paper. Another option is to place a sheet of plastic wrap between the dough and the roller to avoid the cookie dough to stick on your roller. Or simply press little balls of cookie dough with your hands and then cut. The thinner is the cookie the crispier they will be.
What about you ? Are you going to try them ?
Almond Coconut Cookies
Christmas cookies
Prep Time: 5 mins
Cook Time: 15 mins
Total Time: 20 mins
12
Print The Recipe
4 tbsp of butter or extra virgin coconut oil at room temperature very soft but not melted
1 cup desiccated coconut
1/2 cup ground almonds
1 egg size 7
1 tbsp orange blossom water - or rose water
1/4 tsp ground cinnamon
To decorate choose from those ingredients:
3 tbsp of powdered pumkin seeds
3 tbsp shredded coconut
3 tbsp sliced almonds
Mix all the ingredients in a food processor.

Process until a sticky consistent ball of cookie dough is forming.

Roll the cookie dough onto a baking paper thinly about 2 mm thickness.

Press a star cookie cuter onto the cookie dough to shape the stars cookie.

Remove the extra dough from the outside of the cuter and reuse to form other cookies.

Decorate with extra shredded coconut, powdered pumpkin seeds or sliced almonds.

Bake at 160 C for 15 minutes or until the sides are golden brown.

The cookies are still soft after baking and will harden after cooling down on a rack.

Store well in a metallic box.