Beet smoothie or antioxidant smoothie name it as you like, this purple smoothie is a must try this fall ! It is naturally sweet, creamy and dairy free! Plus, it is made in 10 minutes, contains lots of fulfilling fibre and its loaded with essential antioxidants to protect your body before winter.
Beet Smoothie:  a satisfying drink good for your health
I love making smoothies for my afternoon tea. It is such an easy way to satisfy an afternoon craving while adding fruits and vegetables to your diet. Today I choose to make an antioxidant blueberry and beet smoothie with the blueberries growing in our garden. Besides their small size blueberries contains the highest antioxidant capacities amongst all fruits! Amazing how a small fruit can be so powerful ! I choose to combine them with cooked beets as beets fibre also increase the antioxidant level in our body. It barely took 10 minutes to prepare this lovely smoothie and the result is surprising. It is very sweet, thick and creamy. It is really hard to believe it is dairy free.
MY LATEST VIDEOS
MY LATEST VIDEOS
The magic ingredients to this amazing result ? A combo of beets, blueberries and unsweetened vanilla almond milk – I used Almond Breeze. You know how much I care about using dairy free product in my cooking, and really this almond milk is my favourite.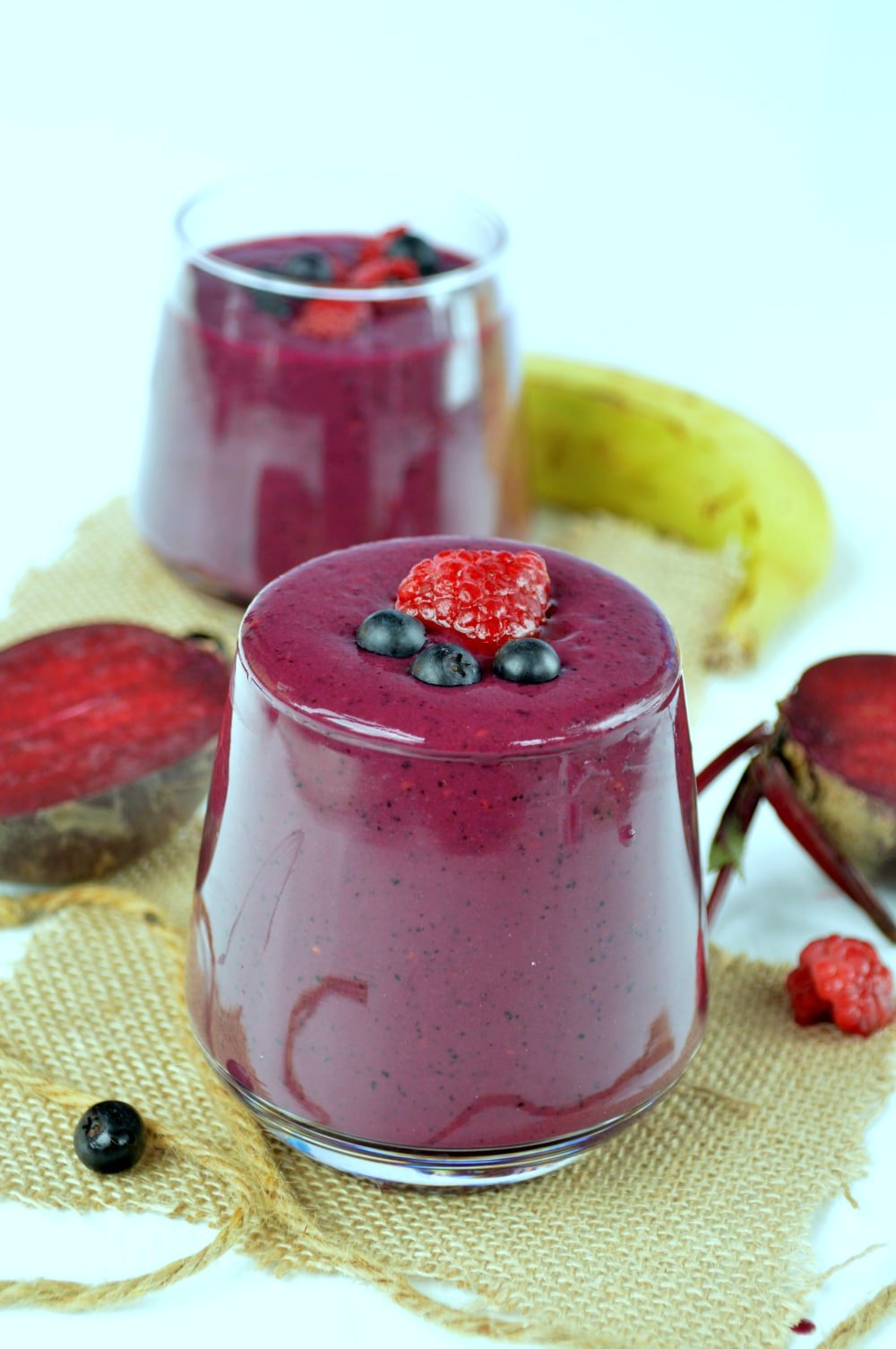 What I love about almond milk from almond breeze is the natural ingredients list it is made of. No nasties, no soy, no gluten or animal products.  It is also low GI meaning it is suitable for diabetic – no casein or lactose.  I am not really watching the calories but if you do this almond milk won't blow up your diet as it contains only 40 kcal per serving of 250 ml.
In my beet smoothie I am using the unsweetened vanilla almond milk by Almond Breeze. I love that it is adding a lovely sweet vanilla flavour without adding sugar or calories to the drink. The hint of vanilla really brings every simple smoothie to the next level.
Look at this lovely colour! So who is going to make it now ? Watch the video & make your own now!
Antioxidant Blueberry & Beet Smoothie
Ingredients
1

banana

medium size (about 100g), peeled, sliced

1

cup

fresh blueberries

150g

1/2

cup

cooked beets

Canned or vaccum packets (100g, about 2 small beets)

1/2

cup

frozen raspberries

75g

1

cup

unsweetened vanilla almond milk - I used Almond Breeze
Instructions
Peel and chop the banana.

In a blender add the banana slices, blueberries, beets, frozen raspberries and unsweetened vanilla almond milk- I used almond breeze.

Blend on high speed for about 1 minute until creamy and smooth.

Serve straight away.

Decorate with extra fresh blueberries and raspberries if you like.