This berry smoothie bowl recipe is such a decadent way to enjoy a smoothie for breakfast !
Berry Smoothie bowl recipe
I am finally back from maternity leave and are trust me, all I need is energy to stay awake all day. Luka is a pretty easy little boy. But being the mum of two kids keep me busy.  When one stop the other one needs me. I am not complaining. I actually love this busy family life.
I  love the mess my kids makes in the house. I feel alive with them around. But even more than before I need to boost my energy in the morning with an healthy breakfast.This berry smoothie bowl recipe is what works for me. What I love the most about this recipe is how easy I can make it in the morning even with two kids to prepare for daycare. Plus, I love all the color the fruits brings in my plate! Is not that motivating to starts the day ? I absolutely love smoothie bowl recipe. It is thicker than a smoothie and you can add so much topping to it. I made this smoothie bowl recipe using acai berry powder. It is a naturally super-food ingredient rich in antioxidant and energy-boosting fruit. I combine with banana, frozen blueberries and avocado to create the most thick smoothie bowl ever.
As always I used a light Almond milk as a base. I am using the original almond milk from Almond Breeze  – made by the almond experts in California. You can find it in any supermarket in New Zealand -packet milk aisle. I love it because it does not alter the whole taste of the recipe as other dairy free milk can do. Also it add a lovely milk like texture and doesn't upset my stomach as regular milk. Well, yes I am quite intolerant to cow milk now.
You can top up your smoothie bowl with whatever you like of course. But to load my bowl with super food I choose chia seeds, nuts and fresh berries.
Enjoy,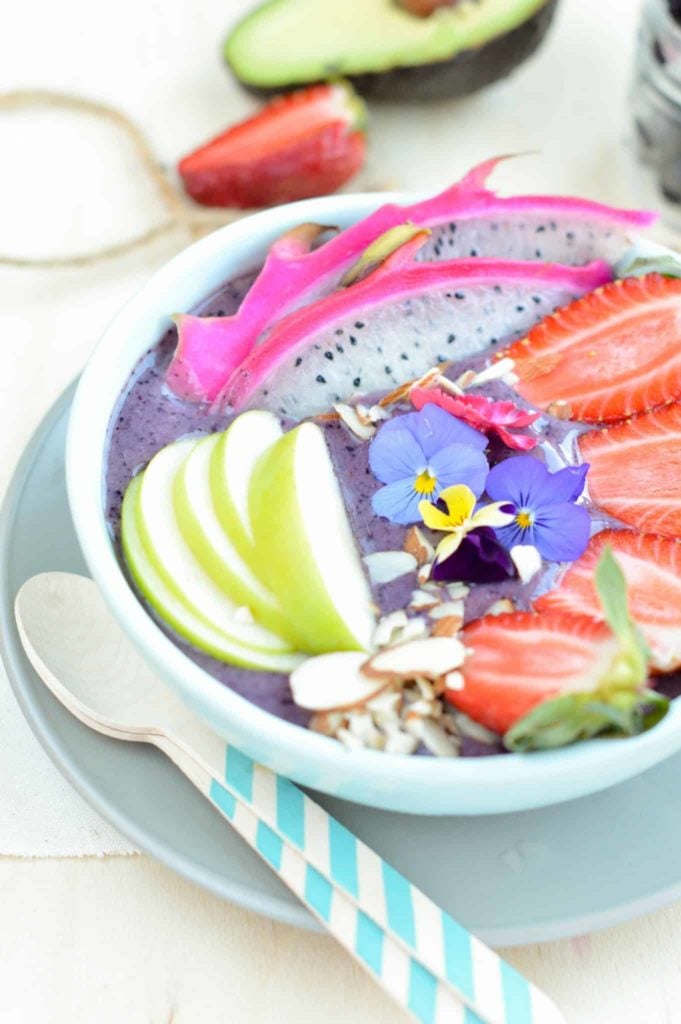 Berry Smoothie Bowl
Berry Smoothie bowl recipe with banana, blueberry, almond milk and acai powder. A delicious Vegan Healthy Breakfast bowl to start your day with vitamins and energy. Clean eating breakfast smoothie.

Prep Time: 5 mins
Total Time: 5 mins
1 people
Print The Recipe
1 frozen banana, medium, peeled, sliced
1 cup frozen blueberries
1/4 medium avocado flesh
1 tsp. acai powder - optional
In a blender add all the ingredient

Process until thick and creamy.

Serve into a breakfast bowl

Top with fruits and edible flowers
Note 1: acai powder is optional you don't have to use it Note 2: you can use any berry of your choice like raspberry, boysenberries or blueberries or a combo of all. Note 3: your fruits must be frozen as mentioned in the recipe or the texture won't be as thick
Nutrition Facts
Berry Smoothie Bowl
Amount Per Serving
Calories 294
% Daily Value*
Carbohydrates 54.6g18%
Fiber 12.8g53%
Sugar 29.2g32%
Protein 4.3g9%
* Percent Daily Values are based on a 2000 calorie diet.