This is the best grilled cheese sandwich EVER –  or grilled cheese sammies – as Kiwis called them. It is one of my favorite comfort food recipe in winter. A gooey grilled cheese sandwich is quick, easy and fun to prepare with kids and makes those cold winter night a little bit warmer. Here I am sharing my best grilled cheese sandwich recipe a little bit healthier than I used to make it before.
Best Grilled cheese sandwich or Croque Monsieur in French
You know I am French and I love to share a bit of my roots on this blog. SO did you know that a grilled cheese sandwich is called a 'Croque Monsieur' in French? 'Croque Monsieur' literally means 'crunch Sir'. I remember that the first time I told my little girl that we were going to eat a 'Croque Monsieur' she was scared. She said " no mummy I don't want to eat someone". I must say the French name for grilled cheese sandwich recipe is weird! And weirdest thing if you add a fried egg on top of your grilled cheese sandwich we call it a Croque Madame – translate  "Crunch madam". Well, enough French story let's talk about my family best grilled cheese sandwich recipe. First, the choice of bread is very important. I love wholemeal gluten free bread slices as it is more fulfilling and dense. The Gluten free wholemeal bread from Bakeworks is perfect to makes grilled cheese sammies as it holds pretty well when grilled and filled with gooey cheese. Besides its white color this bread is actually rich in fiber and contains nourishing flour like linseed, psyllium or besan flour.
Then, the fillings! Of course you need cheese and as a French I know a LOT about cheese combination. To me it is the combination of cheese in a sandwich that makes it the best grilled cheese sandwich. Our favorite cheese are goat cheese, camembert, emmental, mozzarella, Gouda, Comte (a french hard cheese with strong fruity flavor), Munster (another french cheese, a soft washed cheese with orange color and very smelly!) and cheddar. Keep reading my best cheese combo is coming later 🙂 Finally, an extra ingredient is always great to add some extra texture to the gooey cheese. We love toasted walnuts, bacon, spinach, sundried tomatoes, ham, avocado, fresh herbs, tomatoes etc. But today I am sharing my best grilled cheese sandwich recipe and it is made of fresh baby spinach.
TRIPLE CHEESE: THE SECRET TO MAKE THE BEST GRILLED CHEESE SANDWICH
I tested many cheese combination and the best – the one that create the most gooey cheese sandwich ever which lots of taste- is a trio of grated vintage cheddar, grated mozzarella and emmental slice.
For one sandwich use 2 slice of wholemeal gluten free bread, 1/4 cup (2 oz, 60 g) of grated cheese, 1 oz (30g) of fresh baby spinach leaves and 1 slice of emmental cheese. Arrange the filling in this order : mixed grated cheese, baby spinach leaves, mixed grated cheese and emmental slice. My secret extra ingredient? Few drops of tabasco on top to spice it up! 
Sometimes we also love to add a fried egg on top of this sandwich. I always serve my grilled cheese sandwich recipe with green salad on side to add some vegetables to the meal. SO yes even if this is the best grilled cheese sandwich it is probably not the healthiest dinner on earth BUT life is about balance and a warm, comforting and gooey cheese sandwich won't hurt you this winter.  It is good to go back to my French roots too and enjoy some french favorite food like bread and gooey melted cheese.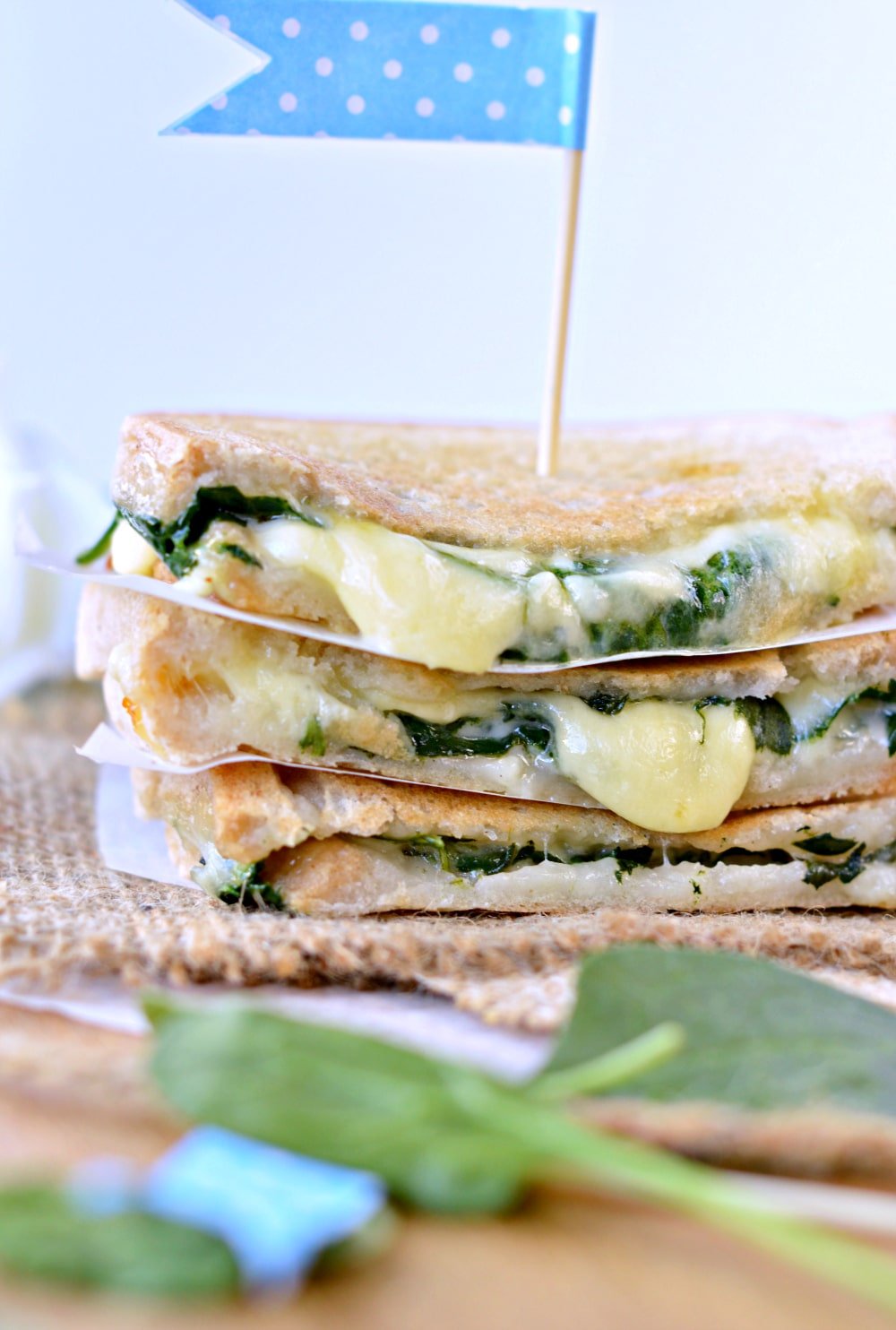 Now, tell me what is your favorite grilled cheese sandwich recipe ? 
Spinach Grilled cheese sandwich recipe| Grilled Cheese sammies
Print The Recipe
2 slices of wholemeal gluten free bread
1/4 cup grated cheese - mix of vintage cheddar and mozzarella
1 slice of emmental cheese
1 oz fresh baby spinach
2-3 drops of tabasco
Heat a large skillet or frying pan or sandwich maker.

Brush the coconut oil on the pan or sandwich maker. I used absorbent paper to rub the surface of my sandwich maker.

Place a first layer of grated cheese mixture on the bread slice then add the fresh baby spinach, grated cheese again and top up with the extra emmental cheese slice.

Add 2 or 3 drops of Tabasco to spice up your sandwich if you like.

Add the sandwich to the pan or sandwich maker and grill on both sides until golden brown and cheese is melted - about 2-4 minutes in total.

Serve hot with extra green salad on side.