Looking for an healthy French toast recipe?
Don't look further this Blueberry Stuffed French Toast is the healthiest French toast recipe around! You will love this egg free french toast recipe made with gluten free crispy bread and dairy free coconut yogurt. A simple, easy and decadent vegan french toast recipe for breakfast.
Blueberry Stuffed French Toast – Egg Free & Dairy Free
SO after my banana chocolate craving from last week it is now the blueberry coconut combo that obsess me! Seriously, do you guys believe that sweet cravings means that we carry a baby girl? Psst! I secretly dream about another baby girl but still a month to go before I know more about this and share the news with you. But now let's talk more about this lovely Blueberry Stuffed French Toast.
MY LATEST VIDEOS
You know I love gluten free bread from Bakeworks when I am craving on carbs because it is the only bread range I found in NZ that contains nourishing ingredients and still lots of fibre. Today I am testing a new bread range – the Farmhouse Bread – that is whiter in color but still made of super nourishing ingredients. Look at this lovely loaf, hard to believe this is a vegan bread loaf too !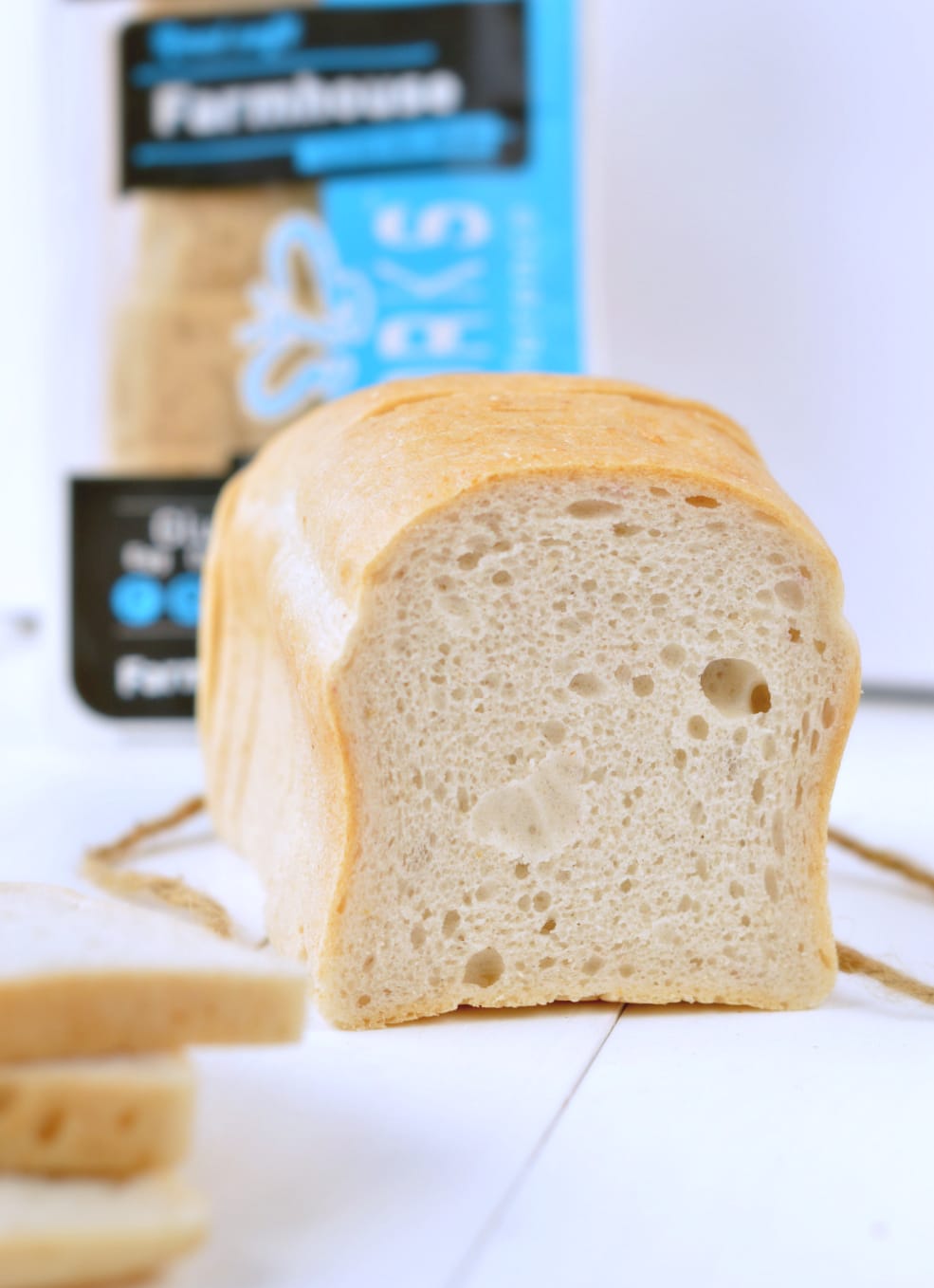 SO this bread was just perfect to make this Blueberry Stuffed French Toast recipe because it was dense and resist very well to the moisture of the coconut yogurt I spread on those toast. It did not break at all and even became very crispy when cooked in my sandwich maker. This Stuffed Blueberry Sandwich is like having a blueberry cheesecake for dessert. It is sweet, creamy with a buttery & crispy cinnamon bread. I love that it don't use eggs or dairy because it was fulfilling but easy to digest too.
AND because I love YOU I team up with Bakeworks to rewards 2 of my followers and WIN and amazing Bakeworks pack full of gluten free product including (of course !) the Farmhouse bread to reproduce this lovely recipe but also cookies and more healthy stuff! Go on my Facebook page HERE from 8.30 pm on 22nd July 2016 to enter the NZ Giveaway competition. NZ resident only (of course!) and close on Monday 25th July 2016 at 8.00 am to leave you plenty of time to share, like and spread the word during the weekend!
Have great week end, and makes some Blueberry Stuffed French Toast to warm up !
Blueberry Stuffed French Toast the healthy way !
This recipe serve one Blueberry Stuffed French Toast
Instructions
Defrost the blueberries and keep the extra juice to drizzle on bread.

In a bowl, using a fork combine the solid coconut oil, stevia, cinnamon and salt until it form a spread.

Spread the coconut cinnamon spread on one side of each bread slice.

Place the bread slices onto a plate covered with parchment paper. Make sure the side where you spread the coconut spread is directly facing the parchment paper.

In another small bowl, combine together coconut yogurt, stevia powder, vanilla extract until it forms a thick cream.

Spread on both sides of your bread slices - side where you didn't spread any coconut spread.

Add the blueberries on one bread slice.

Drizzle the extra blueberry juice on the other bread slice if you used frozen blueberries- optionnal.

Make a sandwich. Set aside.

Warm a skillet over medium heat or a sandwich maker.

When hot add the sandwich and cook on both sides for 2-3 minutes until crispy, golden brown and a nice cinnamon smell begins to form. If you used maple syrup instead of stevia it will forms a caramel too!

Meanwhile in another saucepan, melt the coconut oil and when hot add the coconut chips.

Toast them for 1-2 minutes until slightly brownish. Sprinkle extra cinnamon and toast for another 20 seconds to spread the flavor.

Serve the stuffed blueberry french toast topped with the toasted coconut chips and extra drizzle of maple syrup if you like.