Creamy broccoli quinoa casserole with a creamy and cheesy quinoa white sauce. This broccoli bake goodness with crumb and cheese topping is a family-favorite in my house. The creamy white sauce is 100% dairy free and gluten free using quinoa.
You know I am French, right? Well, creamy broccoli casserole – or cauliflower casserole – are one of the classic French recipe that every French mum loves to put on the dinner table. I always love my mum French recipe ! She is the queen at making creamy white sauce. Mum always make her creamy sauce with butter, white flour, milk and grated emmental OUCH! not really what I am eating for 4 years now. There is way too much dairy and white ingredient in her recipe.
Broccoli Quinoa Casserole  with Quinoa White Sauce
But I am still a huge fan of Broccoli Casserole. That is why I revisited my mum classic white sauce recipe to be healthier. I mean dairy free, gluten free and rich in fibre. Trust me or not, I come up with this quinoa white sauce recipe by mistake. I am often cooking quinoa in vegetable stock to prepare leftover for the week days. I accidentally cook my quinoa a bit longer until it forms a creamy mixture. When the cooking liquid is mostly evaporated quinoa tend to stick and become thick creamy. I blend it on high speed in my blender. BOOM! it creates the most thick and creamy sauce ever !
It was really thick so I adjust my sauce with extra lukewarm liquid – I use almond milk or extra vegetable stock. I make this recipe very often and I usually don't have to add more than 3/4 cup of extra liquid to reach a classic white sauce texture. Add some extra flavor ingredients like nutmeg, garlic, salt, pepper. OHLALA ! You made it. The quinoa white sauce is ready. I know I said it is a dairy free sauce and it is. But I am French and I love adding cheese everywhere. I add a cup of grated cheese in this recipe to add some cheesy taste. It is optional but if you tolerate lactose go for it! It brings the broccoli quinoa casserole to the top notch !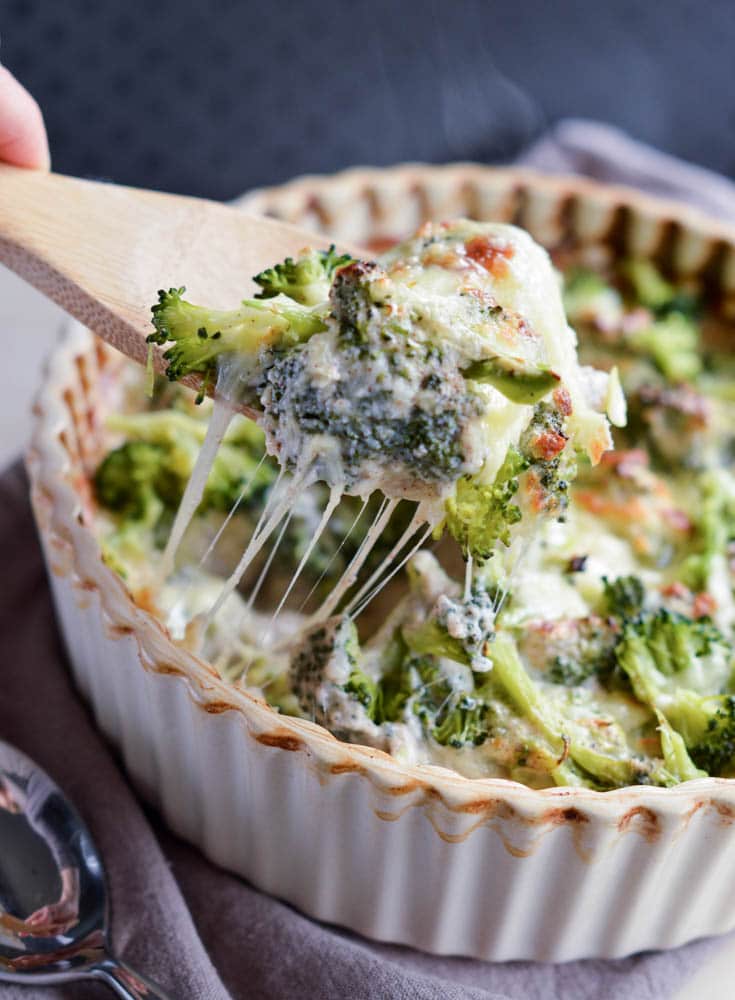 For the crust on top I combine a layer of gluten free Panko crumb – I used Bakeworks in New Zealand – and extra grated cheese. Again, only use the Panko crumb if you prefer the dairy free recipe. Both options works like magic. This recipe can be make-ahead. It freeze very well in airtight container. I recommend to defrost the container in the fridge for 24-hours. It rewarms well in the microwave.
Quick Video To Show you how easy you can make this Creamy Broccoli Quinoa Casserole tonight
Creamy broccoli and quinoa casserole with quinoa white sauce
An healthy creamy broccoli casserole with a gluten free quinoa white sauce. An easy and healthy comforting family dinner. that kids loves.
Ingredients
2 broccoli feat, trimmed into small florets (4 cups)
1 teaspoon vegetable oil - to oil the baking dish
Quinoa white sauce
1/2 cup (50 g) uncooked quinoa - white, red or even a combo of both
2 cups vegetable stock or dairy free milk like soy milk or almond milk + extra 1/2 cup lukewarm stock to adjust sauce thickness
1 garlic glove, crushed
1 teaspoon nutmeg
1/2 teaspoon salt
optional : add 1 cup grated parmesan or grated cheddar
Crust
1/4 cup gluten free panko crumb
1/2 cup grated cheese - I used cheddar
Instructions
Preheat oven to 200C on fan grill mode.
Prepare a baking dish slightly oiled with 1 teaspoon of vegetable oil.
Trim the broccoli and place into a microwave safe bowl.
Cover the bowl with a microwave safe lid and microwave between 4-6 minutes on high.
You can also cook the broccoli florets into 2 l of boiled water on medium heat in a pot. It takes about 8 minutes. Drain well and let the steam evaporate before placing into the baking dish.
Place the cooked broccoli florets into the baking dish. Set aside.
For the quinoa white sauce.
Combine quinoa - I used a mix of white quinoa and red quinoa - with 2 cups of vegetable stock. Note that you can also use dairy free milk to cook the quinoa. The sauce will be whiter but the quinoa tend to stick more to the pot when cooking !
Cook in a small pot over medium heat for 15-25 minutes stirring constantly until it forms a slight boil with small bubbles on the side of the pot. Don't boil and keep stirring, every so often, to prevent the quinoa to stick at the bottom of the pot.
The quinoa is cooked when it forms a thick and creamy mixture.
Pour the quinoa mixture into a hig speed blender and blend on high speed until a creamy sauce forms. If too much stocks evaportate during the cooking you may have to add up to 1/2 cup cold dairy free milk - like almond milk or soy milk or even vegetable stock - to adjust the sauce thickness until you reach a consistency you like.
Simply add the extra liquid gradually while blending in the mixer. Stop when you like the consistency of your sauce. It should be as creamy as a regular white sauce.
Add nutmeg, crushed garlic, salt and cheese! Cheese is optional here but I love the extra tste and texture it brings to the sauce.
Blend 30 seconds to combine and pour the sauce over the cooked broccoli.
Add Panko crumb evenly on top of the casserole and extra grated cheese if you like.
Bake for 20 minutes until cheese is melted.
Turn the oven on grill mode and keep baking for 5-10 minutes or until the top is crusty.
Can be stored in the fridge in airtight container for up to 4 days. Freeze very well in plastic lunchboxes. Keep well in the freezer up to 2 months. Defrost the day before and rewarm in the microwave until pipping hot.
https://www.sweetashoney.co/broccoli-bake-with-quinoa-white-sauce/