YES! I made us some healthy carrot cake baked oatmeal bars for breakfast!
You guys know I am always on the run with my little girl around plus my family in law who just landed in Auckland. SO breakfast are crazy and those Carrot Cake Baked Oatmeal Bars are the perfect healthy on-the-go breakfast for those crazy busy mornings. If like me you are always looking for quick & healthy breakfast recipe ideas packed of nutrient and flavor, this one is for you! And you know what ? you can make-ahead those oatmeal bars and store up to 1 week in a jar – or more but I eat them all in few days ahaha 🙂
Carrot cake oatmeal Bars | A quick healthy breakfast
SO what is in those carrot cake bars? I put EVERYTHING you need to energize your day: ground flaxseed, wholegrain oats, carrots, banana and nuts. YEP! it is a Vegan Breakfast bar no eggs or dairy in this recipe. I made us a fiber and protein loaded bar with only natural goodness. YEAH! Let's bring dessert for breakfast and indulge on those guilt free clean eating breakfast bars. Seriously, I can eat them ALL day not only for breakfast. After 3 years blogging full time you guys probably don't realize how difficult it is to take nice shoot of food that you just want to eat lol Really, I ate 3 of those bars while taking those pictures!  But you see I did not put on weight or feel sick – I mean my diabetes is in control even eating those bars – SO it definitely means it is good for you. As I am a blueberries lover and it is the blueberry season in NZ, I added a bunch of fresh blueberries on top of those bar – a great antioxidant top up to those vegan breakfast deliciousness.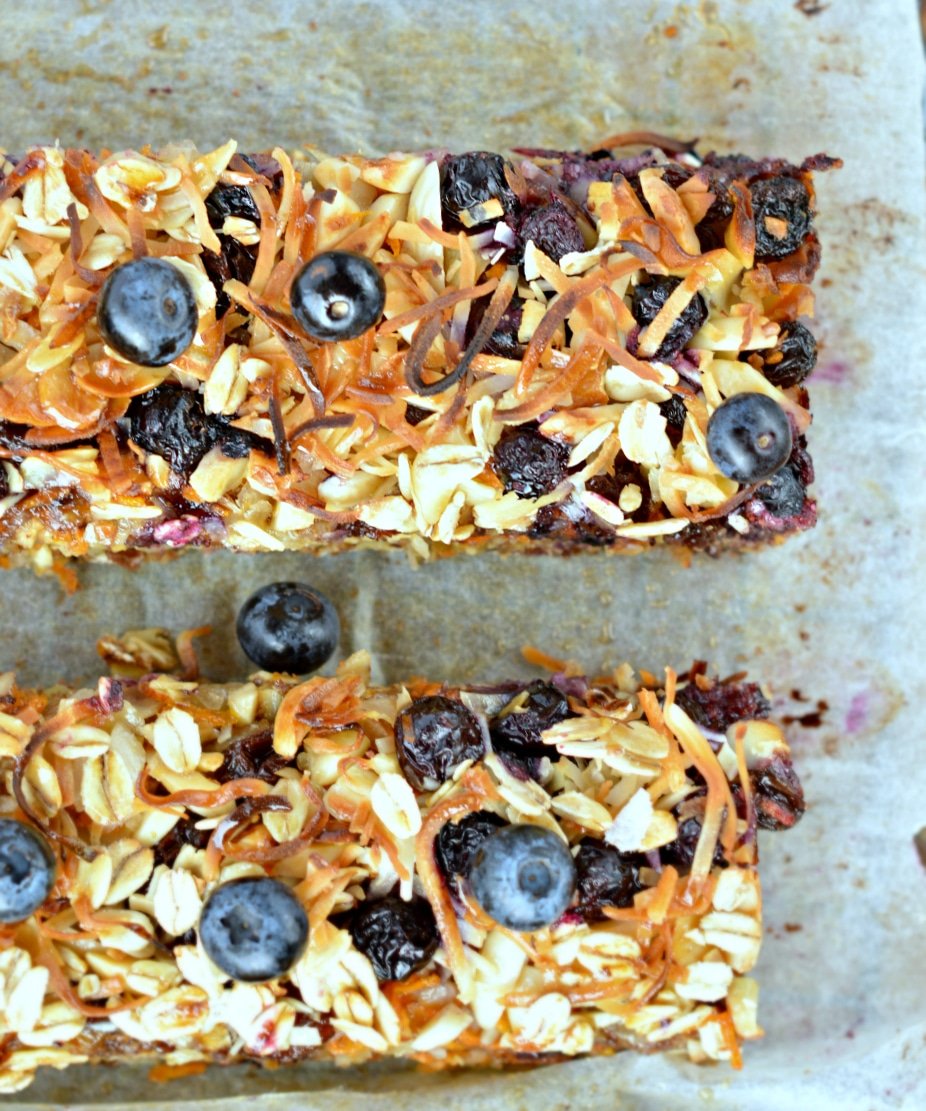 NOW let's talk about the texture of those bars. Is that good! HELL YES, it is addictive! It is a moist carrot cake bar with a crunchy top layer made of coconut, carrots and wholegrain oats. What I love the most about those bars is the rich chewy texture.  I like to eat 'a lot' for breakfast and I hate soft food that are eaten too quickly because I overeat them and then I feel gross. Here, the high amount of fiber makes the bars slightly longer to eat and I feel full after eating only a square – well I still had 3 square while taking the photography I won't lie I skip lunch after that lol
I don't know about you but when I bake something there is always an area of the baked good that I prefer. You know like for cookies, the sides are always crispier and I love that. Here,  I am completely in love with the sides too because the banana tend to caramelized in this area and it makes it very sweet.  But don't be worried, if you watch sugar or don't like too sweet food those carrot cake bars are not too sweet, specially if you are using fresh banana – I did used ripe banana and if you are like me  -a strong sweet tooth – I recommend to use ripe banana to naturally increase the sweetness of the bar without adding more rice malt syrup. UGH! confession here, I actually drizzle extra rice malt syrup on my carrot cake squares 🙂
But it is rice malt syrup and it is not really sweet in taste compared to honey and it gets only 50 % fructose so it is less addictive too. Well, I need to find good excuses to overeat something, as always !!! SO now it is time for me to go, mother in law is around the house I have to be perfect and cook a nice dinner for tonight !
<
Carrot Cake Baked Oatmeal Bars | Healthy Breakfast
Ingredients
2 cups rolled oats
1/3 cup shredded coconut
1/2 cup grated carrots
1/2 cup raw almonds (or mix of walnuts, almonds and pecan)
1/4 cup Ground Flaxseed
1 tablespoon cinnamon
1/4 teaspoon ground ginger
2 bananas, medium size, mashed
1 tablespoon coconut oil, melted
4 tablespoon honey or rice malt syrup
2 tablespoon Creamy Almond Butteror nut butter of your choice
Toppings
1/3 cup grated carrots
1/3 cup silvered almonds or sliced almonds
2 tablespoon shredded coconut
1/3 cup dried raisins
1/4 cup Old fashionned oats,Wholegrains
4 teaspoon coconut oil
4 tablespoon rice malt syrup or honey
3 tablespoon almond milk
1/4 teaspoon cinnamon
optional: 3/4 cup fresh berries I used blueberries as it was in season but strawberries or raspberries works too
Instructions
Preheat oven to 180 C.
Cover a square baking pan (8 inches * 8 inches) with baking paper. Set aside.
Using a food processor with the S blade attachment, add all the ingredients except the grated carrots. It is preferable to melt the coconut oil before adding it to the bowl.
Process until it comes together and all the oats and nuts are pulverised. It will form a sticky consistent batter and it should not take more than 1-2 minutes on medium speed.
Stop the food processor, scrap down the sides and add the grated carrots.
Process again 15-30 seconds to incorporate the grated carrot into the batter.
Transfer the batter into the prepared square baking pan.
Press firmly and evenly with your hands to cover all the bottom of the pan.
Bake 15 minutes until the sides starts to gets crispy.
Meanwhile prepare the toppings.
Into a mixing bowl add the coconut oil, rice malt syrup and almond milk.
Microwave until liquid - about 30 seconds to 1 minute on high.
Combine in all the toppings ingredients into the melted mixture.
Remove the pan from the oven using oven mitt.
Spread the toppings on the top of the baked bar. Press firmly to stick to the pre-baked carrot cake bar.
Return to the oven for 15 minutes or until the topping is crispy and golden.
Fully cool down - 1 hour- into the pan before removing the bars from the pan.
Cut into 16 squares. The topping will be a bit loss but you can add an extra drizzle of rice malt syrup or honey on top of the bars after baking to stick things together.
Store into a metallic box up to 1 week.
https://www.sweetashoney.co/carrot-cake-baked-oatmeal-bars-healthy-on-the-go-breakfast/