Say hi to these gluten-free cauliflower fritters! Nom, nom!
I love all fritters but these paleo cauliflower fritters are simply the best! A simple, crispy clean food recipe perfect as a meal on its own or to fill burger buns. 
Paleo Cauliflower fritters, gluten free and low carb too
I'm almost 25 weeks pregnant and I feel tired at the end of a day. Still, I do my best to prepare simple, delicious dinner using fresh vegetables for my family. I love healthy cauliflower recipes. I shared so many on my blog – the first were the cauliflower pizza crust and cauliflower tots that I make very often.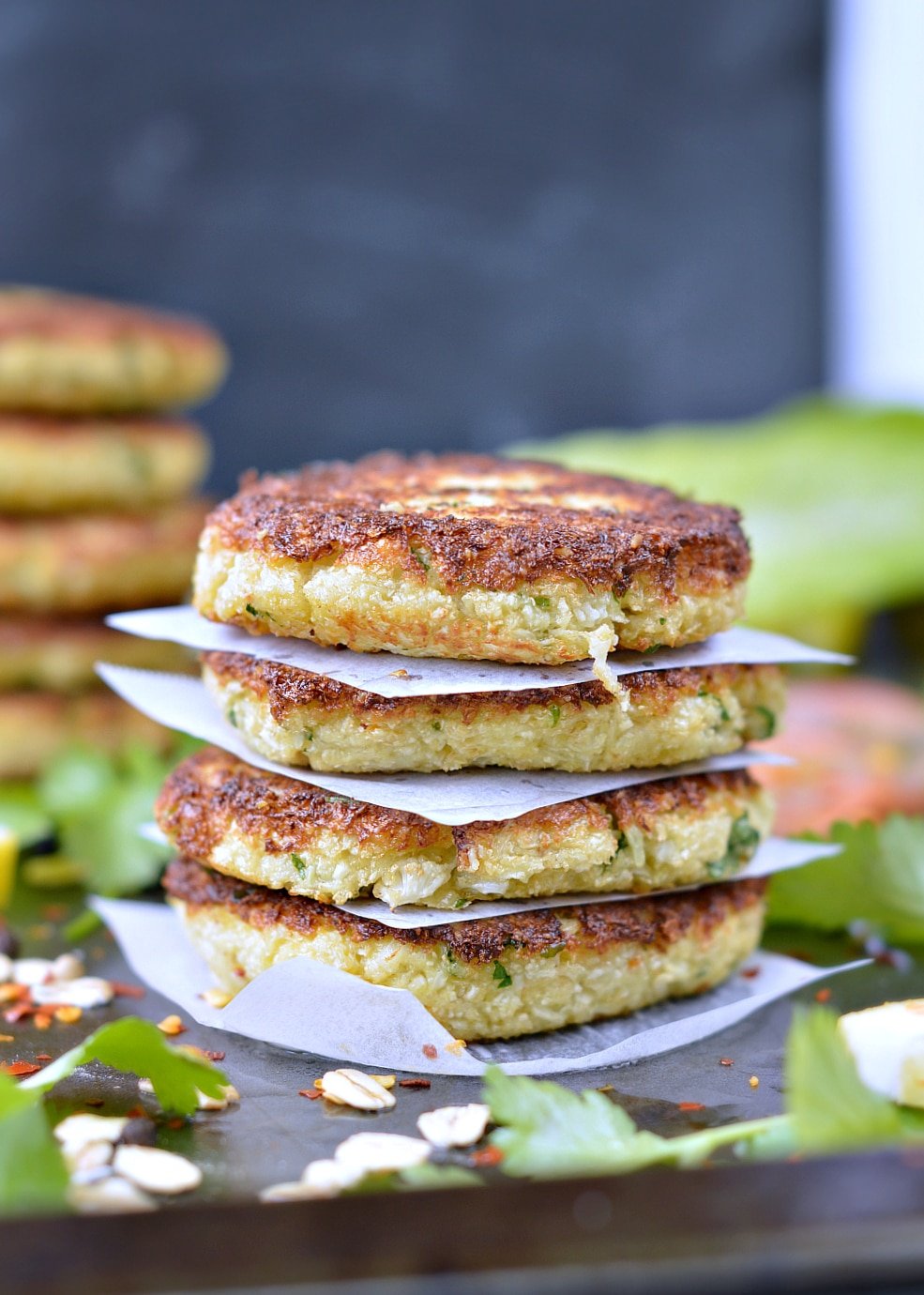 I did these cauliflower fritters in less than 10 minutes last night. It's a bit longer to fry than regular fritters but it's such a delicious and healthy dinner for busy nights. I love cauliflower because it's a low-carb vegetable and it's loaded with fiber too. I simply makes them using 4 ingredients: grated cauliflower, eggs, fresh herbs and gluten-free breadcrumb from Bakeworks. I hear you, breadcrumbs are not paleo! I know! But I tested the recipe with almond meal as well and it works!
The texture of the batter is quite moist and I wasn't sure it would fry well but it actually does! I recommend to squeeze a small portion in your hands to form 5 cm diameter cauliflower fritters. Then place the paleo cauliflower fritters on a plate covered with parchment paper and slightly press them with your hand to shape a flat fritter – about half a cm of thickness. If you are using the Bakeworks gluten free breadcrumbs it will perfectly hold together and fry easier than using almond meal – see recipe notes for the amount of almond meal to use.
You must fry them for at least 5 minutes on one side before flipping over for 3 more minutes on the other side. The batter was big, so I fried them, stored the leftover in a plastic box in the fridge and rewarmed in a frying pan – without oil this time – the next day. I really enjoyed eating these fritters topped with mashed avocado and tomatoes as a light dinner. But it's also a great cauliflower appetizer served between lettuce leaves with a drizzle of sriracha sauce and aioli.
You can also use them as a vegetarian filling for your sandwich – I made cauliflower vegetarian sliders with halloumi and cranberries with them too – and put them in your lunch box – simply microwave them for few minutes and eat them with raw veggies in a wrap or slider bun. I hope you will enjoy this new simple recipe and if you give it a try, drop a comment! I love hearing from you.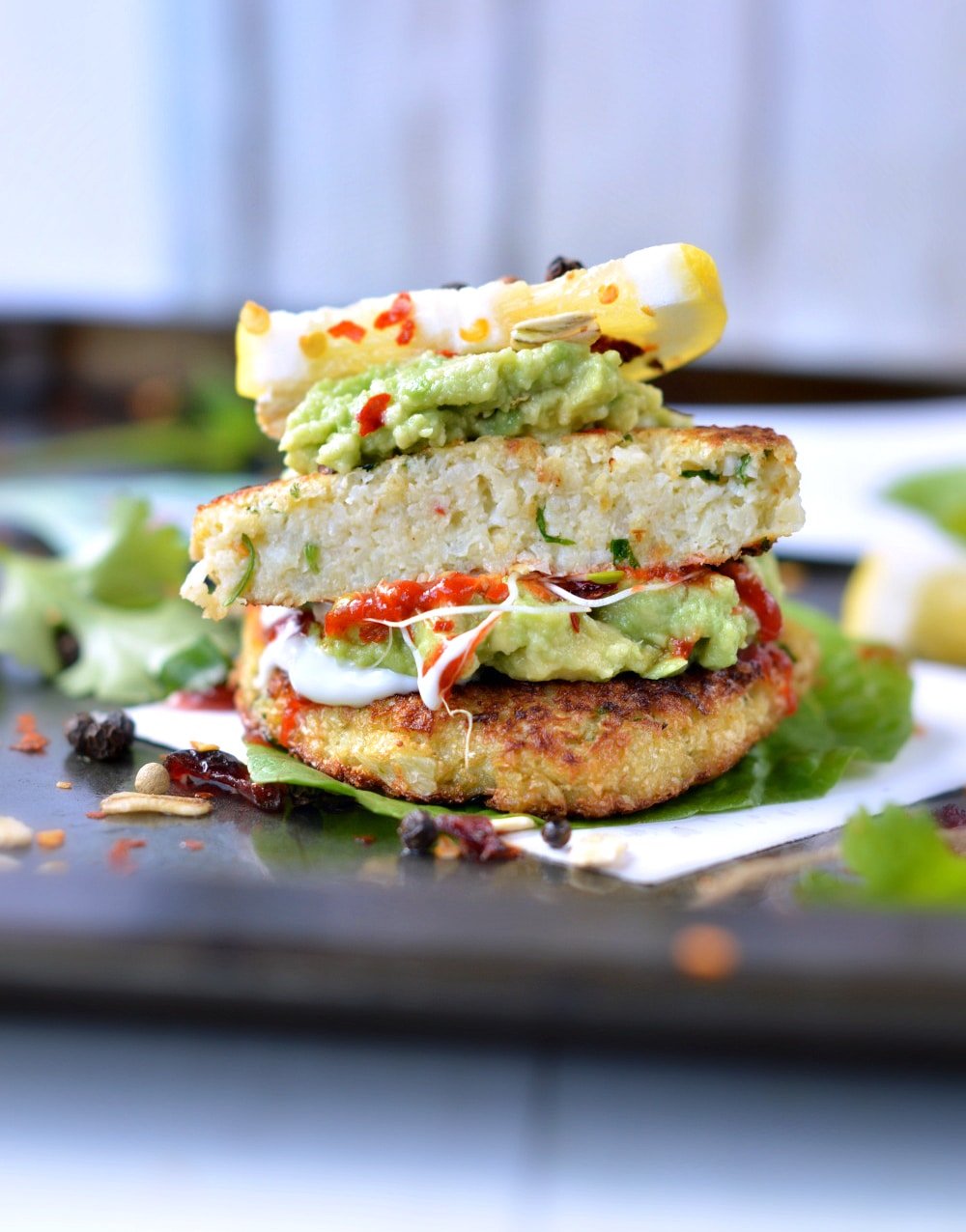 Gluten Free Cauliflower fritters
Healthy Gluten-Free Cauliflower fritters. An easy and tasty 4-ingredient crispy fritter recipe perfect as a clean eating meal on its own or to fill burger buns
16 fritters
Print The Recipe
2 1/2 cup grated cauliflower , packed
2 large Egg
3/4 cup almond flour
1 tablespoon Fresh cilantro , finely chopped
1/4 teaspoon Garlic salt
1/8 teaspoon Chilli Flakes optional
3 tablespoon vegetable oil - olive oil, canola oil - to fry
1/2 cup Grated Mozzarella - optional if paleo
Cut the cauliflower florets of one small cauliflower head.

Place the florets into a food processor with the S blade attachment.

Process until it forms a fine cauliflower rice.

Measure 2 1/2 cups of packed grated cauliflower and place into a large mixing bowl.

Add eggs, gluten-free breadcrumbs, fresh herbs, salt and chili flakes and grated cheese.

Combine with a spatula until it forms a fritter batter that holds together.

Use your hands to shape small fritters - you should make about 16 medium fritters with this recipe. The smaller and thinner they are the faster it will fry. Make sure you squeeze the batter very well into your hands to first form a ball.

Place the cauliflower ball onto a plate covered with parchment paper and flatten with your hand - about half cm thick, 5 cm diameter.

In a frying pan, under medium heat, warm the vegetable oil.

When the oil is hot add the cauliflower fritters and cook for at least 3-5 minutes on one side before flipping them on the other side.

Fry 3 more minutes on the other side and remove them from the pan when perfectly fried.

Cool down on a plate covered with absorbent paper to remove the excess of oil.

Repeat until all the fritters are cooked. You may have to adjust the oil level for the following fritter adding 1-2 tablespoons of extra vegetable oil.

Serve hot with mashed avocado on top or as a vegetarian burger patty.
Storage: If you made too many of them, store the fried fritters in the fridge in an airtight container. Rewarm in a frying pan within 3 days without oil. You can also rewarm them in a warm oven or microwave but you will lose their crispiness. Freezing: The batter can be frozen in a whole batch or already shaped in fritters. Simply defrost the day before using. Defrost in the fridge and fry following instructions above. Paleo option: replace the 1/2 cup of gluten-free breadcrumb by 3/4 cup almond meal  Baking: Place the fritters on a cookie sheet covered with parchment paper. Spray oil on the paper and arrange the fritters leaving half thumb between each fritters. Bake at 350 F (180 C) for 15-20 minutes or until crispy and firm. For extra crispiness, flip over and bake for 5 more minute on the other side. Recipe makes 16 fritters, serve 4 per person.
Nutrition Facts
Gluten Free Cauliflower fritters
Amount Per Serving (1 fritters)
Calories 62
% Daily Value*
Carbohydrates 1.7g1%
Fiber 0.4g2%
Sugar 0.5g1%
Protein 1.2g2%
Net Carbs 1.3g
* Percent Daily Values are based on a 2000 calorie diet.