NO processed food here !!! Only 8 -ingredients for the most decadent easy chocolate bundt cake. You'll love the fudge and moist texture. The chocolate flavor balanced by the sweetness of strawberries is amazing. If you are looking for an easy Christmas cake recipe that is gluten free and dairy free this one is a must try. And, if strawberry is not in season where you live – as it is for me in New Zealand – simply use frozen berries of your choice. 
Mini Chocolate Bundt Cake, healthy Christmas cake recipe
But before a little word about how I feel right now few weeks before Christmas. I really love Christmas countdown. Well I still can not believe that when you live in New Zealand Christmas is in Summer. But after 5 years living in Auckland I am getting used to it. May be having a almost 4 years old little girl born here help me to realize that Christmas – even in summer – has the same magical spirit. Well, I still miss Christmas in winter. There is something magic about the cold, light and music on a night Christmas market. I was born and raised in East of France where the temperature are very low in December  – could be as cold as -20 C.
In December there is plenty of Christmas market in every city. Lots of handmade product are sold in thousand of little chalet – wood house. Each of them are decorated with lights and Christmas ornaments. My parents has an organic sweet factory in France. Each year they are selling their product in those market where I was always going. Louds Christmas songs are displayed. It smells cinnamon, red wine and everyone is drinking Gluck wine. I loved to do my Christmas tree shopping there. One of the most famous Christmas market in France is located in Strasbourg – 1 hour from the city I was born. This market welcome more than 250 chalets and people from all the Europe are coming here to feel the Christmas magic. I miss those things so much. I am really dreaming about going back to my country for Christmas one day.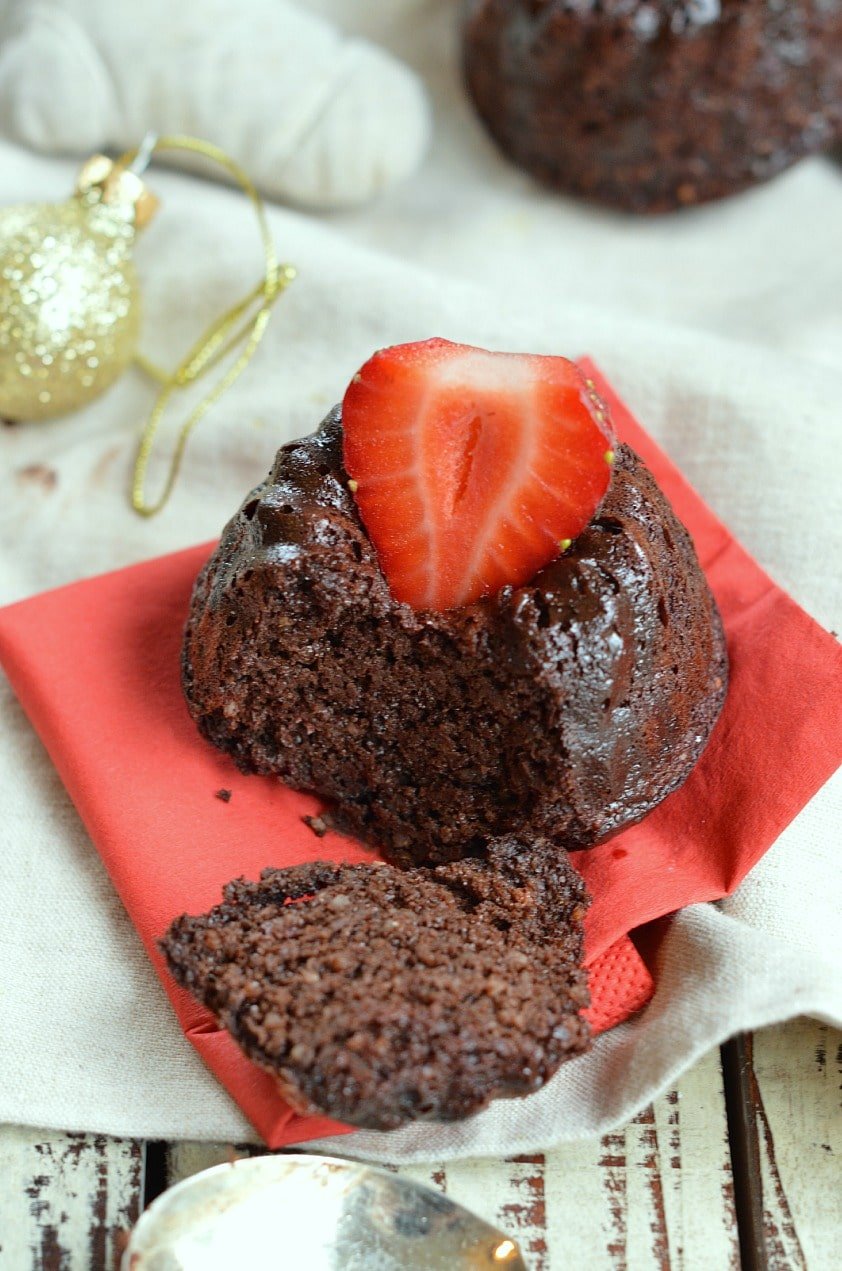 This year I will have some family to celebrate Christmas. Last year we had the chance to welcome my family in law. This year my sister in law moved in Auckland with her boy. We will all be together enjoying nice food and I can't wait ! Well, finger crossed my baby boy will stay tucked in my belly this night. Haha. I am due 10 th of January  so we never know what could happened. Christmas magic spirit, right? So back to the recipe now. I love those easy Fudge Chocolate Bundt cake all year round. I simply think it is a great Christmas dessert because it is light and use strawberries that are in season in New Zealand. It is a very nice recipe if you are gluten free and it is not overly sweet if you watch the carbs and sugar. I recommend to increase the sweetener quantity to 1/2 cup if you have a sweet tooth though.
Chocolate Strawberry Christmas Bundt cake
A Moist and fudge Chocolate Bundt Cake perfect as an healthy christmas dessert. Gluten free + paleo + dairy free.
Ingredients
2 cup almond meal
4 eggs size 6
1 tsp baking soda
1 cup fresh strawberries, 1/2 cup finely chopped (or berries of your choice)
1/2 cup unsweetened cocoa powder
1/3 cup virgin coconut oil, melted
1/3 cup maple syrup or rice malt syrup or honey
1 tbsp vanilla extract
Fresh strawberry slices to decorate.
Instructions
Preheat oven at 180 C.
Grease a bundt cake pan of 8 mini bundt cake pan.
In a food processor add the almond meal, eggs, honey, vanilla baking soda, unsweetened coca powder, coconut oil and 1/2 cup of strawberries.
Blend for 1 minutes or until a consistent cake batter form with no lumps.
Transfer this chocolate cake batter onto a bowl.
Incorporate the leftover of strawberry -1/2 cup- finely chopped into the batter.
Pour the bundt cake mixture onto the greased pan.
Bake for 25 -35 minutes depending on the size of the pan.
Insert a skewer in the middle of the cake if it comes out clean the bundt cake are cooked.
Cool down on a rack for 10 minutes.
Store well in an airtight container in the pantry for 4 days.
https://www.sweetashoney.co/chocolate-strawberry-christmas-bundt-cake/