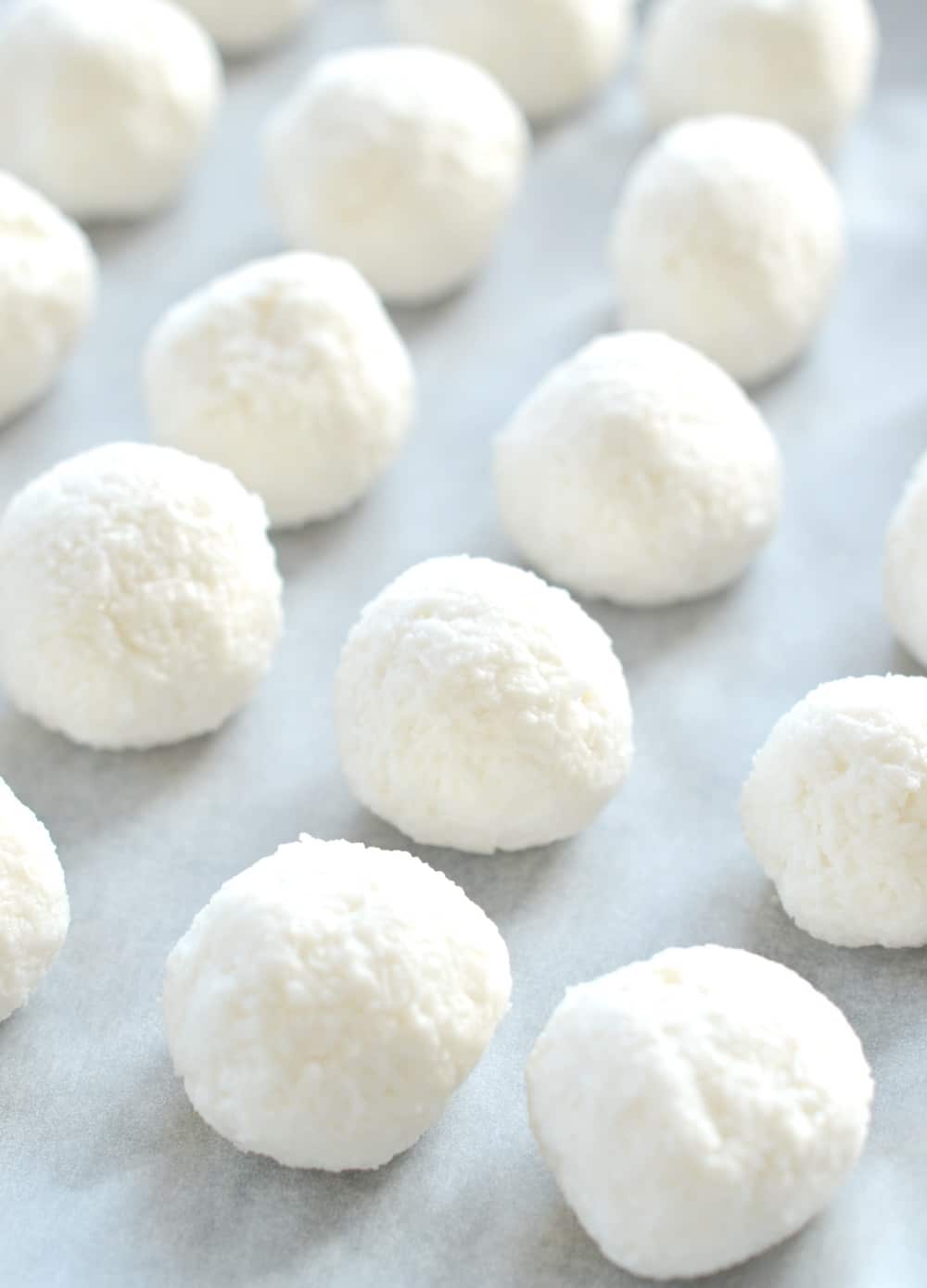 I am so addicted to those 'guilt-free' coconut balls. Yes, I said 'guilt-free' because for me those are safe to eat in moderation as they do not contains much carbs and they are refined sugar free ! Those coconut balls can be made 100% sugar free by replacing the liquid sweetener by a mix of coconut oil and stevia. I used Natvia in New Zealand which is a Stevia powder that you can use in same amount as sugar in your recipe without altering the taste of baking. Those coconut snowballs are also dairy free, gluten free and taste like bounty candy bars with a moist and creamy coconut centre and crunchy chocolate coating.
No-bake Coconut Balls for those looking for simple dessert recipes that everyone can eat!
I am absolutely in love with those coconut balls. I made them for my mum last week. She lives in France and she is type 2 diabetic. As it was my dad birthday I send a package to France and I wanted to add something homemade that my mum could enjoy and could last without being stored in the fridge.
They arrived after 2 weeks in France and taste great! I did the 100% sugar free recipe for my mum using stevia and coconut oil.
There is no much more to say except that those coconut balls are simple, delicious and you must try them. I did some pictures with Christmas decoration because I am really thinking about making small bags of those as Christmas gift for my family and friends. Does this looks cute? Enjoy the recipe and see you around for another healthy treat !
Watch the No Bake Coconut Balls recipe video !
You can easily prepare this recipe 100% sugar free - diabetes friendly. Simply swap the liquid sweetener by combining those 3 ingredients 1/3 cup melted coconut oil with 2 tbsp coconut cream and 4 tbsp stevia - I used Natvia a blend of stevia and erythritol
Ingredients
3 cups unsweetened desiccated coconut
1 cups almond meal
1/3 cup liquid sweetener of your choice - like honey, or maple syrup - See note above for 100% sugar free recipe
2 tsp natural coconut flavoring
4-6 tbsp coconut water
Chocolate drizzle
1/2 cup dark chocolate - I used 85% dark chocolate
Instructions
In a food processor with the S blade attachment add all the ingredients.
Process on medium speed for 1-2 minutes. Stop often to scrap down the sides of the bowl with a spatula.
Form 20 balls rolling the dough between your hands.
You can decorate the snowballs by drizzling melted chocolate on the top of the balls or simply rolling them into desiccated coconut. I simply melt the chocolate in the microwave during 1 minute on high.
Place each truffles onto a plate covered with parchment paper.
Store in the fridge in an airtight container for up to 1 week.
https://www.sweetashoney.co/coconut-balls/
Recipe adapted from Eat Good For Life
This recipe makes about 25 coconut balls. Nutrition panel is for one ball without chocolate coating.