This coconut Almond Flour Pie Crust is the best clean eating crust recipe. It is 100% gluten-free, paleo, and low-carb. The texture is crispy with a lovely nutty flavor and easily made in few minutes in a food processor.
The Coconut Almond Flour Pie Crust
Coconut flour. The new magic healthy flour loaded with fiber that everyone talks about. But what to do with coconut flour? A healthy Coconut Almond Flour Pie Crust or my coconut flour pie crust – if you don't have almond meal!
There are many names for this crust, like Paleo crust or allergy-friendly crust, or grain-free crust. It is probably because this recipe is suitable for most diets like wheat-free diet, gluten-free diet, or keto diet.
It is simply one of my best low-carb, diabetic recipes, and I like to call it by what is inside a Coconut Flour Pie Crust.
The trick to succeed with this Almond Flour Pie Crust is to roll the dough between two sheets of plastic wrap. Then remove the top layer, upside down the Almond Flour Pie Crust onto a greased pie pan.
You may have to press the dough with your finger to arrange it into the pan shape. It is a very crumbly dough but still easy to work with if you follow the rolling principle below.
I used this Almond Flour Pie Crust to make leek, coconut milk quiche.
Why is a Coconut Almond Flour Pie Crust Good for your Health?
Many people dislike looking at nutrition panels and labels, but it is actually primordial to understand what you eat.
Are you new to Keto?
Receive my Keto Quick Start email series to learn all about the Keto diet and kick start your keto journey!
I received many comments regarding this recipe about why this crust is healthy or healthier than white flour crust?
First, I want to say that I am not starting a war against white flour! White flour is low in saturated fat, cholesterol, and sodium and contains important vitamins and minerals like thiamin and folate.
Unfortunately for diabetic white flour has a slightly high glycemic index which means it releases sugar too quickly in our bloodstream, making our blood sugar level go like a roller coaster.
Low GI food is not only good for diabetic but also for everyone who is looking for good control of sugar craving.
If the product releases the glucose slowly in your blood cells, you are not starving for sugar quickly after a meal, and you feel full for longer.
Why is the Coconut Flour Pie Crust Healthy?
Lower GI index than white flour, which means it helps to stabilize your blood sugar level, decrease sugar craving, loss of energy, and hunger feeling.
High-fiber content and high-protein flour, which means it keeps your stomach full for longer, and you feel satisfied quickly after eating. It is also a good point for people looking for weight loss. Fiber is non-digestible and has the power to fix and evacuate bad cholesterol from your body.
You can buy Coconut Flour in any shop in the organic aisle.
Nutrition Comparison between coconut flour, almond meal, and white flour
For the nutrition lovers, I included below the nutrition panel of each flour : coconut flour, almond meal, and white flour, all coming from Nutritiondata Self.
I highly recommend using a removable bottom pan to easily unmold the crust from the pan without breaking the crust.
This recipe can be used to make your favorite gluten-free dessert recipes or any gluten-free meals. You can find coconut flour in any supermarket in the organic aisle.
Other keto-friendly pie crusts
Recipe Card
Coconut Flour Pie Crust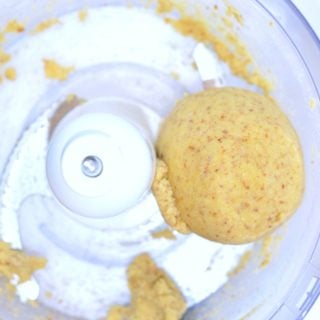 A delicious simple Coconut Flour Pie Crust with almond meal. A low-carb crust recipe perfect for quiche or sweet pies.
Instructions
Preheat oven to 180°C (350°F) on the fan-forced mode.

Grease an 8-inch round pan with coconut oil or butter. Set aside.

Place all the ingredients into a food processor with the S-blade attachment. The order in which you add the ingredient does not matter.

Process on medium speed until all the ingredients come together and form a ball. About 2-3 minutes depending on your food processor. You may have to stop the food processor every 30 seconds to scrape down the ball and repeat until the dough ball forms.

Roll the dough between two layers of plastic wrap sheets to prevent it from sticking to the rolling pin. When the dough is as flat and thin as you like, remove the top plastic wrap layer. Flip over the crust onto the round pie pan.

If the dough breaks, use your fingers to shape the dough evenly onto the sides of the pan as you would with kids' playdough. 

Bake for 25 - 35 minutes or until golden and crispy on the sides.

Cool down in the pan for 10 minutes. Then push the removable bottom of the pan and gently transfer the crust onto a cookie rack to cool down.
Quiche: If you are using this crust for a quiche, don't pre-bake the crust. Directly fill the crust with your quiche filling and bake until the sides of the crust are golden brown and your filling is set. Baking: for a fruit pie or a curd pie where the filling doesn't need to be bake, simply bake the crust for 25 minutes or until the sides are golden brown. Fully cool down before filling with cold curd or fruits. Sweet crust: feel free to add 2 tablespoons of erythritol or sugar-free crystal sweetener in the food processor to create a sweet crust.
Tools
Starting Keto
What Is Keto Diet?
Macro Calculator
Sweetener Converter
Keto Meal Plans
Keto Recipe Ebooks
Intermittent Fasting
Keto Fruits
Keto Vegetables
Keto FLours
Fighting Keto Flu
Keto Sweeteners
Nutrition Facts
Coconut Flour Pie Crust
Amount Per Serving (8 people)
Calories 131
Calories from Fat 108
% Daily Value*
Fat 12g18%
Sodium 12mg1%
Potassium 6mg0%
Carbohydrates 4g1%
Protein 3g6%
Calcium 22mg2%
Iron 1mg6%
Net Carbs 2g
* Percent Daily Values are based on a 2000 calorie diet.