If you love clean food recipes this crispy coconut pie crust is the one to try at least once in your life!
I make this coconut pie crust very often. My friends always agree that it is the BEST gluten free pie crust they ever tried! I agree this is a very tasty crust for any gluten free dessert. The good news is, this coconut pie crust recipe can be made with only few basics ingredients that any clean food lovers like us have on our clean eating grocery list. A combo of shredded coconut, coconut oil and almond meal. BAM! you just made a delicious crust with no refined ingredients. It is a very easy coconut pie crust recipe. It take only few minutes to make this with your food processor.  I love to use this coconut pie crust recipe to prepare my favorite sweet pie like this sugar free lemon pie  or this sugar free apple pie recipe. This recipe works well for savory tarts even if I prefer to use my coconut flour pie crust for quiche.
Coconut Pie Crust gluten free
This coconut pie crust is perfect for any gluten free or paleo food lovers. It does not contains much carbs as well which makes this coconut pie crust suitable for diabetic. Always make sure to use unsweetened shredded coconut though!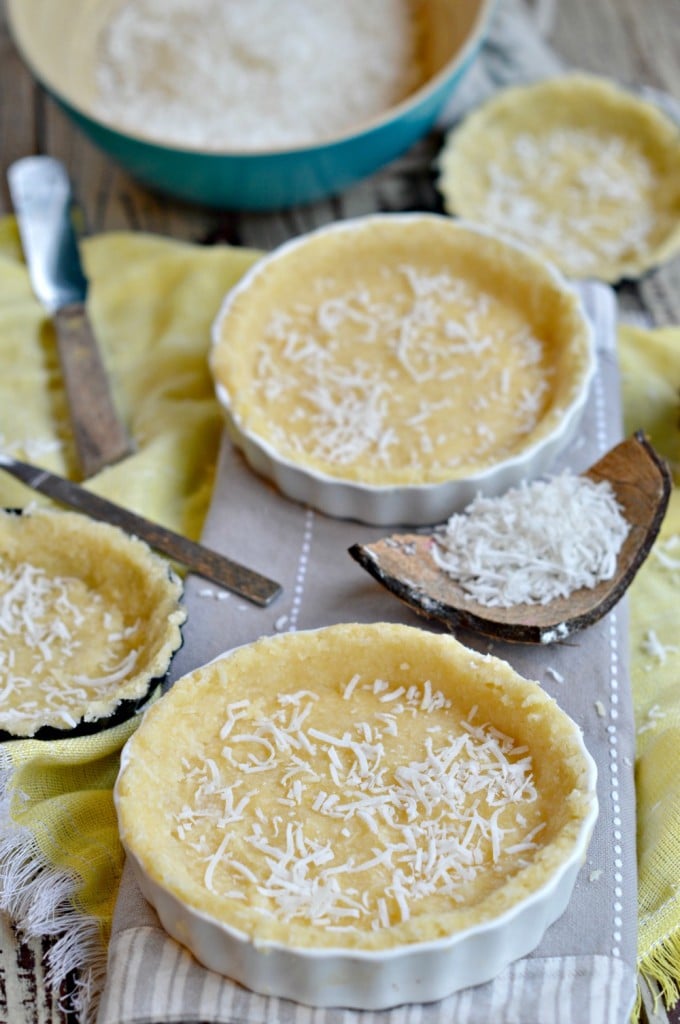 Coconut is usually unsweetened in New Zealand – not in US. It worth to double check  specially if you are watching your sugar or carbs intake.It is a very easy coconut pie crust recipe, 100% made in your food processor! That is clearly a no fail recipe as all you have to do is combine all the ingredients together in the food processor to form this lovely coconut pie crust gluten free dough. The pictures below are using unblanched almond meal wich results in some brown spots in the dough coming form the almond skin. Any almond flour meal work well.
It could be a bit crumbly at first – I reckon. If this happens, transfer the dough into a mixing bowl and gather all the crumbly pieces with your hand. Press firmly to form a ball like in the picture above.  I roll the dough between two pieces of plastic wraps. It is the easiest way I found to achieve a thin crust. Then I peel off the first plastic layer and flip over the crust onto a loose bottom pie pan. It may break and it is fine. It is a slightly crumbly dough so if this happens it is super easy to fix that with your hands. Add the crumbly pieces where needed – where dough is missing. By pressing with your fingers it will stick together in the pan almost like playing with kids playdough! Except from that coconut pie crust I really love to make a coconut flour pie crust for my quiche. For a change with sweet pies I love to use my coconut cashew crust  as well.
 After few attempts I noticed that this crust is easier to remove from the pan using a removable bottom round pie pan. I am now using a Non-Stick 9-Inch Round Pan with Removable Bottom
. Again it is up to you to choose the pan pie you like but that is my recommendation. I really love to make pie crust without white flour or refined ingredients. It is a very different way of baking. It could be confusing at first because the pie dough has a different texture and break easily when you fill the pan. But the taste is amazing and it is so nutritious ! If you love gluten free pie crust I have got a whole collection of crust available on the blog. Here we go team! Another clean eating recipe for you to try ! Let me know what you think and click here if you want to look for more clean food recipes on my blog!
Have a lovely day !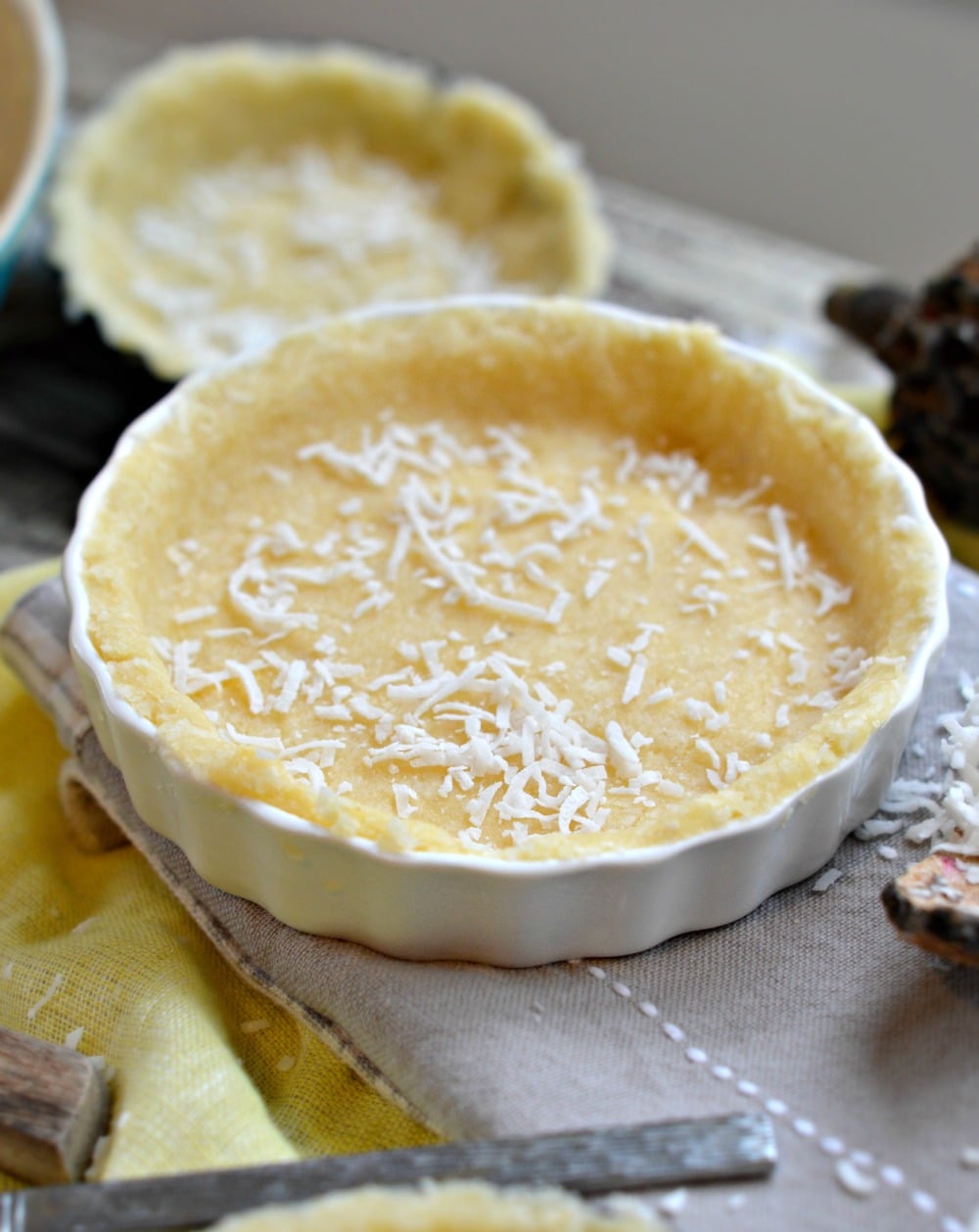 COCONUT PIE CRUST GLUTEN FREE WITH COCONUT OIL
A delicious and easy gluten free coconut pie crust made in a food processor. with only wholesome ingredients. A great clean food recipe for pie lovers. Perfect to make a pumpkin pie, apple pie or any other sweet pie.
Prep Time: 5 mins
Cook Time: 20 mins
Total Time: 25 mins
8 people
Print The Recipe
Preheat oven to 170 C (340F). Oil a loose bottom pie pan (10 inches) with 1 teaspoon of coconut oil. Set aside.

In a food processor using the S blade attachment, add all the ingredients shredded coconut, almond meal flour, melted coconut oil, eggs, erythritol and vanilla extract.

Blend on high speed for 1-2 minutes or until a dough ball is forming (as you can see in the post picture).

It could be slightly crumbly. If it is, simply transfer the dough onto a hard surface and using your hands gather the crumble pieces together to form a ball of dough. It will stick and hold perfectly together

Place the dough ball between two pieces of plastic wraps. Press the dough ball with your hand and start rolling with a roller pin until thin - about half cm thickness.

Remove the top layer of plastic wrap and flip over the rolled dough onto a 26 cm (10 inches) loose bottom pie pan previously oiled with a teaspoon of coconut oil. Remove the last piece of plastic wrap. If the dough break or crumble during the transfer it is easy to use your finger to fill the gaps in the pan. Simply press the dough onto the empty areas until you cover all the pan with the dough.

Pre bake at 170 C (340F) for 20-30 minutes or until golden brown

Always unmold carefully after at least 3-4 hours of cooling process inside the pan. This crust is very fragile so use a loose bottom pan and grease very well with butter or coconut oil.

Note 1 :  If you are using a filling that need to be bake like pumpkin pie filling, add the filling in the pre-baked crust and return to the oven until the filling is set. If cold filling is used like custard or fresh fruits, wait until the crust has fully cool down before adding anything inside. Note 2:  For a savory pie don't add the erythritol and vanilla extract. Replace those ingredients by 1 teaspoon of sea salt.
Nutrition Facts
COCONUT PIE CRUST GLUTEN FREE WITH COCONUT OIL
Amount Per Serving
Calories 267
* Percent Daily Values are based on a 2000 calorie diet.