Those healthy chocolate banana muffins are the healthiest whole wheat chocolate muffins EVER! No sugar added, deliciously moist, crazy chocolate flavor, tons of banana. An easy 5 ingredients recipes with NO processed food. Only real food, natural sweetener and healthy coconut oil fat. Simply the easiest chocolate banana muffins for kids with nut allergy. Yep! those are nut free snacks for kids too. You will love those gorgeous Skinny Chocolate Muffins ! Taste like a double chocolate muffin with a swirl chocolate cake style!
Healthy Chocolate Banana muffins | Real Wholefoods only!
Hello chocolate lover readers. I am just entering my third trimester for baby two. The sweet cravings knock at my door again. But I am very happy though. No gestational diabetes this time. I guess I was right. Eating real food is the best way to avoid diabetes again. I prove that it is alright to sweeten your baking with natural banana and a bit of natural sweetener.
There is no need to go on a sugar free diet. So today I share another easy banana muffin recipe. I love those healthy chocolate banana muffins. It is simply sweetened with banana and brown rice syrup. The batter is ready in 5 minutes in my food processor. Plus, it is nut free so I can add them to Emma lunchbox.
I always loved swirl chocolate cake when I was a kid. So I had fun with those healthy chocolate banana muffins. I split the batter in half. I flavored only half with unsweetened cocoa powder. Then I arrange layers of muffin batter in my muffin tin. Give a swirl with a knife in the batter and boom ! You just made cute healthy chocolate banana muffins. And you had fun making them! I love when healthy food is fun. Baking is so relaxing.
For the big chocolate lovers add a square of dark chocolate in the center of each muffins. Everyone loves a runny chocolate muffin. For low sugar options choose 90% cocoa chocolate or even 70% cocoa is fine. It is only a square per muffin !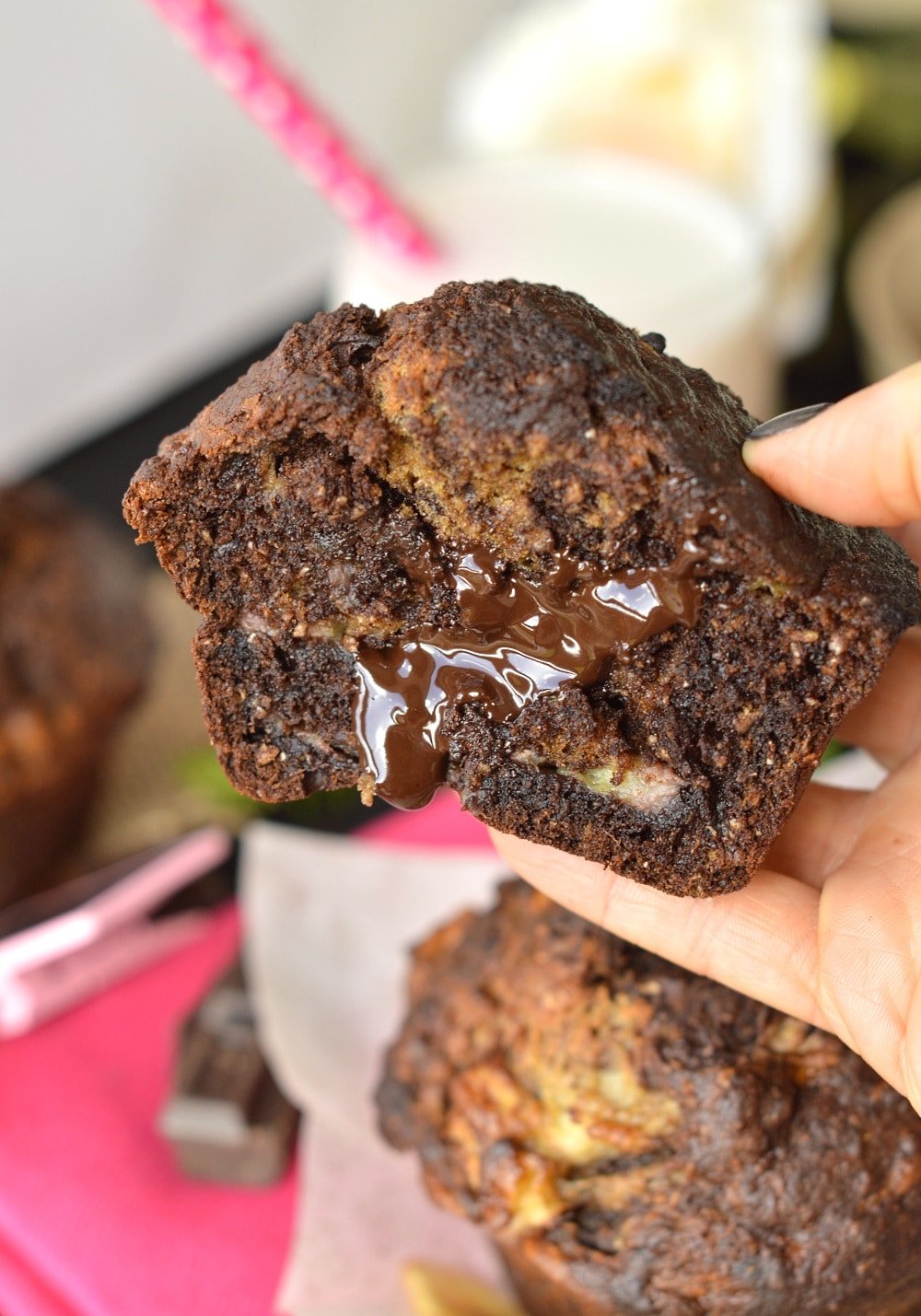 Enjoy,
Ingredients
2 cup wholewheat flour
1/2 cup extra virgin coconut oil, melted (or vegetable oil like rice bran or virgin light olive oil)
4 eggs
4 large ripe bananas, mashed with a fork, use the one with black spot on the skin
2 teaspoon baking soda
1/2 cup maple syrup or honey (or apple syrup for a lower carb recipe)
For rhe chocolate batter
4 tbsp unsweetened cocoa powder
Optional
6 Dark chocolate squares - 90% or 85% or 70%
1 extra banana, sliced
Instructions
Preheat oven to 180C.
Grease a 6-holes jumbo muffins tray with coconut oil. Set aside.
In a large mixing bowl or the bowl of your food processor with the S blade attachment, add all the ingredients in this order whole wheat flour, extra virgin coconut oil, eggs, mashed bananas, baking soda, maple syrup.
Process/stir until combine and smooth. It is ok if you still have bites of bananas it is actually better as it adds lots of moisture to those muffins.
Split the batter in half. You should have two bowl with similar quantity of batter. Put one of the bowl aside.
In the other mixing bowl add the unsweetened cocoa powder. Stir until well combined.
Spoon the batter into the muffin tray.. The amount you add for each layer is up to your taste.
Starts by a layer of chocolate batter, few banana slices (if you like), banana batter, a piece of dark chocolate (push it down the batter with your finger), chocolate batter and banana batter.
Bake for 35-40 minutes max or until a chopstick inserted of the centre of the muffins comes out clean.
Flip over the tray onto a cooling rack and cool at room temperature before eating.
You can froze those whole wheat chocolate banana muffins in zip bags and defrost them 3-4 hours before eating.
Store in the pantry up to 5 days in a airtight container.
This recipe makes 6 jumbo muffins.
https://www.sweetashoney.co/healthy-chocolate-banana-muffins-easy-5-ingredients-clean-muffins/