Who's keen to eat one those healthy cinnamon rolls ???
Healthy cinnamon rolls with no refined sugar
Well, cinnamon rolls will never be as healthy as eating an apple but someday it is good to indulge. So lets say it is not healthy cinnamon rolls but a little bit healthier cinnamon rolls made without refined sugar and nourishing ingredients loaded with fiber, healthy fats and protein. Now it makes more sense ! I must tell I always hated the term 'healthy' as healthy very depends on your own diet and body needs. I mean wholewheat flour is not healthy if you eat paleo or gluten free. Well for me it is !
Whatever I made cinnamon rolls. It taste divine, it smells delicious and it looks amazing. So all I want is to share this simple recipe with you. You know how much I love sharing my food – probably as much as I love eating. Today I fancy a bit of food coloring in half of my cashew icing. While expecting a boy I am still passionate about pink food.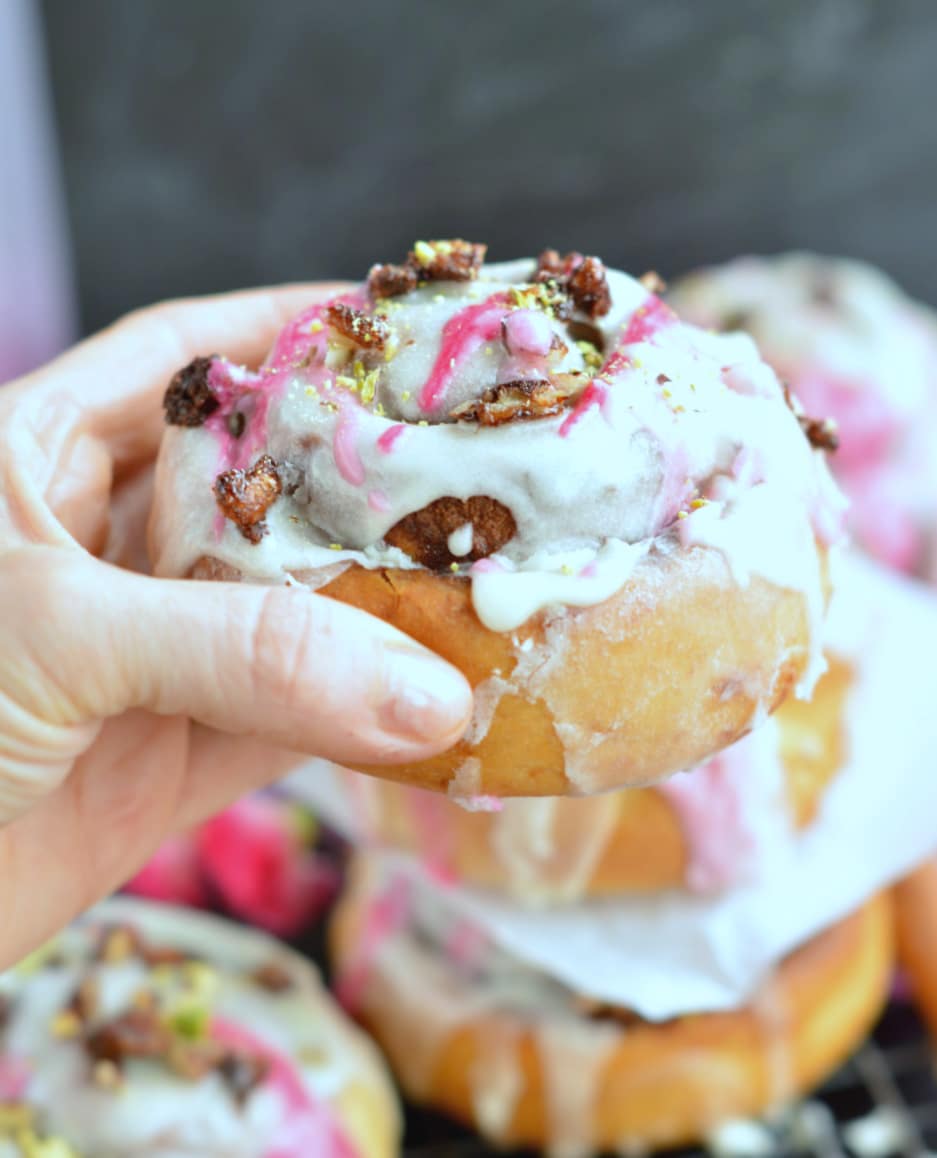 I did half of the batch with cashew glazing and half with sugar free icing from Natvia. I offered most of this healthy cinnamon rolls batch to my friend for her birthday. I also freeze some for later breakfast during the week end. If you want to freeze brioche or cinnamon roll always freeze the dough before the second raising time. I freeze them in a airtight plastic box. Always defrost the night before on a baking tray covered with parchment paper and bake the next day following the regular baking instructions. I hope some of you will try those kind of healthy cinnamon rolls and enjoy it!
Healthy Cinnamon rolls
Ingredients
1 3/4

cup

all-purpose flour

white wheat or spelt flour

1 1/3

cup

whole wheat flour

or wholespelt1/4 cup honey or maple syrup

1/4

cup

unrefined cane sugar - rapadura or light muscavado

1/2

tsp.

salt

1

tbsp.

active dry yeast - reactive in 2 tbsp. lukewarm water

1

tsp.

vanilla extract

2/3

cups

lukewarm dairy free milk - I used soy milk but almond milk or oat milk is great too

1

egg

4

tablespoons

melted coconut oil or vegetable oil of your choice

Filling

1

cup

unrefined cane sugar

2

tbsp

cinnamon

1

tbsp

coconut oil

soft not liquid

Cashew Glazing

½

cup

raw cashews

soaked

1

tbsp

honey or maple syrup

2

tbsp

coconut oil

soft not melted

2-4

tbsp

almond milk

Toppiings

1/2

cup

pecan nuts chopped

2

tbsp

pistachio

chopped

2

tbsp.

honey or maple syrup
Instructions
In a small bowl combine the dry yeast with lukewarm water. Stir. Set aside 2 minutes until it forms a paste.

In a large mixing bowl or the bowl of your stand mixer, add the flours, salt,, sugar, yeast paste, vanilla extract, lukewarm milk and egg..

Combine the ingredients with a spoon and after 30 seconds- 1 minute slowly add the melted coconut oil.

Knead the dough until it forms a soft and elastic ball. Let the bowl into the mixing bowl. Don't add more flour even if it is slightly sticky.

Cover the mixing bowl with a towel and place the bowl in a warm place > 35 C to raise the dough. You can simply warm your oven for few minutes at 50C. Turn off and store the prepared dough in the oven.

Raise for 1h30.or until the dough double in size.

Meanwhile prepare the filling.

In small bowl, stir together brown sugar, cinnamon and coconut oil.

After that time press the dough with your hand to remove the air.

Sprinkle white flour onto your bench top and transfer the dough on the surface.

Knead the dough slightly to obtain a ball that don't stick to your fingers. Add up to 1/3 cup white wheat flour to obtain a soft dough easy to roll.

Roll the dough with a roller pin into a square of 30 cm x 30 cm.

Spread the filling mixture all over the dough using a spatula or your finger until you cover all the square - except the borders leave about a thumb without filling.

Roll the dough starting at long side opposite border. Squeeze firmly to avoid the filling to run out.

Using a sharp knife cut into 12 even pieces.

Place each pieces side up onto a baking tray covered with parchment paper.

Cover with a towel and let rise for 30 minutes at room temperature..

Remove the towel.

Bake for 20-30 minutes at 190C or until golden on the top.

Meanwhile prepare the cashew glazing.

In a blender add the drained and soaked cashew nuts, honey and coconut oil.

Blend and add almond milk 1 tbsp at a time until it reach a thick and white consistency. You should not need more than 6 tbsp.

Drizzle on top of lukewarm cinnamon rolls and let sit for 30 minutes for the glazing to set.

If you like toast the chopped nuts in a small saucepan with honey and decorate on top.

Serve lukewarm.