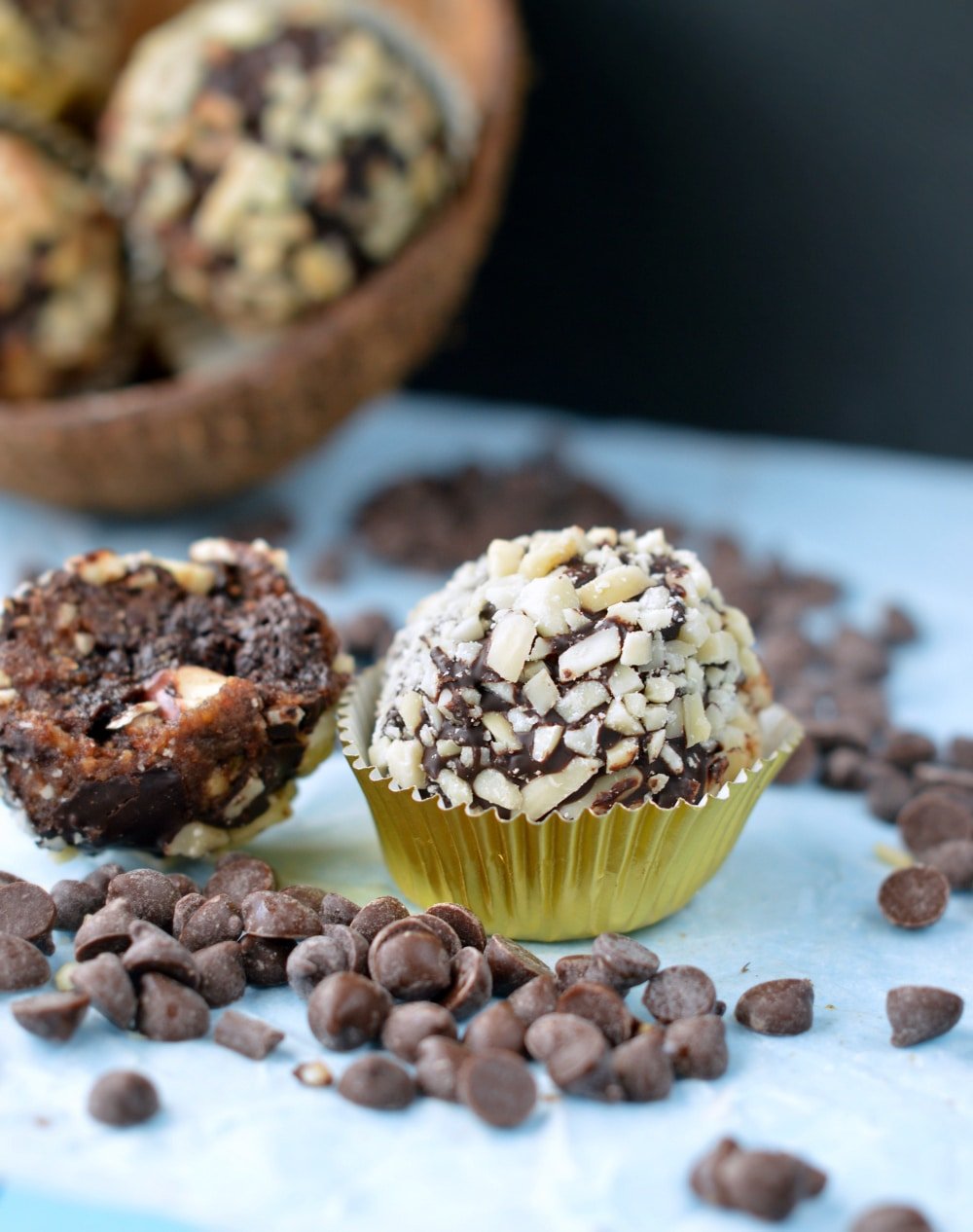 You will LOVE those No Bake Healthy Ferrero Rocher Truffles. An easy recipe that I revisited my way to be 100% refined sugar free and dairy free.
I always absolutely adore those little sweet chocolate balls filled with crunchy roasted hazelnuts and chocolate cream. I mean who can not love a ferrero rocher ? Yesterday it was a BIG time for me and my family. I am now 20 weeks pregnant and I had my second baby scan the one that announce your baby gender. I am already the lucky mum of a little 3 1/2 year old little girl, Emma, and I was very excited to know what was growing in me! This is the little bags I prepared for my husband and little girl to announce the baby gender! My husband and girl were so excited to learn that we are having a BOY! I am usually not sharing family picture but today I had too! 
Plus I prepared a lovely diner with lots of healthy finger food -as always you know how much I obsessed with finger food by now :). I prepared some eggplant pizza, stuffed mushroom with spinach AND those healthy ferrero rocher truffles for dessert. It is a very easy recipe to make if you have a food processor. There is 4 main steps to make those healthy hazelnut truffles. The first two steps simply consist of processing all the ingredient into the food processor.
Then roast some hazelnuts with coconut oil and brown rice syrup and insert into the two layers of batter prepared before.
Form healthy ferrero rocher truffles with your hands like this and dip into chocolate and crushed hazelnut before cooling in the fridge for few hours.
The texture of those healty ferrero rocher is moist, sweet an chewy with a strong hazelnut chocolate flavor that really reminds me ferrero rocher. Of course, the chocolate filling inside is less runny as it is made of nuts but it is still very delicious.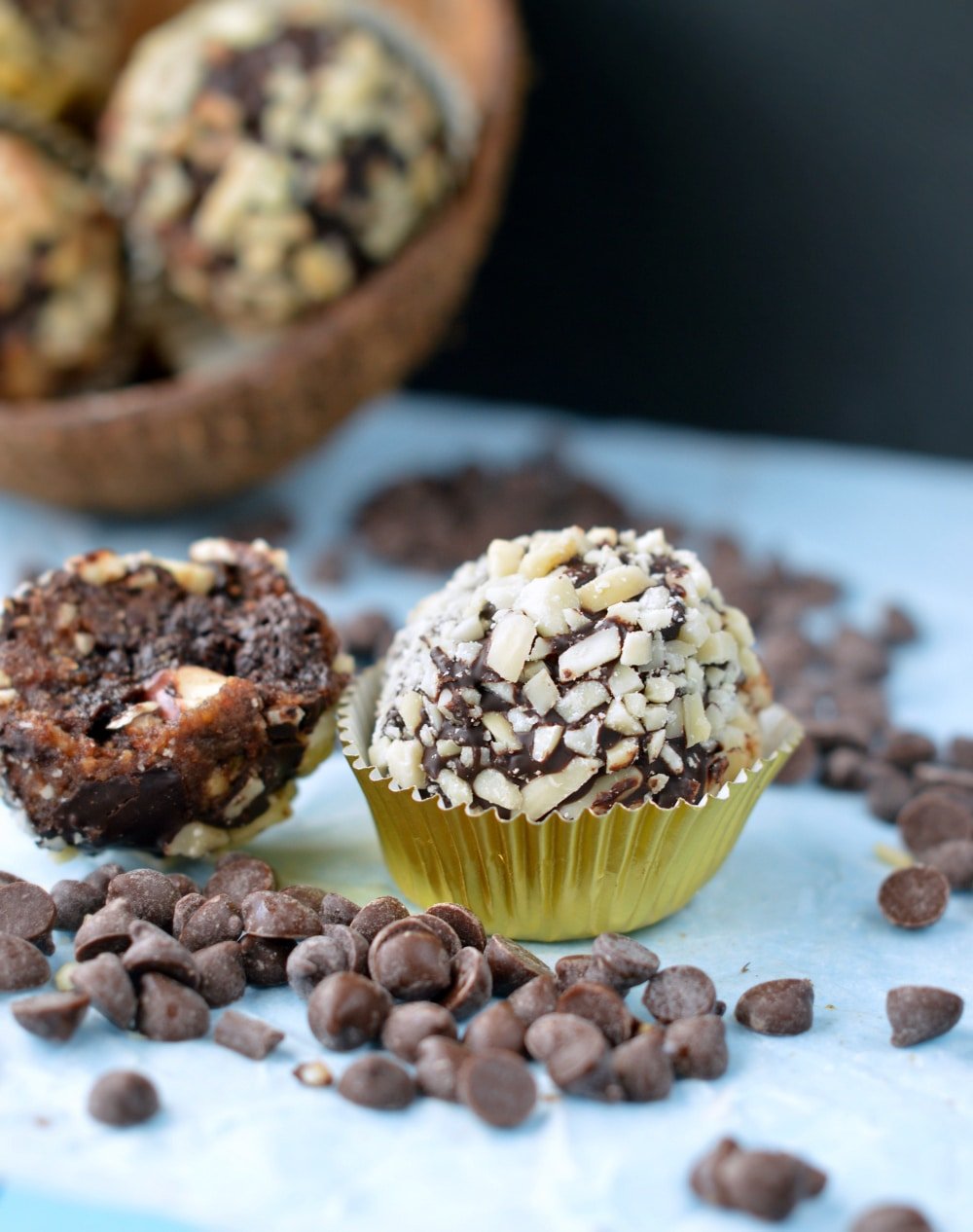 Healthy ferrero rocher
Print The Recipe
1 cup whole hazelnuts
10 pitted dates soaked, drained - I used Medjool
1/4 cup dark chocolate chips - I used dark chocolate
1/4 cup almond butter
1/2 cup ground hazelnut or ground almonds
1/4 tsp sea salt
1 tsp vanilla
optional :2-4 tbsp water
Chocolate filling
1/4 cup almond butter
2 tbsp. cup cocoa powder
1/4 cup brown rice syrup or honey if paleo
2 tsp. coconut oil
Stuffing
16 hazelnuts
3 tbsp. brown rice syrup or honey if paleo
Toppings
1/4 cup 85% dark chocolate melted
1/3 cup crushed hazelnuts
In a food processor with the S blade attachment add all the ingredients except filling and topping.

Process until it forms a consistent batter. It shouldn't take more than 3 minutes on high speed. I recommend to process by 30 seconds burst. Sop, scrap down the sides of the bowl and repeat until smooth and consistent.

Place the batter into a bowl. Refrigerate while your prepare the filling.

For the chocolate filling, place all the ingredients into the bow lof the same food processor - no need to clean the bowl! Process the same way until the chocolate batter is smooth and consistent. It will be thicker than the previous one. Set aside on a bowl in the fridge.

In a saucepan, melt the coconut oil. When warm add the whole hazelnut and roast them for 1-2 mnutes until fragrant. Add the brown rice syrup at this time and using a spoon rub them until it forms a toffee. Transfer the hazelnut onto a plate to cool down fully. When cold remove the batter from the fridge and start rolling the ferrero rocher balls.

Start rolling 1 teaspoon of chocolate batter with your hands to form a ball placing a roasted hazelnut in the center of this chocolate ball.

Place about 2 tablespoons of hazelnut batter in your hands and roll it around the chocolate ball until you fully enclosed the chocolate ball and form a bigger ball.

Repeat until no more batter left. Store each balls on a plate covered with parchment paper.

Melt the dark chocolate in the microwave or in a saucepan under medium heat until shiny and fully melted.

Using a fork dip each ferrerro rocher balls into the melted chocolate and then roll into the crushed hazelnuts.

Refrigerate until the chocolate coating fully harden.

Store in the fridge in an airtight container for up to 3 weeks.

This recipe makes about 16 balls.