The no-bake healthy Ferrero Rocher truffles are a vegan, refined-sugar-free and dairy-free alternative to the very famous Ferrero Rocher.

What are Ferrero Rochers?
Ferrero Rocher are a multi-layered truffle-style ball with a hazelnut in its heart, a layer of soft chocolate around it, Gianduja (a hazelnut-rich soft chocolate) and a thin wafer of chocolate.
Its name comes from the french word "rocher" that translates into "rock" or "boulder" and it's commercially made by Ferrero – the guys behind Nutella and many other industrial chocolates.
How to make a healthy an no-bake Ferrero Rocher?
Commercial Ferrero Rochers are delicious but they are manufactured, which means they use many ingredients that are better to avoid to stay on a healthy diet such as palm oil, whey, emulsifiers, milk powders, etc.
Since the real Ferrero Rochers are also made with wheat, they contain some gluten and therefore they are not gluten-free. However this recipe is 100% gluten-free because it's made with hazelnuts,  dates, cacao powder, almond butter and brown rice syrup – just wholesome ingredients.
The recipe to make these healthy rochers is very easy if you have a food processor. Follow the 3 simple steps below.
The first step simply consists in processing all the ingredient for the filling in your food processor.
Then roast some hazelnuts with coconut oil and brown rice syrup and insert one into the two layers of batter prepared before.
Form you rocher truffles with your hands like this and dip into chocolate and crushed hazelnut before cooling in the fridge for a few hours.
The texture of these healthy ferrero rocher is moist, sweet and chewy with a strong hazelnut chocolate flavor that really reminds of ferrero rocher. Of course, the chocolate filling inside is not as runny since it's made of nuts but it's just as delicious.
How to pronounce Ferrero Rocher?
This recipe wouldn't be complete without a guide on how to pronounce the name of these delicious balls. And this is a tricky one because the brand Ferrero is Italian and Rocher is a French word.
To pronounce Ferrero the Italian way, you have to roll the 'r', and roll the double 'r' even longer. So it's a bit like "Fair" (with a long rolled R) + "Air" (with a short rolled R) + "oh"
Rocher is a French word, but don't pronounced like "Roshay". First, the "R" is a guttural "R". Assuming you know how to do a guttural "R", it's like "Rosh". The end of the word "er" is similar to an unfinished English "ay". Imagine not closing your mouth when saying "May" – you have it. So it's "Guttural R" + "osh" + "ay"/2. Easy!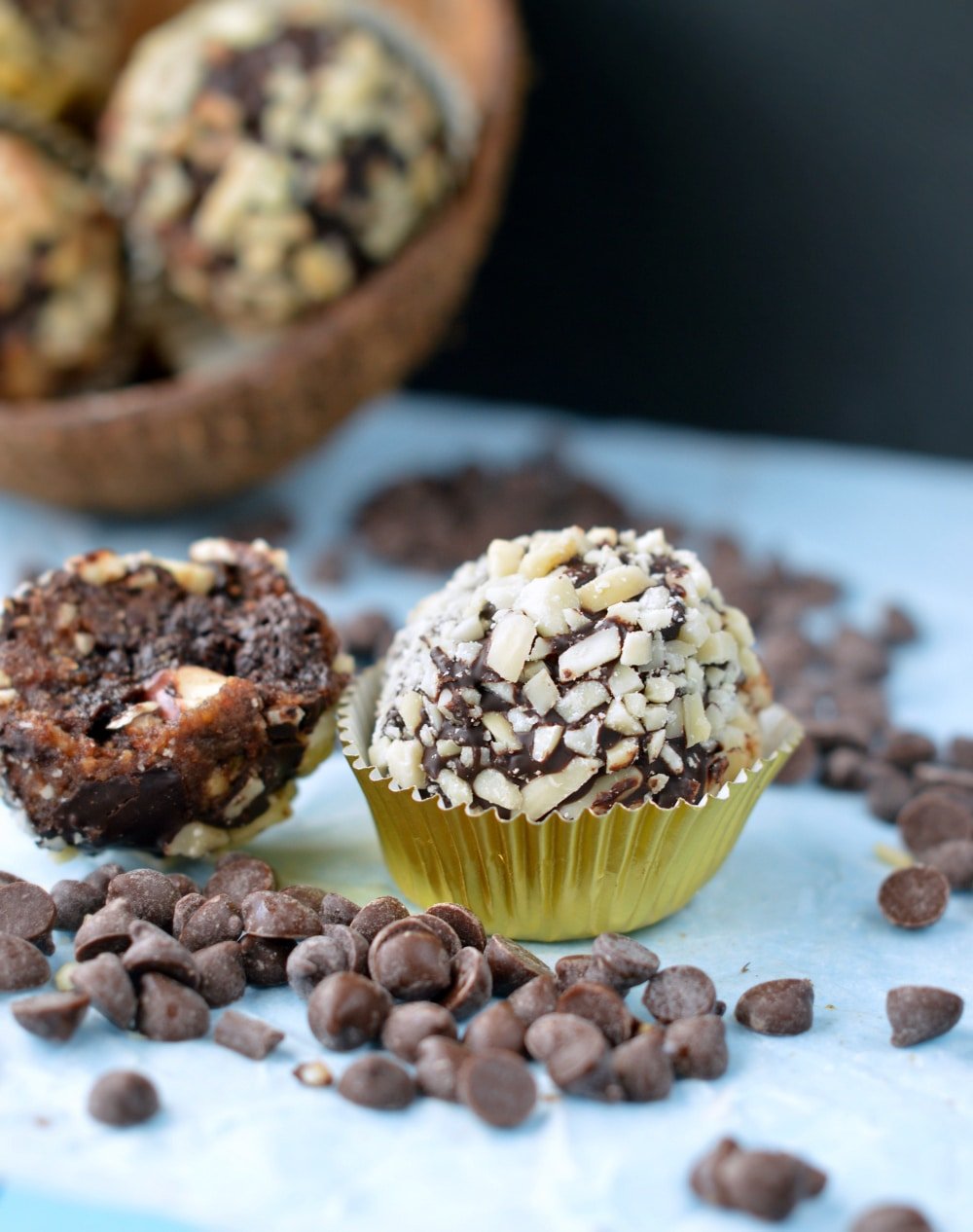 Healthy ferrero rocher
The no-bake healthy rocher are a vegan and
16 rochers
Print The Recipe
In a food processor with the S blade attachment add all the ingredients except filling and topping.

Process until it forms a consistent batter. It shouldn't take more than 3 minutes on high speed. I recommend to process by 30 seconds burst. Sop, scrap down the sides of the bowl and repeat until smooth and consistent.

Place the batter into a bowl. Refrigerate while your prepare the filling.

For the chocolate filling, place all the ingredients into the bow lof the same food processor - no need to clean the bowl! Process the same way until the chocolate batter is smooth and consistent. It will be thicker than the previous one. Set aside on a bowl in the fridge.

In a saucepan, melt the coconut oil. When warm add the whole hazelnut and roast them for 1-2 mnutes until fragrant. Add the brown rice syrup at this time and using a spoon rub them until it forms a toffee. Transfer the hazelnut onto a plate to cool down fully. When cold remove the batter from the fridge and start rolling the ferrero rocher balls.

Start rolling 1 teaspoon of chocolate batter with your hands to form a ball placing a roasted hazelnut in the center of this chocolate ball.

Place about 2 tablespoons of hazelnut batter in your hands and roll it around the chocolate ball until you fully enclosed the chocolate ball and form a bigger ball.

Repeat until no more batter left. Store each balls on a plate covered with parchment paper.

Melt the dark chocolate in the microwave or in a saucepan under medium heat until shiny and fully melted.

Using a fork dip each ferrerro rocher balls into the melted chocolate and then roll into the crushed hazelnuts.

Refrigerate until the chocolate coating fully harden.

Store in the fridge in an airtight container for up to 3 weeks.
Nutrition Facts
Healthy ferrero rocher
Amount Per Serving
Calories 219 Calories from Fat 144
% Daily Value*
Fat 16g25%
Saturated Fat 3g19%
Cholesterol 1mg0%
Sodium 50mg2%
Potassium 228mg7%
Carbohydrates 18g6%
Fiber 3g13%
Sugar 11g12%
Protein 5g10%
Vitamin C 1mg1%
Calcium 72mg7%
Iron 1mg6%
Net Carbs 15g
* Percent Daily Values are based on a 2000 calorie diet.