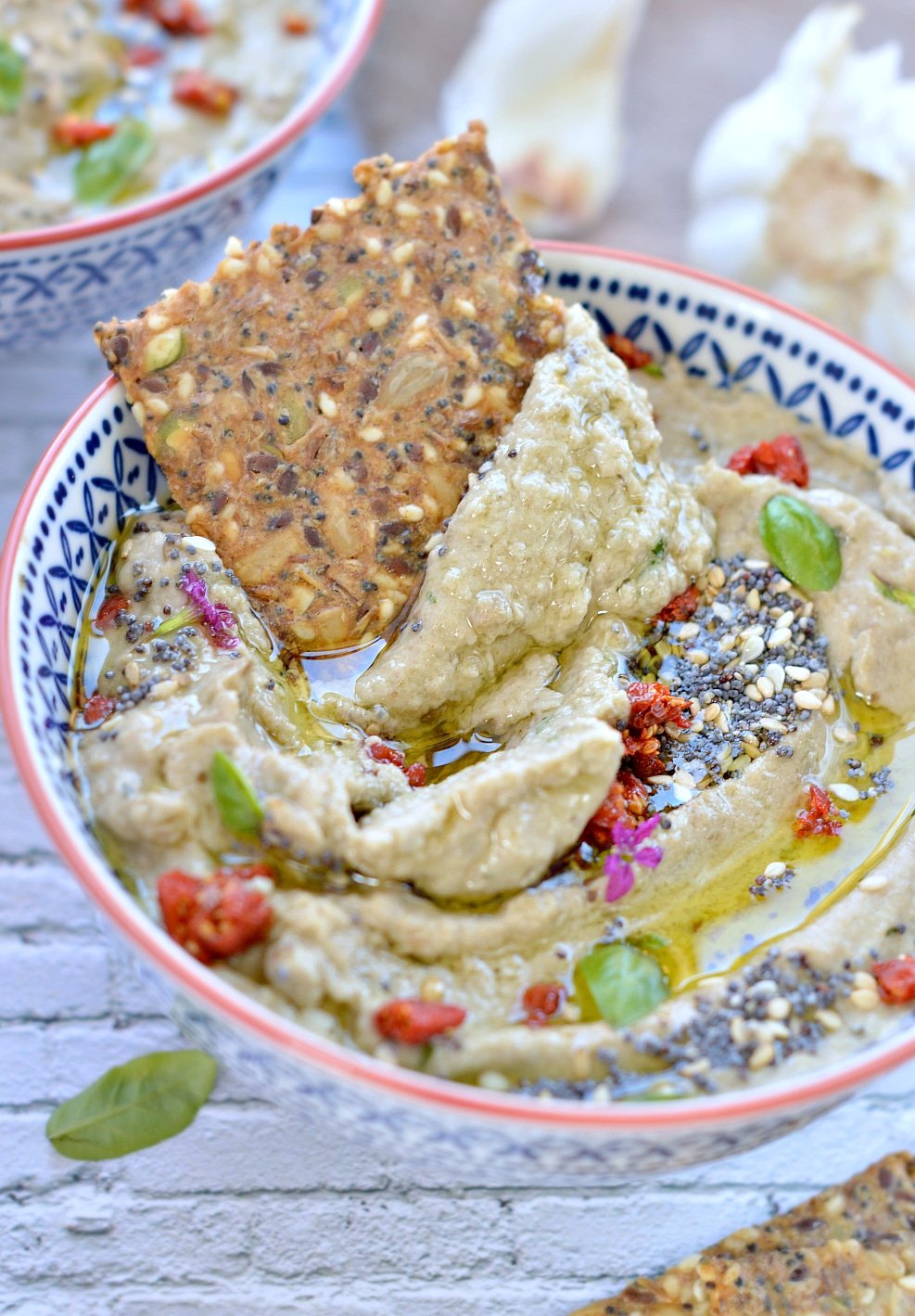 This creamy roasted eggplant dip recipe will surprise your guest amongst your thanksgiving appetizers or simply as an easy party appetizers for your next party. It is inspired by the authentic babaganoush recipe, an healthy dairy free dip with a killer combo of garlic, lemon and roasted eggplant. This version is topped with extra superfood goodness a combo of crunchy seeds and goji berries to bring your next party food night to an healthiest level.
Roasted eggplant dip |Low Carb dip + dairy free dip
Don't look further this dip is the one to try if you eat low carb and dairy free. It is super creamy and you won't actually believe their no dairy in this recipe. The roasted eggplant combined with tahini paste and garlic had a delicious Mediterranean flavor to this dip. I choose to serve this dip with home made seeds crackers and carrot and celery sticks.
You probably want to ask me "does this dip taste like eggplant? " Don't laugh it is weird to ask this ! Many people hate eggplants and ask me this question when I serve it to my friends. SO answer is it does not have the chewy texture that cooked eggplant usually have – because you will peel off the skin. Look at those beautiful roasted eggplant !!!
The taste is very different too because the eggplant flesh is roasted which add a grilled flavor that really improve the taste of eggplant. Plus it is mixed with so many spices and ingredients that the result taste simply like a delicious fresh and creamy garlic & basil dip. It is very difficult to spot eggplant in this roasted eggplant dip.
If you love dairy free dips but you are not too sure about eggplant I recommend you to try my lightened up spinach dip. I don't know about you but I can't serve appetizers without tons of dips. Seriously, I am obsessed with dips of any kind.
What about you? Tell me what's your favorite party appetizers ?
Thanks for reading this post! Talk to you soon at sweetashoney.co
Roasted eggplant dip
Print The Recipe
2 eggplants 2 cup roasted eggplant flesh (400g)
2 garlic cloves crushed
2 tablespoon lemon juice
¼ cup tahini paste
1 tablespoon olive oil
¼ teaspoon sea salt
¼ teaspoon ground cumin
2 tablespoons fresh basil leaves finely chopped
Toppings
2 tablespoons olive oil
2 tablespoon sesame seeds
2 tablespoons poppy seeds
1 tablespoons goji berries finely chopped
Fresh basil leaves
Preheat an oven to 180 C (375°F)

Prick the eggplant with a fork in several places and get half lengthwise.

Place on a rack with the flesh facing down.Cover with foil and bake for 10- 15 minutes until the skin blisters and the flesh soften.

Remove the foil, switch the oven to grill mode and grill for 5-10 more minutes, turning frequently to grill both sides.

When baked, remove from the oven and transfer the eggplant to a chopping board or a plate

Let cool slightly. Using a spoon remove the soft flesh from the baked eggplant leaving the skin aside.

Place the eggplant flesh in a bowl of a food processor with the S blade attachment.

Add the garlic gloves, lemon juice, tahini paste, olive oil salt, cumin and basil.

Process for 30 seconds to combine the ingredients and form a dip. Don't over process the mixture to keep some bites of eggplants.

Taste and add more lemon juice or basil, if you like.

Transfer the mixture to a serving bowl and spread with the back of a spoon to form a shallow well.

Drizzle the olive oil over the top and sprinkle with sesame seeds, poppy seeds and goji berries,

Store in fridge for 2-3 hours before serving.

Serve cold.

Store in an airtight container in the fridge up to 3 days.