This quick and easy Keto Alfredo Sauce recipe can be served over any keto noodles or low-carb vegetables and adds a rich creamy garlic cheese flavor to any dish.
Plus, one serving contains only 1.9 grams of net carbs so you can indulge with no guilt.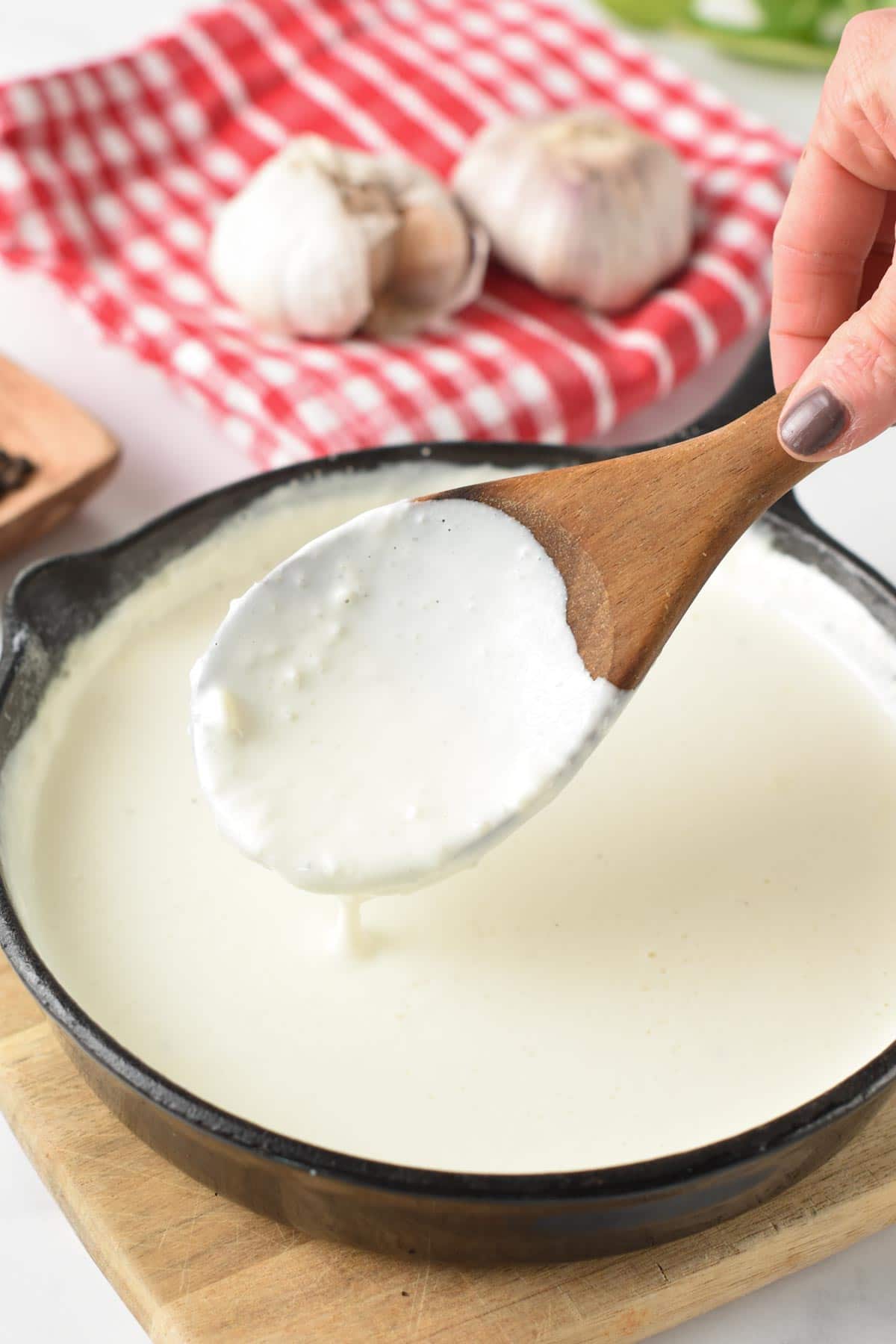 What Is Alfredo Sauce?
Alfredo sauce is a creamy garlic cheese sauce usually made with Italian Parmesan cheese, fresh garlic, and heavy cream.
It's a classic sauce to combine with fettuccine pasta to make a fettuccine alfredo recipe.
Is Alfredo Sauce Keto?
Yes, most of the time a classic alfredo sauce is made with keto-friendly ingredients and no added starch or wheat.
However, most store-bought alfredo sauces contain additives, sometimes thickeners and sugar that are not keto-friendly.
So it's better to make your own alfredo sauce to avoid any added carbs from unwanted ingredients.
There are even some Alfredo Sauce recipes made with surprising ingredients like my Cauliflower Alfredo Sauce.
Why You'll Love This Sauce
This Keto Alfredo Sauce is delicious and has the classic garlicky taste, it's also:
Gluten-Free
Egg-Free
Nut-Free
Low-Carb
Keto-Friendly
Ready In 10 Minutes
Only 5 Ingredients
How To Make Keto Alfredo Sauce
It's super easy to make alfredo sauce. Let me show you how you can make a 10-minute, 5-ingredient alfredo sauce recipe at home:
Ingredients
All you need to make a keto-friendly alfredo sauce are:
Preparation
In a non-stick saucepan or cast-iron skillet, melt the grass-fed butter on low heat.
Next, add the heavy cream, freshly grated parmesan, salt, black pepper, and minced garlic.
Stir the Alfredo mixture and cook on low-medium heat until the cheese is fully melted and the sauce has reached a low simmer and starts to thicken.
Taste the keto Alfredo sauce and adjust with salt and pepper if needed.
Use the hot Alfredo sauce recipe immediately, with the low-carb suggestions below.
Storage Instructions
Another option is to store the sauce for later in a glass mason jar or any sealed, airtight container.
Keto Alfredo sauce can be stored for up to 3 days in the fridge. The sauce may thicken and form a layer of skin on top but that's fine.
When ready to eat, pour the sauce into a non-stick saucepan and bring it over medium heat until warm.
Serving Keto Alfredo Sauce
On a keto diet, you watch your fat intake and focus on fueling on fat and this easy alfredo sauce recipe is perfect for that.
On Vegetables
This creamy garlic sauce is delicious on top of any low-carb vegetables.
In fact, grilled vegetables with no sauce can be bland in flavor but as soon as you add 1/4 cup of alfredo sauce on top, it turns your vegetables into a real dream keto dinner or side dish.
The best low-carb vegetable to add to this sauce are:

On Store-Bought Keto Pasta
Another option is to use this sauce on store-bought keto-friendly noodles. There are plenty of delicious keto pasta options like:
Konjac Pasta – the lowest carb keto pasta.
Edamame Pasta – higher in carbs but still perfect for diabetics and low-carb eaters.
Keto Noodles – you can make keto steak alfredo fettuccine using yam pasta.
Shirataki Noodles – if you don't mind the mushroom taste.
On Meat Or Seafood
This sauce is delicious on:
How To Thicken Alfredo Sauce
If your sauce doesn't thicken as much as you like, you can add some of the below ingredients to help it thicken up:
More Freshly Grated Parmesan – adding 1/2 cup extra cheese helps thicken the sauce.
Xanthan Gum – The best keto option to avoid high-carb thickeners. Sprinkle 1/4 teaspoon and whisk vigorously into the warm sauce to incorporate.
Cream Cheese – add 1/2 cup of cubed cream cheese. It's better if you bring the cream out of the fridge 30 minutes before adding it to the warm sauce, it melts easier.
Corn Starch Slurry – dissolve 1 teaspoon of cornstarch into 3 tablespoons of cold water. Stir in the hot sauce and cook until the alfredo sauce thickens. Corn starch is high in carbs but one teaspoon in the entire batch won't raise the carbs much and keeps the sauce low carb.
Allergy Swaps
If you have some dairy allergies, you can make dairy-free alfredo sauce by replacing some of the ingredients in the recipe.
Simply swap:
Butter for refined coconut oil – using refined coconut oil avoid the coconut flavor of the oil. You can also use olive oil but it will add an olive flavor to the sauce.
Heavy cream – use canned coconut cream, it's made with coconut cream only, with no added sugar or thickener and it's vegan and keto-friendly.
Frequently Asked Questions
Can you freeze alfredo sauce?
Yes, you can freeze the sauce in zip bags or airtight containers.
Thaw the sauce the day before in the fridge, or place the frozen sauce bag/ jar in a hot water bath to thaw faster.
Then cook in a non-stick saucepan over medium heat and add to your favorite food.
How to make alfredo sauce without cream?
You can replace the heavy cream with canned coconut cream, store-bought soy cream, or almond milk.
This last option makes the sauce thinner and you may need one of the suggested thickeners above to adjust texture.
Is Alfredo Sauce Gluten-Free?
Yes, most of the time there's no gluten added in Alfredo sauce recipes as they are mainly made from dairy and garlic.
More Recipe To Make With Alfredo Sauce
Have you made this keto recipe? Share a comment or review below.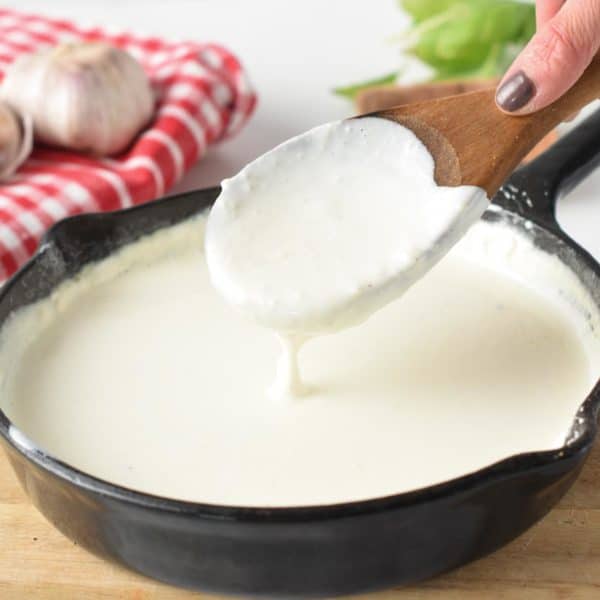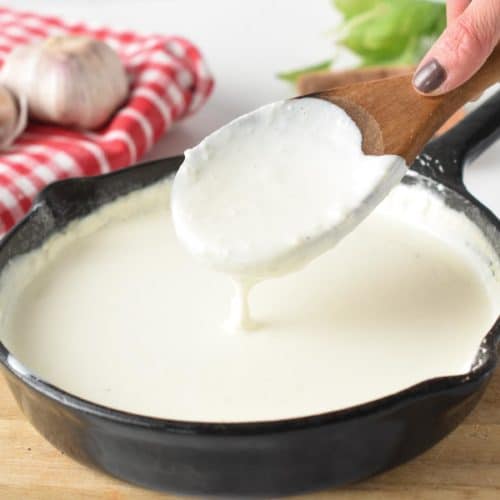 Keto Alfredo Sauce
An easy Keto Alfredo Sauce recipe to serve over any keto noodles, low-carb vegetables, and add a creamy garlic flavor to any dish.
Yield:
12
servings (3 tablespoons)
Serving Size:
1
serving (3 tablespoons)
Nutrition
Want My Kitchen Equipment?
Instructions
In a non-stick skillet melt butter over low heat.

Add heavy cream, almond milk, freshly grated parmesan, crushed garlic, salt, and pepper.

Stir and cook on low heat until the cheese is melted and the sauce has thickened.

Taste and adjust with salt and pepper if needed. Stir in dried parsley or any fresh herbs you love.

Stir in any keto pasta, keto vegetables, or zucchini noodles you like in the sauce.
Storage
Store the sauce in the fridge, in a glass mason jar for up to 3 days.
My Recipe Notes
Nutrition Facts
Keto Alfredo Sauce
Amount Per Serving (1 serving (3 tablespoons))
Calories 196.9
Calories from Fat 176
% Daily Value*
Fat 19.5g30%
Cholesterol 58mg19%
Sodium 375.1mg16%
Potassium 57mg2%
Carbohydrates 2g1%
Protein 4.3g9%
Net Carbs 1.9g
Vitamin A 739.1IU15%
Vitamin B12 0.2µg3%
Vitamin C 0.9mg1%
Vitamin D 0.7µg5%
Calcium 143mg14%
Iron 0.2mg1%
Magnesium 7.6mg2%
Zinc 0.4mg3%
* Percent Daily Values are based on a 2000 calorie diet.