This vegan keto bread loaf is an almond flour bread recipe without eggs. It tastes like real artisan bread, soft, chewy with crunchy crust. Plus, this vegan almond flour bread recipe has no eggs and contains only 3g net carbs per slice, perfect to make delicious vegan paleo sandwiches!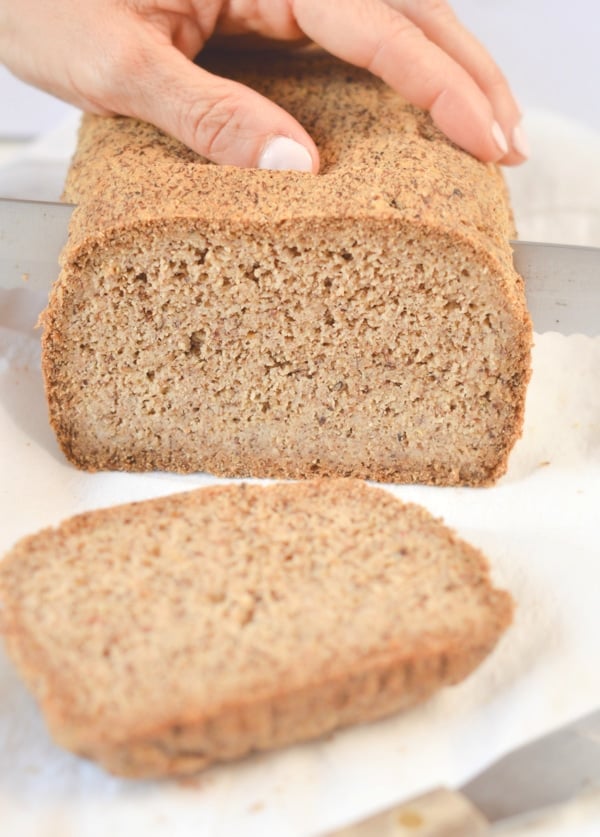 Vegan Keto bread loaf – a psyllium husk bread
I am so excited to finally share this vegan keto bread loaf recipe with you. Believe me or not, but I am testing and eating ALL the easy low carb recipes on this blog. This bread creation has been the most challenging so far as I really wanted to create a keto vegan bread, meaning with no eggs or dairy. I have been testing at least 10 low carb vegan bread recipe options over the past 2 months until I finally came out with the perfect recipe. So here you go, but first let me answer some keto diet facts about psyllium husk, one of the main ingredients of this recipe.
Psyllium husk powder nutrition: do psyllium husk have carbs ?
Psyllium husk also known as whole psyllium husk is a dietary fiber, it contains zero carbs, since 100% of the carbs in psyllium husk are fiber, not absorbed by your intestine.
Because of this, psyllium husk is a very good addition to your keto diet because it's a no carb food that adds fiber to your diet. Fibers are very important part of the low carb keto diet to keep your gut healthy and your stomach full.
Psyllium husk, a sugar-free fiber supplement
Research on psyllium husk has shown that it lowers blood cholesterol and blood glucose levels in people with type 2 diabetes. It makes psyllium husk a great sugar-free fiber supplement for people with diabetes. Therefore, adding psyllium husk into your keto bread will help you stabilize your blood sugar level too.
How to use psyllium husk in keto recipes?
The best way to add psyllium husk in your keto diet is to use whole psyllium husk as a flour swap in keto baking recipes. It adds a chewy bread-like texture to baked goods, and therefore, it's an amazing ingredient to create egg-less keto recipes like this vegan keto bread. Don't use metamucil fiber supplements in my recipes, it's not the same product as whole psyllium husk fiber. Metamucil is a husk powder that is not suitable for baking keto breads. It will turn food dry, purple or blue.
Ingredients for a Keto bread loaf
So this is my secret blend of ingredients to make a delicious eggless paleo bread or vegan keto bread. Please don't swap or replace any flour, it's an egg-free keto bread and any change will impact the result of the recipe:
Almond flour – I used blanched almond flour. Don't use unblanched flour, it would make the bread heavier, too dense.
Coconut flour – make sure you are using fresh coconut flour with no lumps.
Psyllium husk – use whole husk, not husk powder supplement
Flax meal – use ground flaxseed meal, feel free to use the gold flaxseed meal or dark flaxseed meal. The gold one creates a lighter bread color
Lukewarm water – make sure the water is at around 40C, it will activate the fiber of the flours faster and the texture will come out lighter, softer
Salt
Apple cider vinegar – or any vinegar this is what will activate the baking powder, don't skip it
Baking powder – that is the leavening ingredients, don't replace

The BEST Keto Almond flour bread recipe
Let's face it we all miss a good bread sandwich on the low carb diet right? I have been fixing my sandwich cravings using my egg free keto bread roll recipe for a while now but I was really missing a sandwich with bread slices. I am French, I was used to eat ham sandwich bread my entire childhood. This keto almond flour bread recipe has been the BEST so far. It really brings memories back, no guilt – as there are very few carbs – and so much flavor!

Idea to eat your low carb vegan bread
Cinnamon toast – toast the slices in the toaster, spread a tablespoon of butter, sprinkle erythritol, cinnamon and fresh keto fruits like raspberries
Jam toast – spread some homemade chia seed jam on top
French toast – use this bread as a base in my keto french toast recipe
Breakfast poached eggs – toast bread, add mashed avocado, grilled bacon and poached eggs
Sandwich – add any cheese, keto vegetables and cured meat for a delicious keto sandwich

Simple gluten free vegan bread recipe with only 3g net carb per slice!
This simple gluten-free vegan bread has everything you could expect from a bread loaf:
a relatively dark outside brown color with a perfect crust that glows and shines
the crumb, or the inside of the loaf is tender, not too tight, not dry at all and it has holes
it holds really well, the center doesn't deflate and you can easily slice it in thin slices as regular bread

Low Carb Vegan Bread making tips
Low carb vegan baking is ART! I have been a baking lover since I am a kid. I have always been the one baking cakes for birthday, from my early 6-year-old age. Since I am a low carb baker, I can tell, this is art. It's an art to play with low carb flours and no eggs! It's not hard, it's actually quite easy, it simply takes time to understand how these flours work. They are loaded with fiber so they absorb tons of liquid but they need time for the magic to happen.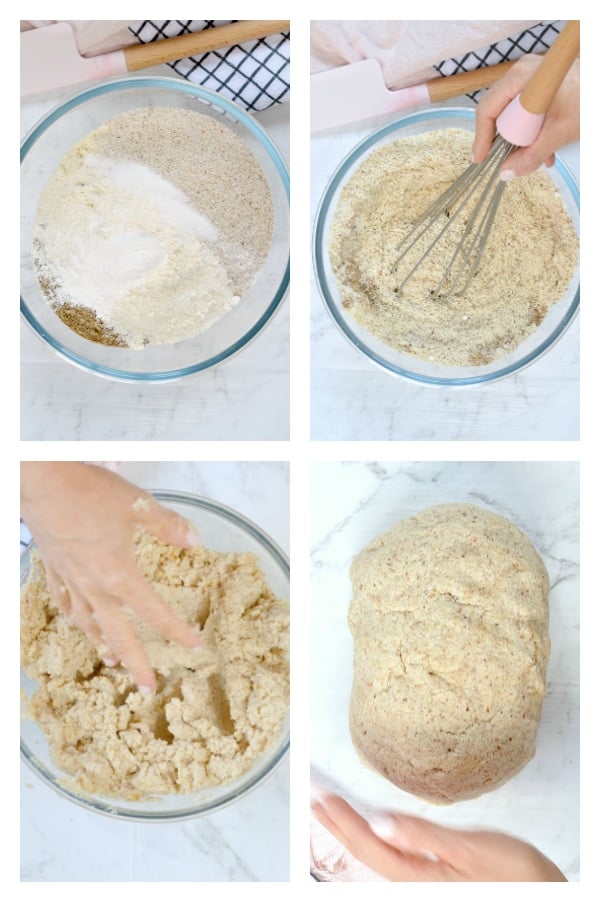 Low carb baking advice for beginners
be patient – knead the dough for 2 minutes, it might seem long but it's what it takes to make the perfect keto bread loaf. Think of all the calories you are burning kneading that dough! Then, always set aside the dough for 10 minutes to let the fiber absorb the moisture.
shape it as playdoh – do you remember playing playdoh as a kid? It's the same for low carb dough. Shape it as you want to see it when baked. Low-carb baking loaves don't expand much when baking. It means, if you want your loaf like mine with a lovely top bun, don't press/flatten the dough! Shape it with that lovely round top "belly". It will slightly raise while baking but not as much so if you flatten the top or press it firmly your bread will end up dense, dry with no holes in the crumbs
repeat – it takes time, practice, don't give up your creations will get more beautiful each time.

How to store keto bread loaf?
I recommend you preslice your loaf – I usually get 16 slices from this recipe. Store your bread in the fridge in an airtight plastic box or airtight zip bag. You can also freeze you bread for up to 3 month. I like to freeze my bread slices into a zip plastic bag and defrost my slice the day before on the bench. I always toast my bread after it has been frozen, I found it better, but up to you ! I hope you enjoy this new low carb baking recipe. If you make it don't forget to share your creation and picture on instagram by tagging my page @sweetashoney.co. I look at all your messages.
xoxo Carine
Keto bread loaf No Eggs, Low Carb + Vegan
Keto bread loaf No Eggs, Low Carb with coconut flour, almond flour, psyllium husk and flaxseed meal. A delicious easy low carb baking recipe with only 3g net carb per slice!
16 slices
Print The Recipe
Wet Ingredients
2 tablespoons Extra virgin olive oil
1 teaspoon Apple cider vinegar
2 cups Lukewarm water - think bath temperature, 40°C/100°F
Preheat oven to 200°C (400°F). Line a loaf pan 9 inches x 5 inches with a piece of parchment paper. Slightly oil the paper to make sure the bread doesn't stick to the pan. Set aside.

In a large mixing bowl, add all the dry ingredients, whisk to combine.

Add the liquid ingredients, order doesn't matter. Combine with a spatula or spoon then use your hand to knead the dough for about 1-2 minutes The batter is very moist at first, getting dryer as you go. After 2 minutes, it should come together easily to form a dough. If not, too sticky, add more husk, 1/2 teaspoon at a time, knead for 30 sec and see how it goes. The dough will always be a bit moist, but it shouldn't stick to your hands at all. If so, the bread will be too moist when baked.

Set aside 10 minutes to let the fiber fully absorb the liquid.

Shape the dough as you want your bread to look like when baked. I mean you want a lovely round bun on top of your loaf so shape a cylinder of dough that match the length of the pan, but DO NOT press or flatten the top of your loaf or you will end up with a more dense/tight crumb. Keep the top round shape, it's what will create a bread loaf that is soft and light with holes in the crumb.

Slightly rub your hand with water and massage the surface of the bread to remove any holes and create a smooth surface.

Bake for 50-55 minutes in the center of the oven, fan-bake mode is the best.

After 50 minutes, prick the center of the loaf with a skewer to test. If it comes out clean, it is cooked. If not, it means the bread is still wet inside, cover the loaf pan with a piece of foil, reduce heat to 180°C (375°F), and keep baking for 20-30 minutes until cooked in the middle.

Lift the bread out of the pan using the parchment paper.

Fully cool down on a rack before slicing - at least 3 hours for best results.

Slice into 16 slices. Store in the fridge up to 5 days or freeze up to 3 months, in airtight containers.
Freeze: slice the bread into 16 slices and freeze into a zip plastic bag or airtight container. It is better to defrost on the bench-top the day before, then toast until hot and crispy. Fridge: store well up to 5 days in the fridge in an airtight container or zip bag. I recommend you toast the bread slice for few minutes in the toaster before serving. Flours swap: don't replace any flour in this recipe for perfect results Bread color: if your bread turns purple, it will be because of the psyllium husk brand you choose. For some reason, a few husk brands turn blue/purple when baked, it doesn't impact the flavor or quality of your bread. Use a different brand to avoid this next time. Also make sure you are using blanched almond meal and gold flax meal for a lighter bread color. Net carbs per slices, 3.3 g net carbs. Psyllium husk: don't use metamucil fiber supplement in my recipes, it's not the same product as whole psyllium husk fiber. Metamucil is a husk powder that is not suitable for baking keto breads. It will turn food dry, purple or blue.
Nutrition Facts
Keto bread loaf No Eggs, Low Carb + Vegan
Amount Per Serving (1 slice)
Calories 174.2 Calories from Fat 111
% Daily Value*
Fat 12.3g19%
Saturated Fat 1.5g9%
Sodium 306.5mg13%
Potassium 27.1mg1%
Carbohydrates 13.1g4%
Fiber 10.1g42%
Sugar 0.9g1%
Protein 4.8g10%
Calcium 109.7mg11%
Iron 1.2mg7%
Net Carbs 3g
* Percent Daily Values are based on a 2000 calorie diet.