These soft, are easy 5-ingredient with a crunchy shell. They are perfect keto snacks, 100% gluten free, with only 3.5 g of net carbs per serve.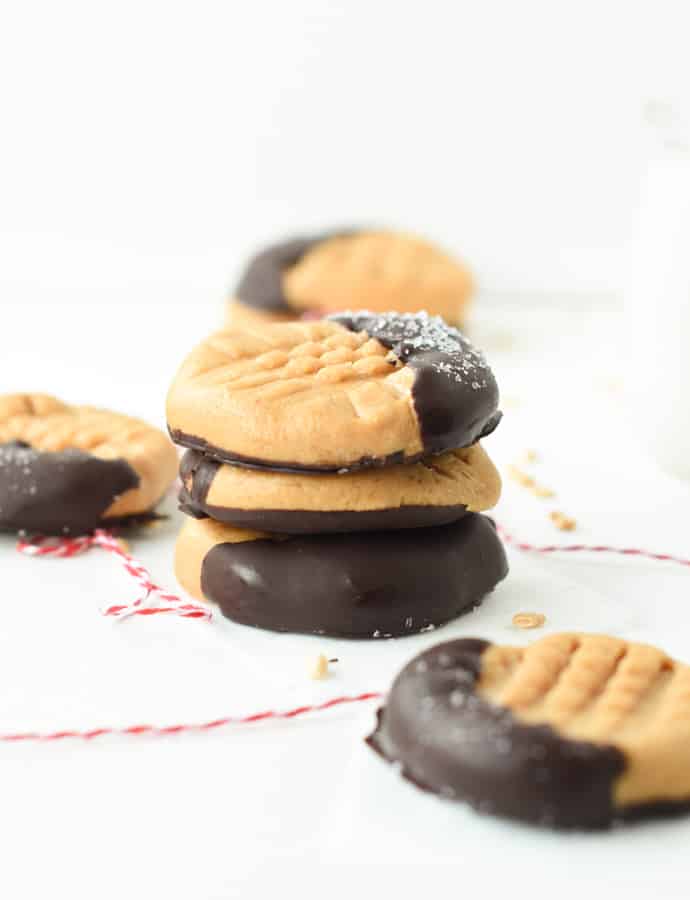 What's a no ?
A no-bake peanut butter cookie is a that does not require baking in your oven. In fact, a no simply needs pantry ingredients to hold its shape. Therefore there is no baking required. However, a must be stored in the freezer or it gets way too soft. The good part is that you only need to remove them from the freezer 5 minutes from before eating. This gives them their perfect texture. So you can fix your cravings in a sec!
ingredients
You only need 5 ingredients to make no- without . However, you must be very careful when choosing each ingredient perfectly to make sure your cookies are keto-friendly. Let us see what you need:
– not all are keto approved because some brands add or oil in their mix. So, to make a you must use with no added or oil. While most oils are keto approved, the oils added in are often the 'bad' ones. These vegetable oils also impact the result of this , making the cookies way too soft. You can also use natural in this or a different flavor like . The trick is to use a fresh jar of , with oil on top. In fact, an old jar results in a dry .
Coconut – you can't make the . In fact, coconut contains 4 times more fiber than and it is the ingredient that give the texture to these no cookies. Without it, the cookies would be runny and would not form. with 100% , it means you can't replace coconut by in these no
A – this no uses a combination of coconut and almond flour. However, you can swap almond flour by flaxseed meal if desired. The thing is, flaxseed meal adds more fiber and texture to the no cookies so they will taste even better, but the color will be darker.
-free – you MUST use a powdered They also don't blend blend properly so they don't evenly sweeten the . , or powdered xylitol. But do not use a in recipes. In fact, granulated add a grainy texture to your
-free chips – since these no are soft, you must dip them fully, or only bottom and side, into melted . This is not only a trick to keep your no cookies in shape, but also a delicious crunchy addition to the soft .
How to make no-?
These are soft . It means that you should expect a very soft, melt-in-your-mouth cookie and not a crunchy cookie. In fact, all no cookies are softer in texture since they don't use eggs and oven to crisp flours together. So to make the best you need to follow 5 simple steps.
Step 1: liquid ingredients
The first thing to do is to open a fresh jar of with no added and no added oil. In fact, if you are using an old jar that is dry with no oil on top, your no cookies would turn out super dry and wouldn't form. Place the into a large mixing bowl.
Step 2: add the dry ingredients
Since your is fresh and runny you don't need to warm it up, it will combine very well with your flours and . Next step, measure carefully your flours and , filling measuring cups up to the top. No packing of flours and leveling up the top to make sure you don't add unneeded It would result in a very dry . Finally, pour the measured , flaxseed meal and coconut into the bowl with , and combine with a spoon.
The ball. Also, note that the must be soft, shiny as it comes together. It shouldn't be dry or difficult to put together. If so, it means you added too much fiber (too much flour) or the you used contains additive or it is dry. To troubleshoot this, add 1 or 2 teaspoon of , combine between each addition until a soft shiny ball forms. will dry out as you go and it might be easier to knead with your hands in order to shape a
Step 3: Shape balls
Now that you have prepared the , shape 17 small balls with your hands, rolling each ball between your hand palms. Next, cover a plate with parchment paper and place each ball on the plate, leaving 1 thumb space between each ball. Finally, oil a fork and press the balls with the back of fork, twice, to shape a cross on top of each ball. You will end up with 17 no .
Step 4: Freeze
You must freeze your no for at least 20 minutes or until firm and hard. In fact, if they are too soft, you won't be able to dip the cookies.
Step 5: dip into melted
Do not skip this step as the shell is what holds the cookie together especially if you intend to store them in the fridge. In fact, these are ultra soft cookies and they need a hard shell to stay round and beautiful. Of course, you have two options, you can fully dip the cookies into or only the bottom and half side as seen on my pictures.
How to store no-?
These no- should be stored in the freezer, in an airtight box for the best texture. In order to avoid a change in color, wrap them individually. This no-bake doesn't use that usually hardens no bake cookies at room temperature (below 23C). Therefore, these no-bake peanut butter cookies get very soft if stored in the fridge, like kids playdoh. It doesn't mean they can't be stored in the fridge, but expect a very soft texture if you do. However, to have a crunchy, melt-in-your-mouth keto cookie, I recommend freezing the cookies and taking them out of the freezer 5-10 minutes at room temperature. Then, enjoy the most delicious !
More no- recipes
We all need a tasty and more! on our keto journey and what's better than a quick and easy ? Below are some to fix your sweet tooth quickly and meal-prep your week of delicious sweet treats including
No bake peanut butter bars healthy
No bake peanut butter bars healthy dessert made with 6 simple ingredients, 100% sugar-free, gluten-free and vegan. A delicious easy low-carb recipe to fix your sweet cravings with no sugar in less than 20 minutes.
Net Carbs:
6.7
g
per serving | Serves
12
15 minutes
Check out this recipe
Cookie dough bars no bake + keto + vegan
Cookie Dough Bars are delicious no-bake peanut butter chocolate chips bars made with only 5 wholesome ingredients. A healthy 100% keto, low-carb, sugar-free, gluten-free and vegan bar ready in only 30 minutes to fix a sweet craving with no guilt.
Net Carbs:
6
g
per serving | Serves
8
10 minutes
Check out this recipe
Homemade twix bars
A sweet shortbread crust topped with peanut butter caramel and chocolate, 100% sugar-free and gluten-free.
Net Carbs:
2.3
g
per serving | Serves
16
15 minutes
Check out this recipe
Enjoy the recipe and share a picture with me on Instagram if you make these yummy no bake peanut butter cookies.
XOXO Carine
No bake peanut butter cookies
A soft peanut butter cookies ready in 30 minutes with only 5 ingredients
17 cookies
Print The Recipe
Chocolate shell - side + bottom (compulsory to hold the cookie shape!)
NEW
My no-fail Keto Baking Recipe ebooks are now available
for a limited time, 50% OFF if you enter the code
INPLNCHOFFER
Before you start, make sure your peanut butter is runny, a fresh jar with oil on top and contains no added sugar or added oil. You must use natural peanut butter for this keto recipe.

In a large mixing bowl, add natural peanut butter, coconut flour, golden flaxseed meal or almond flour, powdered erythritol (NO granulated sweeteners!).

Combine with a spoon at first then knead with your hands to form a dough ball. The dough must be soft, shiny and not dry.

Cover a plate with parchment paper. Set aside.

Shape 17 cookie balls (about 0.8 oz each). Place each ball on the prepared plate.

The balls are very soft and that's normal. Slightly oil the back of a fork to press each cookie ball twice to form a cross on the top of the cookies.

Freeze the plate with the cookies on it, for at least 20-30 minutes or until firm and hard.

Two minutes before removing the plate from the freezer, melt the sugar-free chocolate chips in a microwave safe bowl, by 30 seconds bursts, stir between or melt them in a saucepan under low-heat, stirring constantly until melted and shiny.
Dipping into sugar-free chocolate
Remove the plate from the freezer, make sure the cookies are hard and not soft or freeze 5-10 minutes longer.

There are 2 options, dip the entire cookie into melted chocolate or only dip each cookie's side and bottom. I personally like option 2.

Place back the chocolate dipped cookie onto the plate covered with parchment paper. Repeat until all cookies are dipped into chocolate, note that if you fully dip each cookie you may need more melted chocolate.

Freeze the plate again for 2 or 5 minutes to set the chocolate shell.
Storage & serving
These no bake cookies MUST be stored in the freezer, in an airtight container. Don't store in the fridge or at room temperature or they will 'melt' and turn very soft.

To serve, remove the number of cookies you want to eat, place on a plate at room temperature for 5 minutes to get the best texture. The longer they stay out of the freezer the softer they become, 5 minutes is the best timing for a crunchy melt-in-your-mouth keto cookie recipe.
Nutrition Facts
No bake peanut butter cookies
Amount Per Serving (1 cookie)
Calories 139.3 Calories from Fat 98
% Daily Value*
Fat 10.9g17%
Saturated Fat 3.6g23%
Sodium 80mg3%
Potassium 108.5mg3%
Carbohydrates 9.3g3%
Fiber 5.8g24%
Sugar 1.7g2%
Protein 4.7g9%
Calcium 9.7mg1%
Iron 0.5mg3%
Net Carbs 3.5g
* Percent Daily Values are based on a 2000 calorie diet.