This keto Shamrock shake is so creamy and sweet that no one will guess it is a healthy Shamrock shake. Bonus, this is an avocado-based milkshake! Yes, there is avocado hidden in there to boost your body with healthy omega-3! Plus, this is a 100% dairy-free keto recipe too, so keto vegan shamrock shake lover, this has your name on it!
A healthy Shamrock Shake recipe
Are you searching for a healthy Shamrock Shake recipe to celebrate St Patrick? This avocado spinach smoothie with peppermint extract is the answer. And if you wonder if it tastes like avocado, don't worry, I promise you, nobody will guess it! It tastes exactly like the Shamrock Shake recipe you have been craving for. Just think about it: a creamy, smooth and frothy minty vanilla shake topped with unsweetened whipped cream. Yum!
Now, let's see how ridiculously easy you can make this keto avocado smoothie a.k.a., Keto Shamrock Shake this 17th of March:
Avocado – make sure you are using a soft, ripe avocado with no black spot on the skin to avoid bitterness. Avocado is one of the keto-friendly vegetables due to its high amount of fiber.
Unsweetened vanilla almond milk – or unsweetened almond milk
Canned coconut cream – this is a keto vegan Shamrock Shake so I am using dairy-free coconut cream. However, heavy cream will work too!
Spinach – yes, there is an extra green hidden in this keto shake. I should probably rename this recipe avocado spinach smoothie then. But, rest assured, the recipe works without spinach if you are not sure about that. This only adds a boost of green color and can totally be skipped.
Peppermint extract – for the classic minty flavor of a real Shamrock Shake recipe
Vanilla extract
Erythritol for sugar-free sweetness, use my keto sweetener converter if you want to use a different keto sweetener
Ice cubes – this is what makes the difference between an avocado spinach smoothie and a healthy avocado milkshake! The ice cubes combined with ripe avocado mimic the ice cream usually used in milkshake. Now, you know why this recipe is called healthy Shamrock Shake right? This said, if you are more into a smoothie texture, less frothy, simply omit the ice cubes!
Breakfast smoothies with spinach
This keto vegan Shamrock Shake recipe makes a delicious refreshing breakfast drink or snack. In fact, it contains all the powerful nutrients you need on a keto diet to feel full and energized. You'll probably be surprised but this whole recipe contains only 3.8 grams of net carbs. But, also 22g of healthy fat and 4.8 g of protein to feel full. So if you are craving sweet luscious smoothie today, St Patrick or not, this avocado milkshake will make you happy.
How to serve your shamrock shake ?
A classic shamrock shake recipe includes whipped cream on top and a glazed cherry. Obviously, those two are sugar loaded and not keto friendly. My option is to use unsweetened whipped coconut cream using the cream from the top of a can of coconut cream. Otherwise unsweetened whipped cream works too if you eat airy. Finally, the cherry on top is replaced by raspberry, a low sugar keto-friendly fruits for a touch a red color. Bonus, if you have lovely shake glasses like this one below, go for it! It will look even closer to a real shamrock shake !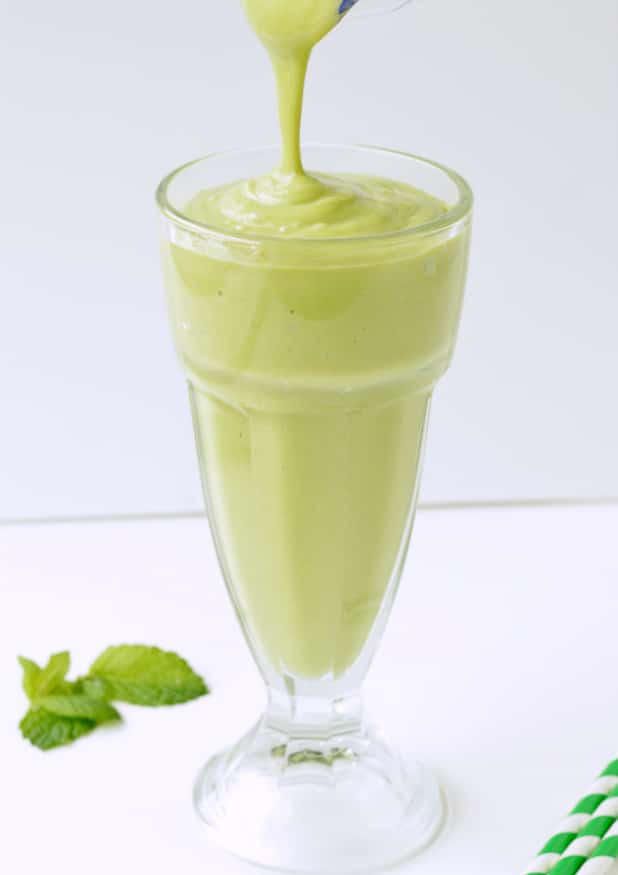 More avocado smoothie keto recipes
Chocolate Avocado Smoothie
Refresh with this decadent Chocolate Avocado Smoothie! A healthy keto avocado smoothie, dairy free using almond milk and no banana!
Net Carbs:
6
g
per serving | Serves
1
5 minutes
Check out this recipe
Green and dairy-free Smoothie with Spinach and Avocado
A light dairy-free green smoothie to boost your greens and help you reach your 5-a-day goal while enjoying a sweet guilt-free treat.
Net Carbs:
5.6
g
per serving | Serves
1
5 minutes
Check out this recipe
If you make this keto Shamrock Shake recipe, don't forget to leave me comment or rate the recipe ! What I love the most is to read your messages and connect with you! And of course, you can also share a lovely picture of your creation with me on Instagram, simply don't forget to tag me. I always look through all the photos of your recipes and reply to you!
XOXO Carine
Keto Shamrock Shake
A healthy keto version of your favorite fast food drink to celebrate St Patrick with no guilt
1 serve
Print The Recipe
3/4 cup Unsweetened almond milk
1/4 cup Coconut cream or heavy cream
1 medium Avocado without skin and seed
1/4 cup Baby spinach - optional, but adds the best green color and nutrients
1-2 teaspoon Vanilla extract or a few drops of liquid vanilla stevia
2-3 tablespoons Erythritol erythritol or Monk fruit
1/2 teaspoon peppermint extract
1/2 cup Ice Cubes
In a blender, add all the ingredients and blend on high speed to combine.

Stop blender, taste and adjust sweetness adding up to 1 extra tablespoon of erythritol. You can also add few more ice cubes for a frothier texture.

Blend on high speed again for 15 seconds to combine.

Serve immediately with unsweetened whipped cream (or whipped coconut cream on top)

Decorate with sugar-free chocolate chips or fresh raspberries and mint leaves.
Net carbs for the whole recipe : 3.8 grams. You can serve the recipe as 2 serves to half the net carbs to 1.6g per serve
Nutrition Facts
Keto Shamrock Shake
Amount Per Serving (1 shake)
Calories 380 Calories from Fat 208
% Daily Value*
Fat 23.1g36%
Carbohydrates 13.2g4%
Fiber 9.4g39%
Sugar 1.2g1%
Protein 4.8g10%
Net Carbs 3.8g
* Percent Daily Values are based on a 2000 calorie diet.