Keto tortillas chips are crunchy almond flour tortilla chips flavored with anti-inflammatory spices, turmeric, and garlic. They are perfectly healthy nachos chips to dip into this keto guacamole.
Plus, the recipe is vegan, gluten-free, grain-free, and paleo, so you can share them at your next party with everyone.
Keto tortillas chips – grain-free tortillas
Store-bought keto chips are expensive and can be difficult to find in the supermarket. That is why you should make your own keto tortillas chips at home!
I already shared with you my 4-ingredient almond flour tortillas chips recipe.
Today, I am sharing a different keto nachos recipe version, made of a combo of healthy keto flours for an even more nourishing tortillas chips recipe.
Almond flour – fine almond flour is always the best. Almond meal will work, but the color of the chips will be darker.
Coconut flour – make sure you are using fresh coconut flour with no lumps for precision.
Ground flaxseed meal
Psyllium husk – the whole husk is the best, don't use Metamucil fiber supplement in this recipe. This is not the same product as whole psyllium husk fiber. Metamucil is a husk powder that is not suitable for baking keto bread. It will turn food dry, purple or blue.
Water – make sure you use lukewarm tap water.
Olive oil or any seed or nut oil you like – almond oil, avocado oil, etc.

Golden 'corn like' tortillas chips color – tips and tricks
There are few tricks to make those grain-free chips golden as corn chips. First, make sure you are using a golden flaxseed meal to enhance the golden color of your chips. Then, watch the baking time closely.
If you overbake the chips, they will get brown. Finally, try a different source of husk, some brand turns food blue/purple.
ⓧ
Are you new to Keto?
Receive my Keto Quick Start email series to learn all about the Keto diet and kick start your keto journey!
How to serve with this keto nachos recipe?
There is plenty of delicious dips to serve with those grain-free tortillas chips. The best low carb dipping sauces are:
Don't forget to share a picture of your keto tortillas chips creation with me on Instagram if you make them!
xoxo Carine
Recipe Card
Keto Tortillas Chips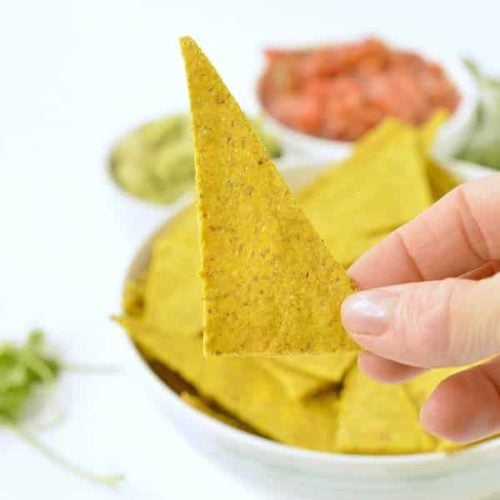 Keto tortillas chips are corn-like grain-free tortillas with healthy anti-inflammatory spices.
Instructions
Preheat oven to 400°F (200°C).

In a large mixing bowl, add all the dry ingredients, whisk to evenly combine the flours and flavors. If you like cheesy tortillas, go for 2 tablespoons grated parmesan (or nutritional yeast, if vegan).

Add olive oil and lukewarm water (about 40C, thick hot bath temperature). The warmth will activate the flaxseed meal fibers fast and get a consistent dough quickly.

Combine with your hands and knead the dough for about 1 minute or until it forms a dough ball. If too dry, it may happen if you use nutritional yeast, add an extra tablespoon of water to gather the dough together. Don't add more than 2 extra tablespoons of water.

Place the dough ball between two pieces of parchment paper. Note that you may have to slightly oil the parchment paper if yours tend to stick to food!

Press the dough to stick the top piece of parchment paper to the dough ball. Roll with a rolling pin until very thin. The thinner, the crispier the tortillas chips will be. Your dough should be thin as regular nachos chips to crisp. If too thick, they will be good, but they will be closer to a cracker consistency, and you will have to bake them longer to crisp - see the next step.

Peel off the top parchment paper sheet. Cut the dough into a large rectangle shape. Remove the outside dough from the rectangle and gather this extra dough into a ball to roll later and shape more tortillas. Cut triangle shapes inside the rectangle of dough - I highly recommend you watch my recipe video below for tips on cutting lovely triangle tortillas.

Slide the piece of parchment paper (with the tortillas you cut) onto a baking tray.

Bake for 6 minutes, check the color, and stop baking as soon as you reach a golden brown color. For very thin chips, it took 6-9 minutes. For thicker chips, it could take up to 10-12 minutes. I recommend baking for 6 minutes then check every 1 minute to prevent the chips from burning. The ones on the sides always crisp faster, and that is normal. You can remove these first and keep baking the other chips. Note that the longer they bake, the darker the color will be too.

Remove the tray from the oven and cool down for 10 minutes on the tray. Then, gently separate the tortillas from each other. If they are too soft to your liking, don't worry! You can easily fix that. Spread them on the tray to ensure they don't overlap and return the tray to the oven for 3-5 minutes or until all the tortillas chips are very crispy.

Sprinkle extra salt or paprika on top of the chips before serving.

Repeat the rolling, cutting, baking steps with leftover dough. You should be able to make about 48 tortillas chips with this recipe.
Storage
Store up to 2 weeks in the pantry, in a glass mason jar or airtight container. They will soften with time like store-bought chips. Simply pop them in hot oven 150°C for a few minutes to give their crisp back!
Nutrition panel is for 4 chips. A batch makes 48 chips. How count carbs if you made fewer or more chips with the batch? Simply count how many chips you made in total. Split the whole batch into 4 equal size batch. One batch will contain 1.7 g net carbs. Psyllium husk: Don't use Metamucil fiber supplement in my recipes. This is not the same product as whole psyllium husk fiber. Metamucil is a husk powder that is not suitable for baking keto bread. It will turn food dry, purple or blue.
My Recipe Notes
Tools
Starting Keto
What Is Keto Diet?
Macro Calculator
Sweetener Converter
Keto Meal Plans
Keto Recipe Ebooks
Intermittent Fasting
Keto Fruits
Keto Vegetables
Keto FLours
Fighting Keto Flu
Keto Sweeteners
Nutrition Facts
Keto Tortillas Chips
Amount Per Serving (1 serving (4 chips))
Calories 86
Calories from Fat 28
% Daily Value*
Fat 3.1g5%
Carbohydrates 4.2g1%
Protein 2.4g5%
Net Carbs 1.7g
* Percent Daily Values are based on a 2000 calorie diet.