If you are a garlic bread addict but you don't want to explode your carbs intake, this low-carb cheesy pull-apart garlic bread recipe is for you. The surprising thing about this recipe is the whole eggplant which works as a bread substitute.
These eggplants are generously coated with garlic and herbs olive oil then stuffed with grated mozzarella cheese. The result is absolutely surprising. Each bite is tender, cheesy with a lovely garlic taste. You won't believe it's made with eggplant!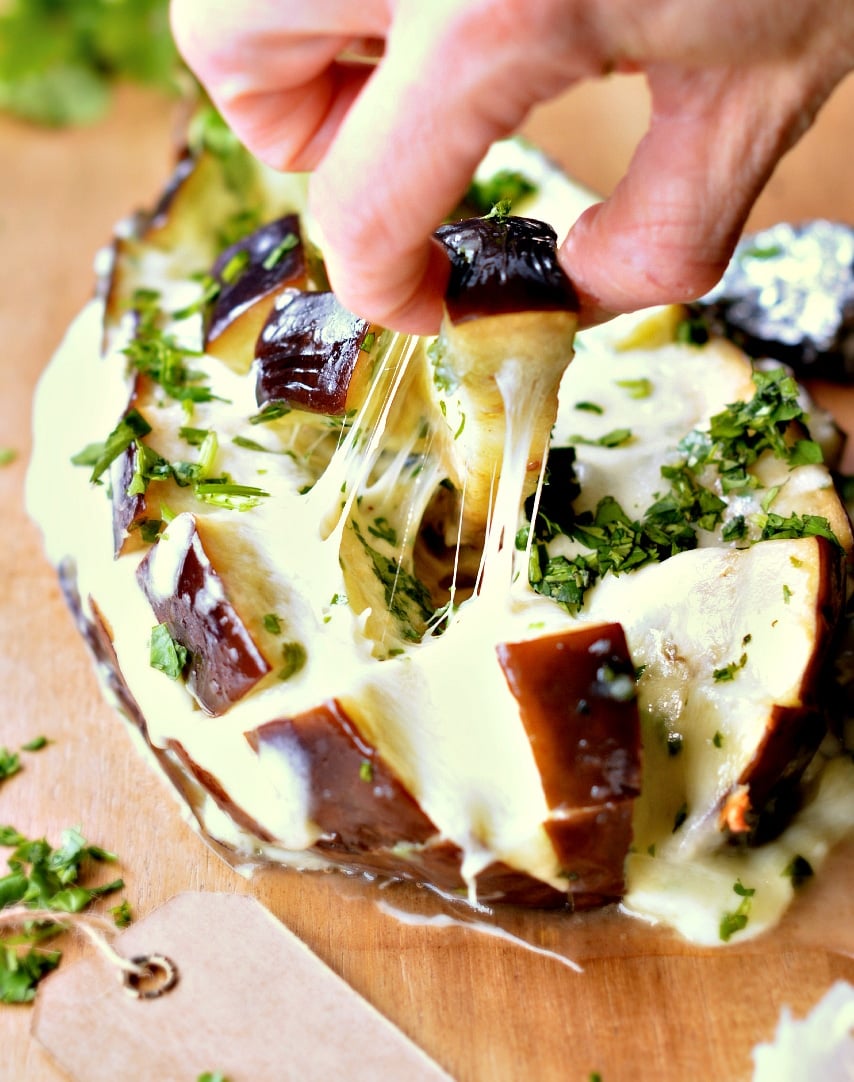 It's been a while since I've been craving for pull-apart garlic bread. It's everywhere on the Internet and it makes me soooo hungry.
But there's no way I eat so much bread! So today I found a super deal on eggplant at my local food market – 2 eggplants for $5! I looked at these big and beautiful eggplants and suddenly I thought 'this will be my low-carb garlic bread base for tonight!'.
I wasn't too sure how it would hold together as eggplants can soften very fast when baked in the oven. But lucky me, the result was exactly what I was hoping it would be.
Are you new to Keto?
Receive my Keto Quick Start email series to learn all about the Keto diet and kick start your keto journey!
Big bites of baked eggplants with lots of cheese strings. I actually can't believe it wasn't bread. It was so soft and it melts in my mouth as a buttery garlic bread should do.
But well, this recipe isn't the healthiest recipe ever as it does contain a large amount of grated mozzarella. But at least my healthy move was to use a vegetable instead of bread and to make an olive oil garlic & coriander marinade instead of butter.
It was really amazing. Below I listed some step by step pictures of this recipe to guide you through this process. It's a bit messy to prepare, as you will have a lot of marinade and cheese all over the benchtop but it's worth it!
Oh, and yes, my little toddler loves it too, and trust me she is not the kind of little lady who loves eggplant! So another mum-trick to make eggplant her fav'!
Last thing! If you want to make a similar recipe with no-dairy and low calorie, just don't add cheese and instead stuff the eggplant with lots of minced fresh herbs mixed in tomato paste.
Follow the same baking instructions, wrap the eggplant into a large piece of foil and close very well to not let the moisture out. It will be delicious too!
Recipe Card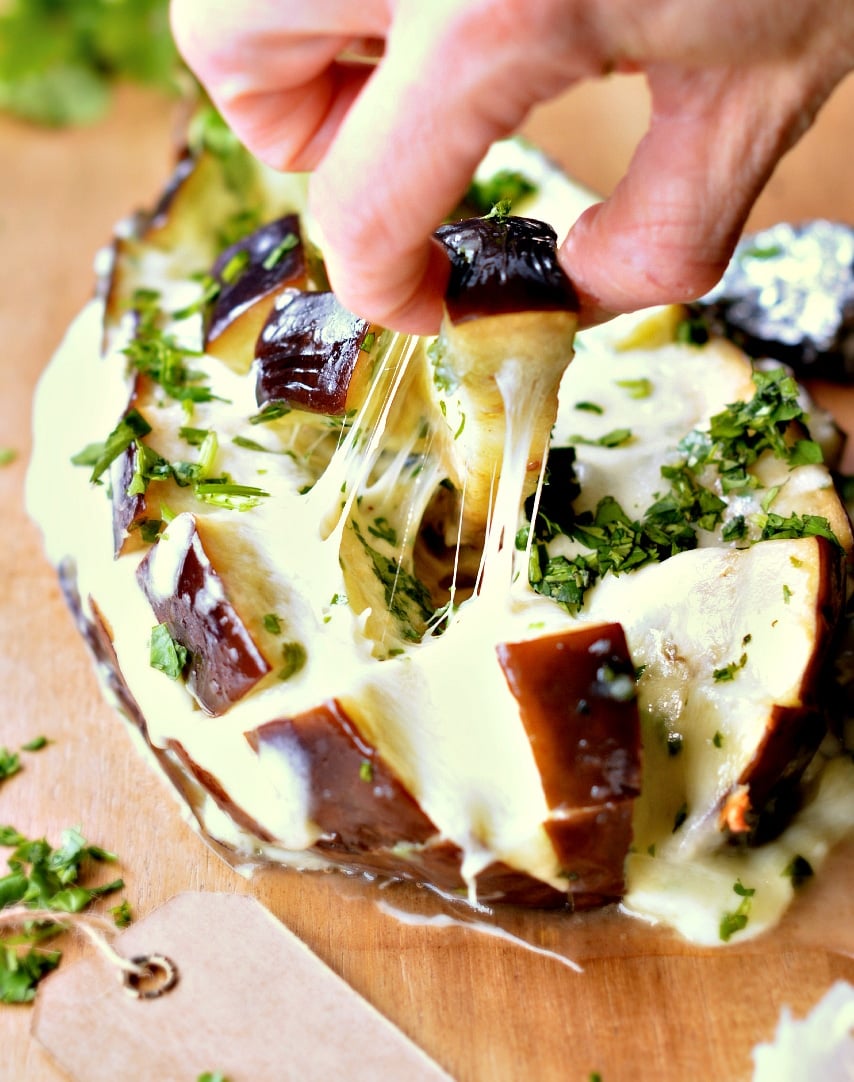 Low-carb Cheesy Pull-Apart Garlic "Bread" Eggplant
This keto-friendly garlic bread alternative is made is a whole eggplant, stuffed with cheese and garlic. Only 1.7g of net carbs!
2

Eggplant

1

cup

Grated Mozzarella

¼

cup

Extra Virgin Olive Oil

2

Garlic Clove

4

tablespoon

Fresh cilantro

Salt

pepper
Preheat oven to 350F (180C).

Wash the eggplant and dry with a towel or absorbent paper.

In a mixing bowl add the olive oil, chopped coriander, finely crushed garlic - I used a garlic press to squeeze more taste. It makes a very thin garlic paste and prevents garlic bites into the mixture. Adjust with salt and pepper if you like.

Using a small and sharp knife, cut lines lengthwise into the eggplant but don't cut all the way through the eggplant like you would do for a classic garlic bread.

Now cut lines perpendicularly to make cubes. Same here, don't cut all the way though as you don't want to cut the bottom of the eggplant.

Use your finger to gently open the cracks between each eggplant cube, and using a teaspoon insert the garlic oil mixture into each cracks. You can also use a silicone pastry brush it helps spread the mixture to the bottom of each crack and gets the flavour all around the eggplant.

Proceed the same way to insert the grated cheese. It's a bit of a messy process and you have to proceed carefully, gently stuffing each crack with cheese without breaking the eggplant cubes.

Place the stuffed eggplant onto a long piece of thick aluminium foil paper and wrap the eggplant into foil. Leave some space on the top to not let the foil stick to the melting cheese. Close well as you want to keep the moisture into the foil paper papillote. Using thick foil paper accelerates the baking process keeping the warmth into the papillote.

Bake for 20-25 minutes or until the eggplant is soft and all the cheese is melted and runny.

Remove from the oven and serve on a plate.

Let cool down for 5 minutes before eating as it will be very hot.

You can prepare these eggplants 24hrs before and bake them before serving. Simply stuff the eggplant, wrap in foil and store in the fridge until needed.
Serves 4, one serve is half a stuffed eggplant and contains 1.7g net carbs
Nutrition Facts
Low-carb Cheesy Pull-Apart Garlic "Bread" Eggplant
Amount Per Serving (1 serve)
Calories 170
Calories from Fat 127
% Daily Value*
Fat 14.1g22%
Carbohydrates 3.4g1%
Net Carbs 1.7g
* Percent Daily Values are based on a 2000 calorie diet.