Low-carb lemon cookies are easy, healthy, soft, buttery cookies, with no butter or dairy. They have a bursting lemon juice flavor, melt-in-your-mouth texture, and sweet sugar-free icing shell. These lemon cookies are 100% Vegan + Keto + Gluten-free + Paleo. Healthy lemon cookies with almond flour, coconut oil, and lemon juice to refresh, indulge on hot days, whatever your diet.
What are low carb cookies?
I am back with a new low carb cookie recipe. You know I love my cookies right? I shared my favorite recipes with you, low carb peanut butter cookies, chocolate avocado cookies, and now that one! So let me explain what makes a cookie low-carb and keto-friendly. First, the sweetener, you must use a natural sugar-free sweetener made of either Monk fruit or Erythritol or stevia. Next, the flours: using low carb flours is the key to get your cookies low in carbs. My favorites are almond flour and coconut flour but any seed flours work very well too like pumpkin flour, sunflower seed flour. Lately, make sure you use a good amount of fat to get your cookies to texture like the real thing. I love to create a dairy-free recipe, coconut oil is the best fat for this.
Easy recipe to use lemons
We have a lovely Autumn in New Zealand, my mum is at home for a few more days and these low-carb lemon cookies make a delicious afternoon tea for us. If you are looking for recipes to use lots of lemons, you can include these healthy lemon cookies. They contain a decent amount of fresh lemon juice, the best ingredient combined with almond flour for melt-in-your-mouth cookies.
Easy healthy low-carb lemon cookies
This is a very easy, healthy low-carb lemon cookies recipe.
All you need to make these simple cookies are 7 ingredients:
Almond flour – make sure you use fine blanched almond flour for the best results.
Coconut flour – make sure you use fresh coconut flour, no lumps. Lumps mean that your flour has already absorbed moisture, the fibers are activated and it won't work the same.
Coconut oil – I like to use unrefined coconut oil, much more natural and the slight coconut flavor marries well with lemon. If you are not a coconut lover, choose refined coconut oil, it doesn't add a coconut flavor to recipes.
Sugar-free crystal sweetener – as always I like to use a brand that combines Monk fruit crystal and stevia. This product can be used as a 1:1 ratio replacement to sugar in the recipe. I use 1/4 cup for 6 cookies. You can increase up to 1/3 cup for a stronger sweet flavor. It won't add more carbs to your cookies simply more sweet flavor. For more info on sweeteners or to convert from one to another, head to my sweetener review!
Lemon juice – I use fresh lemon juice from my garden lemon tree. They are organic meaning I am confident to use the zest.
Lemon zest – make sure you use untreated lemons, organic, or the ones from your garden. They are the best to avoid contamination in the lemon zest.
Baking soda – or use double amount of baking powder if you can't use baking soda.

Soft melt-in-your-mouth low-carb lemon cookies
They are melt-in-your-mouth cookies, the best to marry with a cup of tea. A sort of between shortbread cookies and cake. The sides crisp like a shortbread while the center is soft, buttery as you will expect from a lemon cake. These are for lemon lovers, a strong lemon flavor well balanced by a sweet lemon glazing. It is all you need to indulge, refresh at the same time on hot days.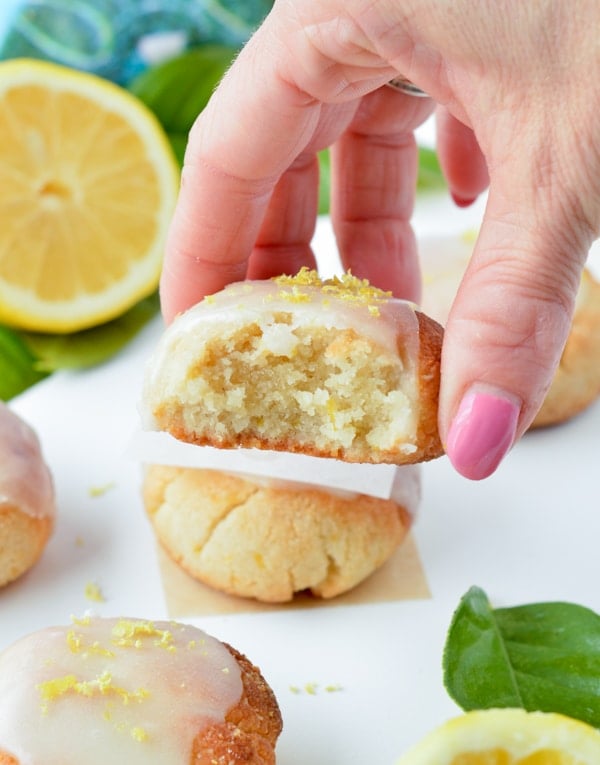 Sugar-free lemon glazing
It is up to you to add glazing on your lemon cookies. I use a low amount of sugar-free sweetener in the cookie batter, it means the cookies are not too sweet with a high zing of lemon. I do love my sugar-free lemon glazing to balance the lemon flavor, add a subtle sweet touch and melt-in-your-mouth icing.
Homemade powdered sugar-free sweetener
You will need a sugar-free powdered sweetener to make the glazing. If you can't find some in your store make your own powdered sugar-free sweetener! Cover the blade of a blender with crystal sugar-free sweetener (erythritol or Monk fruit). Blend on high speed until it forms a powder. Store the homemade sugar-free powdered sweetener in an airtight glass jar in the pantry up to 3 months.
Cooling down is the key!
These cookies are low-carb vegan cookies. They don't use eggs, butter, or dairy. It means that they are softer than regular cookies when out of the oven. Their texture forms with time, when they cool down as coconut oil firm up and make the cookies hold together creating a melting center. Make sure you follow the 20 minutes cooling downtime on the cookie tray, without touching the cookies, I know it is tempting as they smell good but don't! Then, make sure they cool down up to room temperature (20C) before adding the glazing. If your room temperature is higher bring the cookies in a cooler place like a garage, cave, by the window, or in your fridge for a few minutes.
80% fewer carbs than regular cookies
A classic lemon cookie contains about 230 kcal, here you will get a close amount of energy 196 kcal. But not the same energy! These are not empty calories. This recipe loads your body with healthy fats, plant-based fiber, and protein from almonds and coconut. And mainly if you watch the carbs and sugar, these low-carb lemon cookies contain only 4.2 g of net carbs compared to 34g in a regular cookie!
I hope you enjoy this low-carb lemon cookies recipe. If so, please take a picture of your creation and share it with me on Instagram. I love to see you making my recipes.
XOXO Carine
Low carb lemon cookies
Low carb lemon cookies are easy, healthy soft buttery cookies, with no butter and a bursting lemon juice flavor. 100 % Vegan + Keto + Gluten free these healthy lemon cookies with almond flour suit all diet.
8 cookies
Print The Recipe
Liquid ingredients
1/4 cup Lemon Juice fresh or organic
1/4 cup Coconut oil
1 tablespoon Lemon Zest - optional
NEW
My no-fail Keto Baking Recipe ebooks are now available
for a limited time, 50% OFF if you enter the code
INPLNCHOFFER
Preheat oven to 180°C (350°F). Line a cookie tray with parchment paper. Set aside.

In a medium mixing bowl, combine all the dry ingredients: almond flour, coconut flour, sugar-free crystal sweetener and baking soda. Set aside.

In a small mixing bowl, add coconut oil and lemon juice. Microwave for 30 seconds, stir and repeat until the coconut oil is fully melted. Otherwise, place the ingredients in a saucepan warm on medium heat. Remove from heat when the coconut oil is melted.

Pour liquid onto dry ingredients, add lemon zest if desired, and combine until it forms a cookie dough. You should be able to shape a ball. The batter should be soft, buttery, and not dry. If dry, adjust with 1-2 teaspoon of water but you shouldn't have to.

Refrigerate for 10 minutes, wrapped in a piece of plastic wrap or in the mixing bowl covered with silicone lid.

Remove the dough from the fridge and shape 8 even cookie dough balls. You can weigh the dough if you want precision.

Roll each ball in your hands to shape smooth cookie dough balls.

Place each ball on the cookie tray leaving a thumb-size space between each ball. The cookies won't expand in the oven so you don't have to leave a big space between them.

Press the balls slightly with your hand palm to flatten cookies. Don't flatten too much or the sides will form cracks and they won't be as soft and moist. The thicker, the moister!

Bake for 15 minutes or until golden on sides. The middle will stay slightly soft and that is the texture you want.

Remove the cookie tray from the oven and cool down on the tray for 20 minutes before transferring on the rack to cool down to room temperature. Don't touch the cookies during the first 20 minutes, they are soft and need time to firm up.
Prepare the sugar-free lemon glazing
In a small mixing bowl, combine the sugar-free powdered sweetener, coconut oil, and lemon juice. Play with the texture, adding more sweetener, 1 teaspoon at a time for a thicker glazing or more lemon juice for a thinner glazing.

Drizzle the glazing onto the cold cookies. Don't decorate warm or lukewarm cookies or the glazing will melt and be absorbed by the cookie dough.

For a lovely, white glazing, place the cookies 2 minutes in the freezer just after adding the glazing. This step sets the glazing fast and makes beautiful cookie decorations.

Sprinkle lemon zest on top if desired.

Store the lemon cookies in an airtight container for up to 3 days in the pantry or in the fridge if you prefer your cookies firm.
Nutrition info: This recipe makes 8 cookies. Nutrition panel is without glazing. Glazing add just 0.2 g net carbs per cookie.
Nutrition Facts
Low carb lemon cookies
Amount Per Serving (1 cookie)
Calories 194 Calories from Fat 102
% Daily Value*
Fat 11.3g17%
Carbohydrates 6.6g2%
Fiber 2.4g10%
Protein 3.4g7%
Net Carbs 4.2g
* Percent Daily Values are based on a 2000 calorie diet.