These oatmeal breakfast cookies are the best healthy grab-and-go breakfast to kick start your day with energy. Made with healthy whole-grain oats, coconut and a trio of super seeds, you will simply fall in love with them!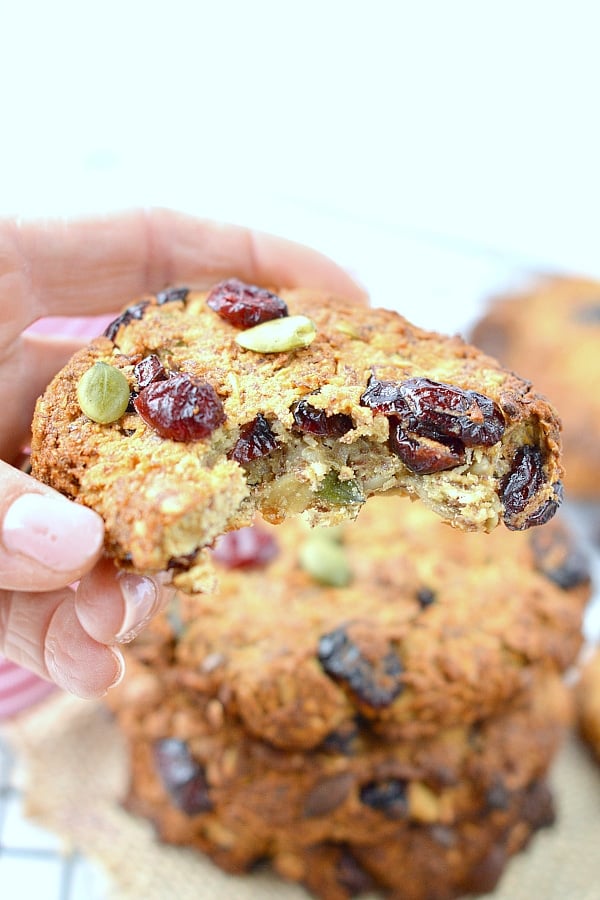 Oatmeal Breakfast Cookies: a healthy breakfast choice
You know I love to share my healthy breakfast recipes on the blog. As a busy mummy I love grab-and-go options. Such an easy way to fuel up on busy mornings. I made this recipe for my friend who just had a baby. It's a perfect lactation cookie alternative. These cookies are loaded with oat fibers and healthy fat from a trio of super seeds: chia seeds, pumpkin seeds and flax seed. I am very proud to add this recipe to my clean food recipes on the blog today!
She absolutely loved them!  She said that it was a breakfast saver as a new mum. Every morning, after a short night, her husband could bring her an easy and healthy mess-free breakfast in bed. I love when I make people happy with my baking. These clean breakfast cookies are now on my own list when baby arrives in January. It's such a great breakfast to make ahead. You can store them for up to 1 week in a cookie jar. Also I tried to freeze the batter and it works very well. Of course, defrost them 3 hours before baking for best result.
These breakfast cookies don't contain refined sugar and can be made gluten free using brown rice flour. If you tolerate gluten, whole-wheat flour is a high fibre and low-cost option too. I hope you will enjoy this breakfast cookies recipe!
Don't hesitate to swap the cranberries for other toppings to create a variety of clean breakfast cookies. I also love to use sultana raisins, dried apricot or dark chocolate chips!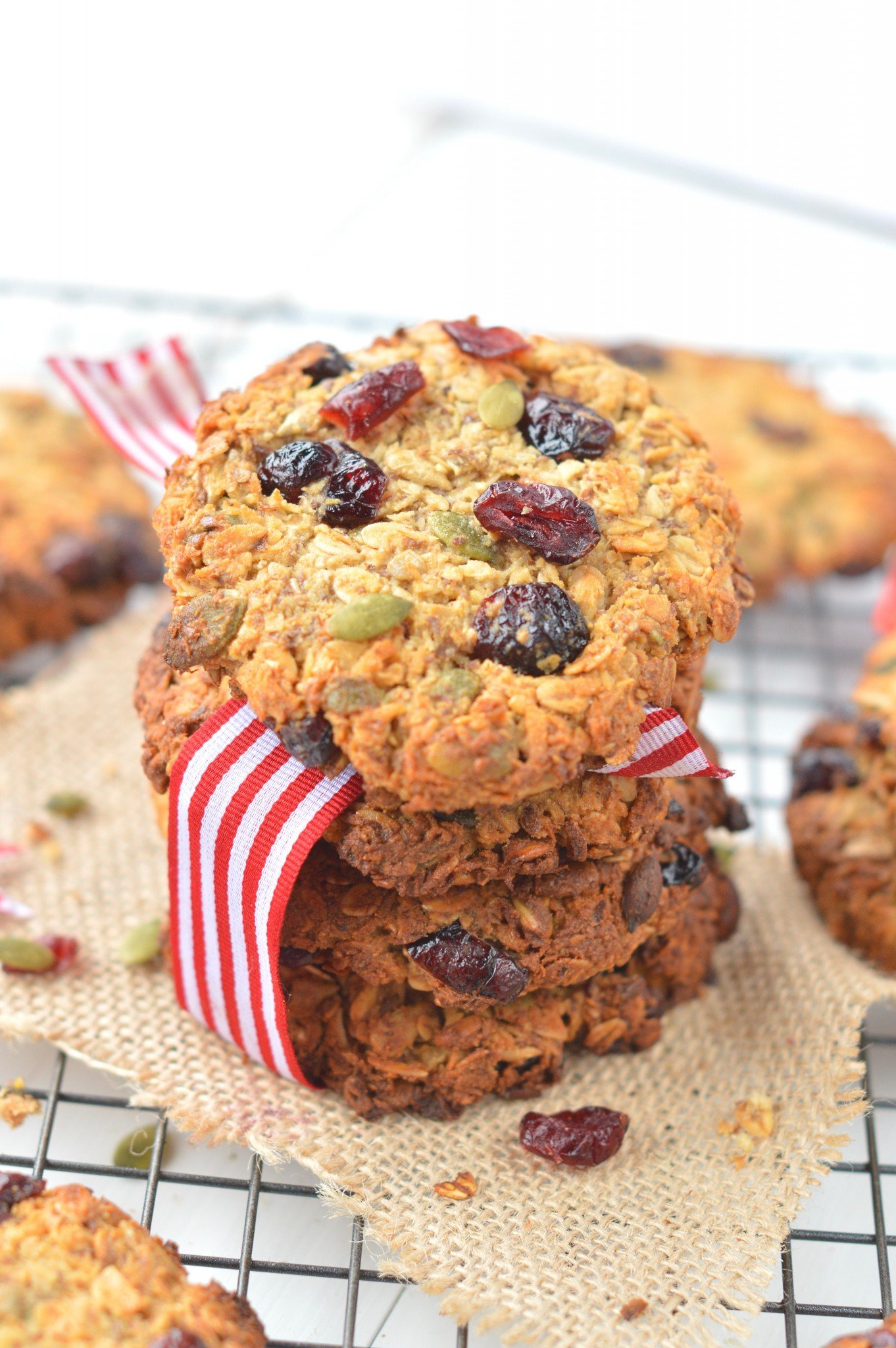 Watch this cookie recipe and make them now!
Oatmeal breakfast cookie | Cranberries and coconut cookies
Easy Oatmeal Breakfast Cookies with wholegrain oats, coconut, cranberries and pumpkin seeds. A healthy grab and go breakfast to kick start morning energy.
8 large cookies
Print The Recipe
Preheat oven to 350 F (180 C).

Cover a cookie rack with parchment paper. Set aside.

In a large mixing bowl combine all the dry ingredients: rolled and jumbo oats, desiccated and shredded coconut, flour, cranberries and seeds.

Add eggs (or flax egg if vegan), brown rice syrup, coconut oil and vanilla.

Combine until it forms a sticky cookie batter that comes easily together to forms cookies. If the batter is too dry - it should not be - but you can add up to 6 tbsp cold water to make the batter comes together. Add them 1 tbsp at a time.

Slightly oil your hands with coconut oil and shape cookie balls.

Place each ball on the cookie rack leaving a thumb space between each cookie. You should be able to make 8 large cookies.

Press the cookies slightly with your hand palm to flatten.

Bake for 15-20 minutes or until the sides are crispy and golden brown.

Cool down on a rack and store in a cookie box in your pantry for up to 1 week.

Can be made ahead and enjoyed during the week as a grab and go breakfast cookie.
Vegan flax egg: for one egg dissolve 1 tbsp of flax-meal with 3 tbsp of water. Stir, set aside 10 minutes until egg like texture and use as an egg. Make 2 for this recipe.
Nutrition Facts
Oatmeal breakfast cookie | Cranberries and coconut cookies
Amount Per Serving (1 large cookies)
Calories 308 Calories from Fat 146
% Daily Value*
Fat 16.2g25%
Saturated Fat 8.4g53%
Carbohydrates 33.7g11%
Fiber 3.2g13%
Sugar 12.9g14%
Protein 7.3g15%
Vitamin A 50IU1%
Vitamin C 0.8mg1%
Calcium 40mg4%
Iron 2mg11%
Net Carbs 30.5g
* Percent Daily Values are based on a 2000 calorie diet.