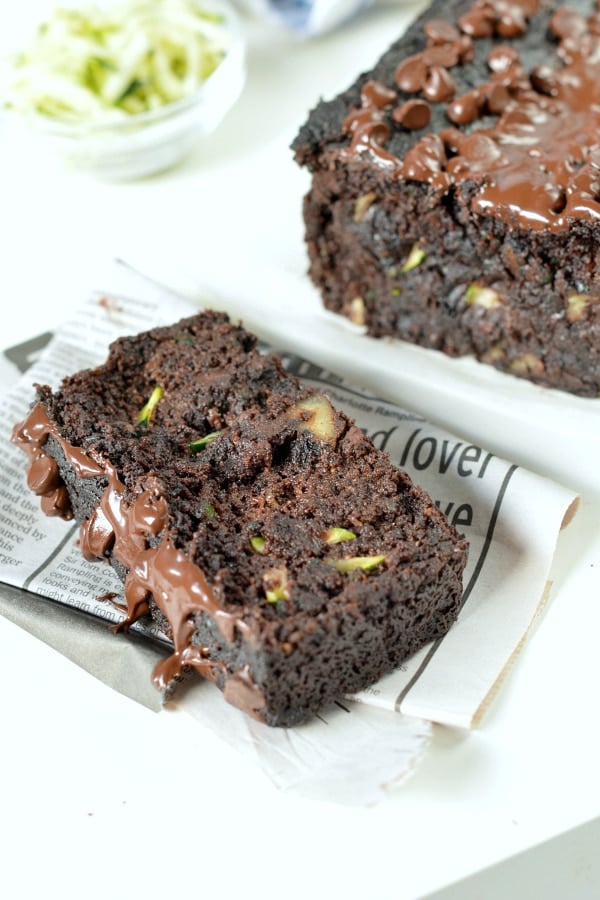 Paleo Chocolate Zucchini Bread an ultra moist chocolate bread, easy, healthy gluten free chocolate loaf made with almond meal and unsweetened cocoa powder. 100% KETO + Low carb + sugar free sweetened with natural sugar free Monk fruit crystal sweetener.
Paleo chocolate zucchini bread
If you love thick, moist chocolate bread this paleo chocolate zucchini bread will make you so happy.
All you need to make a delicious paleo chocolate zucchini bread are:
Grated zucchini – make sure you pack the zucchini very well into the measurement cup for precise measurement. If some liquid release from the grated zucchini, discard or the bread will be too moist and won't hold as well.
Egg – I used a large egg, in New Zealand we have got egg size, it was a size 8
Coconut oil – if you don't like the flavor of coconut oil use refined coconut oil, it does not have coconut flavor. I won't recommend a different oil for this bread.
Canned coconut cream – or cream of your choice
Sugar free crystal sweeteners – Monk fruit crystal is my favorite option – get 20% off your order if you buy on my favorite brand website, Lakanto, use the code 'sweetashoney' at the checkout but erythritol will work very well as well. If you are not eating sugar free – only refined sugar free – you can use coconut sugar as an healthier paleo alternative to sugar free sweeteners.
Almond meal – or almond flour the thinner the better
Baking soda
Vanilla extract
Chopped walnuts – or chopped pecan or omit if you don't like nuts in your bread
Sugar free chocolate chips
Unsweetened cocoa powder or unsweetened cacao powder for a stronger chocolate flavor
Cinnamon
Kids friendly recipe
I love zucchini and chocolate, it is such a great way to add moisture into baking while sneaking some extra greens to a treat. My kids loves their vegetables except zucchini so I am in love with this recipe as it is the only way they will eat zucchini.You don't feel the zucchini at all. It only add a lovely moist texture to your bread, that is all.
Let it cool down in the fridge to firm up !
This paleo chocolate zucchini loaf is ultra moist due to large amount of zucchini. My trick, cool down to room temperature, the pop in the fridge for one hour to firm up. Trust me, you won't regret it ! The bread is much easier to slice as well as it firms up in the fridge creating the most delicious fudgy chocolate texture! It is very important to be patient with this bread. I recommend to cool down 10 minutes in the loaf pan, then 40 minutes on a cooling rack and finally pop in the fridge 1 hour for the best result. Of course, it is up to you, but I notice that the cooler it is, the more fudgy it become. Plus, it is much more easier to slice !
Chocolate decoration, optional but so good !
I decorated the top of my bread with a good amount of sugar free chocolate chips. I always add them after I transfer the chocolate zucchini bread to my coolin rack The bread is still hot and the chocolate chips melt on top. If you intend to cool down in the fridge as recommended before the chips will harden, it makes the cutting much more difficult with hard chocolate shell on top of the moist bread, so be aware of that, and choose what is right for you !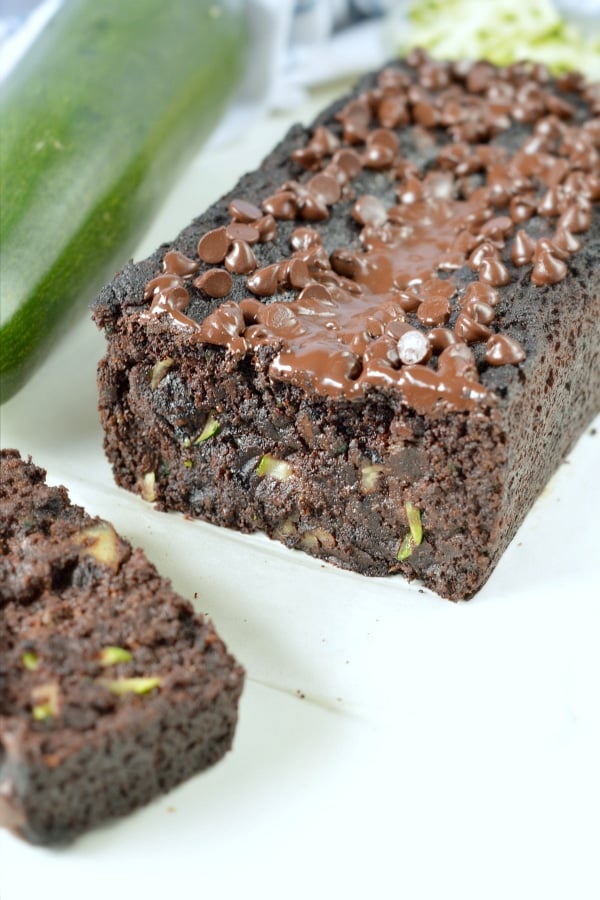 More keto zucchini bread
If you love keto zucchini bread I recommend you also try my keto zucchini bread with walnuts. It has only 3.3 grams of net carb per slice and it is delicious !
Enjoy the paleo chocolate zucchini bread recipe and tag me on Instagram if you give this a try ! I love to see your creation.
xoxo Carine
Paleo Chocolate Zucchini Bread
Paleo Chocolate Zucchini Bread. Easy, Healthy Gluten free loaf, super moist with almond meal and unsweetened cocoa powder. 100% KETO + Low carb + sugar free

Prep Time: 10 mins
Cook Time: 50 mins
Cool down 4 hrs
Total Time: 1 hr
12 slices
Print The Recipe
Preheat oven to 180C (375F). Line a baking loaf pan (9 inches x 5 inches) with parchment paper. Set aside.

Remove both extremity of the zucchinis, keep skin on.

Finely grate the zucchini using a vegetable grater. Measure the amount needed in a measurement cup. Make sure you press/pack them firmly for a precise measure and to squeeze out any liquid from the grated zucchini, I usually don't have any!. If you do, discard the liquid or keep for another recipe.


In a large mixing bowl, stir all the dry ingredients together: almond flour, unsweetened cocoa powder, sugar free crystal sweetener, cinnamon, sea salt and baking soda. Set aside.

Add all the wet ingredients into the dry ingredients : grated zucchini, coconut oil, coconut cream, vanilla, egg, apple cider vinegar.

Stir to combine all the ingredients together.

Stir in the chopped nuts and sugar free chocolate chips.

Transfer the chocolate bread batter into the prepared loaf pan.

Bake 50 - 55 minutes, you may want to cover the bread loaf with a piece of foil after 40 minute to avoid the top to darken too much, up to you.

The bread will stay slightly moist in the middle and firm up after fully cool down.
Cool down
Cool down 10 minutes in the loaf pan, then cool down on a cooling rack until it reach room temperature. It can take 4 hours as it is a thick bread. Don' slice the bread before it reach room temperature. If too hot in the center, it will be too oft and fall apart when you slice. For a faster result, cool down 40 minutes at room temperature then pop in the fridge for 1 hour. The fridge will create an extra fudgy texture and the bread will be even easier to slice as it firms up.

Store in the fridge up to 4 days in a cake bow or airtight container.
Nutrition Facts
Paleo Chocolate Zucchini Bread
Amount Per Serving (1 slice)
Calories 185 Calories from Fat 154
% Daily Value*
Fat 17.1g26%
Carbohydrates 6.1g2%
Fiber 2.7g11%
Sugar 1.2g1%
Protein 4.9g10%
Net Carbs 3.4g
* Percent Daily Values are based on a 2000 calorie diet.
Nutrition panel is for one slice of bread including sugar free chocolate chips and walnuts. This bread serve 12 slices. Net carbs per slice 3.4g.