Paleo Lemon Coconut Cake or Coconut flour Lemon Cake call it as you want it is just DELICIOUS!
This one-bowl Paleo Lemon Coconut Cake should be the first you try! Really, you'll love this Paleo Lemon Coconut Cake topped with sticky date & lemon caramel sauce. The cake has a tangy lemon taste that goes very well with the sticky date caramel sauce and roasted coconut chips.
Paleo Lemon Coconut Cake – the best Paleo tea cake ever !
I bring this lovely paleo lemon coconut cake to my friend Lis on Friday. Like me she is a passionate foodie with a lovely blog the faresage. As she is not used to eat paleo or clean baking goodness I thought it will be great to test one of my new recipe with her and see what she say about it. I personnaly adore the lemon coconut combo in any baking recipe but this cake has something special, something different. The texture is rich, fresh, slightly crumbly in your mouth.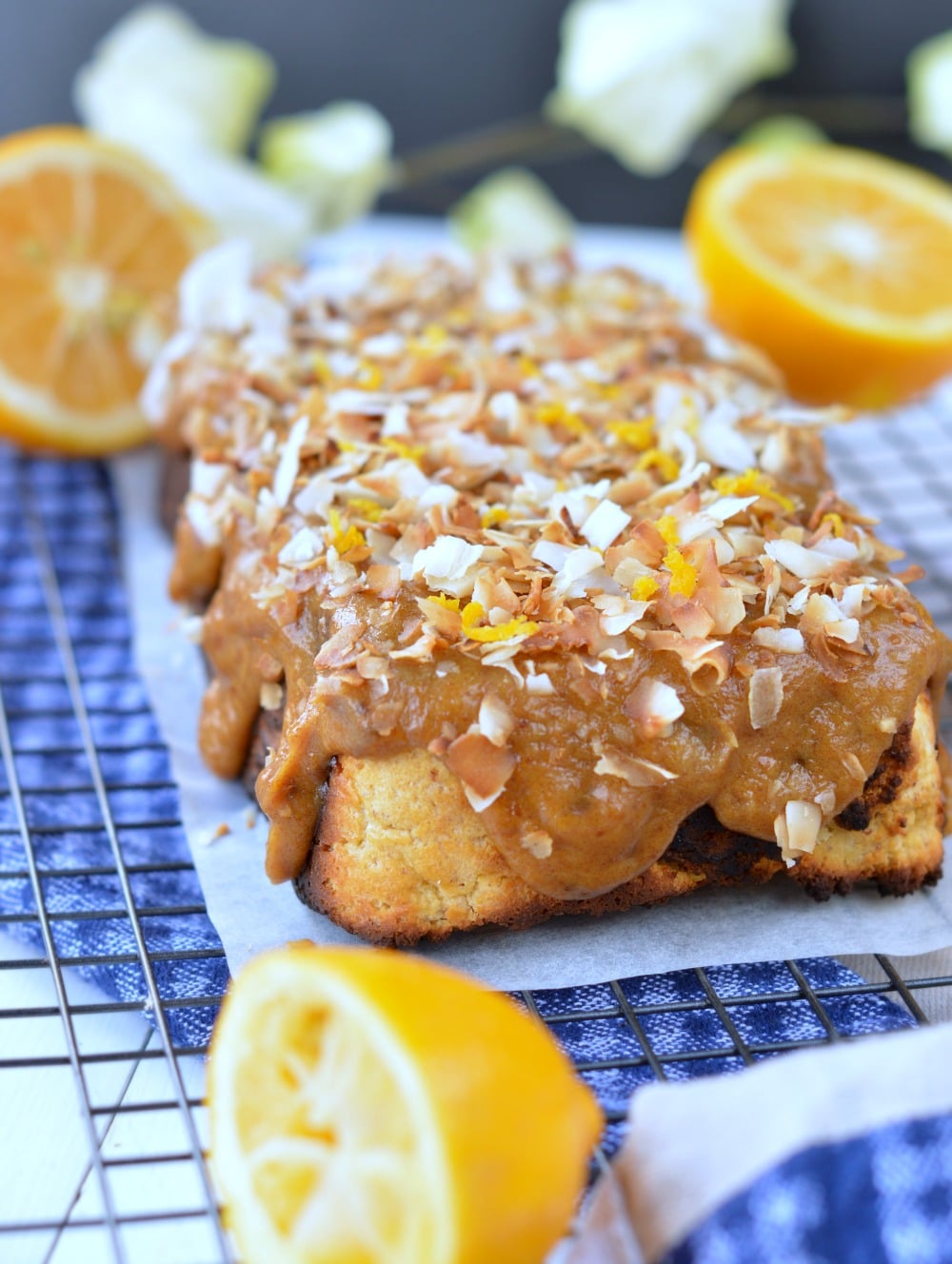 My friend says it almost remind me a tart. I think she is right this cake taste like a dessert. It melt in your mouth and the combo of lemon and date caramel is simply addictive.
The ingredients you need to make this cake are very basic and the batter is ready in 5 minutes in the bowl of a food processor or a stand mixer – well a moxing bowl should be ok too 🙂
As all my cakes and baked goods this paleo lemon coconut cake is loaded with fibre and lower in carbs than any regular cake. It makes a perfect afternoon tea cake as lemon and tea is simply the best combo on earth to me when it comes to satisfy my sweet tooth in the afternoon. The cake makes about 12 slices and store very well in the pantry for up to 4 days. Simply make sure you store the cake in a airtight container to avoid the caramel to dry.
NOTES
1- If the sauce as thicken while the cake bake simply rewarm the date lemon sauce under medium heat for few minutes stirring often until it reach the desired consistency
2- Simply toast the coconut chips in a warm pan without oil for 1-2 minutes, stirring often to avoid the chips to burn.
3- If you think there is too much date sauce, store in the fridge in a glass mason jar for up to 1 week and use it as a spread on Paleo bread, crepes, pancakes or waffles.
Paleo Lemon Coconut Bread
Print The Recipe
Date Caramel Lemon Sauce - omit if keto
Preheat oven to 180C.

Line a 22 cm x 11 cm loaf pan ( 9" x 5"). with parchement paper. Set aside.

In a food processor with the S blade attachment or the bowl of your stand mixer add all the ingredient in this order: flour, eggs, melted coconut oil, yogurt, honey, lemon juice, baking powder and vanilla.

Blend until the cake has formed - it should not take more than 1 minute.

Pour the batter into the prepared loaf pan.

Bake for 40-50 minutes or until a skewer inserted in the center comes out clean.

Meanwhile prepare the date and lemon sauce.

In a food processor add the soaked and drained dates, cashew butter and lemon juice.

Process until it forms a thick sticky date spread. Set aside in a bowl.

In a small saucepan, under low heat warm the almond milk until it forms bubbles on the sides.

Add the sticky date paste into the sauce pan and stir constantly with a spatula to form a date sauce. Remove from heat after 45 seconds - 1 minutes or until the date sauce is warm and the texture is liquid enough to pour over the cake. The more you stir and cook the sauce the thicker it will be.

Remove the cake from the oven and cool down in the pan for 15 minutes before flipping over a rack to fully cool down.

When the cake reach room temperature pour the date caramel sauce on top.

Sprinkle toasted coconut chips on top for an extra coconut crunch taste.