Chocolate peanut butter energy balls are healthy, no bake, vegan, peanut butter chia seeds and almonds balls with sugar free chocolate chips. 100% Paleo + gluten free + grain free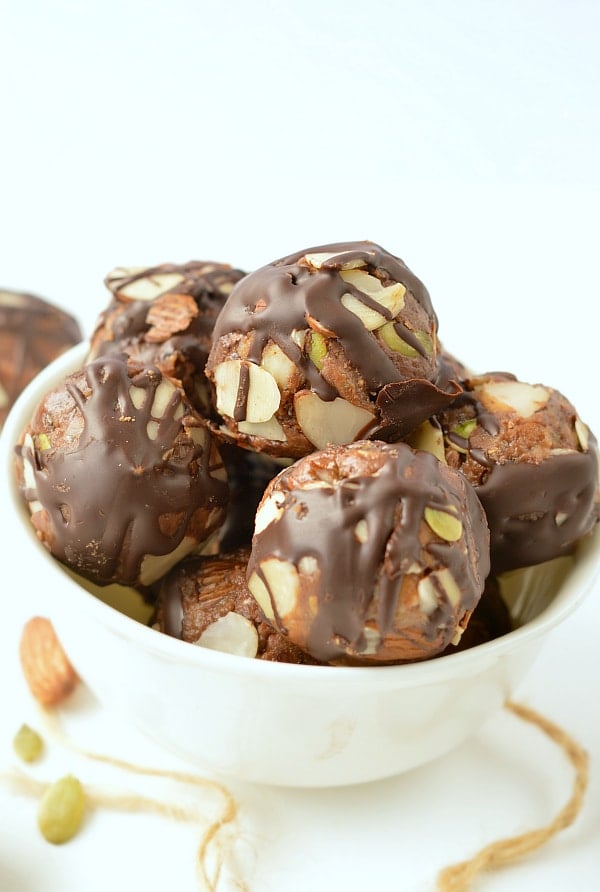 Chocolate peanut butter energy balls – healthy snacks
Those chocolate peanut butter energy balls are my favorite little morning snack after the gym right now. I know it is almost Christmas, but it is not a reason to skip healthy breakfast and the gym ! I love that the recipe can be made in 10 minutes, store up to 3 weeks in my fridge and all my family can enjoy it in their way. My 6 years old like to have this in her lunchbox for morning tea, my vegan husband is a sportive guy so he use those as a refuel after a long workout.
Nutrient loaded keto energy bites
We always talk about carbs and macro nutrient on low carb diet. We forget to tell us how much it is important to also reach your micro nutrient target. It is hard to say how much of those are required. You only need small amount of each micro nutrients. All I can tell you, you need extra micro nutrient on low carb keto diet. Indeed, the keto diet is diuretic. It means you flush lots of those nutrient with all the water you drink. So those peanut butter granola balls are perfect to reload your micro nutrient level.
Chocolate peanut butter energy balls – easy 10 minutes recipe!
So lets have a look at the simple ingredients you need to make those granola balls:
Peanut butter – of course this is the base ingredients, good news the recipe works with other nut butter as well like almnd butter or cashew butter. I personally adore the flavor of peanut butter. Make sure you check the ingredients list for no added oil, no added sugar. You will be surprise buy how many stuff some brands adds to nut butter than actually required only one ingredient, peanuts. Check out my article on how to make homemade peanut butter recipe if you prefer to make this at home.
Sliced almond – you can also use roasted almonds that you crushed into pieces but I like the texture of sliced almonds. It reminds me oats, without the extra carbs
Pumpkin seeds – this is a the best seed to boost your magnesium with 65% of your RDI, so don't skip it plus it is a good source of plant based iron too if you are vegan, 18% of RDI
Chia seeds are loaded with fiber and calcium so it is another great seed to add in your breakfast for healthy digestion and strong bones
Flax meal as the other seed above, it is very rich in magnesium and iron so if you are vegan it is a plus. In low carb diet flaxmeal are recommended too as it is very high in fibre, great to stabilize blood sugar level
Sea salt – optional especially if your nut butter is already salty
Sugar free chocolate chips – I love to mine before adding the wram peanut butter as they melt and great chocolate peanut butter balls. If you prefer to feel the crunch of the chips, add them at the end after you incorporated the peanut butter and sweetener. Another great sugar free option is cocoa nibs, slightly bitter but delicious too.
Sugar free Monk fruit syrup – this is my favorite go to liquid syrup on sugar free diet. It has a glycemic index of zero, no calories and it is natural . You can of course use different liquid sweetener. Some people prefer brown rice syrup or regular maple syrup. I won't say they are not ok, they are simply higher in carb and their glycemic index will impact your blood sugar. So if you are on keto low carb choose the same as me, sugar free maple flavored Monk Fruit syrup!
More no bake keto recipes
If you love keto no bake recipes I recommend you try :
Enjoy the recipe and if you make those, don't forget to share a pic with me on Instagram before you dig in!
xoxo Carine
Peanut Butter Granola Balls
Peanut Butter Granola Balls or Keto energy bites are healthy, no bake, vegan, peanut butter chia seeds and almonds balls with sugar free chocolate chips. 100% Paleo + gluten free + grain free
Prep Time: 10 mins
freeze 10 mins
Total Time: 10 mins
12 granola balls
Print The Recipe
In a large mixing bowl add all the dry ingredients, stir to combine, set aside. Note: you can add the chocolate chips now and they will melt in the next step giving a chocolate peanut butter flavor to the ball or you can choose to add the chocolate chips after step 3 to keep the crunchy chocolate chips bites in the balls.

In a small bowl, add the liquid ingredients: peanut butter and sugar free liquid sweetener, microwave 45 seconds. This step will soften the peanut butter making it easier to combine with the dry ingredients. Don't over warm.

Pour the liquid ingredients onto the dry ingredients, combine using a spatula until it forms a sticky batter that you can easily shape into granola balls. If you didn't add the chocolate chips in step 1, stir in now.

Slightly grease your hands with coconut oil, grab some dough and roll the granola balls. I recommend 'golf ball' size to make 12 granola balls in total with this batter.

Roll the prepare granola ball in extra sliced almonds if you like and place to add some crunch on the sides. Place the granola ball on a plate that you have covered with parchment paper - this avoid the ball to stick to the plate.

Repeat the rolling process until you form 12 granola balls.

Place the plate in the freezer for 10 minutes to firm up the granola balls. Meanwhile melt the extra chocolate chips with coconut oil.

Remove the plate from the freezer, drizzle some melted chocolate on top of each granola balls. Place the plate in the freezer again for 5 to set the chocolate drizzle.

Store up to 3 weeks in the fridge in an airtight container or up to 10 days in the pantry in a cookie jar.
Sugar free sweetener: I recommend sugar free monk fruit syrup, you can purchase some here and get 20% off using the code 'sweetashoney' at the check out.
Clean eating sweetener: other healthy sweetener we recommend are brown rice syrup for low fructose option or maple syrup. Both are vegan options.
Nutrition Facts
Peanut Butter Granola Balls
Amount Per Serving (1 granola ball)
Calories 145 Calories from Fat 107
% Daily Value*
Fat 11.9g18%
Carbohydrates 7.5g3%
Fiber 3.3g14%
Sugar 1.5g2%
Protein 5.3g11%
Net Carbs 4.2g
* Percent Daily Values are based on a 2000 calorie diet.
Nutrition panel is for one chocolate peanut butter energy balls. Net carbs are 4.2 g per balls.