This Pizza Dip is calling all the cheese lovers with its irresistible double-cheese layers.
Plus, this low-carb keto-friendly dip is also gluten-free, so everyone can dig in.
I am a pizza lover and when I don't bake my almond flour pizza crust, I like making this pizza dip or a crustless pizza.
I love anything that taste like pizza, and this pizza dip the my last favorite recipe to share with family and friends on movie night.
What's A Pizza Dip?
Pizza dip is a cheesy dip with all the pizza flavors: mozzarella, pizza sauce, pepperoni, and a layer of ultra-creamy cheesy cream cheese.
It's an appetizer or side that can be served for a game night with bread, chips, or tortillas.
How To Make Pizza Dip
There's one simple way to make cheesy pizza dip.
Ingredients
All you need are:
Cream Cheese – Softened at room temperature for a few minutes.
Sour Cream
Grated Mozzarella Cheese
Parmesan Cheese or another great cheese I tried is Provolone cheese.
Pizza Sauce – You can use my homemade pizza sauce, store-bought pizza sauce, or marinara sauce.
Dried Oregano or Italian seasoning for best flavors as it contains a mix of all the most common Italian herbs that bring out the pizza flavor of the dip.
Garlic Powder
Pepperoni Slices, black olive slices, or mushroom slices. Any of your favorite pizza toppings will work.
Pizza Dip Layers
Start by selecting your favorite 8-inch oven-safe round baking dish.
It should we deep enough to fit the whole dip. An 8-inch skillet or pie plate round dish works fine.
In a bowl, add softened cream cheese sour cream, Italian seasoning, half mozzarella and half Parmesan or provolone.
Beat with an electric beater, or use a stand mixer and beat with the paddle attachment until smooth and creamy.
If you don't have any of these kitchen appliances, you can use forks or a potato masher, but the mixture stays lumpy. It will melt in the oven, so it's not a big issue.
Spread the cream cheese mixture into an even layer on the skillet, top with a layer of your favorite pizza sauce, and at the end, sprinkle the remaining cheese.
Topping The Dip
Finally, use your favorite pizza toppings.
I made a pepperoni pizza dip, so I only used pepperoni slices and a pinch of extra Italian seasoning.
But feel free to load this pizza dip recipe with more of your favorite pizza toppings like green peppers, ground meat, and jalapenos.
Vegetarian Pizza Dip Toppings
For a vegetarian pizza dip, try some of the below toppings:
Black Olives Slices,
Mushroom Slices
Diced Green Bell Pepper
Red Onion
Bake the dip at 350°F (180°C) for 20 minutes or until the cheese is melted.
The cream cheese layer should be bubbly, and if needed, extend the cooking time until the cheese is grilled.
To do so, feel free to switch the oven to broil mode, place the skillet to a higher level in the oven, and broil for a few extra minutes to broil the cheese on top.
Serving Pizza Dip
This pizza dip can be served with any bready food. Serve it warm, straight away from the oven, with some of the below foods to dip in.
Allergy Swaps
Below are some swaps to make this recipe allergy-friendly:
Dairy-Free – Dairy-free cream cheese, dairy-free sour cream, and vegan cheese will work too. If you are making a vegan pizza dip, top it with the vegetarian toppings listed above.
Low-Saturated Fat – Feel free to use reduced-fat mozzarella, Parmesan, and cream cheese to decrease saturated fat in the recipe.
Storage Instructions
You can store the pizza dip leftovers in an airtight container in the fridge for up to 2 days. The top cheese layer will harden like in any pizza stored in the fridge.
But when you rewarm the dip in the microwave or oven the cheese melt and get creamy again.
More Pizza Recipes
Here's some more pizza recipes for you to try
More Dip Recipes
I hav so many dips recipes to serve next to this pizza dip, try some of the below
Have you tried this pizza dip? Share a comment or review below!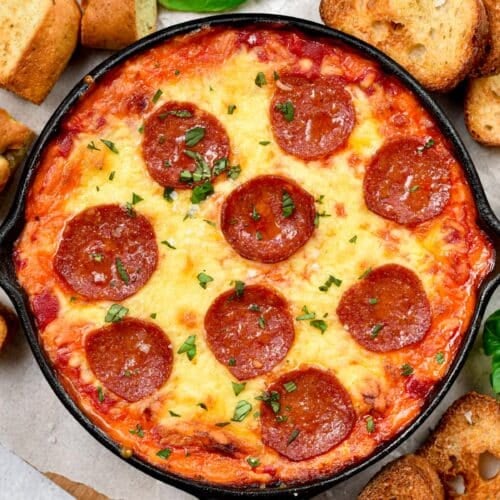 Pizza Dip
This Pizza Dip is calling all the cheese lovers with its irresistible two cheese layers. Plus, this low-carb keto-friendly dip is also gluten-free, so everyone can dig in!
Yield:
servings (9-inch pan)
Nutrition Snapshot
Instructions
Preheat the oven to 350°F (180°C).

In a large bowl, add the softened cream cheese, sour cream, Italian seasonings, half of the shredded mozzarella, and half of the Parmesan.

Using an electric beater, beat the mixture to mix the ingredients together. Taste and adjust with salt and pepper.

Slightly oil an 8-inch round dish or cast-iron skillet, and spread the cream cheese mixture at the bottom in an even layer.

Top up with the pizza sauce and the rest of the shredded mozzarella and Parmesan.

Lay pepperoni slices on top of the dish and an extra pinch of Italian seasoning.

Bake the Pizza Dip for 15-20 minutes at 350°F (180°C), switching to broil mode during the last 2-3 minutes to grill the cheese on top. You know it's ready when the dip forms bubbles on the sides of the pan and the cheese is golden brown.

Serve with slices of your favorite bread, chips, tortillas, or crackers.
My Recipe Notes
Nutrition
Yield:
servings (9-inch pan)
Serving:
1
serving
Calories:
218.6
kcal
(11%)
Carbohydrates:
4.7
g
(2%)
Fiber:
0.5
g
(2%)
Net Carbs:
4.2
g
Protein:
10.2
g
(20%)
Fat:
17.9
g
(28%)
Saturated Fat:
10.1
g
(63%)
Polyunsaturated Fat:
0.8
g
Monounsaturated Fat:
4.9
g
Trans Fat:
0.04
g
Cholesterol:
55
mg
(18%)
Sodium:
542.5
mg
(24%)
Potassium:
154.4
mg
(4%)
Sugar:
2.2
g
(2%)
Vitamin A:
687.8
IU
(14%)
Vitamin B12:
0.7
µg
(12%)
Vitamin C:
1.8
mg
(2%)
Vitamin D:
0.2
µg
(1%)
Calcium:
236.4
mg
(24%)
Iron:
0.5
mg
(3%)
Magnesium:
15.2
mg
(4%)
Zinc:
1.3
mg
(9%)
Posted In: