Pumpkin Seed Pesto an healthy pesto recipe alternative to pine nuts.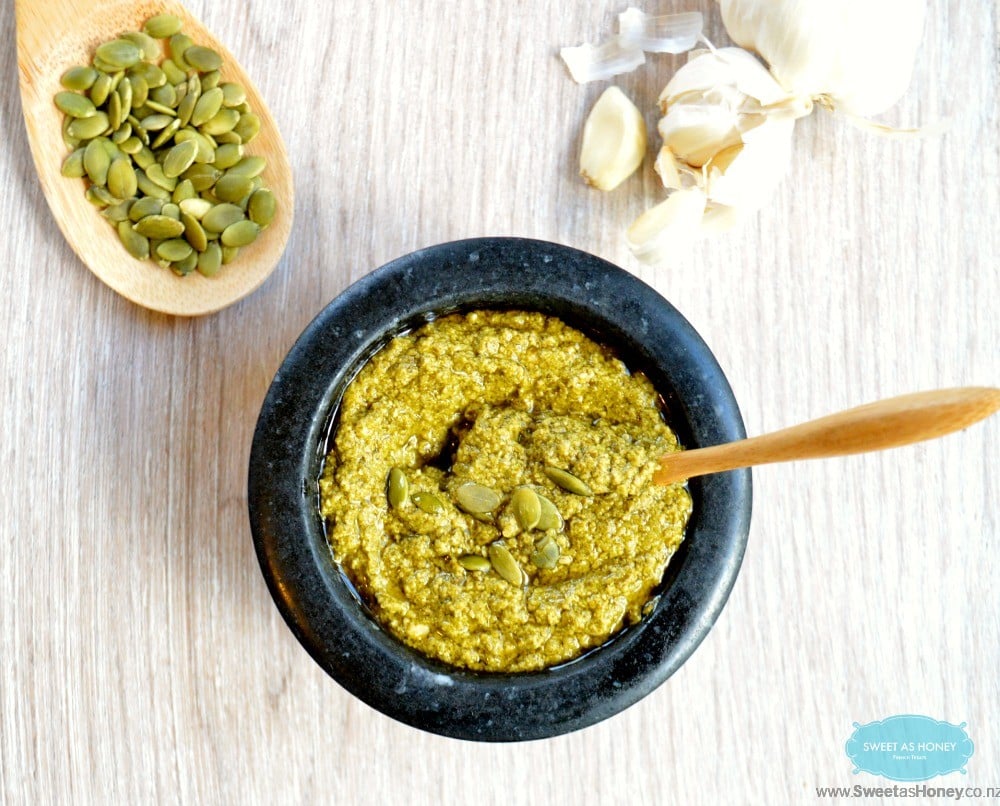 This is a new pesto recipe here. This pumpkin pesto recipe is loaded with fiber and good healthy fat. The trick? I swap the usual pine nuts by Pumpkin Seeds. Apart from the nutrition side this pumpkin seed pesto has a lovely green colour and creamy texture that will impress your guest.
Pumpkin seed pesto : more fibre less fat
I am totally in love with this creamy green pumpkin pesto. I choose to swap the regular pine nuts by pumpkin seeds because:
1- Pumpkin seeds contains more fiber than pine nuts – 6g of fiber/100g against 5g of fiber for the pine nuts
2- Pumpkin seeds contains less fat – only 49g/100g against 92g for the pine nuts.
Data are coming from SelfNutritionData here.
Obviously the parmesan cheese is the ingredient that bring the more fat to this recipe. But changing the Pine Nuts by Pumpkin Seeds decrease the carb level of the spread and increase the fibre which make this pumpkin pesto recipe a diabetes friendly recipe. It is pretty easy to make if you have got a mortar and pillar you can crush the pumpkin seeds easily.
I love using this pumpkin seed pesto recipe as a pasta sauce or on top of tomato slices that I bake in the oven until soft and juicy.
Another nice way to use this pumpkin seed pesto is to dip raw vegetables or spread on low carb bread top up with a thick slice of mozzarella de buffalo.
You can store this pumpkin seed pesto recipe in a airtight container in the fridge up to 1 week.
Vegan alternative – update on 16/03/2016
If you are vegan you can substitute the parmesan cheese by the same amount of nutritional yeast. I used this one.
Pumpkin Seed Pesto
Print The Recipe
60 g of fresh basil
30 g of pumpkin seeds
1 garlic cloves - or 1/2 cloves for a light garlic taste
125 ml of virgin olive oil
50 g italian parmesan cheese - or subsitute by Bragg Nutritional Yeast
Salt Pepper
Chopped finely the basil leave.

Crush the garlic.

In a mortar and pillar add the pumpkin seeds and press them until it form an oily puree.

Add the basil, garlic and keep pressing.

When the paste is forming pour onto a bowl.

Add the parmesan powder and olive oil.

Stir well to have a nice mix.

For a thinner texture, pour the mixture into a stand mixer for 30 seconds.

Add salt and pepper.