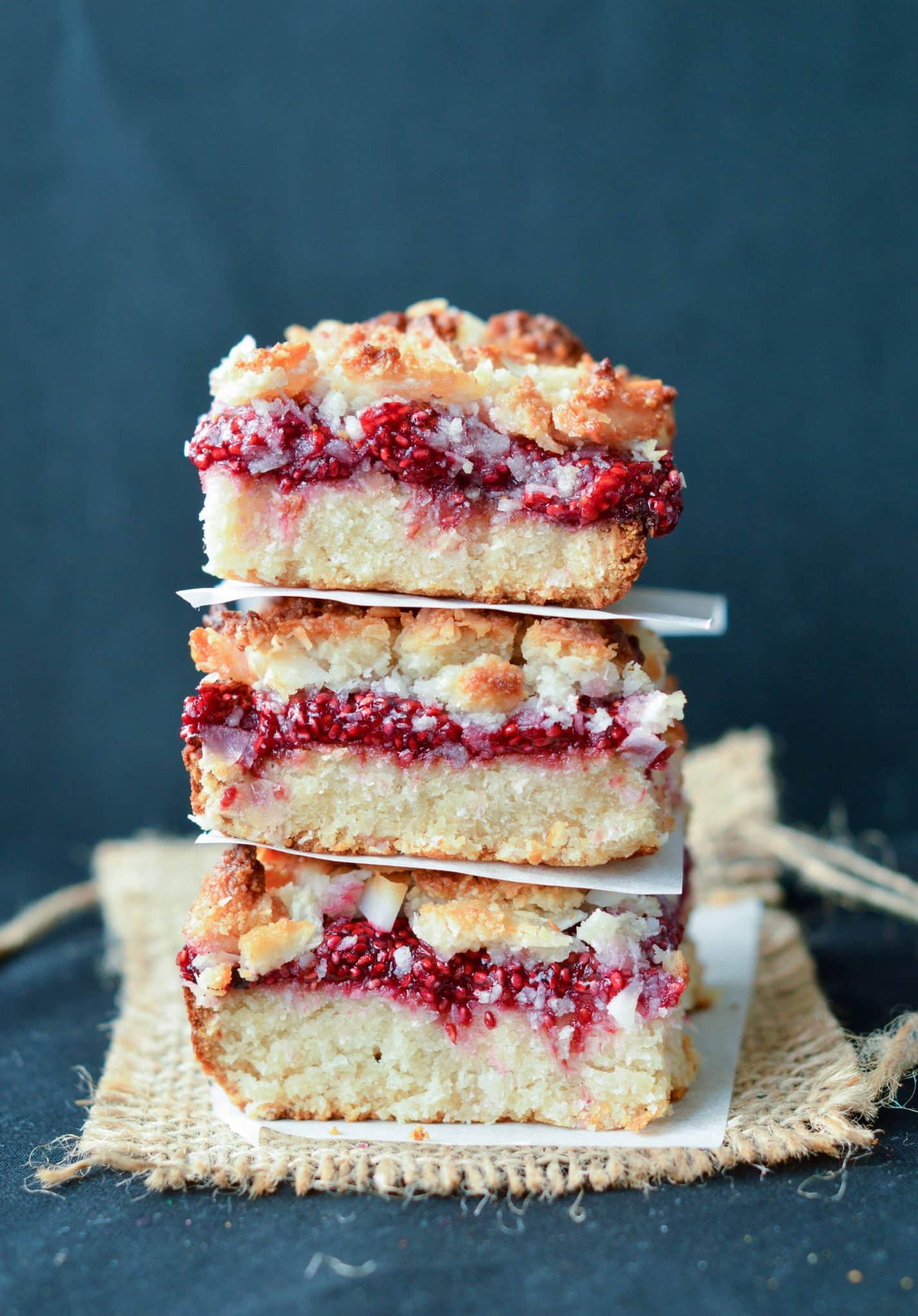 Raspberry Crumble Bars, yet most indulgent keto low carb dessert I ever made. Do you love my easy low carb recipes ? Well, this one is definitely an easy one !
Healthy Raspberry Crumble Bars | Vegan + keto
You guys may have noticed that we – well, me and hubby – are all into vegan food right now. We really want to stop eating meat, fish and eggs to respect animals but also to protect our planet. We have always been aware that we ate too much animal food – specially eggs. Don't get me wrong. I will still eat some eggs from times to times but making vegan swaps whenever possible is a great step to a healthier lifestyle. Sooo, these healthy Raspberry Crumble Bars are vegan, no eggs, no dairy and packed full of healthy things like coconut flour, chia seeds and almond meal. Do you see that crumbly bottom layer?
Coconut flour a healthy crumbly flour
It's the best! Coconut flour makes the most delicious crumble bars. Even better when combined with nuts and more coconut. You know guys that I love baking with coconut flour and I know you love it! My coconut flour pie crust is one of your favorite recipe of all time. So here, I choose to make those raspberry crumble bars with coconut. If there is one combo I love more than anything it is coconut and raspberry. Look at those slices! Does it makes you hungry right now ?
When I was a kid in France my grandma looked after me each day after school. She always bought stuffed croissant with raspberry jam and toasted coconut. I believe my addiction to this combo of flavor comes from here. Now a days it is always a mix of flavor I love on my toast or pancakes. But those raspberry crumble bars, really the perfection !
If you are a lover of crumble bars you will love this simple healthy raspberry crumble bars recipe. So here how it goes. It is a very simple recipe as all you have to do is processing each ingredients – well, for the bottom layer – into a food processor. It barely takes 5 minutes to prepare. The bottom layer is my favorite part. It is 'buttery' with a lovely crumb texture that melt in your mouth. The filling is a super healthy jam, the sweetest raspberry chia seed jam you'll ever made with no refined sugar.
Finally, the coconut crust on top is crunchy, with a delicious taste of roasted coconut that goes so well with the raspberry jam. I really can't say more about those healthy raspberry crumble bars.
I hope everyone will love them as my family do. I wish you all a great week. Thanks for reading the blog and happy baking !

xoxo Carine
Raspberry Crumble Bars
RASPBERRY CRUMBLE BARS - easy, healthy, keto, low carb, paleo and vegan. A delicious gluten free dessert with only 7g net carbs per slice.
16 bars
Print The Recipe
NEW
My no-fail Keto Baking Recipe ebooks are now available
for a limited time, 50% OFF if you enter the code
INPLNCHOFFER
Preheat oven to 350 F (180 C).

Prepare a square baking tray (8 inches), covered with parchment paper. Set aside.
BOTTOM LAYER
In a food processor with the S blade attachment add the almond meal, desiccated coconut, coconut flour, honey, salt, coconut oil and vanilla and water (starts with 8 tbsp.).Process until it gets crumbly and all the ingredients are coming together. If too crumbly - it means it does not form a dough ball when firmly pressed within your hands - simply add an extra 2 tbsp of water. I added 10 tbsp of water. Always add 2 tbsp at a time and check with a small portion of the dough. If it hold well together you added enough water.

Evenly press the batter into the prepared baking tray. I used my fingers and flatten the layer pressing with a spatula.

Using a fork, pick the base few times on few area to prevent the base to 'pop' when baking.

Bake for 15 minutes. Cool down fully in the tray before spreading the raspberry jam on top.
RASPBERRY CHIA SEED JAM
While the bottom layer is baking prepare the jam. In a small saucepan add all the jam ingredients. Cook the jam under medium heat stirring constantly to avoid the jam to burn. It is ready when the raspberry are fully melted and it forms a thick jam. It should not take more than 5-6 minutes

Set aside in a bowl to fully cool down and thicken a little bit. You can bring the jam outside on the deck to cool down faster. It does not has to be cold, room temperature is fine.

Spread the jam onto the baked bottom layer and return in the oven for 10 minutes to set.

Remove from the oven. Set aside while you prepare the top layer.
TOP LAYER
Add all the top layer ingredient into a mixing bowl. Use your hand to combine the ingredients together., rubbing the coconut oil and liquid sweetener onto the dry ingredients to create a crumbly batter. It is the messy part !

Crumble those ingredients on top of the last layer - the chia jam - and return the tray to the oven for 10 minutes to slightly toast the coconut crumble layer.

Fully cool down for 1 hour in the pan . You can place the pan in a cooler place like outside on the deck to cool down faster. The jam must be set and at room temperature before making slices. Place the pan for 1 hour in the fridge to set the jam faster and make it easier to slice.

This recipe makes 16 slices. Store up to 1 week in the pantry in an airtight plastic box.
Net carbs per slice: 7.8 g, using sugar-free syrup
Nutrition Facts
Raspberry Crumble Bars
Amount Per Serving (1 slice)
Calories 253 Calories from Fat 216
% Daily Value*
Fat 24g37%
Carbohydrates 21.8g7%
Fiber 14g58%
Sugar 5.3g6%
Protein 4.5g9%
Net Carbs 7.8g
* Percent Daily Values are based on a 2000 calorie diet.