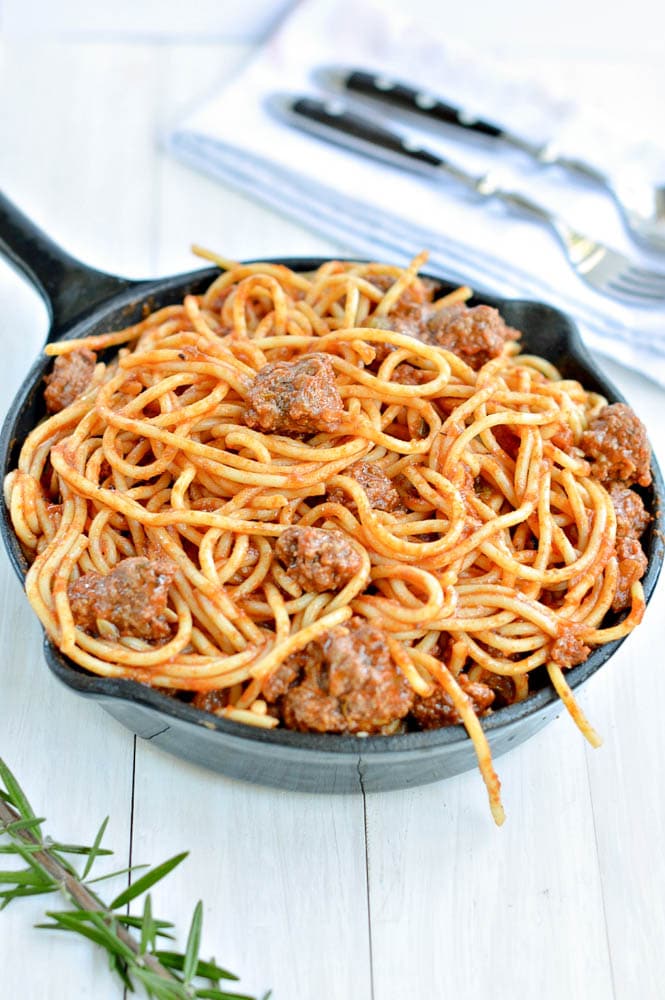 I made this spaghetti and meatballs recipe before I goes on holidays and I completely forget to post the recipe earlier on the blog. As I was preparing my husband lunch box today I found some leftover in the freezer and it reminds me how yummy this spaghetti and meatballs recipe was. What makes this recipe different to others spaghetti and meatballs recipe are two ingredients that you are not used to have in tomato spaghetti sauce.
Spaghetti and meatballs | Quinoa Spaghetti
The 2 magical ingredients that create a super tasty spaghetti and meatballs recipe with juicy beef meatballs are red wine and finely diced chicken liver. The meatballs are hand shaped with a mix of minced beef and finely diced chicken liver. If it is the chicken liver that makes you doubt about this recipe, don't! Give it a try. As the sauce is simmered for a while and the liver is finely diced it does not taste like liver. It simply makes the meatballs super tender and they melt into your mouth.
I learnt this recipe from an Italian friend so it is not something I created on my own. I would actually never thought that I would eat chicken liver before she made me this recipe.
I used quinoa spaghetti to make this spaghetti and meatballs recipe but any spaghetti will works well too. I love quinoa spaghetti as they contains more fibre and the texture is firmer than regular wholewheat spaghetti. However if you are not gluten intolerant wholewheat or spelt spaghetti are very healthy options too and much cheaper!
Spaghetti and meatballs
A comforting quinoa bolognese spaghetti recipe with juicy beef and liver meatballs cooked in spicy tomato sauce.
Prep Time: 20 mins
Cook Time: 20 mins
Total Time: 40 mins
Print The Recipe
250 g spaghetti of your choice - I used quinoa spaghetti
400 g lean minced beef
150 g chicken liver finely diced
2 large brown onions finely diced
1 can of diced tomatoes- 400g
1 garlic clove
2 tablespoon oregano fresh or dried- optional
1 tablespoon marjoram fresh or dried - optional
1/4 cup red wine
Salt pepper
Peel the onion and garlic clove and finely diced with a sharp knife.

In a large saucepan, under medium heat warm olive oil.

Add the garlic an onion, reduce to low heat and cook for 2-5 minutes until golden and fragrant. Stir constantly with a wooden spoon to avoid them to burn.

In a bowl, mix the minced beef with the finely diced chicken liver. Add the dried herbs if you like. I did not this time as my little girl do not enjoy them so much.

Shape meatballs with your hands to blend the meat together and forms meatballs of different sizes.

Add the meatballs into the saucepan and fry the meat for 2-3 minutes on all sides.

Add the red wine to de glaze and stir in the can of diced tomatoes,

Cover and simmer 20/30 minutes or until the liquid slightly thicken and reduce.

Adjust with salt and pepper regarding taste.

Meanwhile cook the spaghetti regarding your packing instruction.

Use hot boiling water with a pinch of salt and a tablespoon of olive oil to avoid them to stick. When cooked wash them under cold tap water. Drain well and transfer into the saucepan with the tomato meatballs sauce.

Cook for 10 minutes until the pasta or hot and flavoured by the sauce.

Serve topped with fresh herbs or grated parmesan cheese.

This recipe serve 4 people and can be stored in the fridge for 5 days.

You can also frozen the spaghetti and meatballs in an airtight container.

Defrost the day before eating and rewarm in the microwave.
Nutrition Facts
Spaghetti and meatballs
Amount Per Serving (6 g)
Calories 0
* Percent Daily Values are based on a 2000 calorie diet.