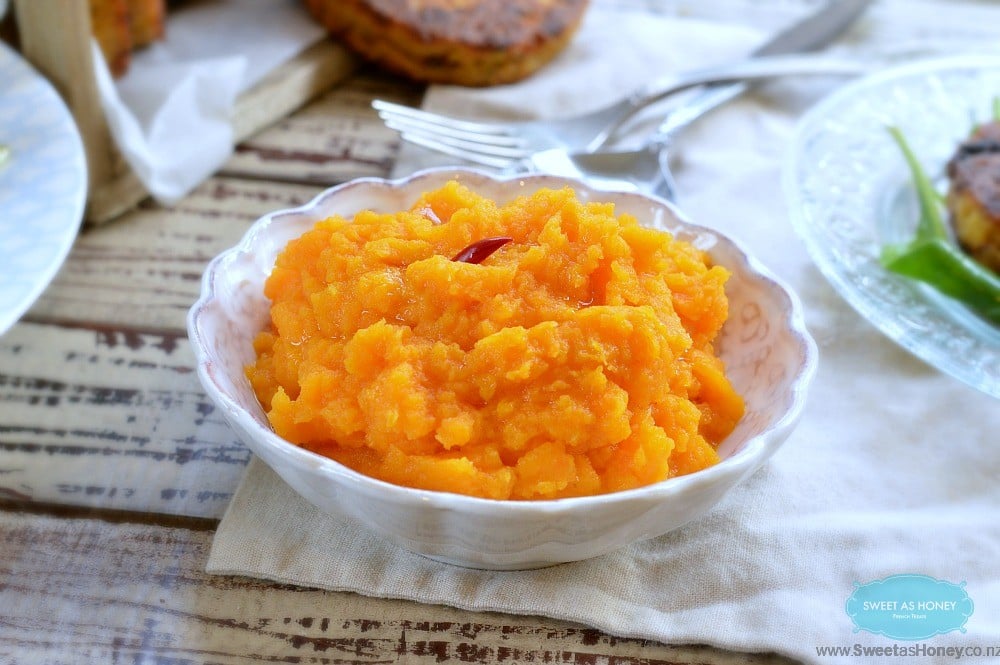 Carrot and Parsnip Mash – A Dairy-Free Spicy Mash
A dairy-free mash made with as much carrot as parsnip and flavoured with cumin, chilli and nutmeg. The creamy texture of this dairy-free carrot and parsnip mash is coming from a slight amount of fresh olive oil.  This recipe is the perfect combination with the millet cakes recipe here.
Carrot and Parsnip Mash – A Sweet Toddler Mash
I think all mums wants their kids to eat more vegetables. But it is not always easy to find a perfect mix of vegetables that suit their taste. I found this carrot and parsnip mash perfect for toddler. Carrot and parsnip are really sweet vegetables which makes them attractive for kids. My 16 month girl loves the mix of spice in this carrot and parsnip mash and also the  flashy orange colour. Yes unfortunately I noticed that even at this small age she starts to be reluctant to brown dark food colour. I did not use much chilli so it was too spicy for her small age and you can also chose to remove the chilli powder form the recipe for younger kids. Another good point about this carrot and parsnip mash is the add of fresh virgin olive oil. It brings lots of good fat to your kid meal by adding some extra omega-3.
Spicy Carrot and Parsnip Mash
Spicy carrots and parsnip mash
2
Print The Recipe
4 medium carrots peeled and sliced
4 medium parsnip peeled and sliced
1/2 tsp cumin powder
1/4 tsp nutmeg powder
1/8 tsp chili powder or fresh chopped chili
2 tbsp Extra virgin olive oil
Boil 1 litre of water in a saucepan.

Add the peeled and sliced vegetables.

Cook until tender about 25 minutes.

Cool down the vegetables in a sieve for 5 minutes to remove the water.

Mash the vegetables with a hand masher.

Add the olive oil, spices.

Combine and add salt if needed.

Serve hot.
Nutrition Facts
Spicy Carrot and Parsnip Mash
Amount Per Serving
Calories 367 Calories from Fat 135
% Daily Value*
Fat 15g23%
Saturated Fat 2g13%
Sodium 50mg2%
Potassium 1210mg35%
Carbohydrates 58g19%
Fiber 16g67%
Sugar 16g18%
Protein 4g8%
Vitamin A 2795IU56%
Vitamin C 53mg64%
Calcium 118mg12%
Iron 2mg11%
Net Carbs 42g
* Percent Daily Values are based on a 2000 calorie diet.