This Strawberry Banana Almond Milk Smoothie is the best nutritious morning smoothie ever. Behind its creamy pink look are packed 3.8g protein and a whopping amount of 9.7g fiber. A serve loads your body with 144% of your vitamin C intake! That's clearly the easy and healthy smoothie you need to start your day full of energy.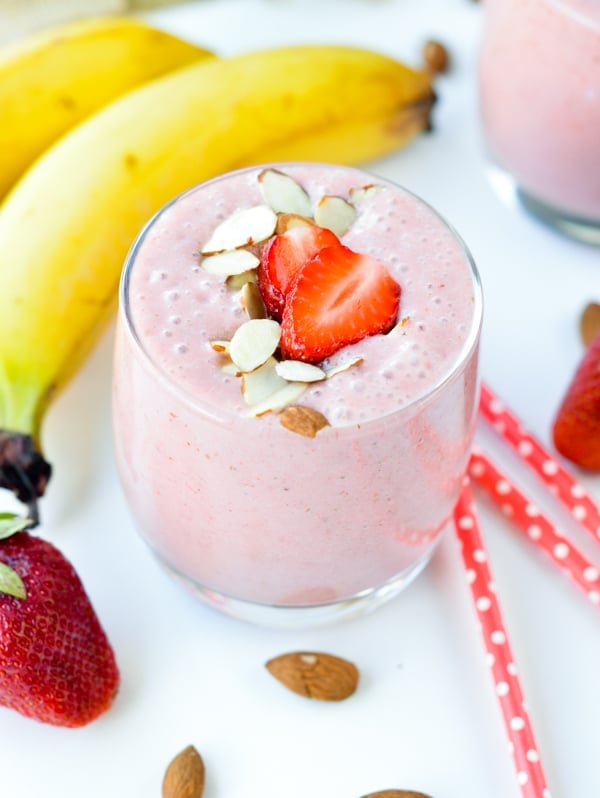 Strawberry Banana Almond Milk Smoothie – Let's boost your iron!
Ok guys, I have a confession to make. Not the easy one. After 10 months on a vegan diet my body is crying for HELP! I miss iron so much that I have to get some strong supplements for 6 weeks. Argh. So what did I do wrong on that way to a 'healthier me'? Well, first I drink a lot of coffee in the morning from breakfast to lunchtime. Did you know that coffee decreases iron absorption by 50%-90%? Yep! so basically all that lovely iron-loaded plant-powered food I was eating in the morning was 'useless' for my body. Well, in term of iron absorption.
Although I love animals I chose to switch back to my clean food recipes for a while with 80% vegetarian meals. Meanwhile, I chose to develop recipes that will be iron and vitamin C loaded. Why? because vitamin C helps iron absorption – I love all those new things I learnt about food and my body. So today I am sharing my new breakfast drink. Goodbye coffee and say hello to this Strawberry Banana Almond Milk Smoothie.
It's a super easy and healthy smoothie to drink for breakfast. I don't even eat cereals after one of this Strawberry Banana Almond Milk Smoothie as it contains 7.5 g fibre and 3 g protein. I only add more protein from 2 or 3 boiled egg white. It makes a delicious healthy on the go breakfast for summer.
Strawberry Banana Smoothie – Dairy free with Almond milk
You know I don't drink dairy milk – it upsets my stomach – so here I used Unsweetened Almond Breeze Almond Milk. It has been my almond milk of choice for years as it's a 4 health star one: no sugar added, low calories, no aftertaste in drink and it gives a lovely creamy texture to smoothie.
It's a 5-minutes recipe made of 5 simple ingredients:
Fresh bananas – if you use ripe bananas, don't add the maple syrup or it would be too sweet
Frozen strawberries – it's you vitamin C source. As it's summer here in New Zealand, I bought fresh strawberries and froze them overnight
Flaxmeal – don't skip this magic ingredients! That's where you get the protein and fibre
Spinach – this adds some iron and vegetable to your drink. I used only 1/4 cup to keep my smoothie light pink for my kids. Honestly you can add more if you are looking for extra iron, up to 1 cup it won't change the texture much.
Unsweetened Almond Breeze Almond Milk – made from the best California Almonds. This is my favorite dairy-free drink for smoothie
Maple syrup – this is optional as I said before if you are using ripe banana, skip it!
So I am not saying I stopped coffee – I am still drinking it outside of meals – morning tea for example. But this Strawberry Banana Almond Milk Smoothie makes me happy in the morning right now. I am alternating between different smoothies every morning. Other vitamin-C-loaded smoothies I love as a change are my berry smoothie bowl, watermelon strawberry smoothie or mixed berry smoothie.
Watch the Strawberry Banana Almond Milk Smoothie Recipe video and make this now !
Enjoy the recipe and share your pics with me on Instagram!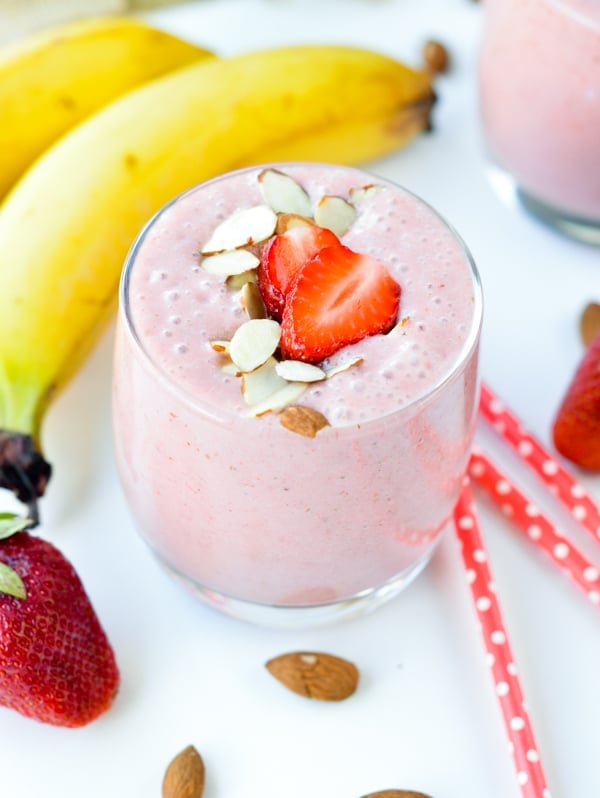 Strawberry Banana Almond Milk Smoothie
Strawberry Banana Almond Milk Smoothie - a healthy, easy and creamy recipe with 3.8 g protein and 9.7 g fibre per serve and 144% of your vitamin C intake! A great morning smoothie to boost your day with energy. Vegan + Gluten free + Dairy free.
2 people
Print The Recipe
2 Banana peeled, sliced
1/4 cup Baby spinach
2 1/2 cups Frozen Strawberries
1 tablespoon Flaxseed meal
1 teaspoon teaspoon Sugar-free flavored maple syrup - optional, add for extra sweeteness
1 1/2 cup Unsweetened Almond Breeze Almond Milk
In a blender, add all the ingredients in this order: banana slices, baby spinach leaves, flax meal, maple syrup, frozen strawberries, unsweetened Almond Breeze Almond Milk.

Blend until smooth - about 45 seconds.

Serve immediately with sliced almonds on top to decorate.
Nutrition Facts
Strawberry Banana Almond Milk Smoothie
Amount Per Serving (1 smoothie)
Calories 206 Calories from Fat 33
% Daily Value*
Fat 3.7g6%
Carbohydrates 44.5g15%
Fiber 9.7g40%
Sugar 22.9g25%
Protein 3.8g8%
Vitamin A 150IU3%
Vitamin C 118.8mg144%
Calcium 400mg40%
Iron 2.5mg14%
Net Carbs 34.8g
* Percent Daily Values are based on a 2000 calorie diet.
Nutrition Panel is for one strawberry banana almond milk smoothie including all the ingredients (maple syrup too). This recipe serve 2 smoothies.