Don't you think that eggs, tomatoes & spinach are a killer breakfast combo ?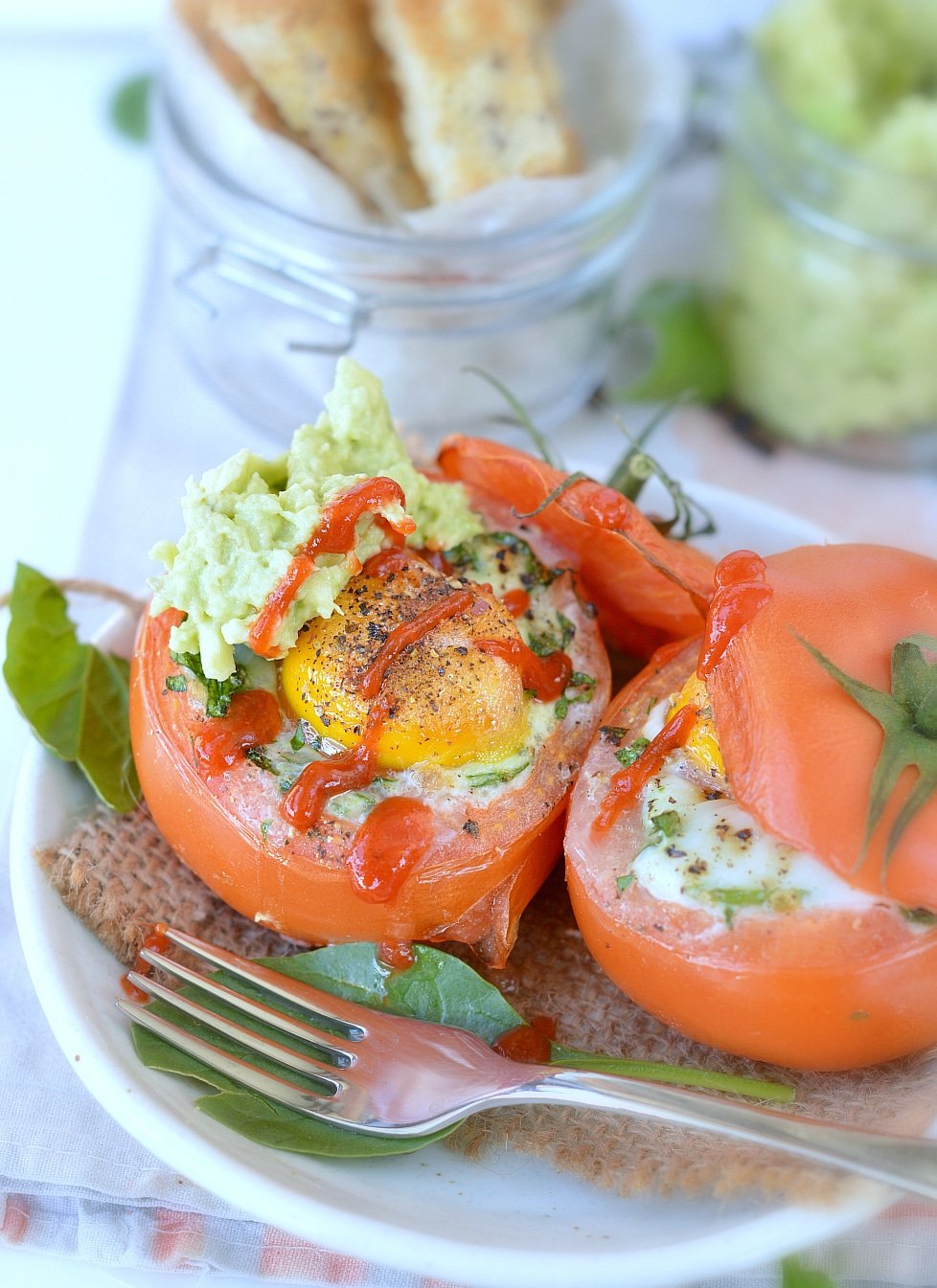 I really do love this trio of flavor even better if it is easy to make and topped with mashed avocado ! Ahh this pregnancy turns me into a different woman. I am now eating savory breakfast – which I never appreciated before – and I must tell those stuffed tomatoes are my favorite quick breakfast recipe right now. I love it because all I have to do is cracking an egg in a tomato hole and bake the whole thing for 15 minutes! DONE!
Of course, it taste better if you add some extra flavor and toppings and today I am sharing with you my favorite recipe. A stuffed tomatoes with eggs, spinach, coconut cream, tiny bit of grated cheddar and mashed avocado on top. Well, if you love spicy food like I do add a drizzle of sriracha sauce on top and you just made the BEST savory breakfast ever! This is basically all the 5 ingredients you need to make this simple and delicious breakfast. Oh and if you don't eat dairy you can remove the cheese it will work like magic too!
The trick is to success this simple baked stuffed tomatoes recipe is to cut the top part of the tomato thinly.
And to dig a hole inside the tomato removing all the flesh and seeds carefully with a spoon until no more liquid is left. Then you are ready to stuff the tomatoes with the ingredients you like or follow my favorite recipe below – highly recommended of course ahaha!
As my husband and little one don't enjoy savory breakfast I prepare more tomatoes for them for dinner. It stores very well in the fridge if you make them ahead – even the night before breakfast of course crack the egg only few minutes before baking the tomatoes to avoid it to dry out. When they eat those stuffed tomatoes for dinner I cook them in a greased skillet and I serve them with cooked quinoa or millet as a side. Really, if you are always on a rush in the morning but you like to fuel up with an healthy savory breakfast you must try this recipe. And it is low carb too !
Enjoy and bon appetit bien sur ! 
Stuffed Tomatoes with Eggs & Spinach | Quick Savory breakfast
Ingredients
4 medium size tomatoes
4 teaspoon coconut cream or cream of your choice
4 tbsp. grated cheddar - low fat if you like or remove if dairy free
1 tsp. olive oil or vegetable oil of your choice to grease the dish
4 small eggs
1 avocado, mashed
1 tsp lemon juice
Optional : drizzle of sriracha sauce
salt and pepper, adjust egarding taste
Instructions
Preheat oven to 200C.
Grease a oven proof baking dish with a little bit of vegetable oil. Set aside.
With a sharp knife, cut the top of the tomatoes and using a spoon remove the flesh of the tomatoes. Be careful to don't break the bottom of the tomatoes. Discard the flesh - juice and seeds. Repeat for each tomatoes and place them the oven proof baking dish leaving half thumb space between each tomatoes.
Add 1 teaspoon of cream at the bottom of each tomato hole then add grated cheddar., finely chopped spinach, salt, pepper and crack an egg. Make sure the egg is not too big or the egg white will run over the tomato hole.
Bake for 15-25 minutes or until the eggs are set.
Mash the avocado on a plate with lemon juice. Adjust salt and pepper to your taste. Set aside in a bowl.
Serve the stuffed tomatoes hot topped with mashed avocado and a drizzle of sriracha sauce.
You can also make those tomato ahead. Store them in the fridge overnight and crack your egg in the tomato hole in the morning before baking them.
https://www.sweetashoney.co/stuffed-tomatoes-with-eggs-spinach-avocado-sriracha-sauce/