Clean Eating
We all have crazy busy life. We have so much to deal with that it can be very challenging to find a tiny bit of time to even think about cooking more and buying less ready-made food. "I need to lose those extra pounds, I want to feel more energized, I want to fit this old pair of jean, I want to start the exercise routine I was supposed to start on New Year,… "When you think about it there are tons of positives health goals that we dream to achieve, postpone and finally cancel. Sometimes all we need is to be organised with ready to go week meal plan, recipes and shopping list. The Ultimate Clean Eating Binder is here to organize and success your clean eating diet up to 6 weeks!
[otw_shortcode_button href="https://gum.co/CleanEats" size="large" bgcolor="#FF4181″ icon_position="left" shape="round"]Buy Now $14[/otw_shortcode_button]
Instant digital upload
What exactly is The Ultimate Clean Eating Binder?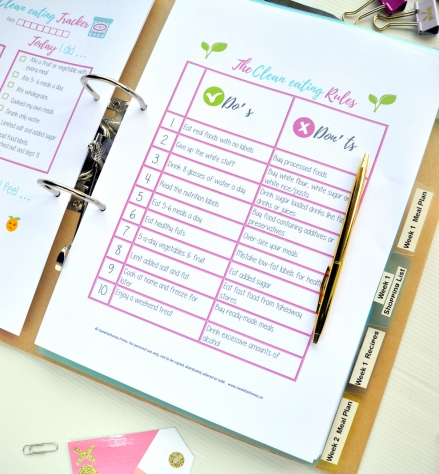 Success is a collection of more than 85 printable sheets* to successfully start a clean eating diet and reboot your health no matter how busy you are.
      2-week Meal plan 
      2-week shopping list
      20 + clean eating recipes 
      Personal goal tracker
      Chic & Elegant recipe binders 
      … and more
It contains all the organisation sheets you need to Success The Clean Eating Diet in Just 2 Weeks no matter How Busy you are !  
Your Ultimate Clean Eating Binder includes …
For years I was craving sugar for much of the day. I felt tired every day, got diagnosed with pre-diabetes and was stuck with extra post pregnancy pounds that I couldn't get rid of. It was time to get my routines changed and I knew that cutting out on processed food was the solution. So, I started to design my own clean eating binder where I listed all my recipe ideas, clean eating shopping list, meal plan, and personal goal tracker and more. I quickly figured out that being organised with weekly meal plan, ready-to-go shopping list and recipes was making clean eating super easy for my all family. In only 6 months, I reversed my pre-diabetes, lost the extra pregnancy weight and felt so much happier. Seriously, this clean eating binder has been a total life saver for me. When I realized that many other people were having the same problems I decided to create a printable version of my personal binder in hopes that it could help others achieve the same results.
[otw_shortcode_button href="https://gum.co/CleanEats" size="large" bgcolor="#FF4181″ icon_position="left" shape="round"]Buy Now $14[/otw_shortcode_button]
Instant digital upload