Sugar-Free Ketchup – Homemade Keto Ketchup
This homemade sugar-free keto ketchup recipe is a delicious and easy keto recipe to enjoy some healthy tomato sauce with your fresh keto-friendly vegetables or on your keto tortillas.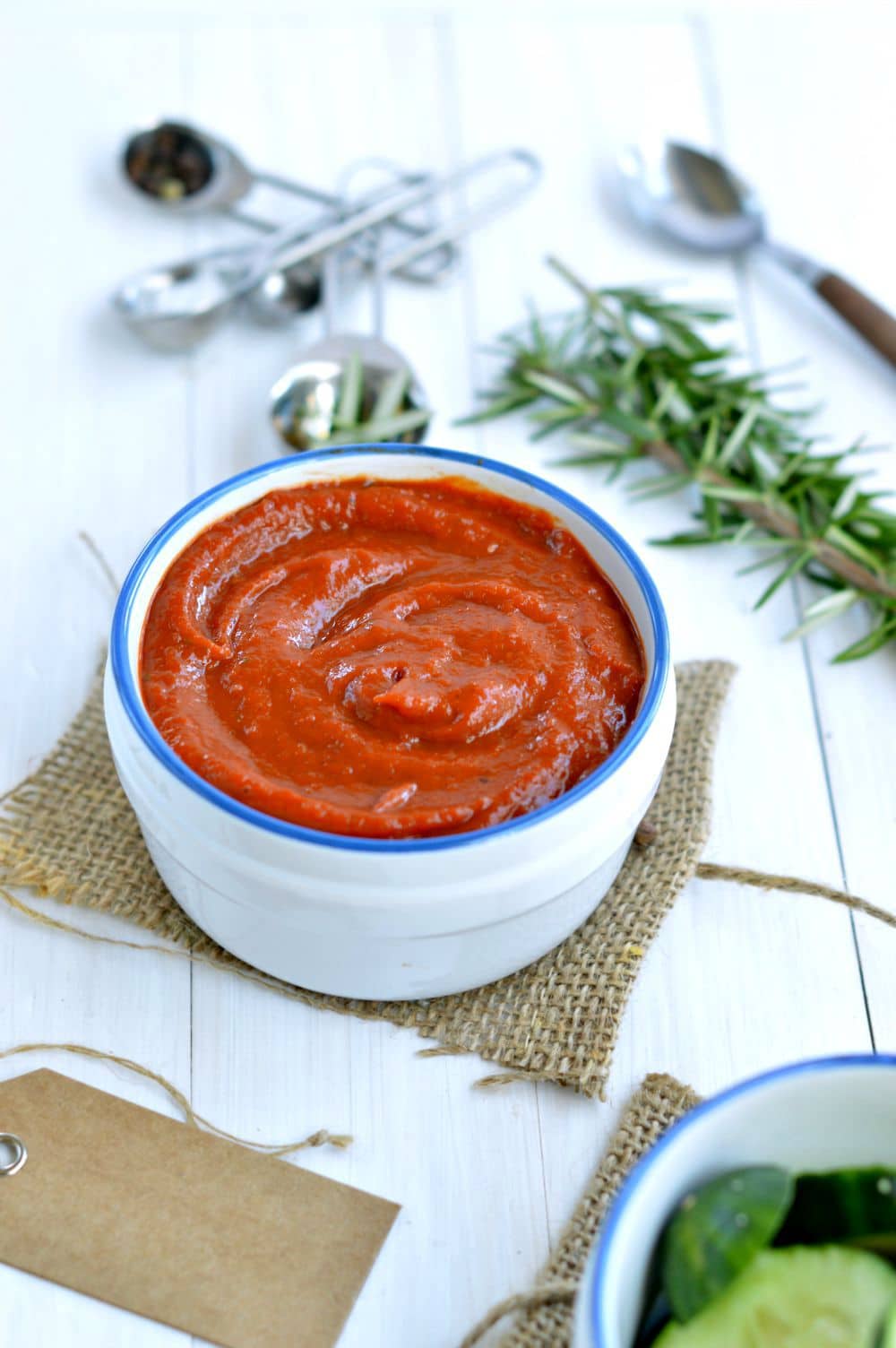 Is Ketchup Keto-Friendly?
Your typical ketchup, also known as Tomato Sauce in the Commonwealth, is not at all keto-friendly. How many carbs in ketchup?
Well, regular ketchup has about 20 grams of net carbs per 100g! So with just 100g, you would most likely have had your entire keto macros for a whole day!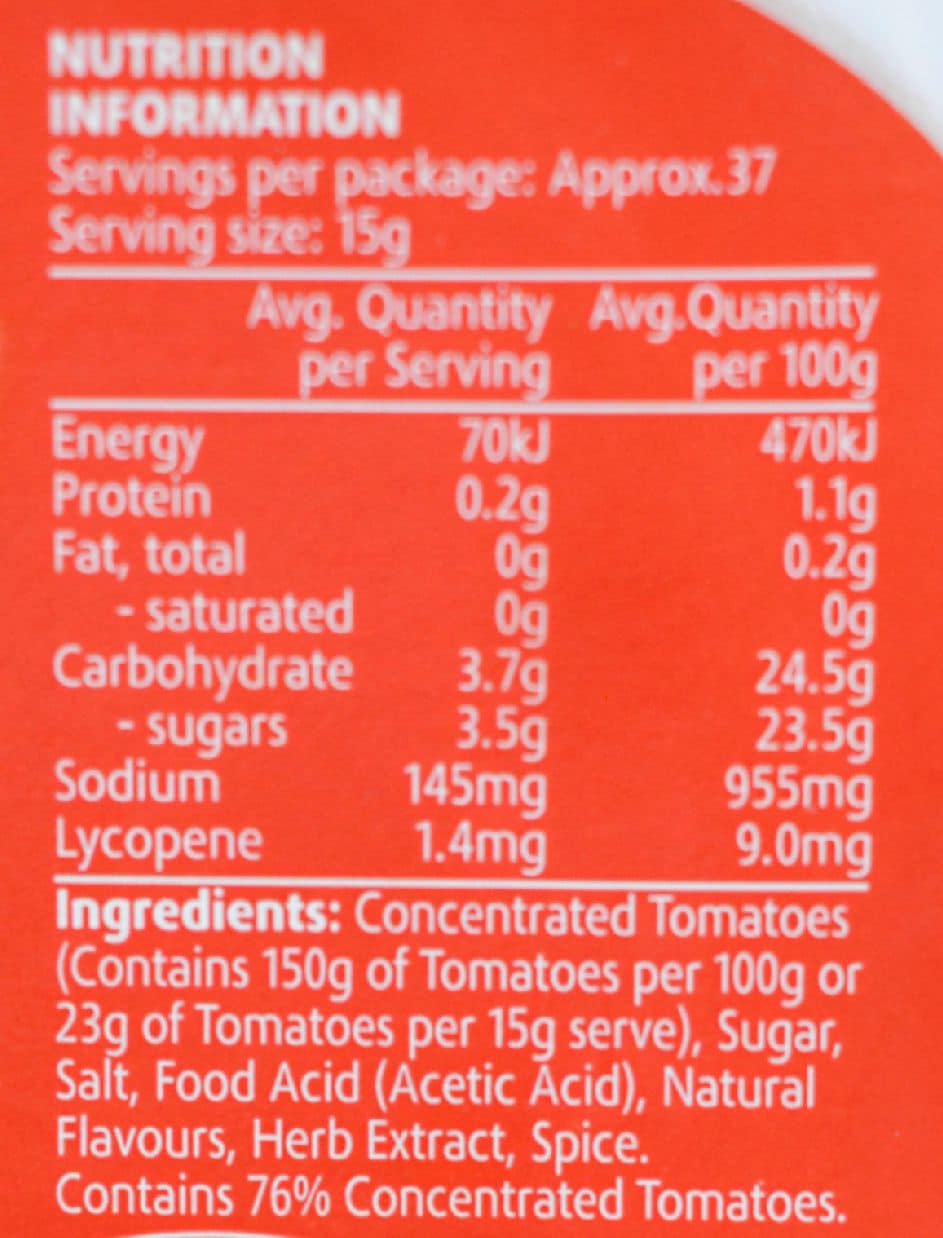 And no, carbs in ketchup do not solely come from tomatoes. Store-bought ketchup is so high in carbs because it has added sugar.
Check out the food label above. Sugar is the second ingredient!
Tomato is a low-carb vegetable with 2.6g of net carbs per 100g. So let's see below how we can turn this low-carb vegetable into keto-friendly ketchup!
How To Make Keto Ketchup
You only need a few basic ingredients to make perfect, low-carb ketchup.
Ingredients
Tomato puree, or fresh tomatoes.
Tomato Paste made with only tomatoes.
Onions for the taste. Yes, onions are also a low-carb vegetable. Not the lowest, but since we're not using too many of them, it's fine!
Erythritol to replace the sugar added in classic ketchup recipes. You could pick another keto-friendly sweetener. Make sure to read my sweetener guide to make the best choice!
Apple Cider Vinegar to add the typical bitter ketchup taste.
Garlic
Ground Paprika
Oregano
Extra Virgin Olive Oil
I took my inspiration from Sugar-free Mom's Ketchup recipe. Her sugar-free ketchup recipe is quite different as she is using honey, so it isn't keto-friendly.
If you are not particularly low-carb and want to try honey in my recipe, I would recommend using 4 tablespoons of honey instead of the 2 tablespoons of erythritol and then adjusting to taste.
Making the recipe is very easy. It only takes a few steps!
Prepare the low-carb vegetables
Chopped your onions and the garlic cloves into small bits.
Fry the onions in a saucepan with olive oil, and add the garlic and paprika.
Add the tomato paste
Once the onions are coated in paprika, add your tomato paste. Make sure it does not contain any added sugar!
Let it simmer for a couple of minutes, and then add the tomato puree, also known as tomato passata.
For a sweet taste, add a sugar-free sweetener like Erythritol. Let it simmer for a few more minutes over low heat.
Blend the ketchup
Once your sauce has thickened, use an immersion blender to turn it into smooth ketchup.
The color of the ketchup is slightly lighter than the store-bought version, but the taste is very similar.
This is a very simple ketchup recipe that makes about 300g of ketchup.
Storage Instructions
This keto-friendly homemade ketchup dip can be stored safely in the fridge for one week.
Store it in an airtight container to let it keep its taste and texture.
More Keto-Friendly Dips
If you enjoy dips on your keto diet, make sure to check the following recipe for ketchup substitutes!
If you need the perfect appetizer for your low-carb ketchup, check these out!
Have you made this ketchup recipe? Write a comment below or rate the recipe on the card!
Recipe Card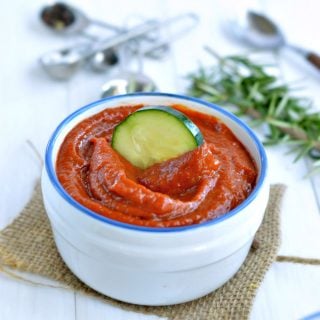 Sugar-Free Keto Ketchup
Sugar-free ketchup sweetened with stevia is low in carbs, diabetes-friendly and keto-friendly.
Serving Size:
20
portions
Nutrition
Want My Kitchen Equipment?
Instructions
In a saucepan under medium heat, warm the olive oil.

Add the finely chopped onions, garlic, and paprika.

Fry until the onions get softer and well coated by the ground roasted paprika. It could take 3-4 minutes.

Reduce to low heat and stir in the tomato paste and apple cider vinegar. Simmer for 1-2 minutes while constantly stirring with a spoon or spatula.

Stir in the tomato puree, sugar-free crystal sweetener, and dried oregano.

Reduce to low heat and simmer for 2 more minutes until the liquid thickens.

Adjust with salt and pepper if desired.

Remove from heat and using an immersion mixer, blend until smooth.

Store in the fridge for up to 1 week in a glass mason jar or an airtight container.
My Recipe Notes
Nutrition Facts
Sugar-Free Keto Ketchup
Amount Per Serving (20 portions)
Calories 17
Calories from Fat 6
% Daily Value*
Fat 0.7g1%
Carbohydrates 2.4g1%
Protein 0.3g1%
Net Carbs 1.9g
* Percent Daily Values are based on a 2000 calorie diet.