Low-carb homemade sugar-free ketchup recipe. A delicious and easy clean food recipes to enjoy some healthy tomato sauce with your fresh keto-friendly vegetables.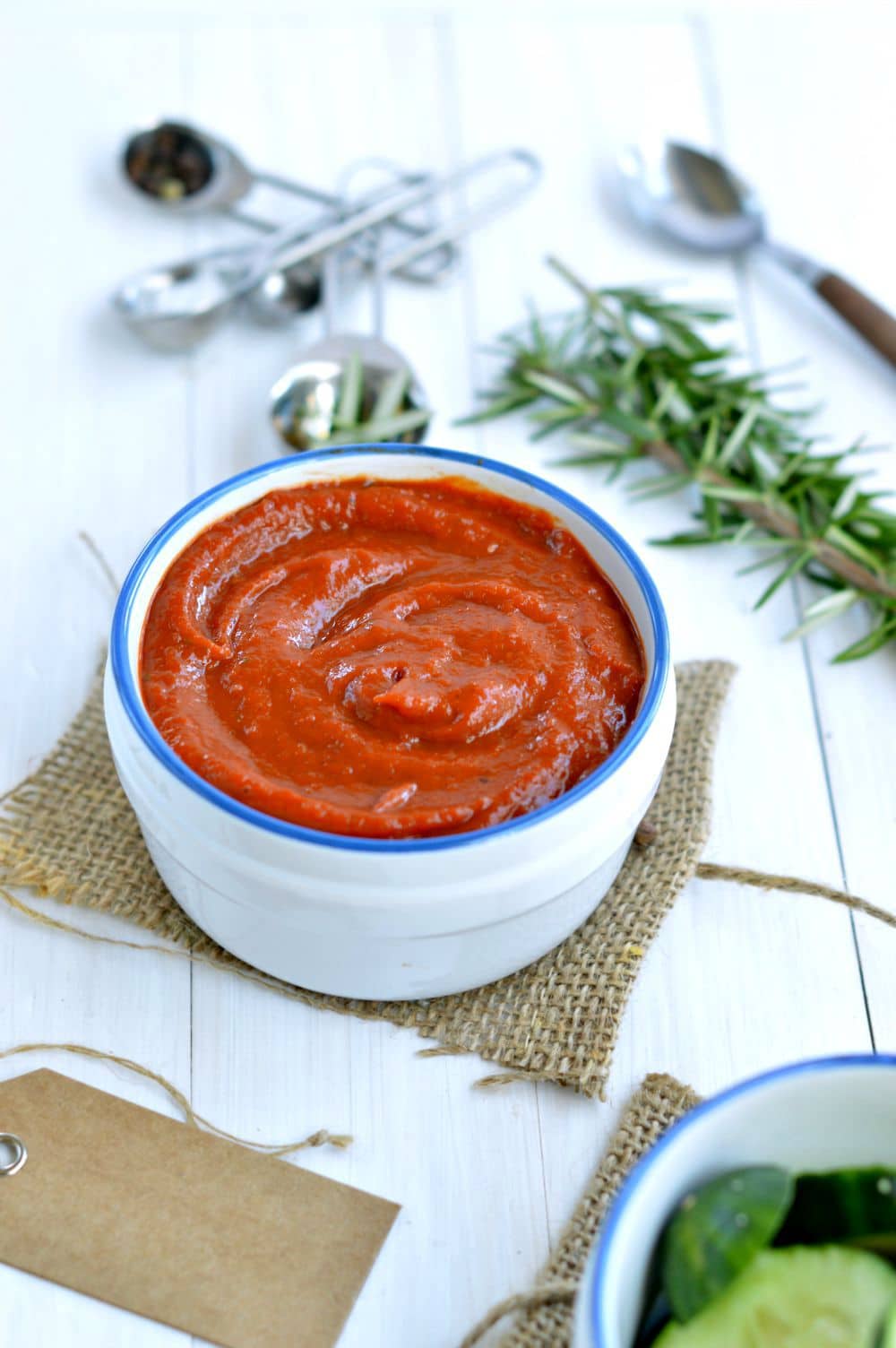 This recipe is not only about sharing a new recipe but also to confess my ketchup addiction. Well, yes I have to admit that even if I 'eat clean' most of the time I very addicted to the red sauce with my grilled meat or even as an appetizer to dip some cucumber slices. I know it is bad for someone who had diabetes to eat ketchup. But I have to confess that I am very in love with Watties Ketchup since I arrived in New Zealand and it is the only 'unhealthy' ingredient I keep buying for myself the past 2 years. I know it contains as much sugar as some biscuits or candies but well, I convinced myself that one tablespoon a ketchup from day to day will not kill me right? And yes, it did not. But now that I am a mum and that my 2 years old girl is copying each of  my move I begin to be more conscious about everything I do specially my eating habits. She started to love ketchup too and even if I am not giving her more than a tablespoon from time to time, I thought it was a bit wrong to not giving her candies but still ketchup. But do you how much teaspoon of sugar there is in ketchup? When you read the nutrition panel of any ketchup brand you can read that there is about 1 teaspoon of sugar for each tablespoon of ketchup that you eat .
Homemade ketchup – a sugar Free ketchup Recipe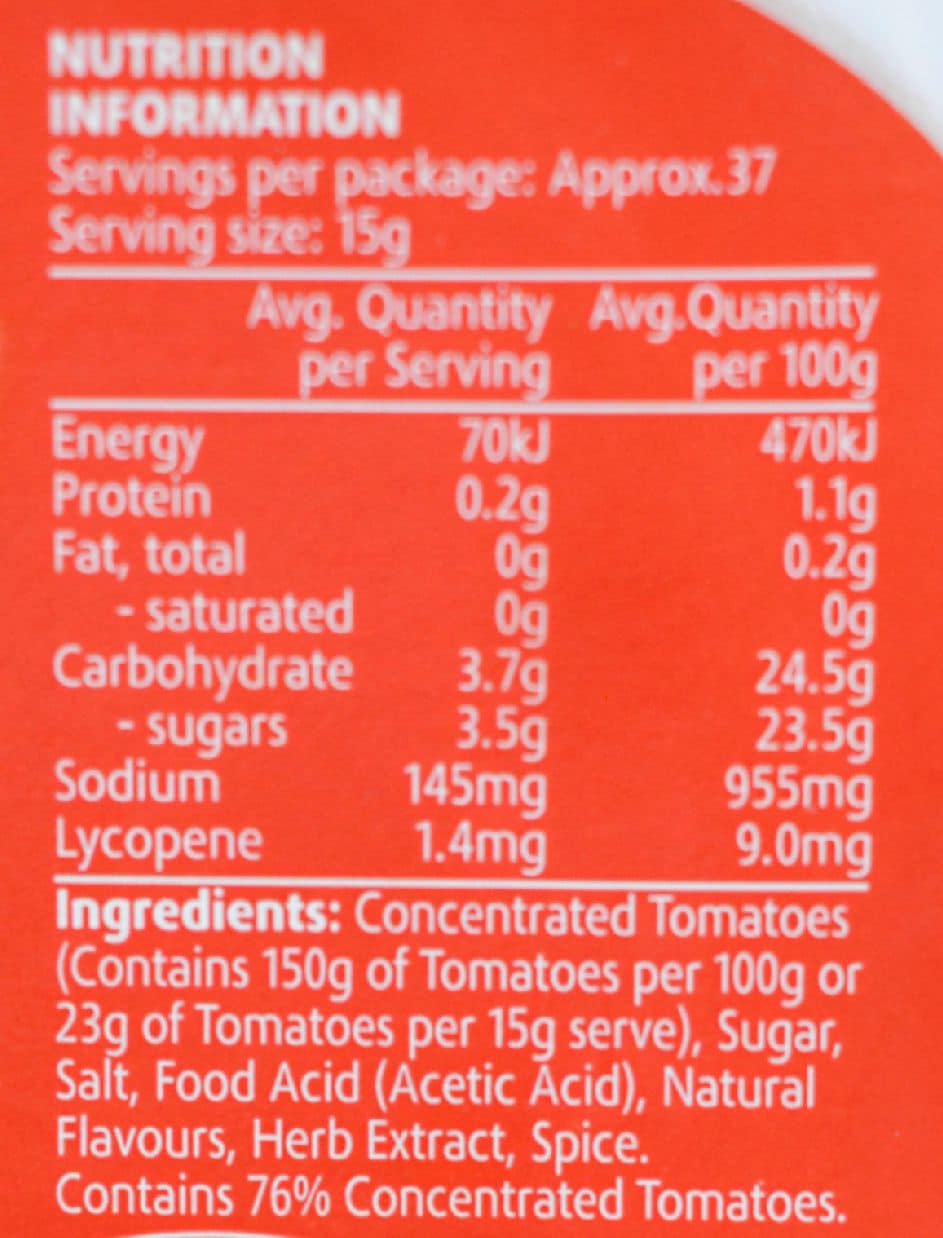 After I read that the new World Health Organisation sugar intake recommendation for kids is to do not exceed 4 teaspoon of added sugar per day. Ouch! I am so wrong by giving her ketchup I thought and this definitely kicked my a** to get back in the kitchen this morning and to develop a sugar free ketchup recipe using my new favourite stevia Natvia. I love it because as I already tell you before this stevia do not have the bitter after taste that I hate in any previous brand I tried. Also I simply love stevia because it makes everything a little bit guilt free as it does not contains calorie – or very few. As you can see below the result is amazing with a lovely thick tomato texture.
As I did not want to spend hours in the kitchen and as it is winter it is probably not the right time to buy fresh tomatoes. They cost a arm and does not taste very good right now. So instead I bought good quality – organic- tomato puree and tomato paste with no added salt at the store. I double check the ingredient list to make sure it was 99% tomatoes inside and no nasties added or there is no point to make homemade ketchup. So this is all you need to start this recipe.
As it was my first time making homemade ketchup I was inspired by this recipe ketchup sugar free mom from sugar free mom. I actually love lots of her recipes. Her sugar free ketchup recipe is quite different as she is using honey but it sounds delicious too and it is probably a good alternative for those who do not like stevia. If you want to try honey in my recipe, I would recommend to use 4 tablespoon of honey instead of the 2 tablespoons of stevia powder and then to adjust to taste. I will probably give it a try for my next sugar free ketchup batch. It did not take too long to make this recipe as it only required to chop some onions and garlic and about 15 minutes of cooking time.
The most time consuming for this recipe was probably to clean my hands each minutes while trying to capture mouthwatering picture for the blog. Ahah well, at least it means it was too good to wait lunch time to be enjoyed.
The colour is slightly lighter than the store bought ketchup but the taste is very similar to me. I simply love it and I can't wait for my girl to come back from day care to try this amazing recipe. Hopefully she will love it too. This is a very simple ketchup recipe that makes about 300g of ketchup.
xoxo Carine
Sugar-Free Ketchup
Sugar-free ketchup sweetened with stevia, lower carbs, no added sugar perfect for diabetic
20 portions
Print The Recipe
1/2 cup Tomato puree preferably organic, 150g, no nasties added
1/2 cup Tomato Paste 140g, no nasties added
3 Onion finely chopped
2 tablespoon Erythritol - swerve or erythritol
1-2 tablespoon Apple cider vinegar - adjust to taste
1 Garlic clove finely chopped
1/2 teaspoon Ground paprika
1/2 teaspoon Dried oregano or fresh
1 tablespoon Extra virgin olive oil
Salt
In a saucepan under medium heat warm the olive oil.

Add the finely chopped onions, garlic and paprika.

Fry until the onions gets softer and well coated by the ground roasted paprika. It could take 3-4 minutes.

Reduce to low heat and stir in the tomato paste and apple cider vinegar. Simmer for 1-2 minutes while constantly stirring with a spoon or spatula .

Stir in the tomato puree, sugar free crystal sweetener and dried oregano.

Reduce to low heat and simmer for 2 more minutes until the liquid thicken.

Adjust with salt and pepper if desired.

Remove from heat and using an immersion mixer blend until smooth.

Store in the fridge up to 1 week in a glass mason jar or airtight container.
Nutrition Facts
Sugar-Free Ketchup
Amount Per Serving (20 portions)
Calories 17 Calories from Fat 6
% Daily Value*
Fat 0.7g1%
Carbohydrates 2.4g1%
Fiber 0.5g2%
Sugar 1.1g1%
Protein 0.3g1%
Net Carbs 1.9g
* Percent Daily Values are based on a 2000 calorie diet.