Sweet Potato Patties are the best low carb burger buns ever! Well, if you really love very low carb burger buns maybe look at my avocado oopsie buns recipe first. But if you are looking for crispy burger buns without bread you must try those sweet potato patties. They also makes an healthy tasty meal on their own but I love burgers! Their crispy outside and moist center texture are to die for. If you love my clean food recipes on this blog you'll fall in love with those sweet potato patties too ! Loaded with fiber, protein, gluten free and low in carbs those sweet potato patties will satisfy your deepest burger craving without compromising your diet! Trust me, those sweet potato patties are BOMB and you will not by burger buns from the store after trying those.
Sweet Potato Patties | Healthy sweet potato Burger Buns
I said I will publish a Brazilian recipe to celebrate the World Cup 2014 but I was not really inspired by the Brazilian cuisine. So I finally came up with another idea. An healthy recipe to eat during the World Cup while watching the football games. Burger are my favorite finger food to watch games.
My husband is also a huge burger lover and after 2 weeks in France without eating a burger it was the right time to make some. I wanted to make a low carb and gluten free burger without bread. So I made Sweet Potato patties. It is very easy to make those and the key of success for this cakes is to use a burger patty press. It is the best way to create firm and compact sweet potato patties that won't break. I used something similar to this tool here.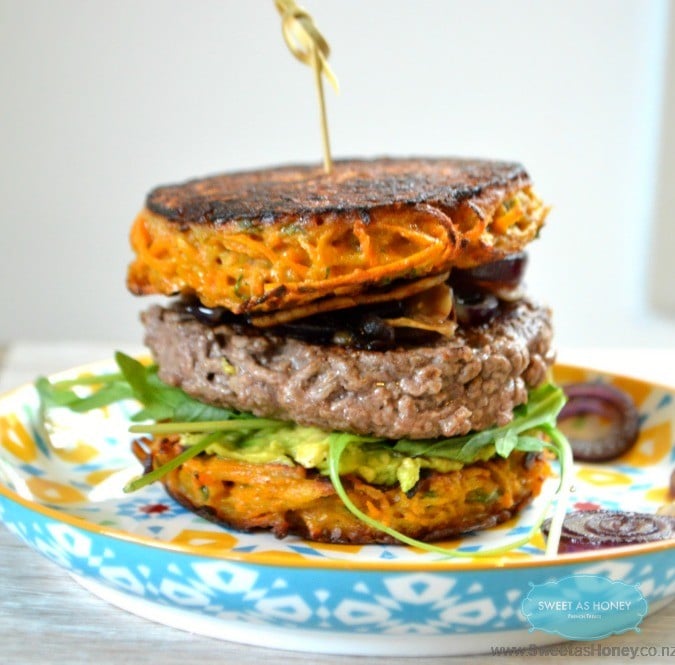 Sweet potato has a lower Glycemic index than potato or even white flour which makes them a perfect choice for a low carb burger bun. I used eggs and buckwheat flour to bring the batter together. Buckwheat flour contains lots of fiber and protein making those sweet potato patties very fulfilling. The burger has been garnished with grilled red onion + mushroom, rocket salad and raw avocado puree. The avocado puree is a perfect healthy switch to any burger sauce. It is naturally creamy, smooth and tasty.
 I flavored my avocado puree with lime juice, fresh mint and finely chopped shallot.
Sweet Potato Patties
Crispy, gluten free 4 ingredients sweet potato burger buns. A healthuer burger bun alternative to bread.
Prep Time: 10 mins
Cook Time: 20 mins
Total Time: 30 mins
12 buns/patties
Print The Recipe
10.5 oz Orange Sweet Potatoes, grated (300 g)
4 whole eggs
3.5 oz buckwheat flour (100 g)
2 tablespoon fresh mint , chopped or any fresh herbs of your choice
1 teaspoon sea salt
1/4 teaspoon ground pepper optional
3 tablespoon olive oil to fry
Peel the orange sweet potatoes and grate them into a food processor or with a grater.

In a bowl mix the grated sweet potatoes with eggs, buckwheat flour, chopped mint, salt and pepper.

Divide the batter evenly in 12 and using your hands shape sweet potato burger buns or use a beef patty press to shape regular patties. Press firmly to create 12 compact patties that hold well together.

In a medium frying pan, under medium heat, warm 3 tablespoon of olive oil until hot.

Place the burger buns and fry on each sides for at least 3-5 minutes or until crispy on the sides and cooked through.

When cooked place on a plate covered with absorbent paper to remove the excess of oil.

Repeat for all the patties. This recipe makes 12 patties about 6 burgers.
Freeze: You can freeze the burger buns up to 3 weeks. Simply wrap the uncooked sweet pototo patties into foil paper and place them into a zip plastic bag. Make sure you remove the air from the bag to seal it well. Defrost 2 hours before cooking. Filling: fill your burger with your favorite feeling. Spread sauce on the inside of each buns - I used mustard and mashed avocado. Then add the filling of your choice. On the picture I filled mine with beef patty, fried mushroom and red onions.
Nutrition Facts
Sweet Potato Patties
Amount Per Serving (12 patties/buns)
Calories 70 Calories from Fat 14
% Daily Value*
Fat 1.6g2%
Carbohydrates 11g4%
Fiber 1.6g7%
Sugar 1.3g1%
Protein 3.2g6%
* Percent Daily Values are based on a 2000 calorie diet.
This recipe makes 12 burger patties. Nutrition panel is for one patty. You need two patties to make one burger.