It meatballs season, right? (PLUS time for a BIG revelation!)
Well, I decided it is meatballs time !  You guys know my obsession with spinach and finger food, don't you? But seriously those turkey spinach meatballs exceeds all my previous healthy appetizers recipes – I believe! – and I just ranked it in my top 3 healthy party appetizers … hum after the spinach taco shell recipe and my creamy avocado spinach dip that I was almost making each week before the avocado price reach the crazy price of $5 each! Ugh! I hate winter for this! So yes! I am the kind of crazy lady who rank my own recipe lol  because I share so many recipe that I like to know which one are THE best of the best of my clean eating recipes to find them quickly when I invite friends or family.
But back to the turkey spinach meatballs now cause WOW! really, those baked turkey meatballs are incredible and I MUST convince you to make them NOW! Whatever it is summer or winter those skinny meatballs – yes only 20 calories per meatballs are the KILLER appetizer you need! It is crispy, full of herbs and garlic flavor and if you choose to make the creamy feta sauce as a dip – really, you have to make this! – it is the most magical combo EVER! Honestly, we ate them ALL on Saturday night. I firstly thought that 30 meatballs for 2 adults and a kid will be way too much … BUT NO! There was no leftover! It was a total big hit in my house even with Emma – you know my cheeky little 3 years old. SO now maybe I should share with you my BIG news ?! (pssst ! Scroll down I will tell you my secret).
Turkey Spinach Meatballs with creamy feta cheese sauce
SO maybe it is not meatballs season and maybe 30 turkey spinach meatballs for two were really too much EXCEPT if you know that I am having a little bun in the oven 🙂 YEAH! I am very excited to share this with you guys: baby number 2 is on the making. Well, I am only 10 weeks pregnant and I feel sick as HELL ! Maybe that's why I did not want to wait more before sharing the news. IS there any MUMS around here? Really, ladies I feel terrible! I wake up at 5 am with strong morning sickness and it last until 1 pm. My brain is super hungry but all my stomach can get is crackers and cheese! BOUHHH!  SO now you know why the blog was a little bit in silence mode for few weeks. I usually cook a storm every morning, shoot and share my wholefood dairy here but recently, cooking makes me feel SO sick. Only from this week end I managed to go back to my kitchen and prepare healthy family dinner – including those famous turkey spinach meatballs plus others yummy treats that will come soon on the blog – keep an eye around !!!
TIME FOR THE BIG REVELATION !
SO know SHOOT! I need ALL – I mean absolutely ALL – your tips and advice to get those morning sickness away ! Any ideas ?? I am super bored of drinking ginger lemon tea – it will finally makes me even worst I think lol So whatever it is any grandma magical recipes I want everything you have got! 🙂 I know, everyone said it is going to be better after 12 weeks but trust me for baby 1 it last 18 weeks and any help to survive this long period will be really great. Well, don't be confused I don't complain I am over the moon to be pregnant again and each time I feel sick I remember how lucky I am to be able to give life. Specially now, I am only 10 weeks and I am not even sure that baby is OK. Should have wait longer to spread the news on blog by the way ??? You know what? I don't think it is too early to tell you because this blog is my wholelife dairy and if something 'bad' happens I would have to share it with you anyway. So now STOP talking about me and a little more words about this healthy turkey spinach meatballs recipe!
You will makes about 30 meatballs with this recipe and it took about 15 minutes to prepare and 25 minutes to bake them. I probably over baked mine – the color was a bit darker than I would like – but it taste great and crispy this way. I am pretty sure you can freeze them before baking and bake them frozen the day you want to eat them. I did this for previous meatballs recipes and it always works like a charm. You know how I love make-ahead recipe right ?! So I served those meatballs in a skillet – just because it looks pretty use any dish you like – and I added some extra tomato sauce and creamy feta sauce in the pan to decorate and dip the meatballs.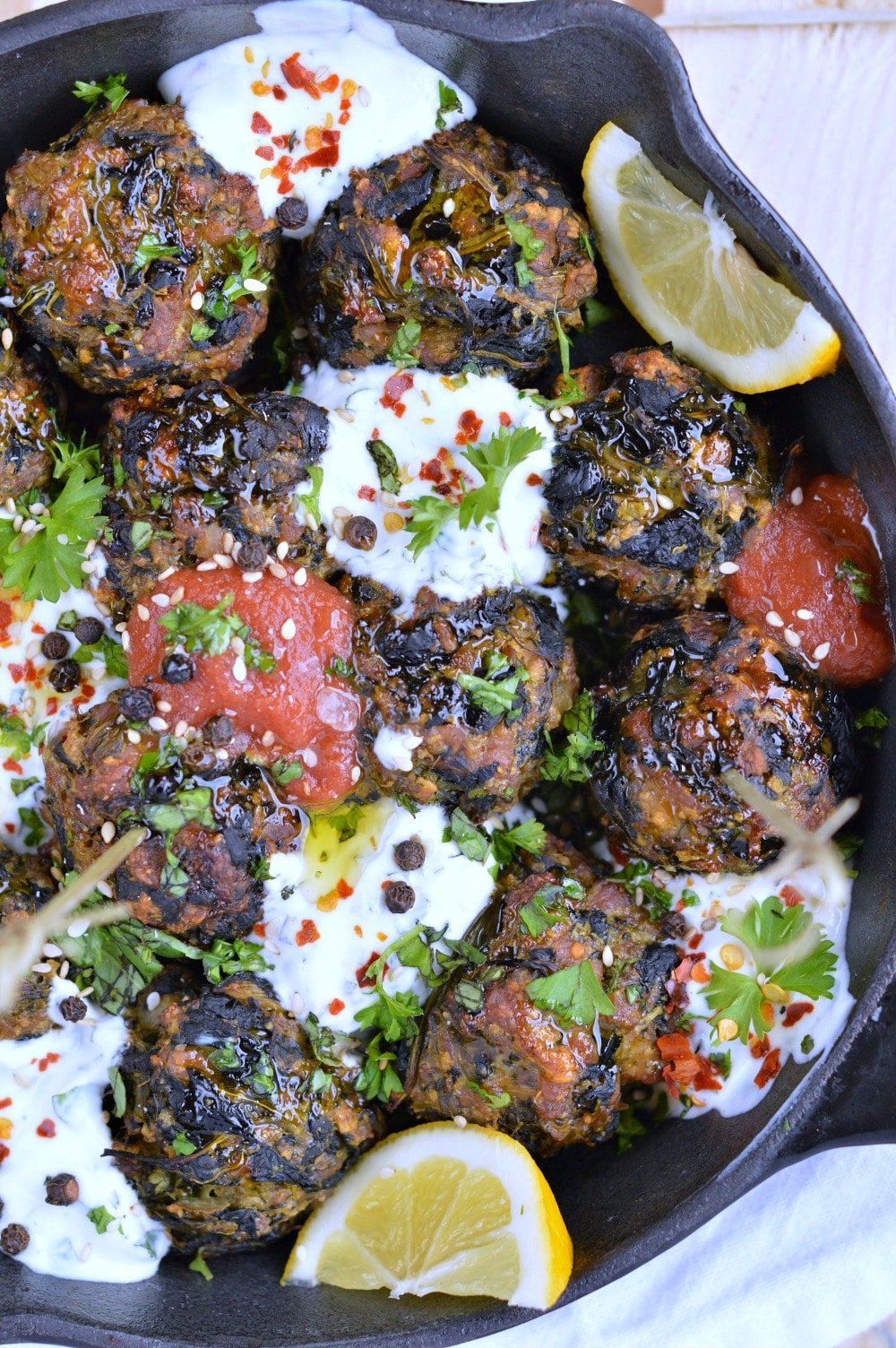 Know time to go for my morning snack so sorry I have to leave the desk and let you make this lovely turkey spinach meatballs recipe.
Any questions, tips advice, JUST let me know, as always Carine is here for you !!!
Healthy turkey meatballs with spinach
This recipe makes 30 spinach turkey meatballs. Nutrition panel per meatballs without sauce. Calorie: 21.3 kcal | Carbs: 2.2 g | Fat :1.1 g:Protein: 1.1g | Fiber: 0.6 g
Ingredients
2 tbsp. extra virgin coconut oil + extra to drizzle on baked meatballs - optional
1 large shallot, finely chopped
1 small brown onion, finely chopped
2 garlic cloves, finely chopped
18 oz (500 g) frozen spinach cubes
1/3 cup chicken broth
2 tbsp. tomato paste
1.3 lb. (600 g) minced turkey
1/4 cup fresh herbs - I mixed basil and parsley
1/2 cup Gluten Free Oat Flour
1 egg
For the garlic and herbs feta sauce
4 oz (100g) goat feta cheese, mashed with a fork into a paste
1/2 cup greek yogurt
2 garlic gloves, crushed
3 tbsp fresh dill, finely chopped
1 tbsp. lime juice
Salt, pepper
Instructions
Preheat oven to 200 C (400F). Prepare a large baking tray covered with parchment paper. You can spray a bit of oil to make sure the meatball don't stick to the paper when baking.
In a frying pan on medium heat warm coconut oil. Add the chopped shallots, onion, garlic and cook until fragrant about 3-4 minutes.
Add the frozen spinach to the pan, chicken broth and tomato paste.Cover, reduce to low/medium heat and cook until the spinach defrost. You can give a good stir every 2-3 minutes to check the process and loosen the frozen spinach cubes.
Remove the lid, stir well to combine the ingredients together. Cook until most of the liquid has evaporated. It took about 5-10 minutes. Let cool down in a separate bowl until it reach room temperature.
In another large mixing bowl, add the minced turkey, chopped fresh herbs, spinach mixture, oat flour and egg.
Combine until it form a meat 'batter'. I used my hands to squeeze well all ingredients together. If too wet - if your spinach released water it makes it difficult to shape meatballs - add a bit more oat flour 1 tbsp. at a time until it reach a consistency that you can easily shape into meatballs.
Using your hands, shape meatballs that are about the size of a golf balls. Place each balls on the prepared baking tray leaving half thumb space between each meatballs.
If you have got too many meatballs. Place the unbaked meatballs into a single layer on a airtight plastic box, Make sure they don't overlap. Freeze. Simply bake them frozen the day you want to eat them. It will need 10 extra minutes to bake as it is frozen.
Bake the meatballs until they are cooked through about 20-30 minutes.
Meanwhile prepare the garlic & herbs feta sauce.
On a chopping board mash the feta cheese into a paste.
Combine into a bowl with Greek yogurt, crushed garlic, herbs, lime. Adjust salt and pepper.
Refrigerate until the meatballs are ready to serve.
Remove the meatballs from the oven and serve as an appetizer on a plate or skillet. Drizzle extra melted coconut oil on top and eat dipped into the garlic and herbs feta sauce.
I served my meatballs in a cast iron skillet with extra tomato paste and feta garlic cheese sauce
https://www.sweetashoney.co/turkey-spinach-meatballs-garlic-herbs-feta-cheese-sauce/