This watermelon smoothie with strawberries is the best smoothie to re hydrate your body this summer or to seduce your loved one with a booze-free pink Valentine's Mocktail.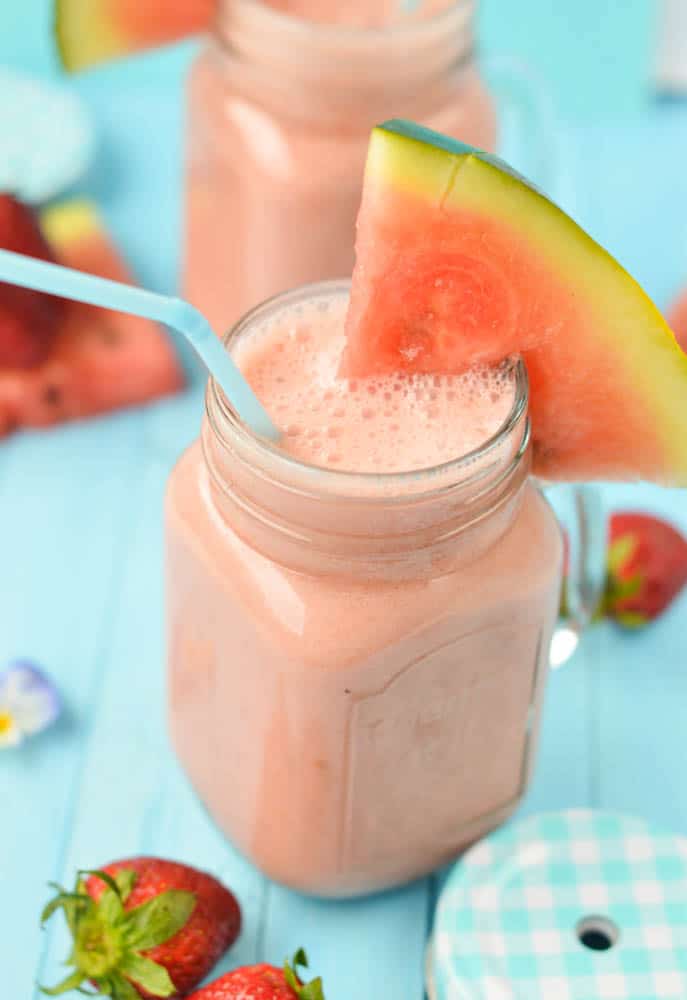 Watermelon Smoothie – Re hydrate and boost your greens this summer !
The post you are reading now has been written in October. Now I am on my maternity leave taking care of my wee little boy Luka. I choose to write this post in advance to keep the blog alive. It is my gift to you all amazing followers. You are coming here each months to try my recipes. You deserve to have more recipes to try while I am away! So the recipe I am sharing today is my dream on-the-beach summer smoothie. I am pretty sure it is the kind of smoothie I will make this summer to refresh and stay hydrated.  Watermelon and strawberries are my two favorite summer fruits. They make perfect smoothies because they are lightly sweet and loaded with water. It is a super simple refreshing smoothie.
I used original almond milk from Almond Breeze in this smoothie. It adds a light creamy texture to this watermelon smoothie. I love this almond milk brand because it is dairy free and low calorie. Plus, it adds a similar texture than milk in smoothie. But, it doesn't upset my stomach as cow milk does. And it does not add aftertaste to the drink ever – I often found soy milk or oat milk too strong in smoothies.
I hope you will enjoy this delicious and simple watermelon smoothie. Even if I am on maternity leave I will read your comments. So don't be shy and write me something! I will love to read you !
Look at the Watermelon Smoothie Video to get inspired!
Access the video on my Youtube channel
Enjoy !
Watermelon Smoothie with strawberries | Dairy free smoothie
A light, refreshing watermelon and strawberries smoothie with a touch of cucumber to add some greens to your day.
Ingredients
Instructions
In a blender add all the ingredients.
Blend 1-2 minutes or until smooth.
Serve immediately.
Serve with extra watermelon slices and fresh strawberries.
https://www.sweetashoney.co/watermelon-smoothie-with-strawberries-dairy-free-smoothie/
This recipe is sponsored by Almond Breeze and I have been compensate to develop this recipe. Please note that I only promote brand I am using on a daily basis and that all my family love! Thank you.
Nutrition panel is for one smoothie. This recipe serve 2 smoothies.