This watermelon shake is all you need to refresh this summer. An extremely low calorie smoothie with a delicious granite texture.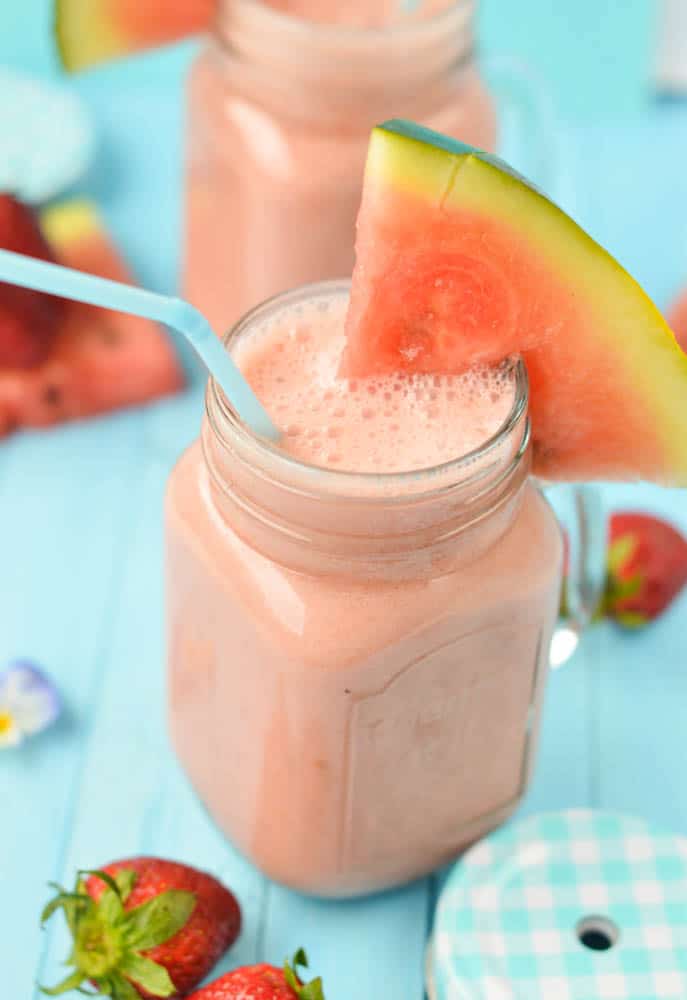 Watermelon Shake – Low calories summer drinks
Summer is here, it is hot and you need refreshment. Obviously, you don't want to drink your calories to stay fit on the beach. Luckily, this watermelon shake is an extremely low calorie smoothie. Besides, it is loaded with nutrient and vitamins from not only watermelon but also cucumber and  strawberries.
Is watermelon shake diabetic friendly?
While one serve of this shake contains 11 g net carbs, watermelon has a low glycemic index and is great food choice for diabetic.
How to make a low calorie shake?
Originally a shake is made of milk and ice cream which are both high calories food. Alternatively this watermelon shake use low calorie unsweetened almond milk – I love to use Almond Breeze – to add a creamy milky texture to your shake with only 40 kcal per cup. Plus, the ice cream is replaced by ice so no extra calorie either.
Following ingredients are very simple, watermelon, strawberries and cucumber to add an extra touch of green and fiber to this easy smoothie recipe. The fiber from cucumber skin are fulfilling and makes this smoothie recipe very fulfilling.
xoxo Carine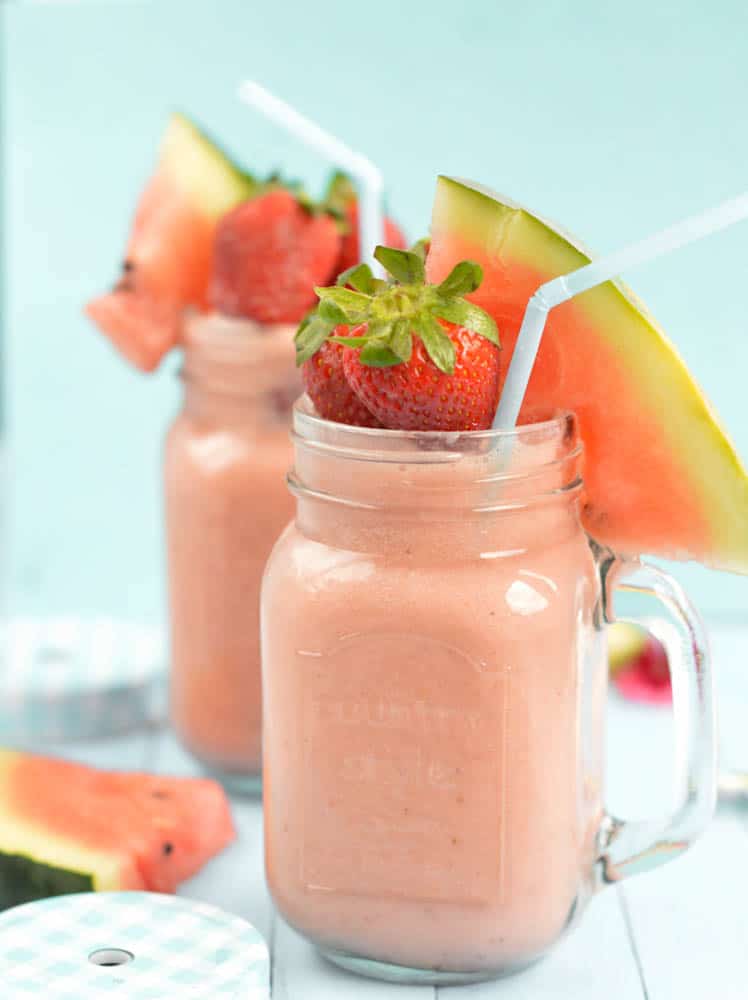 Watermelon Shake
A light, refreshing watermelon shake with strawberry and cucumber to add some greens to your day.
Prep Time: 5 mins
Total Time: 5 mins
2 shakes
Print The Recipe
2 cups unsweetened almond milk
1 1/2 cup watermelon peeled, diced
2 inch cucumber skin on
1 cup fresh strawberries
1 cup ice cubes
In a blender add all the ingredients

Blend 1-2 minutes or until granite like texture

Serve immediately
Net carb per serve: 14.4 g
Nutrition Facts
Watermelon Shake
Amount Per Serving (1 shake)
Calories 103 Calories from Fat 4
% Daily Value*
Fat 0.45g1%
Carbohydrates 17.3g6%
Fiber 2.9g12%
Sugar 11.2g12%
Protein 2.7g5%
* Percent Daily Values are based on a 2000 calorie diet.
This recipe is sponsored by Almond Breeze and I have been compensate to develop this recipe. Please note that I only promote brand I am using on a daily basis and that all my family love! Thank you.