How Many ml In A Tablespoon
This recipe may contain Amazon or other affiliate links. As an Amazon Associate I earn from qualifying purchases.
Knowing how many ml are in a tablespoon is essential as the imperial units of measurement for volume are not at all approximative!
While many people see a tablespoon or a teaspoon as basic cutlery items, they are also very specific units that are used to measure volume.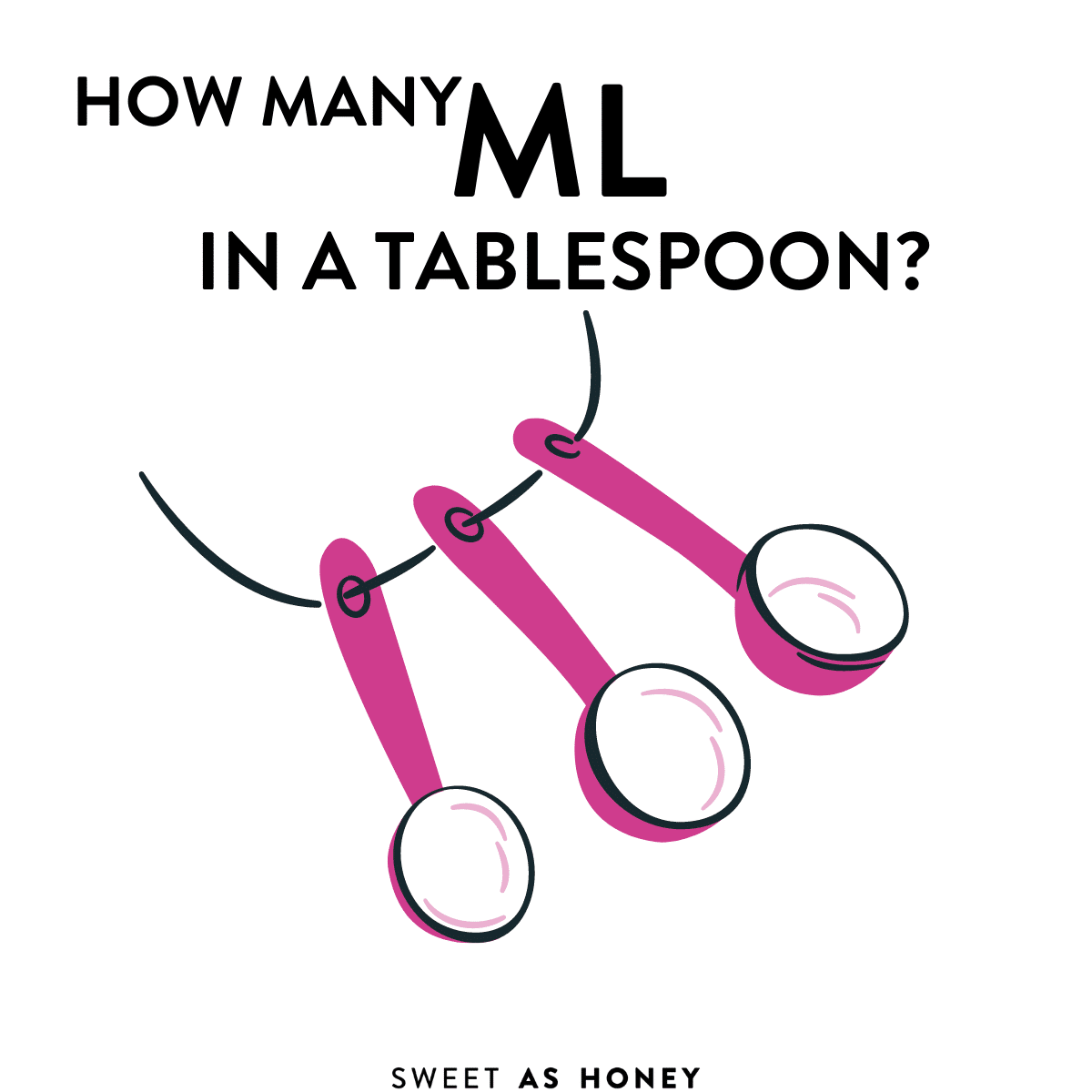 How Many Milliliters Are In A Tablespoon?
A tablespoon is a unit of volume defined in imperial measurements as 3 teaspoons, but also as 1/16 of a cup, or 1/2 United States fluid ounce.
A tablespoon is also equivalent to 4 fluid drams which is a unit of volume that comes from the Greek drachm.
In the international system of units of measure (or metrics) a US cup measures 236ml.
As a result, a tablespoon measures precisely 14.7868 milliliters (ml in SI). Which is most of the time rounded to 15 ml.
However, it's not all that simple as not all countries have the same conventions!
A UK Tablespoon measures exactly 15ml, and a teaspoon is 5ml.
An Australian Tablespoon has a volume of 20ml but with the same 5ml tablespoon.
A Metric Tablespoon is also 15ml, but it is very rarely used. Most people using the metric system use ml.
Because tablespoons are a specific unit of measure, it's essential to buy proper measuring spoons instead of using any type of tablespoons.
It's quite likely to your regular teaspoons or tablespoons are far from measuring 5ml and 15ml!
Volume Conversion Chart
The best way to convert tablespoons and teaspoons to mL is to use Google's converter.
By just Googling "1 tablespoon in ml", you get the immediate answer!
The way to convert is by multiplying the number of tablespoons by 15. Doing so might be challenging, but it's way easier to actually first multiply by 5, then by 3.
For example, 8 tablespoons are 8x5x3 = 40×3 = 120ml.
But you can also use the following conversion chart that also includes US cups.
| Cup (US) | Tablespoon (US) | Teaspoon (US) | Metric (Rounded) |
| --- | --- | --- | --- |
| 2 Cups | 32 Tablespoons | 96 Teaspoons | 480ml |
| 1 Cup | 16 Tablespoons | 48 Teaspoons | 240ml |
| 3/4 Cup | 12 Tablespoons | 36 Teaspoons | 180ml |
| 2/3 Cup | 10 Tablespoons + 2 Teaspoons | 32 Teaspoons | 160ml |
| 1/2 Cup | 8 Tablespoons | 24 Teaspoons | 120ml |
| 1/3 Cup | 5 Tablespoons + 1 Teaspoon | 16 Teaspoons | 80ml |
| 1/4 Cup | 4 Tablespoons | 12 Teaspoons | 60ml |
| 1/6 Cup | 2 Tablespoons + 2 Teaspoons | 8 Teaspoons | 40ml |
| 1/8 Cup | 2 Tablespoons | 6 Teaspoons | 30ml |
| 1/16 Cup | 1 Tablespoon | 3 Teaspoons | 15ml |
| | 1/2 Tablespoon | 1 1/2 Teaspoons | 7.5ml |
| | 1/3 Tablespoon | 1 Teaspoon | 5ml |
| | | 1/2 Teaspoon | 2.5ml |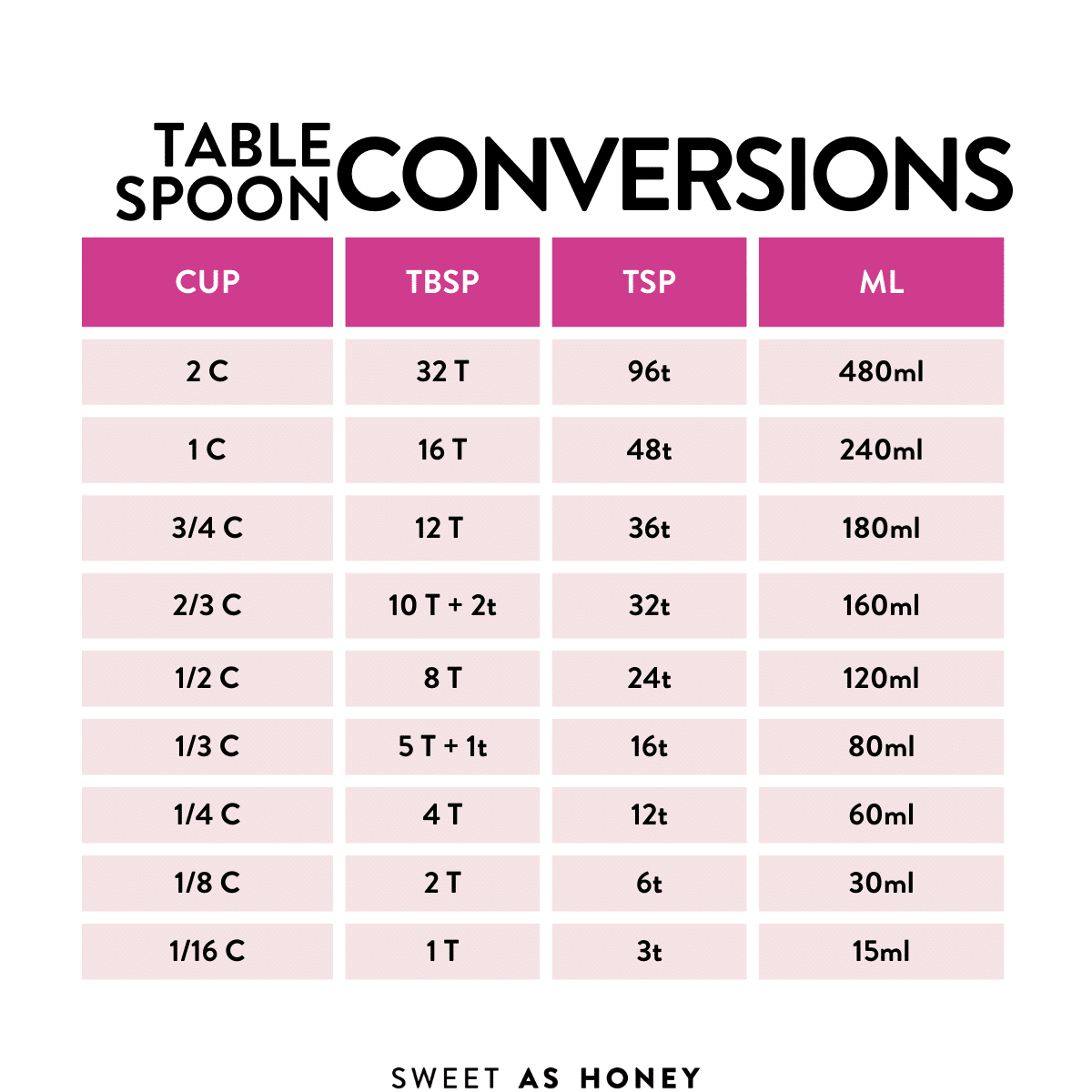 How Many mL Are In A Teaspoon?
A US teaspoon (tsp) is a third of a US tablespoon (tbsp). As a result, a US teaspoon measures precisely 4.92892 mL, rounded to 5mL.
Dry Measurements
When a recipe calls for a tablespoon of a dry ingredient such as almond flour or coconut flour, it is meant to represent the equivalent volume.
As a result, a tablespoon of dry ingredients should be measured after leveling without pressing.
Some recipes occasionally call for a heaped or rounded tablespoon, in which case the measurement doesn't need to be accurate and you don't have to level it.
Frequently Asked Questions
What Does ml mean?
Ml means milliliter, it's a unit of measure in the SI (International System) of units that is defined as 1/1000 (from the prefix milli-) of a liter.
Since a liter is equivalent to 1000 cubic centimeters, 1ml = 1cubic cm. Hence why one tablespoon is also 15 cubic centimeters.
How Many Cubic Inch In a Tablespoon?
One Tablespoon contains approximately 0.9 cubic inches.
How Many ml in one litre?
Litres are the base unit of measure for volumes in the metric system. One liter contains 1,000ml.
Is 1 tbsp the same as 5ml?
No, the tbsp abbreviation (also found as the uppercase letter T) describes a tablespoon or 15ml in the USA (20ml in Australia).
5ml is the volume of a teaspoon, abbreviated tsp (or the lowercase letter t).
On Sweetashoney, to avoid any confusion, we always write the full Tablespoon or Teaspoon!
Posted In: