4-Ingredient Oven Baked Pork Chops
These 4-Ingredient Oven-Baked Pork Chops are easy, delicious, and juicy pieces of pork that everyone loves.
Plus, these pork chops bake very well with vegetables for a quick and easy dinner.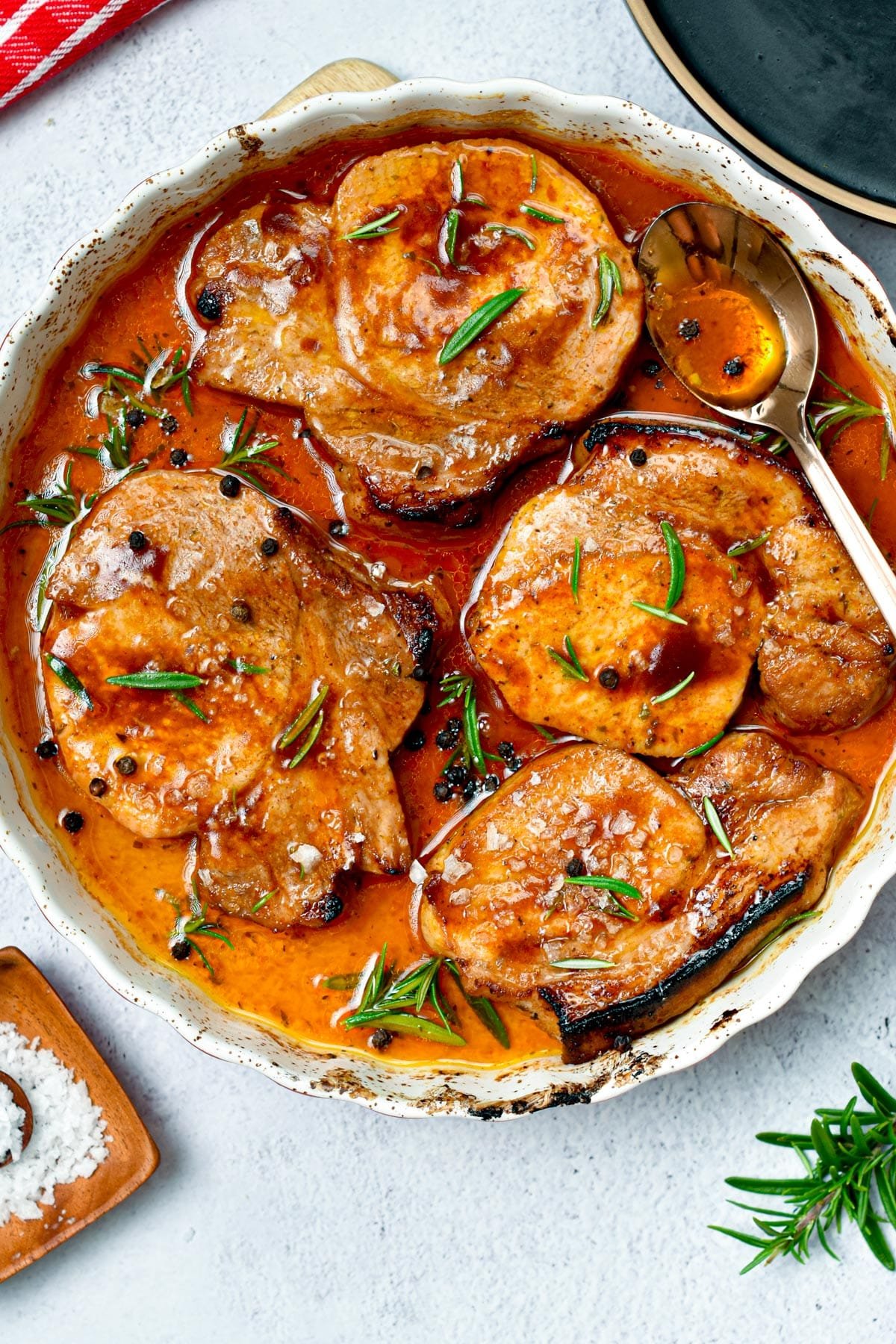 Pork chops are on many people's menus every week. How many mums always serve baked pork chops with my mushroom sauce recipe for a Sunday lunch?
Here is my simple way to bake pork chops and serve your family a high-protein, comforting dinner in no time.
How To Make 4-Ingredient Oven-Baked Pork Chops
There are many rub recipes you can use to season the pork chop before baking.
Ingredients
Here's my simple 4-ingredient pork rub recipe. It's not a marinade. It's a simple pork rub that flavors the meat and keeps it juicy and tender while baking.
All you need to rub the chops are:
Italian Seasoning
Olive Oil – You don't need much oil to bake pork chops, especially if they are on the bone. The bone releases fat in the pan, so a small amount of oil will be enough to bake the pork and keep it moist and juicy.
Brown Sugar – or honey or sugar-free brown erythritol if you are after a sugar-free pork recipe.
Paprika
Optional Add-Ons
You can add to this pork rub some of the below:
2 teaspoons of soy sauce or tamari sauce
1/2 teaspoon of onion powder
1/2 teaspoon of garlic powder
1 teaspoon of salt
Black pepper
Pork Chop Cut Choices
Pork chops come from the pig's loin that goes from the hip to the shoulder.
Therefore there are four major sections along the way, resulting in four different pork chop cuts.
Feel free to use any bone-in pork chops or boneless pork chops for this recipe, but be aware that some cuts won't get as juicy.
Blade Chops – Also called shoulder chops, this part contains the bone. It adds flavor to the meat when it cooks. It is better to tenderize this meat before baking or grilling by beating it with a tenderizer. It is the best choice for high-temperature cooking as it adds fat and stays juicy at high temperatures, so great for oven-baked pork.
Rib Chops – Perfect for roasting tender pork chops. This part is leaner and requires less cooking time to stay moist and tender. You don't need to tenderize the meat.
Loin Chops – Best for grilling or broiling. This cut contains both loin and tenderloin. The two parts cook at different speeds, so it's tricky to cook.
Sirloin Chops – This cut has intense pork flavors and is cheaper than other cuts. This is an excellent part to use for slow cookers or stews. It requires slow cooking to stay moist. You can also use it for oven baking, but it can be tougher and less moist.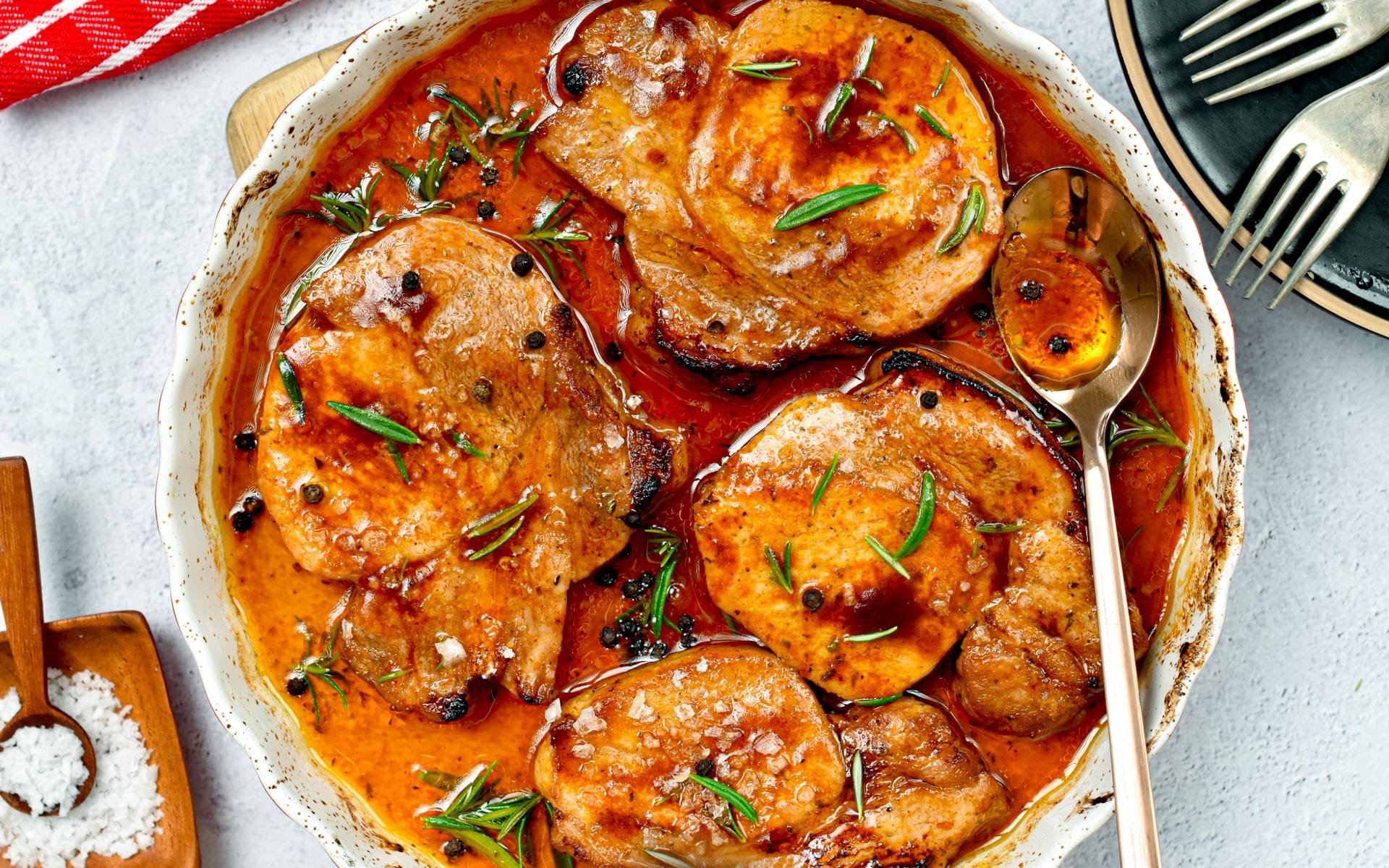 Rubbing The Meat
Pork chops are lean and bland in flavor, so you must dry rub the meat with some flavorsome ingredients to turn them into a tasty meal.
In a bowl, stir the three pork seasoning ingredients. Then, rub both sides of the chops with the seasoning.
Baking Juicy Pork Chops
Select a baking dish that fits the four chops without overlapping them, but you don't want a dish too wide.
You need one that creates a nice level of meat juice when released during baking to keep the chops moist and juicy.
Baking Time
The baking time for pork chops is a bit tricky depending on:
Type of cut
Thickness of the cut
As a result, you can follow two rules to adapt the baking time in this recipe and create the perfect juicy chops every time.
Rule 1: Internal Temperature
Pork is cooked when its internal temperature reaches 145°F (63°C).
Insert a meat thermometer on the thickest part of the meat to check, and remove it from the heat when it reaches that point.
Rule 2: Meat Thickness
Pork chops cook for 8 minutes at 400°F (200°C) per 1/2-inch thickness or they require 12 minutes per 1/2 inches at 350°F (180°C).
So the baking time for common thickness is:
| Thickness | At 400°F (200°C) | At 350°F (180°C) |
| --- | --- | --- |
| 1/2 inch | 8 minutes | 12 minutes |
| 1 inch | 16 minutes | 24 minutes |
| 1.5 inches | 24 minutes | 36 minutes |
| 2 inches | 32 minutes | 48 minutes |
| 2.5 inches | 40 minutes | 60 minutes |
For any baking time over 25 minutes, I recommend adding foil on top of the meat after 20 minutes.
Optional Broiling
This is optional, but I like to switch the oven to broil mode and broil for 2 to 3 minutes on the highest rack of the oven.
This part is only to grill the meat outer layers and give a lovely glaze.
Serving Pork Chops
Pork chops go well with most roasted vegetables, casserole, or salad.
You can try some of side dish below:
I also like to add fresh rosemary, peppercorn, and sea salt on top of the chops.
Storage Instructions
You can keep leftovers for a few days in the fridge, but make sure to reheat them as they need to be piping hot.
You can also freeze individual portions for up to a month in a sealed zip-lock bag.
Frequently Asked Questions
Below are the common answers to your most popular questions about baked pork chops.
Can I Roast Some Vegetables In The Same Dish?
Yes, that's a great idea, but pick tough vegetables that don't soften too fast when cooked in the pork juice.
For example, great vegetables to roast with pork are potatoes, Brussels sprouts, or cauliflower in the dish.
I recommend roasting them first for 10 minutes because these vegetables require more time to roast than pork or around 25 minutes.
Then, add the pork chops to the dish and keep roasting until the meat is cooked through.
Check my roasted cauliflower recipe or oven-roasted Brussels sprouts for the cooking time and preparation.
Can I Marinate Pork Chops Before Baking?
It's a great idea to use my pork marinade recipe and marinate the chops for 2 to 24 hours before baking.
Marinated pork chop meat gets more flavor and tenderness.
What Are The Best Sauces For Pork?
Pork goes well with sweet sauces like applesauce and cranberry sauce but also with Dijon mustard.
More Easy Meat Dinner Recipes
Below are some easy dinner for you to try.
Have you tried this pork chops recipe? Share a comment or review below.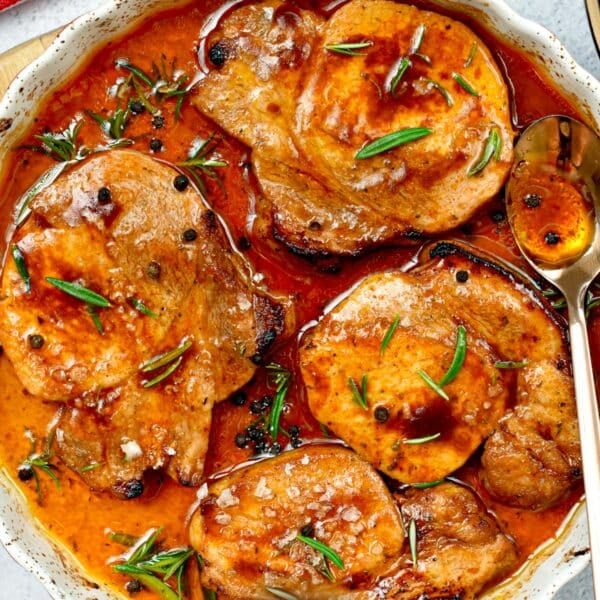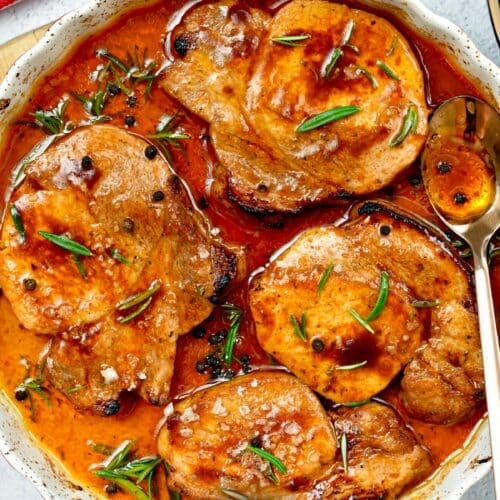 4-Ingredient Oven-Baked Pork Chops
These 4-ingredient Oven-Baked Pork Chops are easy and juicy pieces of porkm perfect as a comforting dinner with a creamy casserole.
Nutrition Snapshot
Want My Kitchen Equipment?
Instructions
Bring the pork chops to room temperature for 15 minutes.

Meanwhile, prepare the pork rub in a mixing bowl: stir olive oil, brown sugar, paprika, and Italian seasoning, plus any optional ingredients listed above.

Preheat the oven to 400°F (200°C).

Rub the pork chops on both sides with the rub mixture.

Place the pork chops on a ceramic baking dish. Make sure they don't overlap but don't select dish too large as you want the chops to soak well in the juice they release.

Bake uncovered for 14-16 minutes on the center rack of the oven or 8 minutes per 1/2-inch thickness (for pork chops with bone, or 7 minutes if no bone). Bake until the meat's internal temperature reaches 145°F (63°C), not more or the meat gets dry.

Let the meat cool down for a few minutes in the dish, and add fresh rosemary, a pinch of sea salt flakes, and black peppercorn.

Serve with any side dish you love, like air fryer green beans, cauliflower casserole, or roasted cauliflower.
My Recipe Notes
Nutrition
Serving:
1
serving
Calories:
295.1
kcal
(15%)
Carbohydrates:
6.1
g
(2%)
Fiber:
0.04
g
Net Carbs:
6.1
g
Protein:
29.4
g
(59%)
Fat:
16.3
g
(25%)
Saturated Fat:
4.2
g
(26%)
Polyunsaturated Fat:
1.9
g
Monounsaturated Fat:
9.1
g
Trans Fat:
0.1
g
Cholesterol:
89.8
mg
(30%)
Sodium:
317.5
mg
(14%)
Potassium:
517.4
mg
(15%)
Sugar:
5.9
g
(7%)
Vitamin A:
5.4
IU
Vitamin B12:
0.7
µg
(12%)
Vitamin D:
0.5
µg
(3%)
Calcium:
15.3
mg
(2%)
Iron:
0.9
mg
(5%)
Magnesium:
37.2
mg
(9%)
Zinc:
2.1
mg
(14%)
Posted In: