This Broccoli Gratin recipe is an easy, healthy comforting French-inspired dinner that combines steamed broccoli baked in a creamy bechamel sauce.
Plus, this French-inspired Gratin is also vegetarian and a perfect meat-free dinner ready in 30 minutes.
This broccoli gratin recipe is the most classic French family recipe that is one of the most common French dinners.
What's A Gratin?
Gratin is the French word for casseroles baked in the oven and topped with a crust made either of cheese or breadcrumbs.
Gratins are dishes containing meat or vegetable and a generous amount of sauce in which it cooks.
How To Make Broccoli Gratin
Broccoli gratin or broccoli au gratin as some people call this dish is an easy 30-minute Vegetarian family dinner or side dish.
It consists of steamed broccoli florets, covered with a bechamel sauce and topped with melted cheese and crispy breadcrumb.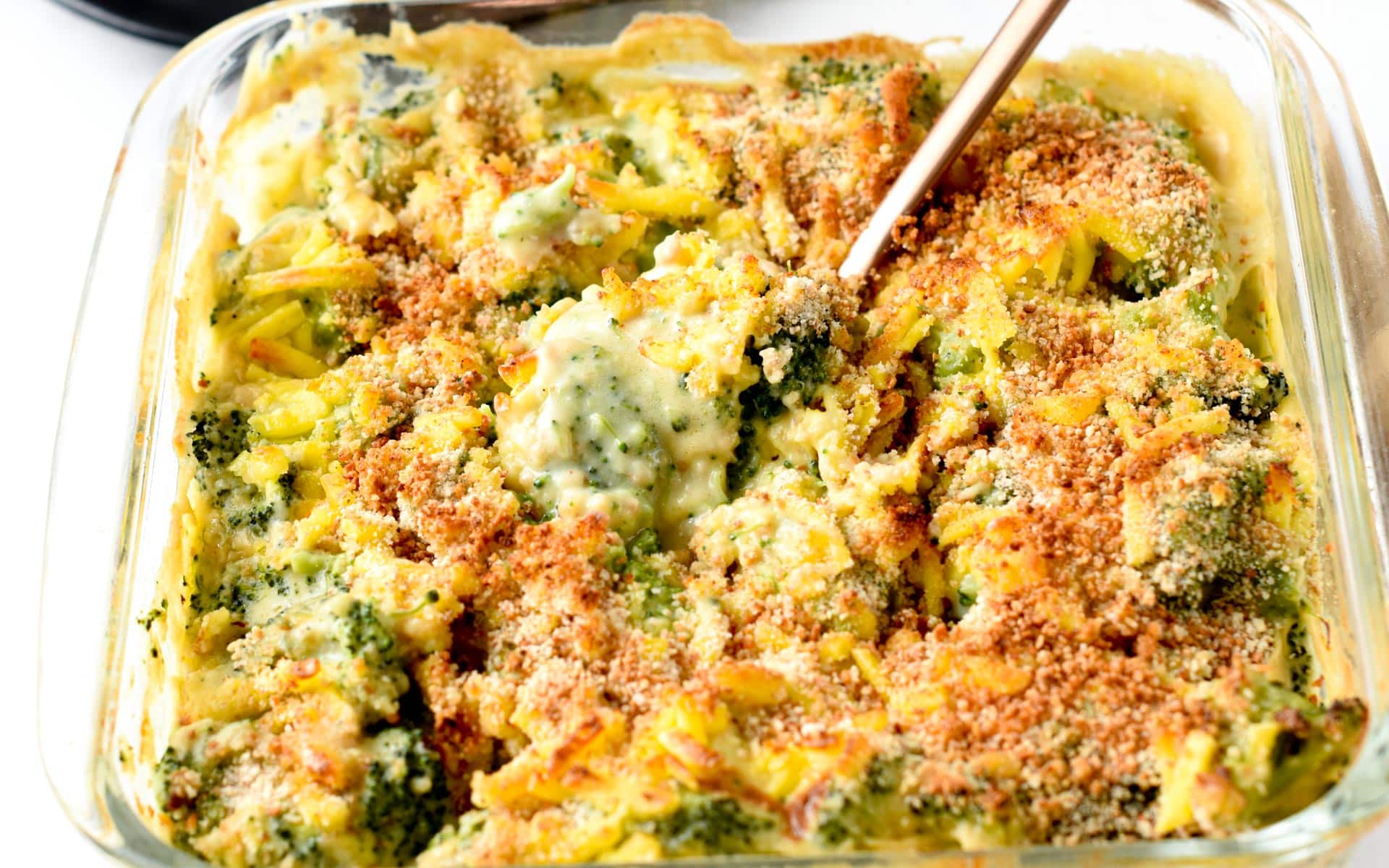 Ingredients
All you need to make this cheesy broccoli casserole are:
Broccoli Florets – Get a broccoli head and cut the feet to only keep the small florets.
Butter – You can use ghee or coconut oil or olive oil but these two options add a lot of flavors to the sauce. So if you don't want an overwhelming olive or coconut flavor, stick to butter or dairy-free butter for a vegan version.
Flour – You can use regular all-purpose flour or a 1-1 gluten-free blend.
Lukewarm Milk of choice – as long as you are not using 'sweet' milk like rice milk, any non-dairy milk will work well including unsweetened almond milk or soy milk.
Salt and Pepper
Ground Nutmeg
Garlic Powder
Shredded Swiss Cheese or any shredded hard cheese you love including cheddar cheese, Emmental cheese, or Parmesan cheese.
Breadcrumbs – You can use regular breadcrumbs, gluten-free alternatives, or a keto version.
Cooking The Broccoli
First, trim the broccoli stem into small florets.
Discard the large, hard stem and keep the broccoli florets only.
Bring water to a boil, and boil the florets for 2 to 4 minutes or until vibrant green and just fork tender but still crunchy.
You don't want to overcook the broccoli because extra tender broccoli will get mushy later in the sauce.
You can also steam the florets for the same time, in a vegetable steamer.
Drain over a sieve and steam out for a few minutes while making the sauce.
Making Cheese Sauce
To make the cheesy bechamel sauce, warm the milk in the microwave for 1 minute or in a non-stick saucepan.
Don't boil, just bring the milk to a lukewarm temperature. Set it aside.
In another non-stick saucepan over medium heat and melt butter.
Remove from heat and stir in flour until it forms a sort of paste.
Return to medium heat, stir and cook the 'roux' for a few seconds. Add in the milk gently and whisk slowly at the same time to dissolve the flour-butter mixture into the milk.
Bring to a light boil, uncovered, then reduce to low heat and stir occasionally until the sauce thickens. It takes about 3 to 5 minutes.
In the end, stir in half shredded cheese, garlic powder, nutmeg, salt, and pepper. Stir constantly until cheese is melted, then remove from heat.
Arranging The Broccoli Casserole
Preheat the oven to 350°F (180°C). Slightly oil a 9-inch x 9-inch square pan with olive oil. Set it aside.
Lay the steamed broccoli florets into the baking dish. It's totally fine if broccoli florets overlap slightly.
Cover with the cheese sauce and top with remaining cheese, and breadcrumbs.
Bake the broccoli and cheese casserole for about 20 minutes, uncovered on the center rack of the oven.
Keep baking until the sauce is bubbly, the cheese has grilled, and the broccolis are tender.
Serving
This is a great broccoli side dish or main dinner for vegetarians.
You can serve this recipe as a side dish to any of my Keto Chicken Recipes.
Allergy Swaps
Below are some allergy swaps to adapt this recipe based on your food allergies:
Low-Carb – Replace the sauce with my keto alfredo sauce recipe and stir in spices and cheese from this recipe. You can use keto breadcrumbs made from pork rinds or low-carb bread or use ground almonds.
Dairy-Free Vegan Option – Use soy or almond milk in combination with dairy-free butter. Then use dairy-free cheese or nutritional yeast to flavor the sauce.
Gluten-Free – Use your favorite all-purpose gluten-free flour in the sauce.
Grain-Free
Frequently Asked Questions
Below are the answers to your most frequent questions about this broccoli recipe.
Can I Use Frozen Broccoli?
Yes, you can use frozen broccoli florets in this recipe. Pre-cook the broccoli following your packaging instructions, but a little less time to keep them crunchy.
They will cook again in the sauce in the casserole so this prevents the broccoli to get too soft and mushy.
Can I Make This Broccoli Au Gratin Dairy-Free?
Absolutely, you can use unsweetened almond milk for the sauce and dairy-free butter.
Then, stir in the sauce 1/4 cup nutritional yeast instead of grated cheese. Top the dish with your favorite dairy-free shredded cheese variety.
More Casserole Recipes
If you like casseroles, you'll love these other casserole recipes:
Have you tried this broccoli au gratin recipe? Share a review or comment below.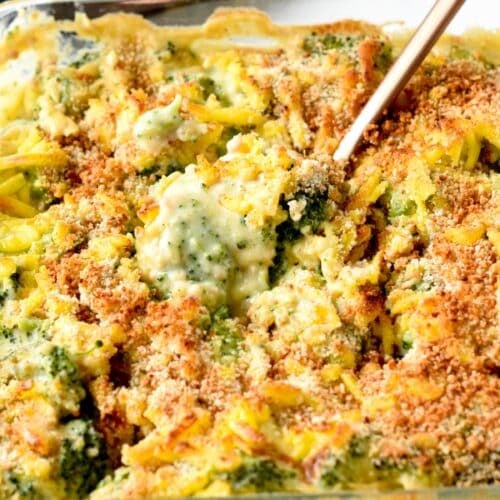 Broccoli Gratin
This Broccoli Gratin recipe is an easy, healthy comforting French-inspired dinner that combines steamed broccoli baked in a creamy bechamel sauce.
Ingredients
1.2

pounds

Broccoli

cut into florets from 2 fresh large broccoli steam (see note 1 for frozen broccoli)

6

tablespoons

Unsalted Butter

6

tablespoons

All-Purpose Flour

note 2

2 ½

cups

Lukewarm Milk

note 3

⅛

teaspoon

Ground Nutmeg

½

teaspoon

Salt

½

teaspoon

Garlic powder

⅛

teaspoon

Ground Pepper

1

cup

Shredded Swiss Cheese

note 4

½

cup

Breadcrumbs
This recipe may contain Amazon or other affiliate links. As an Amazon Associate I earn from qualifying purchases.
Instructions
Preheat the oven to 350°F (180°C). Grease a large baking dish with olive oil – mine is 9-inch x 9-inch big. Test if all your broccoli florets fit the pan.

If using fresh broccoli florets, steam in a vegetable steamer until vibrant green and slightly tender – about 3-4 minutes or boil in boiling water for 3-4 minutes. Drain and steam out for 10 minutes in the sieve. Don't overcook the broccoli or they get mushy after when baked in the sauce.

Warm the milk in the microwave for 1 minute or in a non-stick saucepan. Don't boil, just bring the milk to a lukewarm temperature. Set aside.

In another non-stick saucepan, over medium heat, melt butter. Remove pan from heat and using a wooden spoon stir in flour to form a creamy paste of butter/flour – this is called roux.

Return saucepan to medium/low heat, stir to cook the roux for 20 seconds then gradually whisk in lukewarm milk to slowly dissolve roux into milk without forming lumps.

Add the remaining milk and bring it to a boil.

Reduce heat, stir occasionally, until it thickens – about 2-3 minutes. If too thick to your liking, add slightly more milk to thin it out.

Stir in garlic powder, salt, pepper, nutmeg, and half cheese. Cook until cheese is melted then remove from heat – it takes 1 minute.

Arrange the broccoli in a baking dish – mine overlap in two layers.

Pour the creamy sauce over the broccoli to fully cover them.

Sprinkle the remaining cheese and breadcrumb on top of the dish.

Bake uncovered on the center rack for 15 to 20 minutes or until sauce is bubbly and cheese melted and grilled.

Serve immediately as a main dinner or side dish.
Storage
Store leftovers in an airtight container in the fridge, for up to 3 days. Freeze in a sealed container for up to 3 months. Thaw in the fridge and rewarm over medium heat in a non-stick saucepan or in a microwave-safe dish.
Notes
Note 1: Cook frozen broccoli following packaging directions until tender but still crunchy. Note 2: Use all-purpose gluten-free flour if needed. Note 3: Any milk work, including almond milk, soy milk, or regular whole milk. Note 4: Any hard shredded cheese works like dairy-free grated cheese or shredded cheddar.
Serving:
1
serving
Calories:
245.2
kcal
(12%)
Carbohydrates:
17.6
g
(6%)
Fiber:
2.3
g
(10%)
Net Carbs:
15.3
g
Protein:
9.7
g
(19%)
Fat:
15.8
g
(24%)
Saturated Fat:
9.4
g
(59%)
Polyunsaturated Fat:
0.8
g
Monounsaturated Fat:
3.8
g
Trans Fat:
0.3
g
Cholesterol:
44.3
mg
(15%)
Sodium:
338.9
mg
(15%)
Potassium:
363.5
mg
(10%)
Sugar:
5.3
g
(6%)
Vitamin A:
922.1
IU
(18%)
Vitamin B12:
0.9
µg
(15%)
Vitamin C:
60.7
mg
(74%)
Vitamin D:
0.8
µg
(5%)
Calcium:
262.1
mg
(26%)
Iron:
1.1
mg
(6%)
Magnesium:
32.5
mg
(8%)
Zinc:
1.3
mg
(9%)
Posted In: