An easy keto cheeseburger casserole recipe, ready in 30 minutes, and only 3 grams of net carbs per serving. The best keto ground beef casserole to fix all your burger cravings without the carbs!
We all crave cheeseburgers on our keto journey, right? While you can make amazing keto cheeseburgers and hamburgers using my keto burger buns recipe, there is a quicker option. This keto hamburger casserole is the trick to fix all your (cheese)burgers cravings and meal prep a week of easy keto breakfasts without cooking every morning!
Keto cheeseburger casserole ingredients
All you need to make this easy low-carb keto cheeseburger casserole are few simple ingredients. Of course, jump to the recipe below for the full measurements of each ingredient. But first, let us see how to choose the best ingredients for this easy keto casserole recipe.
Ground beef – choose good-quality beef, grass-fed if possible.
Burger spices – most store-bought ready-made burger spice mixes contain sugar. That's why this keto recipe doesn't use this option. Instead, you can mimic burger flavors using a combination of garlic powder, onion powder, paprika, and beef broth.
Garlic
Onion
Grated cheddar – any kind of cheddar cheese works well. Use your favorite. In case you are wondering, cheddar has only 0.7 grams of net carbs per ounce, making it a very low-carb dairy product.
Salt and pepper – seasoning casserole is the key to making the best keto cheeseburger casserole.
Mayonnaise – not all mayonnaises are keto-friendly. The best option is avocado oil mayonnaise. If you can't find this in your store, replace it with the same amount of sour cream or cream cheese.
Eggs
Heavy cream
Sugar-free ketchup – use my homemade keto ketchup recipe or look for unsweetened ketchup in store.
Mustard – yellow or Dijon mustard, as you like, both are keto-friendly.
Pickles– normal cheeseburgers are hamburgers with cheese and pickles (gherkins in the UK). So to make a proper cheeseburger casserole, you need a few slices of pickles, or we should call this dish a keto hamburger casserole! Of course, if you are not a fan of pickles, swap for the same amount of fried bacon pieces. A keto bacon cheeseburger casserole is amazing too!
A super easy keto breakfast casserole
We are all looking for keto breakfasts without eggs. I mean, not totally egg-free, but a breakfast that doesn't look like an omelet, fried eggs, or scrambled eggs.
Well, this easy low carb casserole recipe is the best keto breakfast to start the day with only 3 grams of net carbs.
I recommend preparing your casserole the day before and rewarming it every morning in the microwave, oven, or saucepan.
ⓧ
Are you new to Keto?
Receive my Keto Quick Start email series to learn all about the Keto diet and kick start your keto journey!
Step 1: Brown the meat
The key to making a tasty keto ground beef casserole is to brown the meat in olive oil. Warm a large skillet over medium-high heat, start browning the meat by breaking/crumbling the beef apart with a spoon to cook evenly.
The meat is cooked when it is not pink anymore.
Step 2: Drain the meat
To avoid a runny casserole, it is important to remove the liquid from the skillet. Then, return the meat into the skillet and cook again with mayonnaise, cream cheese, or sour cream.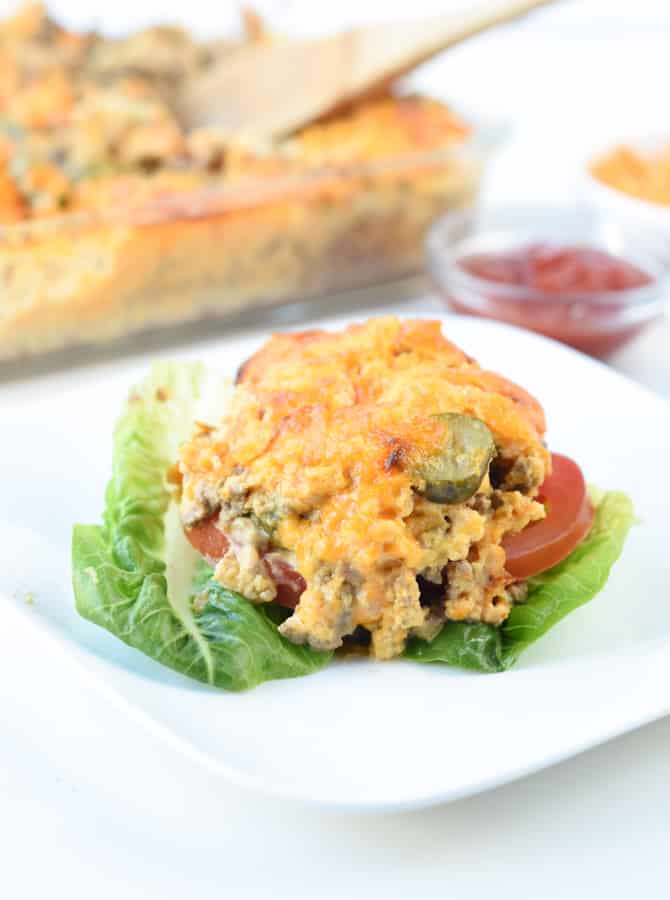 Step 3: Pick the correct casserole dish size
We all love our casseroles differently. If you love a thick beef layer to mimic a double cheeseburger, then use a 9-inch x 9-inch baking dish as seen in this post.
For a thinner layer of ground beef, use a 9-inch x 13-inch. Spread the beef mixture evenly over the pan, add pickle slices, and set aside.
Note that this won't impact the carb per serve because whatever the size of the dish you use, you divide the entire dish into 9 portions of the same size.
Since you spread the ingredients evenly into the baking dish, the net carbs per serve will remain the same.
Step 4: Making the cheeseburger sauce
Prepare the cheeseburger sauce in a separate mixing bowl. Beat the eggs with heavy cream, sugar-free ketchup, mustard, and shredded cheddar. Pour this sauce evenly over the baking dish. The larger the dish is, the thinner the layer of sauce will be.
Step 5: Bake for 15 minutes
Bake the casserole with the remaining shredded cheddar on top until melted and broiled.
How to customize my keto casserole?
There are so many options to tune this recipe and create a variety of new keto casseroles.
Keto cheeseburger cauliflower casserole – replace 1/2 lbs of ground beef with the same amount of cauliflower rice.
Keto cheeseburger bacon casserole – simply add bacon – fry 1/2 lbs of fried bacon pieces and arrange on top of the cooked ground beef in the casserole dish.
Vegetables – you can add 1/2 cup of diced red bell peppers, along with the onions.
How to eat cheeseburger casserole?
Of course, you can serve this casserole plain. It is delicious. But what about turning the cheeseburger experience further by serving your casserole on top of lettuce and thin slices of tomatoes.
This will bring out all the cheeseburger flavors, and if you add 50g (1.8 oz) of each ingredient, one serving will contain 5.2 grams of net carbs instead of 3 grams of net carb if served without these keto vegetables.
More keto casserole recipes
I love keto breakfast casseroles. It is the quickest and easiest keto breakfast ever. I have plenty of other keto casserole recipes for you to try below, using keto vegetables to add some important nutrients to your plate.
Made this easy low-carb keto cheeseburger casserole recipe? Share your feedback below in the comment section and connect with me !
XOXO Carine
Recipe Card
Keto Cheeseburger Casserole
An easy keto meal to fix all your hamburger cravings without the carbs.
Ingredients
Beef
2

tablespoons

Extra Virgin Olive Oil

¾

cup

Onion

diced

2

Garlic Cloves

crushed

1.5

lbs

Ground Beef

1

tablespoon

Beef Broth

¼

teaspoon

Garlic Powder

½

teaspoon

Onion Powder

¼

teaspoon

Paprika

1

teaspoon

Salt

¼

cup

Avocado Oil Mayonnaise

or sour cream or cream cheese
Cheese Sauce
2

large

Eggs

½

cup

Heavy Cream

3

tablespoons

Sugar-free Ketchup

1

tablespoon

Mustard

1

cup

Grated Cheddar

or grated jack cheese
Toppings
3

Sugar-free Pickles

sliced (also known as gherkins)

1

cup

Shredded Cheddar Cheese
Serving suggestion
1.8

oz

Lettuce Leaves

1.8

oz

Tomato Slices
Instructions
Preheat oven to 400°F (200°C).

Slightly grease a 9-inch x 9-inch baking dish for a thicker casserole or a 9-inch x 13-inch baking dish for a thinner layer of ground beef. Set aside.

In a large skillet, over medium heat, warm olive oil.

Stir in chopped onion, garlic, beef broth, and ground beef.

Brown the meat, breaking it up with a spoon to crumble the meat apart and cook evenly on all sides.

Once the ground beef is cooked and browned on all sides, remove it from the skillet with a slotted spoon.

Discard the juice from the skillet, then return the meat to the skillet over medium-high heat and stir in mayonnaise, salt, garlic powder, onion powder, and paprika and cook for 1-2 minutes until fragrant and bubbles form on the side of the skillet.

Remove from heat and transfer the cooked ground beef into a 9-inch x 9-inch baking dish. Set aside.

Top the beef with sliced pickles. Set aside.

In a large mixing bowl, beat eggs with heavy cream, sugar-free ketchup, mustard, and 1 cup shredded cheddar cheese.

Pour the sauce all over the baking dish and use a spoon to evenly spread the liquid to fully cover the dish.

Sprinkle the remaining cup of shredded cheddar on top of the casserole.

Bake for 15 minutes or until it forms bubbles on the sides of the dish and cheese is broiled.

Divide the baking dish into 9 even portions. Serve each portion immediately on top of 2 large lettuce leaves and 2 thin slices of tomatoes.
Storage
Store leftover in the baking dish in the fridge for up to 3 days, cover the dish with a wrap to avoid the casserole drying out.

Freeze in an airtight container, one serving at a time, to make it easier to thaw one serve at a time. Thaw overnight in the fridge. Rewarm in the microwave or oven.
The nutrition panel is for 1 serving without lettuce or tomato slices. Divide the baking dish into 9 portions of the same size, one portion serves 1 person.
Net carbs with lettuce/tomatoes: If you serve each casserole portion with 1.8 oz lettuce + 1.8 oz tomato slices, you will add 1.3g of net carbs from tomatoes and 0.8g of net carbs from the lettuce or a total of 2.1g net carbs. The total net carbs per serving with these add-ons will be 5.2g.
My Recipe Notes
Tools
Starting Keto
What Is Keto Diet?
Macro Calculator
Sweetener Converter
Keto Meal Plans
Keto Recipe Ebooks
Intermittent Fasting
Keto Fruits
Keto Vegetables
Keto FLours
Fighting Keto Flu
Keto Sweeteners
Nutrition Facts
Keto Cheeseburger Casserole
Amount Per Serving (1 serving)
Calories 408.7
Calories from Fat 306
% Daily Value*
Fat 34g52%
Cholesterol 140.5mg47%
Sodium 628.7mg27%
Potassium 273.4mg8%
Carbohydrates 3.4g1%
Protein 21.2g42%
Vitamin A 506IU10%
Vitamin C 1.4mg2%
Calcium 213.7mg21%
Iron 1.9mg11%
Net Carbs 3.1g
* Percent Daily Values are based on a 2000 calorie diet.