This easy Spinach Omelette recipe is the most delicious breakfast to start the day with proteins and greens.
Plus, this omelette recipe takes barely 10 minutes to make so you can make this healthy breakfast anyway of the week.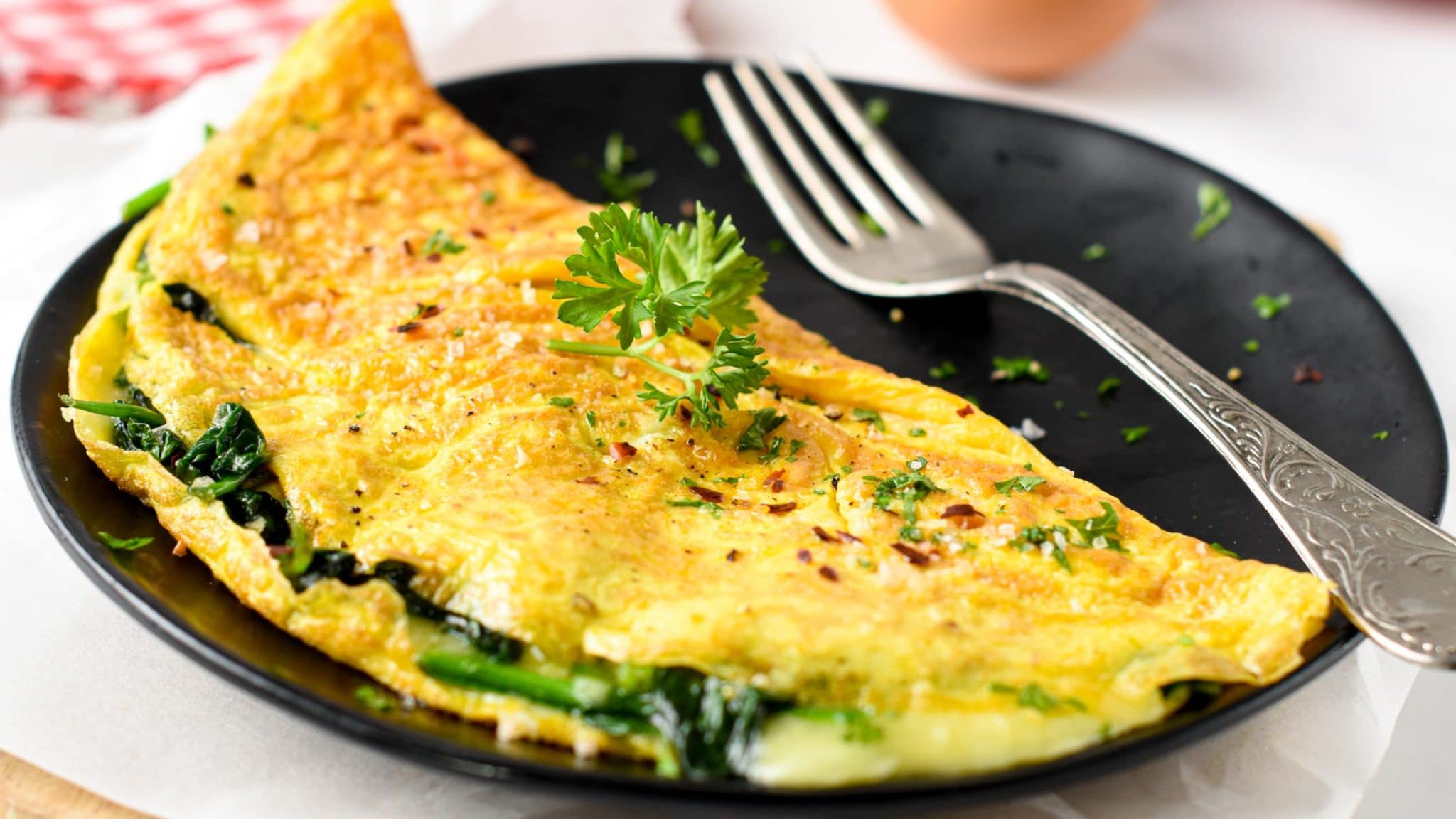 What's A Spinach Omelette?
A spinach omelette, also called spinach omelet, is beaten eggs cooked in a thin crepe-style layer, then filled with cooked spinach and topped up with cheese.
It's a greener version of the classic omelette.
It's a high-protein, low-carb breakfast recipe that is very fulfilling to start the day with energy.
How To Make Spinach Omelette
It's ridiculously easy to make a French omelet with spinach and cheese.
Ingredients
All you need are:
Large Eggs – I prefer using free-range eggs. Not only are they better for the chicken, but they have a much better taste as well.
Butter – Use grass-fed butter, coconut oil, or dairy-free butter.
Olive Oil – There are many types of olive oil, ranging from very mild flavors to stronger olive tastes. Pick your favorite one!
Spinach – I prefer baby spinach over full-grown spinach leaves. They have a sweeter taste, wilt faster, and are less crunchy. But you can use either.
Garlic Powder or fresh garlic cloves
Salt and Pepper
Freshly Grated Cheese – Use any of your favorite cheese variety, like Parmesan cheese or Mozzarella, for a stretchy cheesy omelette.
Beating The Eggs
First, in a shallow bowl, beat eggs with salt and pepper using a fork or small hand whisk.
A good omelette starts with beating the eggs right. You should not see any more egg white in your bowl.
Set aside the uncooked eggs while you heat the skillet.
Cooking The Spinach
Then, heat butter in a non-stick skillet over medium heat and melt butter.
When butter is melted, add garlic and baby spinach leaves and stir. Cook until spinach leaves are wilted.
Season with salt and pepper and set aside on a plate. Cover the plate with foil or a lid to keep the spinach warm.
Slightly clean the skillet with a piece of kitchen paper.
Cooking The Omelet
Return the frying pan to medium-high heat and add olive oil.
When the oil is warm, pour the egg mixture into the pan and tilt it in a circular motion to spread the egg batter all over the pan – it should reach the edges of the pan.
Cook a few seconds, and when the sides start to set, use a silicone spatula to push the side back to the center and tilt the pan again to spread the remaining uncooked beaten egg on the pan.
Do this only one time. You are not making scrambled eggs.
Let the omelette cook until the edges are frying, and get dry and set.
Adding The Filling
When the middle is still soft and uncooked, sprinkle freshly grated cheese on half of the omelette, top up with cooked spinach, and finish with more cheese.
Now, fold the omelette in half to form a semi-circle shape and keep cooking until the cheese is fully melted.
You may want to stop cooking the omelette a bit before to keep the center moist and soft. Or cook it longer to set the egg entirely.
Serve the spinach omelette on the plate with some fresh chopped parsley on top.
Other Flavors
Of course, you don't have to stick to spinach, and you can make this American omelette even tastier by stir-frying other vegetables with the spinach, including:
Bell Peppers – cut red or green bell pepper into thin strips and stir fry with spinach leaves.
Cherry Tomatoes
Mushrooms Slices
Serving Spinach Omelette
The best quick and easy toppings to add on top of any cooked eggs or omelet recipes are:
Fresh chopped parsley
Dried Italian herbs
Chili flakes
A drizzle of hot sauce like buffalo sauce.
Black pepper
Sea salt flakes
Diced avocado
Homemade salsa recipe or diced tomatoes.
Storage Instructions
You can beat the egg up to 24 hours before cooking them and store them in the fridge in an airtight container.
Cook the beaten egg in the morning the next day.
You can also store leftover cooked spinach omelette in the fridge, but the taste and texture won't taste as good after rewarming.
Allergy Swaps
Below I listed some options to make this spinach omelet even if you have some food allergy.
Note that spinach omelette is naturally:
For the allergy below, try some of the recommended swaps:
Dairy-free – you can make a dairy-free omelette by cooking the spinach in olive oil instead of butter or using dairy-free butter. You can skip the cheese or use a dairy-free cheese alternative instead.
Sodium-free – you can skip the salt and use low-sodium cheese like swiss, goat, or ricotta cheese.
Frequently Asked Questions
Below I listed the most common answers about this omelet recipe.
Can I Double The Recipe?
Absolutely! But if you want to cook a 4-egg omelette, you will need to cook the omelette in either two batches or in a larger non-stick saucepan.
In fact, adding too many beaten eggs in a standard 8-inch skillet will make the omelette extremely thick, and it won't cook as well.
Is Spinach Omelette Keto-Friendly?
Yes, spinach is one the lowest-carb vegetable, and since there are no carbs in eggs, an omelet is one of the best keto breakfasts to boost your morning with proteins.
Can I Add Mushrooms?
Yes, you can! And if you love mushrooms with spinach in your omelette try my spinach mushroom omelette recipe instead.
Do You Cook Spinach Before Adding It To The Omelette?
I do like to stir fry the spinach with butter and garlic for flavor.
However, to save time, you can add raw baby spinach leaves on one side of the omelette, sprinkle 1/4 teaspoon of garlic salt on top, fold the Spanish omelet, and wait a few minutes until the spinach leaves are wilted.
What Are The Best Sides To An Omelette?
An omelette is delicious on its own, but you can also serve it with a slice of keto bread for a keto breakfast.
Or, simply serve it with hashbrowns and lettuce.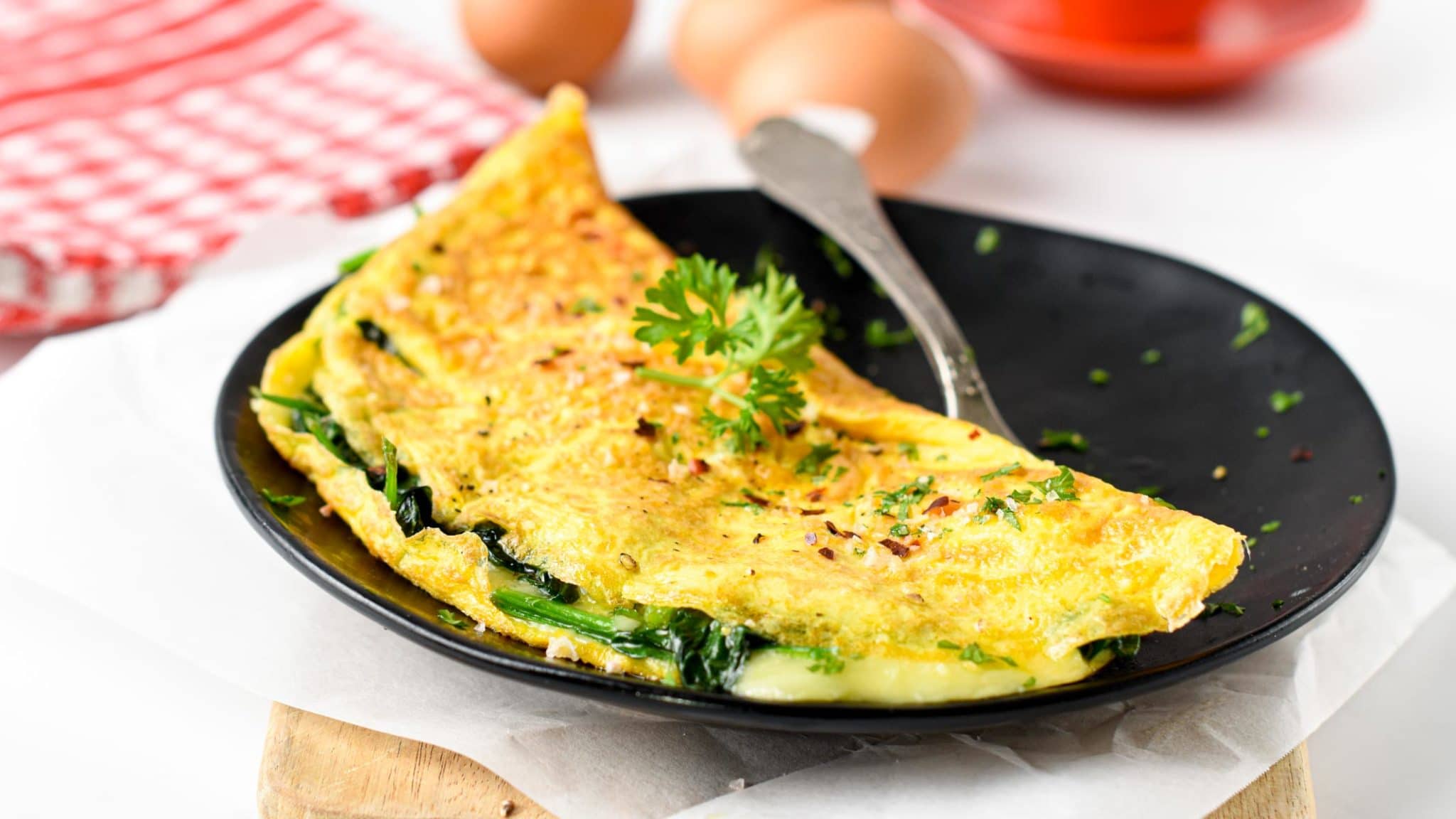 More Breakfast Recipes With Eggs
Below I listed some more healthy egg recipes for your breakfast, including frittata, quiche, or omelettes.
Have you made this spinach omelette recipe? Share a comment or review below.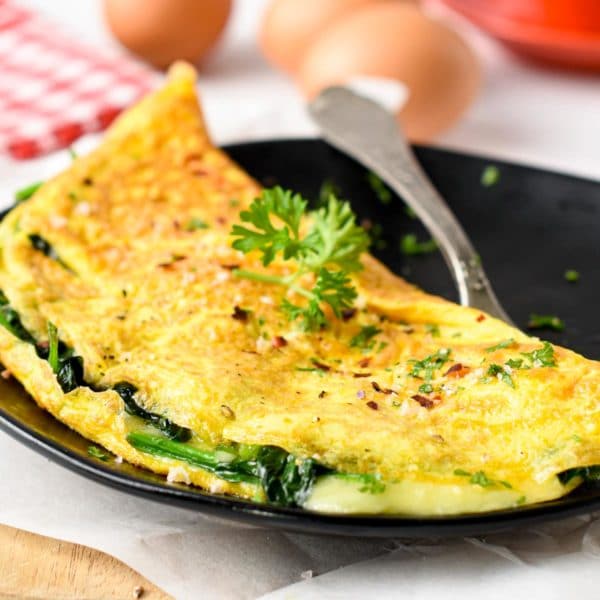 Spinach Omelette
An easy cheesy Spinach Omelette recipe, perfect as a high-protein breakfast.
Serving Size:
1
omelette (no filling)
Nutrition Snapshot
Want My Kitchen Equipment?
Instructions
Crack and beat the eggs in a small bowl. Season with salt, pepper garlic powder and chili flakes if desired. Set aside in the fridge while cooking any vegetables to fill in.

Heat a non-stick skillet over medium heat, warm butter. When hot, add spinach ,crushed garlic a pinch of salt and pepper.

Keep cooking until wilted. Take off the skillet and set it aside on a plate. Cover with a piece of foil to keep warm.

Add olive oil, warm, and spread it evenly into the pan, tilting the pan in a rotating motion.

Reduce to medium-low heat, add beaten eggs and tilt the pan again to spread the egg mixture all over the pan.

When the sides of the omelette are set and start to dry out, lift them with a spatula to let the uncooked eggs from the middle run under and cook.

Once the middle of the omelette starts to set, sprinkle the shredded mozzarella or Parmesan on one half of the omelette and top with cooked spinach

Fold the omelette in half, reduce to low heat and keep cooking until cheese is melted.

Gently slide on a plate and adjust seasoning, adding more salt, pepper, fresh parsley, or a pinch of chili flakes to taste.
My Recipe Notes
Nutrition
Serving Size:
1
omelette (no filling)
Serving:
1
omelette (no filling)
Calories:
216.2
kcal
(11%)
Carbohydrates:
1.3
g
Fiber:
0.1
g
Net Carbs:
1.2
g
Protein:
12.7
g
(25%)
Fat:
17.5
g
(27%)
Saturated Fat:
4.2
g
(26%)
Polyunsaturated Fat:
2.8
g
Monounsaturated Fat:
9.5
g
Trans Fat:
0.04
g
Cholesterol:
372
mg
(124%)
Sodium:
724
mg
(31%)
Potassium:
147.2
mg
(4%)
Sugar:
0.4
g
Vitamin A:
540
IU
(11%)
Vitamin B12:
0.9
µg
(15%)
Vitamin C:
0.01
mg
Vitamin D:
2
µg
(13%)
Calcium:
57
mg
(6%)
Iron:
1.8
mg
(10%)
Magnesium:
12.6
mg
(3%)
Zinc:
1.3
mg
(9%)
Posted In: