Keto Bread Recipe (No-Fail)
This Keto Bread Recipe is perfect for keto beginners, new to baking with low-carb flour, and craving a delicious soft slice of keto white bread with only 2.5 grams of net carbs slice.
Plus, this bread is also gluten-free, made with low-carb, wheat-free flour so it's an allergy-friendly bread recipe for grain-free lovers.
What's Keto Bread?
Keto Bread is the low-carb version of your classic bread loaf.
It is made with a combination of keto-friendly flour instead of classic all-purpose flour to reduce the number of net carbs per slice.
Most keto bread recipes contain eggs and no yeast. If you want an egg-free version, try my Keto Bread Without Eggs.
If you enjoy the taste of yeast, try my Almond Flour Keto Bread with Yeast.
And if you prefer the taste of coconut flour, try my Coconut Flour Bread.
Is Bread Keto Friendly?
A classic bread loaf is not keto-friendly at all because it's made with wheat flour. Wheat flour contains 7 times more carbs than almond flour with 70 grams of net carbs per 100 grams.
A typical slice of classic wheat bread contains 45 grams of net carbs while this keto white bread recipe contains only 2.5 grams of net carbs.
Why You'll Love This Recipe
This Keto White Bread recipe tastes like real bread and it is also:
Airy and Fluffy Texture
Light Eggy Flavor and Mild Taste
Perfect for Toast and Sandwiches
Gluten-Free
Nut-Free (Almonds Are Seeds)
Dairy-Free (No Butter!)
Yeast-Free
Grain-Free
Under 10 Minutes of Prep
Just 7 Basic Ingredients
How To Make Keto Bread
Making this keto bread is perfect for keto beginners and everyone with little keto baking experience.
Ingredients
It only takes 7 basic low-carb ingredients that you must already have in your pantry.
Almond Flour – I prefer to use ultra-fine almond flour to avoid the gritty texture that coarser almond meals can bring. Almond flour is my preferred keto-friendly flour that you can use to make many delicious almond flour recipes.
Whole Psyllium Husk – Psyllium Husk is a high-fiber ingredient made from the husks of a seed. It contains about 70% of fiber, most of which is soluble fiber. This makes psyllium husk a highly water-absorbent ingredient. It's essential to use pure psyllium husk and not supplements like Metamucil which contains many additives.
Eggs – I prefer using free-range eggs as they tend to taste better. Eggs are keto-friendly. I prefer using whole eggs instead of just egg whites.
Baking Powder – you can replace the baking powder with 1 teaspoon of baking soda.
Olive Oil – I like using extra-virgin olive oil.
Apple Cider Vinegar – Vinegar is a mild acid that contributes to breaking down the carbs and protein from the almond flour and psyllium husk, making it rise and keeping the crumbs moist.
Salt
Making The Batter
As I mentioned, this keto bread recipe is a breeze to make. While some keto recipes require complicated steps to make the batter, this one is a one-ball, one-pan bread recipe.
Start the batter by pouring all the liquid ingredients into a large mixing bowl: eggs, olive oil, apple cider vinegar, and lukewarm water.
Whisk them gently until they are well combined.
Then start gently incorporating the dry ingredients into the liquid keto bread mixture.
Fold the batter with a wooden spoon or silicone spatula until it is consistent.
Cooking The Bread
Transfer the keto bread batter into a 9-inch x 5-inch loaf pan lined with lightly oiled parchment paper.
If cut the paper slightly larger than your baking pan and leave a few inches overhanging on the sides, you'll make it much easier to take the baked bread out.
Bake the keto bread for 50 to 55 minutes in an oven preheated to 350°F (180°C).
It's ready when the crust turns golden brown and when a skewer inserted in the middle comes out with no crumbs, indicating that the center is cooked.
You can also test the baking by pressing on the top of the bread, if it bounces back quickly, it's cooked. If it takes time, you need more cooking. This is because a moist crumb is stickier.
Once the bread is cooked, take it out of the oven and out of the pan immediately. Leave it on a cooling rack for about two hours before slicing.
It's essential to refrain from slicing it immediately as the center continues cooking during the cooling. If you slice it too early, it'll be moist and gummy inside.
Using Keto Bread
This bread has a very mild taste which makes it usable in many ways from breakfast to dinner!
I suggest using it in these ways:
Storage Instructions
While you can keep this bread fresh wrapped in a clean hand towel, I recommend freezing it.
Slice this low carb bread recipe before storing each slice in its own storing bag.
Thaw them in the fridge the day before using or just pop them in the toaster for about a minute.
Allergy Swaps
If you have allergies, you can make the following substitutions for this easy keto bread recipe:
Olive Oil: you can replace it with coconut oil if you don't mind the slight coconut flavor that it will add.
Almond Flour: if you are allergic to almond flour, you should be able to make this recipe with sunflower seed flour, but I haven't tried it. If you want a keto bread recipe without almond flour, use my Keto Sunflower Seed Bread recipe. You cannot use coconut flour instead of almond flour, it wouldn't work.
You cannot substitute the psyllium husk or apple cider vinegar.
Frequently Asked Questions
What kind of bread is keto friendly?
No regular bread is keto-friendly as they are all made with wheat flour or corn flour which are both very high in carbs.
The only keto-friendly breads are the ones made with low-carb flour such as this one.
Is keto bread zero carb?
No, it's absolutely impossible to have zero carb (or zero net carbs) in a keto bread loaf.
This keto bread recipe comes to only 2.5 grams of net carbs per generous slice which is about as low as it is possible without seriously compromising on the taste or texture.
Can you eat keto bread if not on keto diet?
Absolutely, keto breads are very healthy because they contain no weird additives and are rich in fiber and micronutrients.
How much keto bread can you have in a day?
How many slices of keto bread you can eat in a day depends on your macros and your other meals. People on a keto diet typically have 25 to 35 grams of net carbs to play with.
Lunch and Dinner would typically cover 12 to 18 grams of net carbs, leaving 7 to 23 grams for snacks, breakfast, and any sides.
So a typical person on a keto diet should stick to a maximum of 3 slices per day.
Is there a keto bread in the grocery store?
There are a few commercial brands making keto bread but they are often very dense and very eggy.
This is why I always prefer making my own bread.
Since this recipe only takes 10 minutes to prep, it's my go-to keto bread loaf.
Can I have a slice of bread on keto?
No, a typical slice of wheat bread contains up to 50 grams of net carbs, more than you can have in a whole day.
How many carbs are in keto bread?
This keto bread contains only 2.5 grams of net carbs per slice.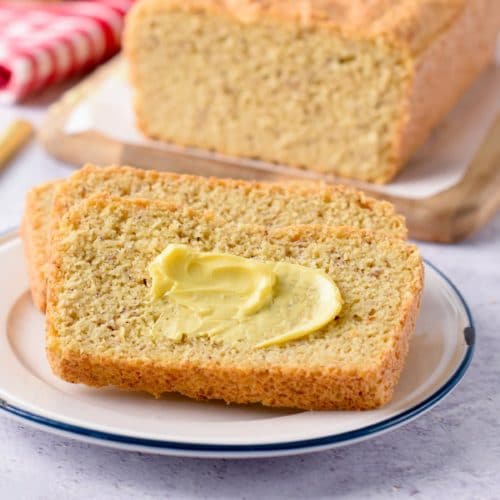 Keto Bread Recipe
This Keto Bread is a no-fail recipe, perfect for keto diet beginners.
Ingredients
5

large

Eggs

½

cup

Lukewarm Water

3

tablespoons

Olive Oil

1

teaspoon

Apple Cider Vinegar

2 ¼

cups

Almond Flour

5

tablespoons

Whole Psyllium Husk

1

tablespoon

Baking Powder

½

teaspoon

Salt
This recipe may contain Amazon or other affiliate links. As an Amazon Associate I earn from qualifying purchases.
Instructions
Preheat the oven to 350°F (180°C). Line a loaf pan with parchment paper. Slightly oil hte paper with olive oil. Set aside.

Whisk the eggs, water, oil, and vinegar vigorously in a large mixing bowl.

Fold in almond flour, psyllium husk, baking powder, and salt.

Stir to combine all ingredients together and pour into the loaf pan.

Bake on the center rack of the oven for 50-55 minutes or until golden brown and a pick inserted in the center comes out clean.

Cool down on a wire rack for 2 hours before slicing. Slice into 16 thin slices.
Storage
Store in the fridge in an airtight box for up to 4 days or freeze for later.
Want My Kitchen Equipment?
Serving:
1
slice
Calories:
146.9
kcal
(7%)
Carbohydrates:
6.5
g
(2%)
Fiber:
4
g
(17%)
Net Carbs:
2.5
g
Protein:
5.3
g
(11%)
Fat:
11.9
g
(18%)
Saturated Fat:
1.4
g
(9%)
Polyunsaturated Fat:
0.6
g
Monounsaturated Fat:
2.5
g
Trans Fat:
0.01
g
Cholesterol:
58.1
mg
(19%)
Sodium:
174.4
mg
(8%)
Potassium:
22
mg
(1%)
Sugar:
0.6
g
(1%)
Vitamin A:
84.4
IU
(2%)
Vitamin B12:
0.1
µg
(2%)
Vitamin D:
0.3
µg
(2%)
Calcium:
95.4
mg
(10%)
Iron:
1
mg
(6%)
Magnesium:
2.1
mg
(1%)
Zinc:
0.2
mg
(1%)
Posted In: