Keto Chocolate Peanut Butter Fudge
An easy Keto Chocolate Peanut Butter Fudge recipe with an ultra-creamy texture and wonderful chocolate flavor and only 1.3 grams of net carbs per serving.
This keto chocolate fudge recipe is a freezer-fudge recipe, so it can be stored in the freezer for up to 3 months and makes 32 servings of keto snacks!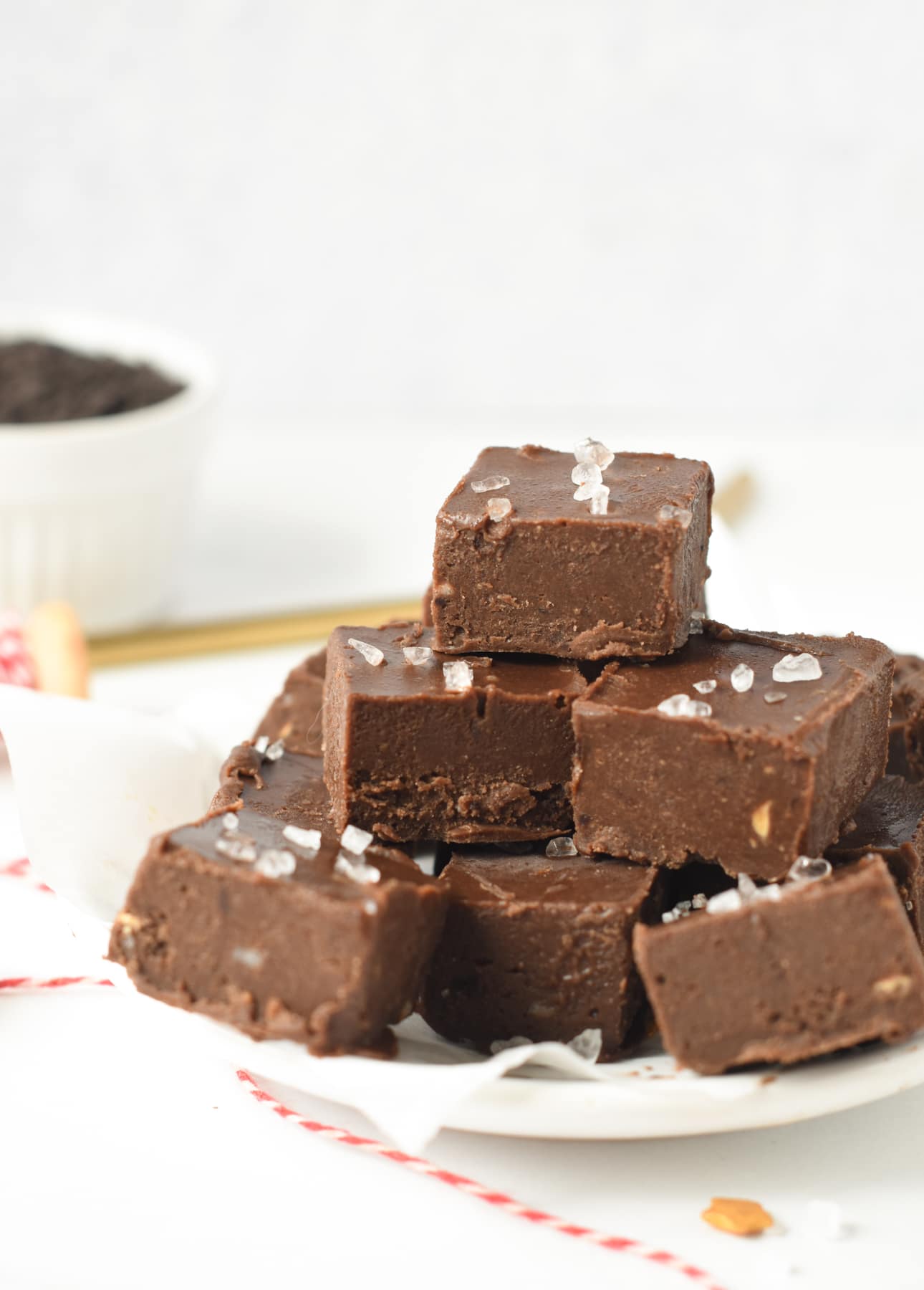 Is Fudge keto?
No, an authentic fudge recipe is made with condensed milk – a high-sugar ingredient that raises blood sugar levels and adds carbs to your plate.
Also, most fudge recipes contain added sweeteners, either from melted chocolate chips or regular sugar.
How To Make Keto Chocolate Peanut Butter Fudge
A Keto Chocolate Peanut Butter Fudge is a melt-in-your-mouth thick square of chocolate.
There are many ways you can make keto fudges. Some recipes call for cream cheese, butter, or keto condensed milk. But here, I am sharing the easiest keto fudge recipe made with only 3 ingredients.
Ingredients
This dairy-free keto fudge, a keto chocolate peanut butter fudge, is made with:
Natural Peanut Butter – Natural peanut butter has a single ingredient. Look at the ingredients listed on the peanut butter jar. You should only see peanuts (and maybe salt) but no added oil or hidden sugars.
Coconut Oil or melted cocoa butter – you can also use melted butter, but the fudge is less firm at room temperature with this option.
Unsweetened Cocoa Powder
Powdered Erythritol or simply a few stevia drops. Use my sweetener converter.
Salt – optional, especially if you used salted peanut butter.
Vanilla extract – optional, but I love the addition of vanilla to this chocolate peanut butter fudge recipe.
Combining all ingredients
This recipe is a very simple keto snack recipe. All you have to do is combine natural creamy peanut butter with melted coconut oil and vanilla.
If your peanut butter is not super creamy, microwave the jar for 30 seconds or bring both ingredients to a non-stick saucepan over medium heat.
Warm the mixture, constantly stirring, until the peanut butter and coconut oil are melted.
Remove from the heat and add vanilla – don't add the vanilla before heating or the heat evaporates all the natural flavors of the extract.
Then, stir in the dry ingredients: unsweetened cocoa powder and powdered erythritol.
When the chocolate mixture is evenly combined, give it a quick taste. You can adjust the sweetness, adding more powdered sweetener or a few stevia drops.
If it tastes great, transfer it into a 9-inch x 5-inch loaf pan covered with parchment paper.
Place the pan in the freezer for 30-40 minutes to set the fudge quickly. It should be hard, half-frozen, still easy to cut.
After that time, remove the pan from the freezer and use the hanging part of parchment paper to pull out the low-carb fudge recipe from the pan.
Transfer your sugar-free fudge onto a board, and chop into 32 squares. It will melt at the bottom of the square, so bring it back to the freezer for 30 minutes until hardened.
A Freezer Fudge
You can store this in the fridge. After it hardened in the freezer, transfer in a container in the fridge.
Or store these sugar-free Chocolate Peanut Butter Fudge squares in an airtight container in the freezer. Thaw for 5-10 minutes before eating for the best texture.
This peanut butter fudge softens very quickly at room temperature, so it must be kept in the freezer. It's actually a great thing because it serves 32 squares, so you can store your fudge for up to 3 months!
It also helps with portion control, which is essential on a keto diet.
You can eat this frozen as frozen fudge bites. They taste like creamy keto ice cream bites!
Decorate
A fudge recipe is always better with some toppings, even if it is just to decorate or add a bit of a crunch to each bite.
My favorite keto-friendly fudge toppings are:
Unsweetened Desiccated Coconut
Crushed Peanuts
Grated Sugar-free Chocolate
Sugar-free Sprinkles for a keto holiday fudge fun presentation.
A Pinch of Sea Salt
Swap Options
Below I listed some options for you to try if you have nut allergies or simply want to make some different keto fudge flavors using this recipe.
Nut-free: Swap the peanut butter for tahini or sunflower seed butter. Both options are keto-friendly.
Coconut-free: Replace the coconut oil with butter or cocoa butter for a firmer fudge.
Frequently Asked Questions
What Can I Do If My Fudge Is Too Soft?
This low-carb chocolate peanut butter fudge recipe softens quickly above 73°F (23°C) because it's the melting point of coconut oil.
There are two options to prevent this:
Replace the coconut oil with cocoa butter – the melting point of cocoa butter is 98°F (37°C), so the fudge holds its texture better in a hot room.
Keep the fudge in the freezer and pop it out of the freezer just 2-3 minutes before serving.
Add 1/4 cup of melted sugar-free chocolate chips to the chocolate mixture. This firms up the fudge but also boosts its sweetness and chocolate flavor.
Can I Make The Fudge Sweeter?
You can boost the sweetness by adding more powdered erythritol or stevia drops. This won't raise the net carbs per serving.
Can I Remove The Coconut Flavor?
If coconut is not to your taste, use refined coconut oil instead of unrefined coconut oil.
Refined coconut oil has no coconut flavor at all. Or swap it for cocoa butter or regular grass-fed butter or ghee!
Can I Make It Even Lower In Carbs?
If you want to reduce the carbs even further, swap the peanut butter for almond butter!
It also boosts your healthy omega-3 to omega-6 fat ratio.
More Keto Snack Recipes
Below I listed some easy 15-minute keto sweet snack recipes that you can make any time to fix a sweet craving on your keto journey.
Have you made this freezer fudge recipe? Share a comment below or review. I love to read your feedback on my keto recipes.
XOXO Carine
Keto Chocolate Peanut Butter Fudge
This Fudge is an easy dairy-free Keto Chocolate Peanut Butter Fudge recipe to fix your chocolate craving.
Ingredients
1

cup

Natural Peanut Butter

⅓

cup

Coconut Oil

or cocoa butter

¼

cup

Unsweetened Cocoa Powder

¼

cup

Powdered Erythritol
Optional
¼

teaspoon

Salt

½

teaspoon

Vanilla Extract
This recipe may contain Amazon or other affiliate links. As an Amazon Associate I earn from qualifying purchases.
Instructions
In a microwave-safe bowl, add peanut butter and coconut oil. Microwave by 30-second bursts, stirring between each until the coconut oil is melted and the ingredients are well combined.

Stir in vanilla extract, unsweetened cocoa powder, powdered erythritol, and salt.

Stir until the mixture is consistent.

Transfer into the prepared loaf pan and freeze 30-40 minutes or until the fudge is hard enough to cut without melting away.

Remove the pan from the freezer, use the hanging pieces of parchment paper to pull out the fudge bar from the pan, and place it on a chopping board. Keep the piece of paper under the bars. Watch the pictures above in this post for visual help.

Warm the knife blade under warm water for perfect cutting and slice into 32 squares. This fudge melts fast at room temperature, so cut it quickly.

Freeze the chopping board with fudge squares on it again for 20 minutes until they harden.
Serving and storage
You can store all the fudge in the fridge. It lasts a week and tastes soft and delicious straight out of the fridge – or wait 3-5 minutes at room temperature for a softer texture.

Alternatively, keep the fudge in an airtight box in the freezer and thaw for 5-15 minutes at room temperature before eating. It lasts up to 3 months in the freezer
Want My Kitchen Equipment?
Serving:
1
square
Calories:
68.7
kcal
(3%)
Carbohydrates:
2
g
(1%)
Fiber:
0.7
g
(3%)
Net Carbs:
1.3
g
Protein:
2.2
g
(4%)
Fat:
6.4
g
(10%)
Saturated Fat:
2.9
g
(18%)
Polyunsaturated Fat:
1.2
g
Monounsaturated Fat:
2.1
g
Sodium:
55.3
mg
(2%)
Potassium:
62.7
mg
(2%)
Sugar:
0.8
g
(1%)
Calcium:
4.3
mg
Iron:
0.2
mg
(1%)
Magnesium:
15.8
mg
(4%)
Zinc:
0.3
mg
(2%)
Posted In: