Keto Protein Balls – 2g Net Carbs!
These No-Bake Keto Protein Balls are delicious sugar-free no-bake peanut butter Protein Balls with a soft sweet texture and filled with crunchy chocolate bites.
These peanut butter protein balls are ready in 15 minutes, dairy-free, vegan, and contain only 2 grams of net carbs each.
These Keto friendly protein balls are the best post-workout keto snack or daily snack to up your protein intake on keto.
So if you need a protein boost on your keto diet, these low-carb Protein Balls are the ones you should make.
How To Make These Keto Protein Balls
It's super easy to make Protein balls keto-friendly and with no sugar added.
Let's see the six simple ingredients you need to make this healthy keto protein snack in under 15 minutes. No food processor is needed!
Ingredients
Natural Peanut Butter or almond butter – Make sure you are using a fresh jar with no added oil no added sugar and a drippy texture. For a nut-free option, try sunflower seed butter.
Ultra-fine Almond Flour – Almond meal works as well, but the color and texture of the balls come out grainy, darker, and spread a little more.
Vanilla Protein Powder – Read more below on how to choose keto protein powder.
Powdered Erythritol – or powdered allulose or any keto sweetener you love in a powder form. You must use a powder sweetener in this recipe. A liquid sweetener wouldn't work.
Coconut Oil – or melted cocoa butter, avoid melted butter. The balls spread too much with this option.
Vanilla Extract
Sugar-free Chocolate Chips – you can use any flavor, dark, milk, or white chocolate chips as soon as they are keto-friendly.
Combine wet to dry
First, prepare two different mixing bowls. In one bowl, whisk all the dry ingredients until evenly combined.
It's crucial to use a whisk because some keto protein powder form lumps.
So whisk the chosen protein powder evenly with the almond flour and powdered sweetener. Set the bowl aside.
In another bowl, stir natural peanut butter with vanilla extra and melted coconut oil until smooth and shiny.
Finally, pour the dry ingredients into the wet ingredients and stir. When it starts to dry out, add the sugar-free chocolate chips and use your hands to knead.
Squeeze the batter and form a consistent batter that comes together into a bowl.
If it's too dry at more melted coconut oil make sure it's not too hot, or your chocolate chips will melt.
If too wet, add more protein powder one teaspoon at a time.
Forming Balls
First, cover a plate with parchment paper. Set it aside.
Then, scoop out some batter. One sugar-free protein ball weighs approximately 30 grams/1 oz.
Roll each portion of batter between your hand palms and place the formed ball onto the plate. Repeat these steps until all peanut butter Protein Balls are formed.
Place the plate in the freezer for 10 minutes to set the ball quickly or for one hour in the fridge.
The balls flatten slightly, and that's ok. You can reshape the balls round after spending some time in the refrigerator.
Storage Instructions
Store the keto protein balls in an airtight container in your refrigerator for up to 5 days.
Another great way to enjoy these low-carb peanut butter protein balls is to eat them frozen!
Freeze the balls and enjoy them straight out of the fridge or thaw for 30 minutes at room temperature to soften.
Selecting The Protein Powder
You can take protein powder on a keto diet to boost your protein macros. Not all protein powders are keto-friendly, but there are plenty of keto-friendly options available on the market.
I am not going to list all brands here. Instead, I will guide you through simple steps to choose a keto-friendly protein powder by yourself.
First, you must look at the ingredient listed on the box.
You are looking for:
No added sugar
No grain – avoid brown rice protein powder, for example. They are often higher in carbs.
Keto-friendly sweeteners
Then, look at the net carbs per serving. A keto-friendly protein powder ranges from 1 gram to 2.6 grams of net carbs per 40 grams.
Depending on your diet requirement, you may want to choose:
1. Keto Plant-based Protein Powder
Plant-based protein powders are my first choice because they are easier to digest. You will have to choose from protein powder made of:
Pea Protein Powder – yes, pea protein powders are keto-friendly. While pea is not a keto-friendly vegetable, pea protein powder is low in carbs, and plenty of brands have a range made with keto-friendly sweeteners like stevia or erythritol.
Hemp Protein Powder – hemp is a keto-friendly seed full of healthy fat and protein.
Almond Protein Powder
Peanut Protein Powder
2. Other Keto Protein Powder
Whey protein powder
Egg-white protein powder
Casein
Recipe Variations
This keto energy balls recipe is excellent on its own, but you can also tweak it to give it many different tastes.
Chocolate Protein Balls – Add a touch of cocoa powder to the batter.
Almond Butter Protein Balls – replace the nut butter with almond butter to make delicious energy bites.
Post-Workout Bites – If you're not on a keto diet, you can add maple syrup or honey to the blend.
Frequently Asked Questions
How Does Protein Powder Alter Baking?
Based on the keto protein powder you choose from the above, your baking will be affected.
For example, whey protein powder is more liquid absorbent than pea protein powder, so if you use this option, be prepared to add more liquid to your recipe to reach the same texture.
More Keto Protein Recipes
On a keto diet, you need to eat your protein, fat, and carbs. Protein keeps you full and fueled up your muscles.
Below I listed some of my top keto recipes to boost your proteins. It includes keto meals, breakfasts, and desserts because proteins are everywhere!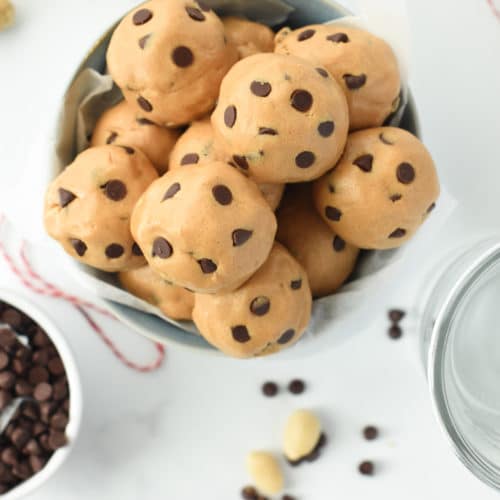 Keto Protein Balls
An easy No-Bake Keto Low-Carb Protein Balls made with protein powder to boost your protein intake and fix your sweet cravings on your keto journey.
Yield:
balls (0.6oz/17g each)
Serving Size:
1
ball (0.7oz)
This recipe may contain Amazon or other affiliate links. As an Amazon Associate I earn from qualifying purchases.
Instructions
In a bowl, whisk all the dry ingredients: protein powder, powdered sweetener, and almond flour until no lumps show. Set it aside.

In another bowl, stir peanut butter, vanilla extract, and melted coconut oil until smooth and consistent.

Stir the liquid ingredients into the dry ingredients, start stirring with a spatula, when it starts to dry out, add chocolate chips and knead the dough by hand, squeezing the ingredient together until they form a smooth cookie dough ball.

The dough texture vary based on the keto protein powder you are using, so feel free to adjust the batter until it comes together well and it's easy to shape small balls that hold their shape. If the dough is too dry and crumbles, add an extra teaspoon of melted coconut oil, and if too wet, add a tablespoon of almond flour.

Divide the dough into 12 balls of about 1 oz/30g and roll the dough between the palms of your hand to form lovely round balls.

Place the balls onto a plate covered with parchment paper. Repeat the steps above until all the protein bites are formed.

Pop the plate in the fridge for 1 hour or in the freezer for 10 minutes to slightly firm up the balls – they will stay soft anyway but firmer after spending time in the fridge.

Remove the plate from the fridge, reshape balls if they flatten too much.
Storage
Keep the balls in the fridge in an airtight box or in the freezer and thaw 30 minutes before eating. Store up to 5 days in the refrigerator.
Notes
Note 1: Peanut butter can be replaced by same amount of fresh drippy almond butter or sunflower seed butter for a nut-free option. Note 2: Melted butter works, but the balls stay softer and flatten quickly. Melted cocoa butter works very well and keeps the ball from flattening even more. Note 3: Almond flour can be replaced with the same amount of sunflower seed flour or sesame flour for a nut-free option. Coconut flour is not recommended. the balls get very dry and crumbly with coconut flour. Note 4: Powdered sweetener is not granulated sweetener that leaves a grainy texture. If you skip the sweetener, add more almond flour to prevent the balls from being too soft. A liquid sweetener won't work in the recipe without adding more almond flour or protein powder. Note 5: Any keto protein powder can be used with different results. The recipe has been tested with pea protein powder which is less liquid absorbent than whey protein powder. Read the post above on how to choose the keto protein powder.
Want My Kitchen Equipment?
Serving Size:
1
ball (0.7oz)
Yield:
balls (0.6oz/17g each)
Serving:
1
ball (0.7oz)
Calories:
85.8
kcal
(4%)
Carbohydrates:
5.2
g
(2%)
Fiber:
3.1
g
(13%)
Net Carbs:
2.1
g
Protein:
3.7
g
(7%)
Fat:
6.9
g
(11%)
Saturated Fat:
2.3
g
(14%)
Polyunsaturated Fat:
1.1
g
Monounsaturated Fat:
1.8
g
Cholesterol:
4.6
mg
(2%)
Sodium:
39.7
mg
(2%)
Potassium:
57.7
mg
(2%)
Sugar:
0.9
g
(1%)
Calcium:
18.4
mg
(2%)
Iron:
0.2
mg
(1%)
Magnesium:
12.3
mg
(3%)
Zinc:
0.2
mg
(1%)
Posted In: